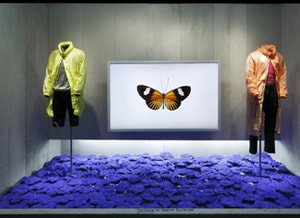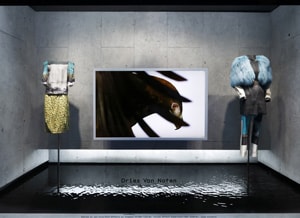 Barney's New York is celebrating the work of Dries van Noten in association with filmaker Andrew Zuckerman.
Inspired by the Dries van Noten exhibition in Paris at the Musee des Arts Decoratifs, Barney's Madison Avenue windows have been transformed in the spirit of the Belgian design house.
Using settings from the exhibition, including a lunar landscape, Japanese rock garden, a pool of water, and coral in Yves Klein blue, the windows will display archival pieces from Van Noten's 28-year career, along with four original short films by Zuckerman.
Titled "Cycle," "Emergence," "Flight," and "Variance," the four striking films play with compression and expansion of time and motion to illustrate the transient moments in nature, from flowers blooming and decaying to a butterfly emerging from a cocoon.