Danielle Wightman-Stone

|
Experiential marketing activity in retail shopping centres can drive "huge" student engagement and increase footfall, according to new research from Unidays, the student affinity network.
Unidays hosted 15 student shopping events in 11 cities in 2016, coordinated mostly during the busy freshers period in September through to October, and they saw a 65 percent increase in on-the-night registrations, compared to the previous year.
The events, aimed at enabling brands to connect with students, took place in centres in major university cities including Manchester's Arndale, Sheffield's Meadowhall Centre, Nottingham's Intu Victoria Centre and Intu Chapelfield in Norwich.
Total pre-registrations across the events was over 100,000 as students signed up to secure exclusive discounts with brands, with Unidays using beacon technology around the shopping centres to ensure the students were directed to the best in-store deals on the night, as well as sending relevant discounts via push notifications to their smart phones. The events also featured demonstrations, distribution of samples and merchandises, and celebrity appearances.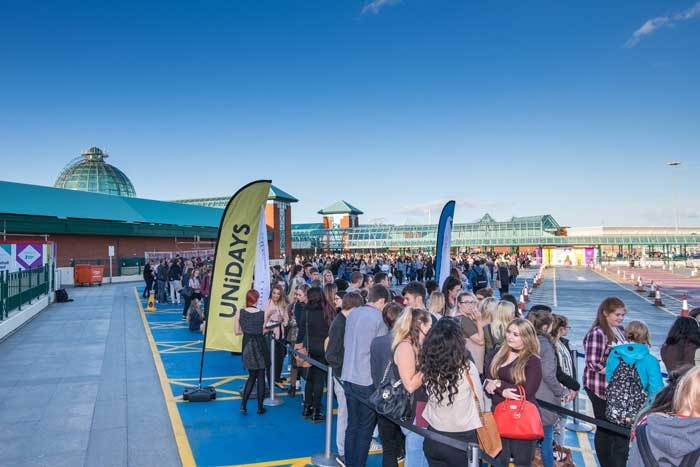 Some shopping centres that took part saw a 98 percent uplift in traffic, when compared with a week-on-week comparison, while Intu centres saw a footfall increase of over 50 percent, as more than 194,000 people were tracked during this time, with Unidays members accounting for a third of all footfall in the shopping centres during the events.
Carl Aelle, head of retail innovation, Unidays said: "Retail events remain a huge untapped opportunity for retailers to get the chance to interact directly with an engaged student audience. No one knows students like Unidays and we use our knowledge of what they want from an in-store shopping experience and tailor the events to those needs.
"We saw an increase in pre-registration and footfall, which shows the continued relevance of a truly omnichannel approach that builds the strongest affinities."
Images: courtesy of Unidays