A recent media outlet exposé questioned the "toxic environment" of the Royal Academy of Fine Arts Antwerp, and in particular, the teaching methods of its head of fashion department and third year instructor, Walter Van Beirondonck, made chilling reading following the March suicide of one of its fashion students. But while the tragic end to the young person's life is justifiably where most readers' thoughts turned, as a fashion instructor I couldn't help feeling an empathy for Van Beirondonck in this sensationalized piece of journalism. Under a veil of anonymity, a parade of former and current students leveled accusations of torment, intimidation, and racism towards him and his program, so that, at best, he came off as a sort of villainous reality TV-show judge, wielding his power blithely and viciously, at worst, a tyrant with blood on his hands.
Conflict of interest
One glaring conflict around the piece lies in the fact that the same media outlet publishes a highly influential annual School Rankings list, and for 2018 they rewarded Antwerp's Royal Academy the number 3 spot for its Bachelors program and number 4 for its Masters of Fashion. This list which BoF compiles by surveying schools, examining their records of student employment, external competition wins, feedback from current students, among other criteria, must not have revealed any trace of the "toxic culture" described in their report. The rankings list does however effectively pit schools against each other in what many educators have come to believe is an unfair playing field. Can a school in the midwest be compared with one in the centre of London? And should it be? Does a pricier education equal a better one? Can individual student potential be evaluated when blended into one body of data? Last year, Parsons MFA program took the bold step of removing itself from BoF's school rankings system.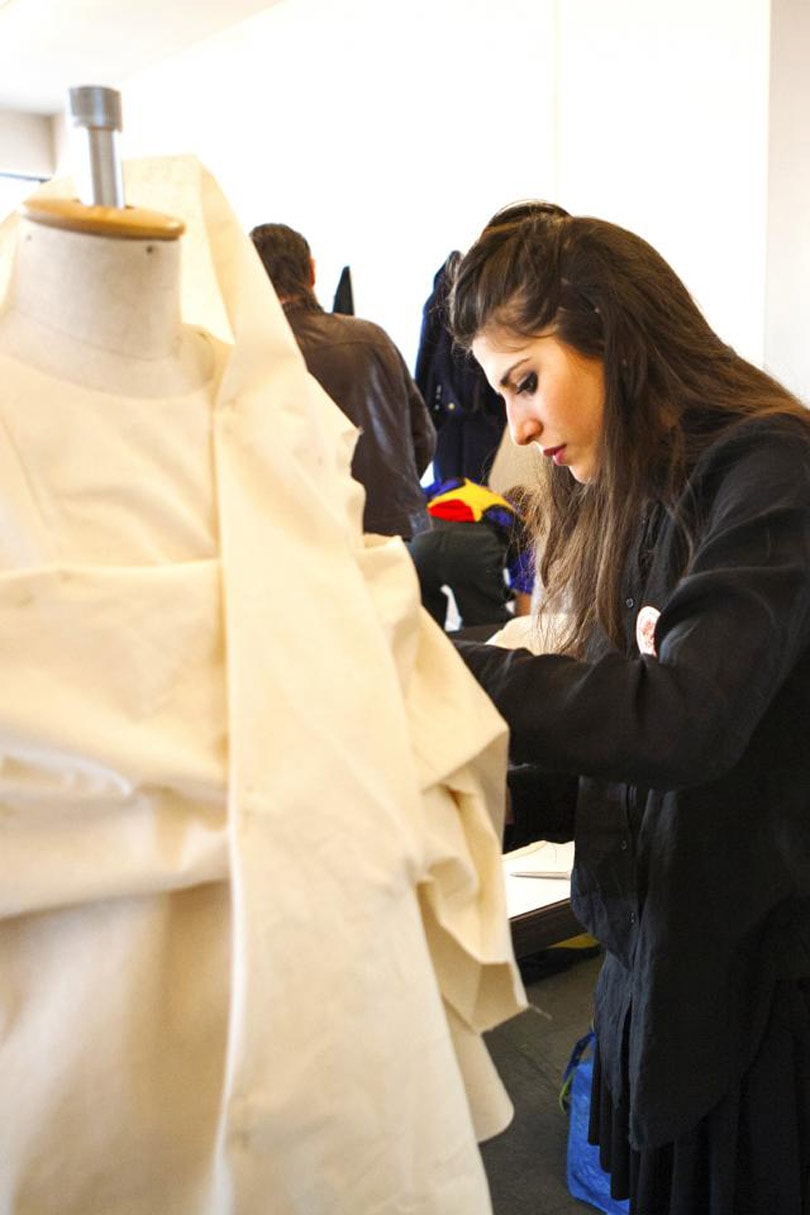 But in its relatively brief existence (the first BoF rankings arrived in 2015), it has attempted to carve out a position for itself as, according to its webpage, "the only objective assessment of fashion schools around the world, acting as the go-to resource for the entire industry." We live in a listicle-loving culture but also a time when the number of fashion graduates is too high for the proportion of jobs. Anxious school-shopping parents scan a list blessed by LVMH (the luxury conglomerate is an investor in the Business of Fashion). Inevitably schools feel pressure to ascend high on the list to be considered relevant and justify tuition fees.
Suicide contagion?
Speculation remains around what could have caused the South Korean student, who was to return to his country to serve in the military and left no suicide note, to end his life. But in Belgium, suicide is the 2nd leading cause of death among males of 20-24 years old according to a 2016 report from the Unit for Suicide Research at the University of Ghent. Globally suicide is on the rise: it is the 10th-leading cause of death in the U.S., where rates have been climbing steadily since 1999 according to the Center of Disease Control. The University of Bristol in the U.K. just reported its 10th suicide in 18 months, with victims studying subjects ranging from English Literature to engineering, demonstrating this is not a phenomenon exclusive to fashion. We are still reeling from the suicides of fashion designer Kate Spade and celebrity chef Anthony Bourdain and becoming familiar with the media phrase "suicide contagion."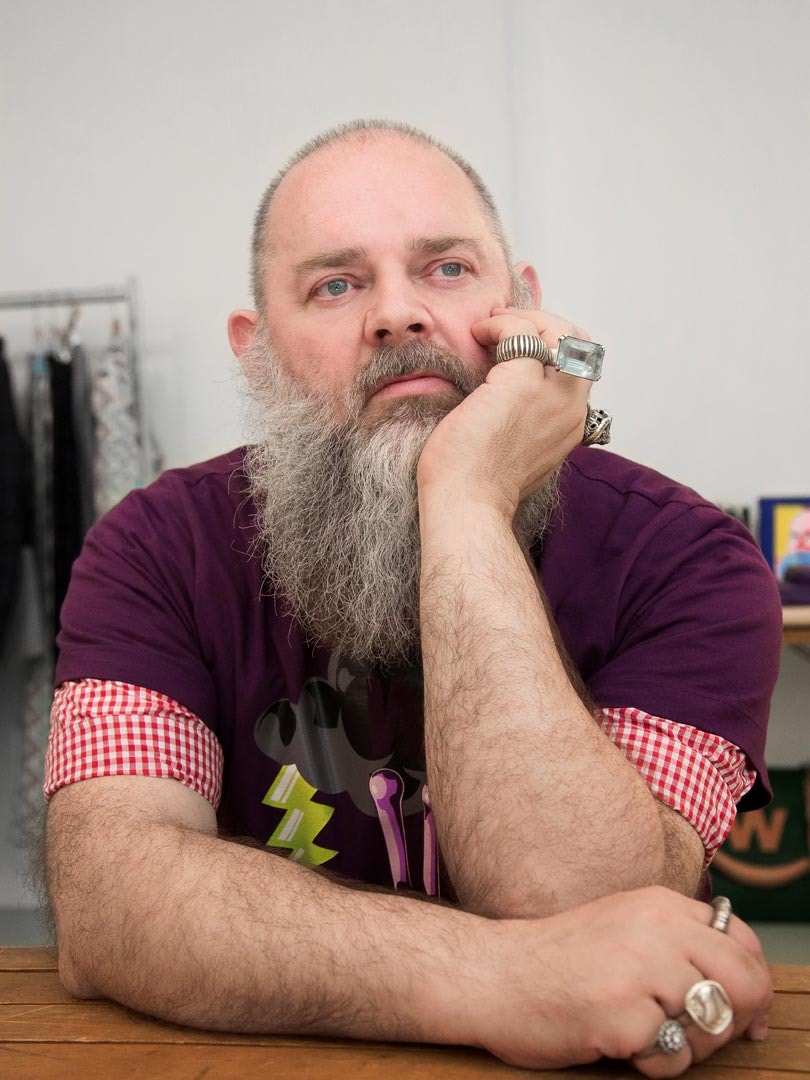 Van Beirondonck, who has taught in the Antwerp school since 1985, broke his silence recently in an interview to Belgian magazine Knotoryus, and when asked to reflect upon the media storm that has engulfed him over the past few months, his first thought was to describe the sad impact of losing a student and its lasting effect on the faculty. But he adds "what happened afterwards, with the anonymous accounts from disgruntled ex-students and certain media taking advantage of the situation in an attempt to discredit the school and myself, made the following weeks even more awful and energy-consuming and that's a shame. It felt like such a wrong time for it."
Unique and rigorous standards
When asked about the school's methods in the same article, he makes no apologies for the rigorous standards that have built the school's reputation: "what I'll fight for and think is a very unique situation here in Antwerp is that students come here for three to four years and are really granted the opportunity to work on their talent, personality and qualities as a designer. You can go deep and push your own boundaries and really figure out your own signature and strengths. That's a solid foundation for a long career afterwards."
As a fashion instructor––with more than a decade-long career in design––I am aware that struggling students, perhaps similar to the ones who spoke anonymously to Bof, many of whom it was subsequently reported had failed or dropped out of the Academy, can turn negative feedback into a conviction that certain instructors have a personal dislike towards them. Those unprepared for the hard work required to succeed may choose to complain, even attack those plain-speaking instructors (student feedback on faculty is par for the course in modern education), even to the extent of becoming a small angry swarm. You can knit or weave negativity just like any other fabric or yarn and drape yourself in it. I remember being a student myself in the highly competitive Central St Martins' Masters program, being both a participant and an observer of these disgruntled huddles. I couldn't have known then how ominous they can seem when viewed by an educator just trying to do their job.
Mental illness in the classroom
On the other hand, I am ever-conscious that mental illness is a presence in my classroom. In casual discourse, students describe candidly their mental health to me or to their peers, and it's encouraging to see that mental unwellness is no longer a thing to be covered up or gossiped about, as it was when I was a student. I see many students taking their state of mind as a basis for their creativity, and many process books straddle the line between scrapbook and diary. And it's exciting for both instructor and student when something that can appear so unwieldy and dark, even unmanageable, yields beautiful fruit. But it should go without saying that schools have a profound responsibility to provide meaningful and accessible counseling to students who need help beyond the catharsis provided by channeling their emotions into their work. And instructors should know exactly where to refer those students in crisis.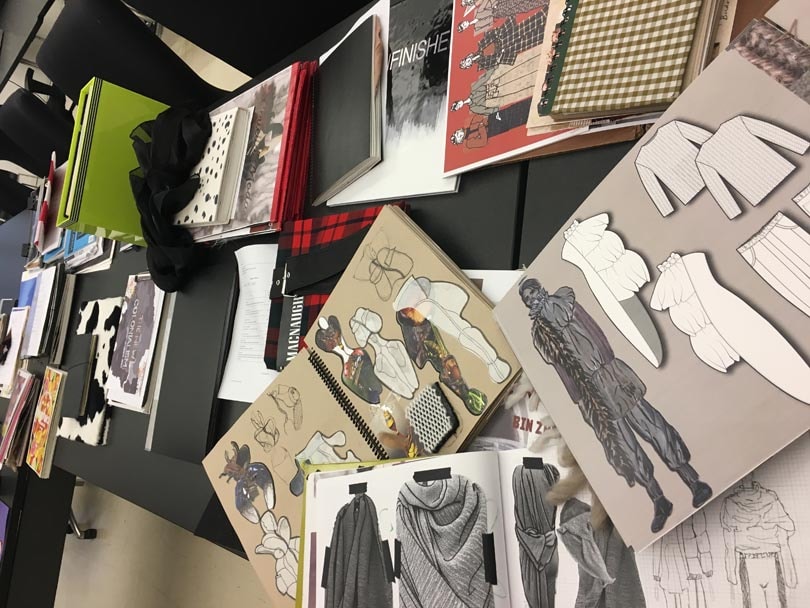 Arguably the best fashion programs today encourage a level of deep thinking about society and the world at large, focusing on opening up new ways of seeing and processing what you think you know in an intense developmental experience that might shock the average Project Runway viewer. This endless unfurling of ideas can prove therapeutic for creatives, but anyone who enters fashion believing it to be easy is almost bound to suffer. Many of my peers who have been working in the industry solidly since we graduated together found that their "meltdown" or "burnout" occurred decades after leaving school. Sooner or later you leave something of yourself on the cutting room floor, seems to be a common opinion among insiders. The industry is no less demanding than the education designed to prepare you for it. The skills of previous generations such as pattern making, and sewing have been quasi eliminated and AI is now a reality, but unique thinking cannot be emulated by robots, and instructors do well to push for it in the classroom.
Embracing vulnerability
And fashion students for their part need to be honest in their work, and not fear vulnerability. They must get used to digging deep into their views and opinions so that when questioned on them, they don't see it as an attack. Van Beirondonck says, "We think it's very important for them to be able to embrace their own world, but also to be able to define it. They should be able to think about and create a space for them to work and fantasize in for the rest of their career, a world that holds all of the things you've ever researched or were obsessing over. And then later you can pick and choose what goes into your work and open up different aspects of that world. If you set up your own universe, you can work from within it for the rest of your life."
When the Royal Academy of Fine Arts Antwerp Fashion Department subsequently announced its decision to withdraw from the BoF's 'Global Fashion School Rankings' Van Beirondonck says he received word that the London College of Fashion and Central St Martins would follow suit. Perhaps that is one small step in the right direction towards restoring health and balance to the system which might then radiate inwards.
A time for reflection
An instructor such as Van Beirondonck, who began his career in 1986 as a member of the famed "Antwerp Six" which included Dries Van Noten and Ann Demeulemeester, and has been at the center of European fashion's avant-garde community ever since with his W&LT line and his eponymous collections, might respectfully be labeled old guard in that he has seen enormous change occur in his industry, as well as major evolutions in society's attitudes. His role requires him to keep a steady gaze on the future, while adapting briskly to the demands of today, but more than ever to challenge the new generation of creators to respond to a new world order, while preparing them for the reality of a high-pressure, competitive career that takes no prisoners.
Reflection is the prevailing tone of the Knotoryus interview, and regarding the future, Van Beirondonck says, "maybe we should protect our school-bubble even more. The staff and I will delve deeper into this the coming months and there will be more of a dialogue happening with the students. We've already had some good conversations and I think we must dare to go deeper."
Ongoing dialogue around this topic is valuable; blame and sensationalistic headlines, perhaps not so much.
If you, or someone you know are contemplating suicide, please call the National Suicide Prevention Lifeline at 1-800-273-TALK (8255) or the Suicide Crisis Line at 1-800-784-2433 in North America or +44 (0) 116 123 in the UK.
Fashion editor Jackie Mallon is also an educator and author of Silk for the Feed Dogs, a novel set in the international fashion industry.
Photo from waltervanbeirondonck.com, antwerpacademy.be, FashionUnited