Danielle Wightman-Stone

|
Depop, the social shopping platform, has secured 20 million dollars in funding in a Series B funding round, which it states will assist the app's global expansion plans.
The funding round was led by Octopus Ventures, with support from TempoCap, and existing investors including Balderton, HV Holtzbrinck Ventures, H-Farm, Creandum, and Lumar, as well as Italian entrepreneurs Luca Marzotto and Renzo Rosso from OTB/Diesel Group.
Depop has stated that it will use the funding to assist its growth across America, with plans to add bricks-and-mortar locations in both New York and Los Angeles alongside its digital offering. This comes on the back of 130 percent US revenue growth in 2017.
Rebecca Hunt, Octopus Ventures early stage VC investor, said: "We are excited to be supporting Depop on their next phase of growth as they continue to roll out across the US. The company has built a large, engaged and loyal user base amongst predominantly creative young people.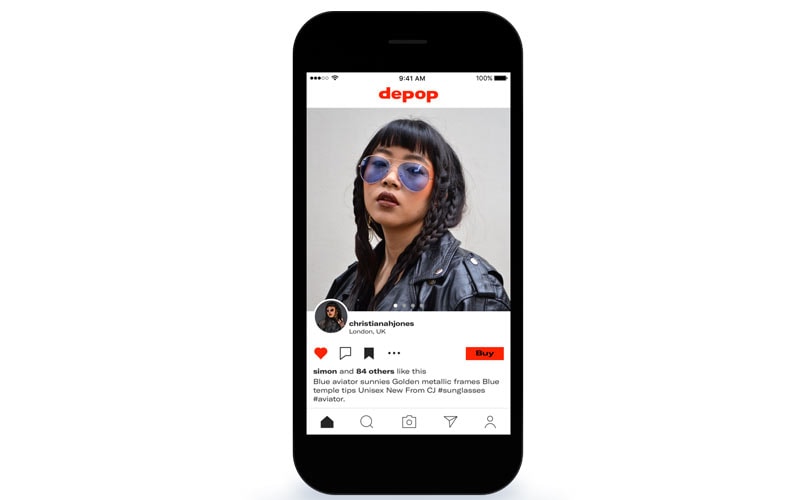 "Depop provides users with a selling and social platform and a global pool of buyers to leverage their unique community and inventory, generate their own brands and build revenue channels. This taps into a key trend in retail for millennials, and we are looking forward to seeing further growth of the business over the coming years, powered by an exceptional team."
As part of the deal, Hunt will be joining the board of the shopping platform.
Depop was founded by former co-founder of Pig magazine and Retrosuperfuture sunglasses, Simon Beckerman, who originally conceived it as a platform where readers could buy items they saw in the Pig magazine, but he then reimagined the app as a global marketplace as a mobile space where users can see what their friends and the people their inspired by are liking, buying, and selling.
Social shopping app Depop to go global following 20 million dollars Series B funding round
The social platform has a team of around 100 employees working in its London headquarters, as well as offices in Milan, New York and Los Angeles, and is currently led by chief executive Maria Raga.
"The investment will support the global growth of the platform, particularly in the US, and scale the business. This will include the opening of bricks and mortar beta spaces, which will help us get even closer to our users and experiment with new formats," explains Raga. "We are excited to work with Octopus Ventures. They have a strong portfolio and are experts in accelerating growth of lifestyle and marketplace companies."
The platform has been gaining success in recent years as it allows anybody to buy and sell items easily via its app, as an alternative to eBay, Etsy and Amazon Marketplace. Depop has more than 8 million registered users, and claims that some of the young entrepreneurs on its platform make more than 10,000 dollars a month.
Beckerman, added: "By combining mobile shopping with social features, Depop is creating a stronger relationship between buyers and sellers. We are becoming a key part of the lifestyle of a generation which values community and sustainability, while possessing a strong entrepreneurial streak."
The investment deal means that Depop is one of the most well-funded European fashion start-ups of 2017. It also previously raised 8 million dollars in Series A funding back in January 2015, and 8.25 million dollars in September 2016.
Images: via Depop website