London - In a sudden turn of events Natalie Massenet, founder and former chief executive of online luxury retailer Net-a-Porter.com, announced she had taken on a new role as non-executive co-chairman at Farfetch on Instagram this afternoon.
Natalie Massenet named co-chairman at Farfetch
Dame Massenet took to social media platform Instagram to confirm her new appointment at the luxury fashion e-commerce platform, following months of speculation. Massenet's new role will see her working closely alongside of Farfetch Executive co-chairman, founder and CEO José Neves. Her new appointment at Farfetch comes a year and half after she left Net-a-Porter, which has since merged together with former rival Yoox to form the new entity Yoox Net-a-Porter Group. In her Instagram post, Massenet notes that her "entrepreneurial drive, and passion for how innovation in technology can transform the future of luxury remains undiminished" since her exit from Net-a-Porter. She adds that she has been a fan of the fashion e-commerce platform since 2008.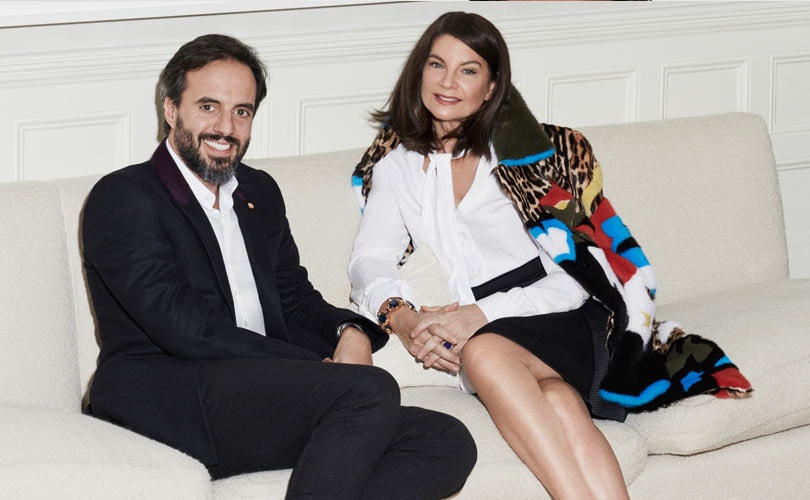 Together Neves and Massenet, who is also the chairman of the British Fashion Council, aim to "continue to revolutionise the way the world shops for luxury fashion." The two share a strategic vision of the future of how fashion and technology can work together to help boost the consumer experience and will focus on how they can take Farfetch to the next stage of its ongoing development in becoming the leading global platform for luxury fashion.
Massenet brings years of experience within the fashion industry and e-commerce with her to her new role at Farfetch, including her "proven business acumen, intuitive feel and passion for the way technology can transform the consumer experience to the Farfetch business," according to a statement from Farfetch. In addition, Massenet has also been tasked with growing the company's global brand as well as strengthenings its current partnerships with the fashion industry.
"I have, since Net-A-Porter launched, been a huge admirer of Natalie, she really is THE undisputed pioneer, paving the way for the rest of us by demonstrating that not only could luxury be sold online but also that the internet would eventually become the primary way consumers engage with brands, globally," said Neves on Massenet's new appointment. "Natalie has unrivalled entrepreneurial instinct, understanding of the luxury consumer and knows how to build global brands like no one else. It is simply a dream come true to have Natalie partner with me, with a shared vision and tremendou will to – yet again– shape the future of luxury."
"I am honoured and excited to support José and the Farfetch team as they continue to build a unique vision of what the future of fashion and technology looks like," added Massenet. "What Farfetch has done to rewrite the rulebook on how technology can work alongside bricks and mortar to elevate the customer experience stands out in the industry - when José asked me to come on board it was an opportunity I couldn't turn down. José is a true innovator, and I am thrilled to join him as he grows Farfetch into the online platform of choice for luxury fashion."
Massenet first founded Net-a-Porter.com as the first online luxury fashion store back in 2000. Within 15 years she has established one of the leading luxury e-tailers, which merged with Yoox in October 2015 to form the new entity known as Yoox Net-a-Porter Group. José Neves took his two passions - fashion and technology - and merged them into one in 2008 with the launch of Farfeth, the first global e-commerce platform for luxury fashion. Since then the company has grown from a small, European start-up to a "unicorn" e-commerce platform.
Photo: Natalie Massenet and Jose Neves, courtesy of Farfetch