London - British designer Giles Deacon is folding his ready-to-wear line and turning his focus to his eponymous label and creating bespoke fashion as he is set to join the Paris haute couture calendar next season.
The decision to change the direction of his label from ready-to-wear to couture-based will see the designer leave the official London Fashion Week show schedule, which he has been a part of since February 2004, and join the official Paris Couture calendar this July. This means Deacon, known for his creative shows, will not be participating in the upcoming LFW and will instead be presenting his Giles Deason Couture Collection with the support of the Syndicale de la Haute Couture.
According to WWD, his decision to turn away from RTW stems from a desire to build up closer relationships with his special clients, work with shorter delivery cycle and present collections which are in tune with the season change. "We want to focus on what we do well, and maximize the success of the red carpet and private client work we've been doing over the past four years," said Deacon in an interview with the magazine.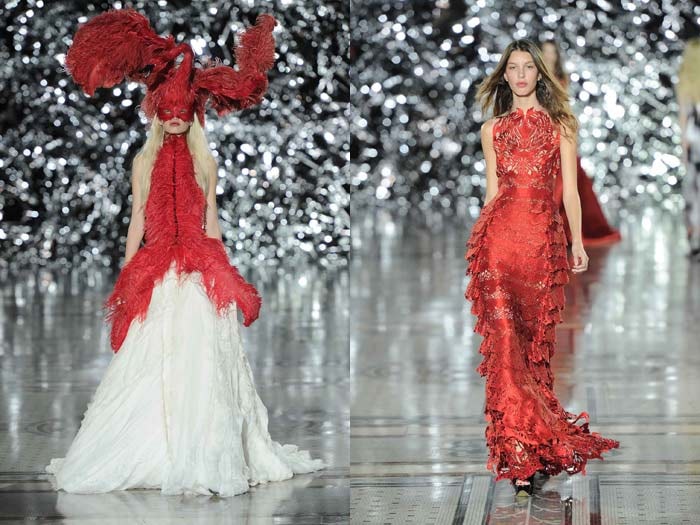 Giles Deacon shutters RTW to focus on couture range
"We want to be the go-to business for super-special daywear and eveningwear, to focus on what we are known for, and what our customers want from us..with couture, it means I get to show fall in July, with delivery in September. My clients will be getting their pieces in season." The British designer has an established list of celebrity clients including the likes of Cate Blanchett, Angelina Jolie and Gwyneth Paltrow.
In addition to hosting couture shows twice a year, Deacon will also work with wholesale clients on trunk shows, with the first show occurring later this year in Asia, California and the Middle East. In order to ensure the business is able to thrive, the designer will also increase the scale of items his creates for his couture range. Over the past four years the designer has made between 60 to 90 bespoke pieces per season for his couture range, which he aims to increase to 200 to 250 items.
"This business gives you a lot more control, because it means everything that's ordered is sold, and each customer gets an individual piece," added Deacon. "We're able to discuss specifics, like the length of a sleeve or the use of a certain fabric." Prices for the new range are set to range from 3,000 to 5,000 pounds for a bespoke shift dress in an exclusive fabric up to between 50,000 pounds and 70,000 pounds for one of a kind, red carpet pieces.
Giles Deacon seeks additional investment to fund strategic business changes
In order to boost manufacturing and keep delivery cycles as tight as possible, Deacon also aims on producing the main bulk of the collection in the UK and Paris, where he has taken in additional ateliers. He also plans on opening a new showroom in Mayfair, but will remain working in his studio on Brick Lane. To help fund his couture expansion, Deacon plans on seeking outside investment from an investor which will be in effect from the middle of the year, although he declined to disclose additional information.
His decision to quit RTW and focus on couture comes not long after emerging designer Thomas Tair announced plan to exit the London Fashion Week catwalk season in favour of one-on-one appointment in order to cultivate a more personal relationships with buyers, clients and press.
Photo 1: Giles Deacon Photo 2 & 3: SS 12 Couture collection