Swedish H&M has undoubtedly been one of the most successful and influential fashion companies throughout the last decade, with sales reaching USD20.8 billion in 2016, just edging out rival Inditex (USD20.4 billion) after posting an impressive CAGR of 10 percent from 2007 to 2016. And H&M's momentum seems to have extended in 2017 with continued strong sales growth reported for the first six months of the year. Nevertheless, there are numerous worrying signs that H&M has been too slow to adapt to the ever-changing nature of the fashion industry which could undermine its future performance.
Fast fashion shifts into another gear as H&M stalls
Much of H&M's success can be attributed to the wider success fast fashion has had globally, however, while H&M was once a pioneer it now looks like the company has failed to keep up. In recent years younger more agile near pure online fast fashion companies like ASOS and boohoo have slashed average lead times, almost pushing out new items at a continuous pace. H&M still remains heavily reliant on Asia for the majority of its production and consequently has significantly longer average lead times and even lags well behind rival Inditex which mostly produces at home in Spain and neighbouring countries to stay highly responsive to consumer demand. And this, time from design-to-shelf, is crucial in today's fashion world. Ultimately a direct consequence of fast fashion, consumers have become accustomed to a constant flow of new designs with trends emerging and fading more rapidly than ever before. A slow supply chain also means being unresponsive to consumer demand, which is perhaps why H&M has tried to diversify sales away from its eponymous brand to decrease its current reliance on fast fashion.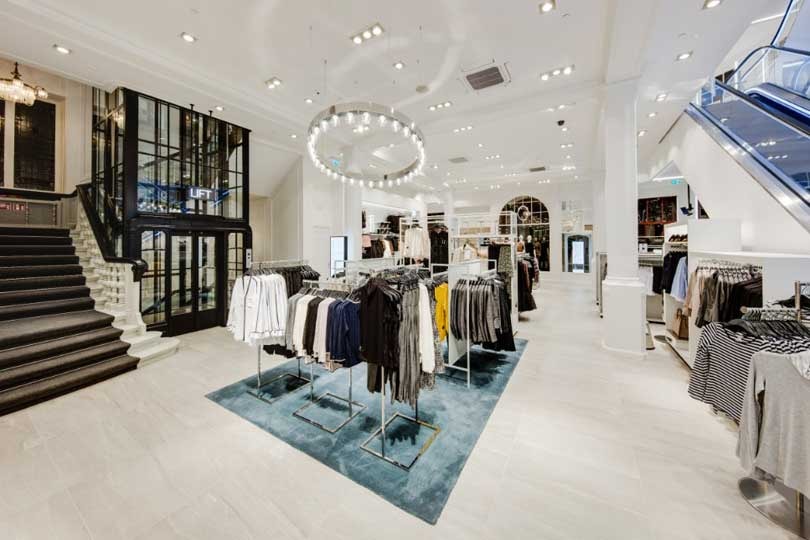 Poorly diversified despite the continuous effort
In 2017, H&M operates six brands in addition to its namesake brand and it certainly seems like the company is trying to diversify away from its fast fashion origins. COS, & Other Stories and newly opened ARKET belong to the slow fashion movement rather than fast fashion, as the brands have higher prices and a more premium positioning. The focus is on quality and longevity, while designs are typically more timeless and simple, in an effort to transcend fast changing fashion trends. Although in 2016 H&M still remains highly dependent on its namesake brand, accounting for no less than 95 percent of global sales despite most other brands being founded or acquired nearly a decade ago. It is exactly this that comes across as a little worrying, falling behind developments in fast fashion and also, so far, failing to meaningfully diversify its sales beyond fast fashion.
Overexposed to store-based retailing and slow to move online
H&M's channel strategy adds another worry to the list. The fashion industry is one of the largest and most important industries in the digital sphere. In 2016, 14 percent of global sales in apparel and footwear were generated online, and in Asia Pacific, a region prominent in H&M's expansion strategy, the figure is as high as 19 percent. H&M though has been slow to move online and in 2016 online sales only accounted for 6 percent of the company's global sales. More recently H&M has put greater emphasis on online stores and mid-2017, 41 of the 66 markets the company is present in were accompanied by an online presence too. That being said, one cannot help to feel the company might be so overexposed to store-based retailing that it is consistently losing out to online stores as H&M's store network mid-2017 is pushing 4,500 stores globally.
It should come as no surprise then that H&M's rapid value growth has mostly so far come from its store expansion. In fact, from 2011 to 2016 H&M's sales (excluding VAT) per outlet declined by a 1 percent CAGR globally, showing most growth during the period came from its aggressive store expansion. Although it is worth noting that this could partially be explained by growing online sales cannibalising store-based sales, however, this further exemplifies how H&M might be overexposed to store-based retailing.
This might be a somewhat overly gloomy outlook for H&M's future prospects. The company will still probably perform well in the near future, although likely not quite at the rate seen over the last decade. Some of the issues highlighted above, such as slow lead times and adoption of online stores, the company has recognised areas in which it needs to improve. However, many of the issues mentioned above, like overexposure to store-based retailing and juggling short lead times both in store-based and online retailing, are major challenges. Particularly for a company the size of H&M. Remaining agile and responsive to the fast changing nature of the fashion industry for an organisation the scale of H&M requires a highly reactive approach to its internal operations.
Written by: Peder Kraugerud, Apparel Analyst at Euromonitor.
Images: courtesy of H&M