Time spent browsing Zalando vast online platform seems to pass more quickly than time spent anywhere else. New products and concepts are being introduced at Zalando at such a rapid pace, it's hard to keep up at times. For example, Zalando recently announced the acquisition of the basketball specialists Kickz and previously acquired former fashion trade fair Bread & Butter before transforming it into a consumer-led festival. In order to learn more about how Zalando aims to promote and expand its focus on integrated commerce, FashionUnited spoke to David Schneider, co-founder and board member of Zalando and Benjamin Krümel, VP Category Men & Specialty.
Zalando does business both as a traditional online retailer and as a marketplace for fashion brand names. Recently, retailers are also being given the opportunity to join the Zalando network. Why is this an interesting development and how does it work?
David Schneider: "We are moving away from a pure retail mindset, because it is not only about buying and selling products. We want to focus on becoming a platform where we bring the strengths and skills of the different parties together in a unique network. We want to give our customers the best possible shopping experience, regardless of where the products are coming from. This is why brands and retailers are able to connect with us, about 170 brands have already done so by joining the Zalando Partner programme. New partners which have recently joined us as traditional retailers are Oysho and Engelhorn. A next logical step in this development would be to bring in local retail stores, as we did in Berlin, where we carried out pilots with two local Adidas stores.
In this case, the products do not necessarily come from our warehouse or the warehouse of that brand, but from the warehouses of the connected shops. What's more, small and medium-sized companies also have the opportunity to sell their products on Zalando as part of the Integrated Commerce Initiative. With the help of the "gax system" partner software, we are forwarding selected orders which are placed on Zalando's online store to the participating specialised brick-and-mortar retail shops. If they have the appropriate item in stock in their shop, they are able to ship the product directly from their shop to the customer."
How many resellers are participating in the programme?
David Schneider: "There aren't that many yet, around 40. There are significantly more participants in the partner programme – we are also active in the sports sector, our offerings are steadily growing. For instance, we added Engelhorn at the end of last year."
Is this because Zalando has yet to built up a comprehensive product selection?
Benjamin Krümel: "It is hard to believe, but we are earning a low double-digit percentage of our turnover from sports and workout clothes for sports training and running– despite our high percentage of female customers. Sportswear is an excellent addition to our product selection – Engelhorn is a good partner for us in this segment."

You just bought Kickz. Why were you so interested in Kickz?
"The new partnership between Kickz and Zalando is an excellent fit with our platform strategy. Whenever we see opportunities in the market to bring different parties together that have unique expertise in a certain area, we take advantage of that and bring them on board. Kickz is particularly strong in basketball with a wide range of exclusive products and a large customer base. We are adding them to our platform and supporting this expertise with our technology and logistics network. Thanks to that partnership, our Zalando customers gain access to the latest products otherwise only available via selected resellers, as well as to exciting products for their own basketball world in the store, which is run by Kickz."
In which countries do you offer this partner programme?
David Schneider: "The programme is currently available in ten countries, where we are currently expanding. It is important to note that this programme makes partners visible to consumers. Consumers know they are purchasing products on our website, but that they will receive their ordered products from a registered merchant. Consumers are accustomed to that and consider it standard practise."
How do you decide who will fulfil the order?
Benjamin Krümel: "Each product in our store is only available through one merchant – we are a closed marketplace. Order fulfilment depends on a number of factors: If we are talking about a small, local merchant for example, the staff in the shop can decide within three hours using the software mentioned above whether they would like to fulfil the order – it's a type of product exchange. If we see that a customer in Berlin has purchased an item that is in stock in a shop in Berlin, that shop should deliver that item. In other words, the shop with the fastest delivery time should fulfil the order for that customer. Otherwise, we will deliver the product, or if it is a product from our partner programme, our partner will deliver the product."
Zalando has such a vast selection of products that the sheer mass of products available is a deterrent for some people. Why do you think you need to increase your selection even more?
Benjamin Krümel: "That is an interesting debate. You can remain relevant to customers by doing more than just having a large selection of products: You can organise and personalise the experience. That's what it all boils down to. This is why we are not only focusing on the transactional mindset; it is also about inspiration, relevant fashion content and advice. There is currently a lot of activity in this area. For example, we want to connect stylists with consumers and provide support for specific areas. We closely involve our partners in the product mix. Brands can take advantage of so-called Brand Shops to choose and organise their products as they see fit. We provide them with the appropriate analysis tools and help them come to the right conclusions. The more involved and integrated a partner is, the more exciting it becomes. The partner can learn a lot about being successful in the digital world."
What information do you use for personalisation? Don't customers get bored quickly if you only suggest items to them that they have already seen?
David Schneider: "Obviously it is boring for customers to only see the same items they have already seen before. This is why you cannot only suggest products based on past purchases or views. You have to find intelligent solutions to correlate data, brands and preferences. I cannot say that everything is already working perfectly, but we are working on it."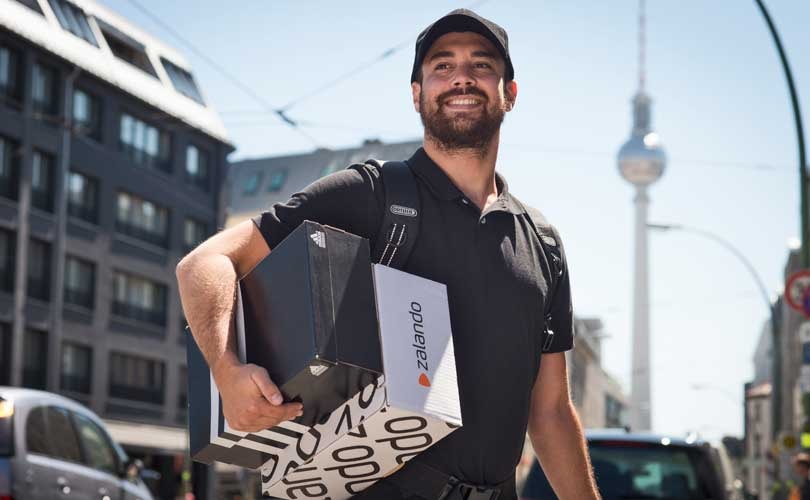 How many more retail partners would you like to add to the programme?
David Schneider: "We could still add many partners. However, we are only looking for partners who have a special product line or who have other unique selling points. The most interesting partnerships for us are the partners that can successfully improve the customer's shopping experience. However, generally I would have to say: Wholesale remains dominant; it is our core strength. All our ideas and considerations for bringing the fashion world together on our network focus on the objective of providing added value to our customers and not on giving up the risk of goods."
You just talked about your high percentage of female customers. How do you aim to attract more male customers?
Benjamin Krümel: "Men will be the focus of our March promotional campaign. They are very interested in fashion and finding the right style. We want to take better advantage of this potential. Our consultancy service Zalon is already focusing on men, confirming many clichés and we are learning a lot. We focused on establishing Zalando as the place for women to go for fashion in the past. Now, with our new promotion campaign targeted towards men, we want to change that and attract more men. We want to show them that Zalando can be the go-to destination to find their individual style."
The first consumer-led Bread & Butter was held under your leadership in September. What were the results?
David Schneider: "We received wonderful feedback on our event and we were even somewhat surprised. We didn't know right up until the very end whether consumers would accept it and what they would think of it. It was surprising that the public came from other places as well as from Berlin, only 50 percent of visitors were from Berlin, a fourth of them from other parts of Germany and the rest were international visitors. Six million people watched the event per livestream! That was very exciting for the brands participating."
Where there any challenges you had to overcome during the debut Bread & Butter By Zalando?
David Schneider: "Yes, we had the impression that it was confusing for some brands that a reseller could create and host such a large customer event. We also had the feeling that there was a certain measure of competition between the brands: whoever had the best idea – which can only have a positive effect on the event and the visitors."
Any solid conclusions from the first Bread & Butter By Zalando? Is there anything you would do differently next time?
David Schneider: "It will be bigger, and visitors will be able to see and experience more brands and products. Many exhibitors did not have enough lead time for the first Bread & Butter. The brands want to exhibit stronger and more exclusive products next time. We will improve the structure of the shows and labs and the briefing for the brands. Of course, the entertainment factor will not suffer."
Do you have any plans to replicate the event in other places?
David Schneider: "Bread & Butter is an enormous testing ground. We have plenty of ideas; however, we will have to wait and see if there are any offshoots later on. Until now we are only expanding the content in digital format through our own channels."
We are seeing that online merchants are also opening more physical stores. What are your thoughts on this?
David Schneider: "We have our outlets and the Bread & Butter By Zalando consumer event. What's more, we have just announced the acquisition of KICKZ, who also have brick-and-mortar stores. Physical stores are more of an experiential world in our view, not just a source of revenue. That is why we did not work with traditional stores earlier. In addition, we do not measure the success of Bread & Butter By Zalando in terms of sales, but in terms of reach and impressions. Bread & Butter is primarily a marketing investment that we at Zalando and our brand partners use to make the physical stores experiential. We organically reached 65 percent of the public, which would have never been possible with a traditional campaign."
Images: Zalando, Benjamin Krümel (left), David Schneider (right)