Cité de la Dentelle et de la Mode [Museum of Lace and Fashion] in Calais has asked designer Anne Valérie Hash to review the first 13 years of her work for a new exhibition on the subject of "Décrayonner", which is designing without using sketches. Here, we meet the outgoing personality behind the designs.
Having been in retirement for the past two years (her last collection presented was her 2014 collection), all attention is now turned to Anne Valérie Hash and the exhibition dedicated to her creative design process: deconstruct to better reconstruct. In fact, the designer practically makes no sketches at all, but constructs her designs on the body before producing loose cloths and fabrics before moving onto the clothes.
Over a period of two years she has made her name known to a wider public as head of artistic management at Comptoir des Cotonniers – a contract which recently came to an end. Queen of male–female and androgynous fashion, it is a real event for the Cité de la Dentelle et de la Mode to welcome her to the exhibition opening. "We have followed her career for a long time and although we are a museum, we are first and foremost a place dedicated to fashion and the latest in textile fabrics," explains Anne-Claire Laronde, director and conservator on the heritage of the place. "That Anne Valérie Hash should agree to be given the museum treatment, following in the steps of other big names, is quite astonishing, as she is already a figure of reference for her peers".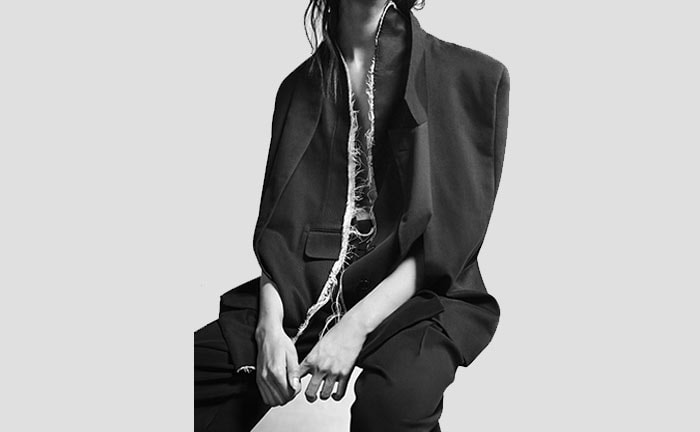 A range of clothing which tears up the codebook
The exhibition, which spans over 500 square metres, contains around one hundred designs, that were selected from 3,000 items with the help of Sylvie Marot, the exhibition curator, and reveals a stylistically unique vocabulary. "The thread of this story is verbs (un-build, un-balance, un-seam, de-fragment…) that describe gesture as expressed by Anne Valérie Hash and her studio and a specific action or its consequence," says Sylvie Marot. The exhibition follows a thematic, non-chronological path in which style is assertive, beginning with a dress made from a pair of man's trousers (an iconic piece of work by the designer), followed by a combination (the flagship of the collections), then haute couture developed in parallel with ready-to-wear items, up to the last item, a lady's suit in lace and reflective fabric.
The exhibition circuit is chromatic and develops from darkness to light, punctuated with alcoves in which videos and photographs are shown, including a few photographs signed by Fabrice Laroche, a partner from the very beginning. Lace is a preferred material of Anne Valérie Hash. "By using men's clothing, Anne Valérie Hash asks questions of the materials used. Cotton fabric and smooth wool are combined with fine mesh fabrics, silk chiffon and lace," says Sylvie Marot.
Art at your fingertips
Exhibitions are often placed behind a glass display. That is not the case here. As the exhibition curator emphasises, "We wanted there to be closeness and warmth so that the matt and glossy textures of the fabrics could be felt". The result is glass displays that are less fixed in which the complexity of the items can be seen more clearly. Anne Valérie Hash loves playing with illusion and displays showcase printed silk jerseys, reversible-wear items, including trousers that can be worn as jackets or dresses, folded origami dresses or even garments made from other items given to her by celebrities. The designer is known to be outspoken and, when interviewed in 2003 by Andam [Association Nationale pour le Développement des Arts de la Mode, National Association for the Development of the Fashion Arts], she answered the question: "What is fashion design today?" by saying, "Fashion design is elsewhere". Unsurprisingly, she won the prize that year.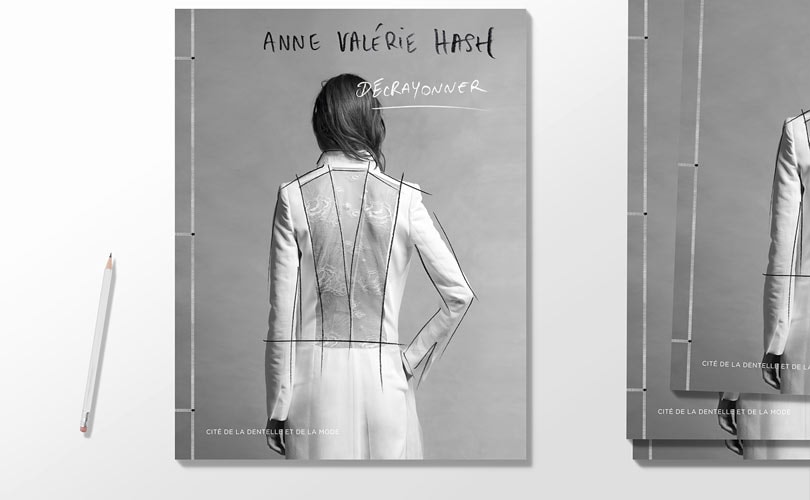 Three questions for Anne Valérie Hash:
Does this exhibition mark an end point for you, or is it taking stock before going forward again?
"It's a way of ending a story. Unconsciously, I had archived everything out of respect for the work done by my teams. I needed this break for the sake of my husband and my family as I had worked for 10 years without a break. I had the honesty, I believe, to make this choice. I decided to pause in a system in which everything is accelerating".
Has the pace of the fashion calendar spun out of control?
"It certainly has and I felt the acceleration. A new generation is growing up which keeps pushing the one in front of the other, it's the circle of life. But there is also this path, this excitement that keeps pushing you to do more. I launched a haute couture line, then a second line, then children's wear and accessories… no one forced me to do it, but when you are a small fashion house, you have to keep up. I became obsessed with building things up, including physically. I put on a lot of weight. And when you are a young designer and not an advertiser, you can't compete. That is the whole problem of the young designer, you don't escape unscathed. That's when I decided to lay down arms."
Will we see you again anytime soon?
"The idea is for me to rest, to rethink everything and then certainly to come back, but in order to do that, a review and further study is required. These last two years at Comptoir des Cotonniers have also been a good experience. I saw and experienced a world that was not the world of my collections. I can mature through all this…"
"Anne Valérie Hash. Décrayonner" Exhibition up to 13 November 2016.
Photos:Portrait of Anne Valérie Hash, exhibition catalogue and silhouette of the Vice Versa Collection ©Fabrice Laroche.