Twenty years of blood, sweat, tears and unorthodoxy are on display at the Rick Owens retrospective exhibition at the Triennale in Milan. "The clothes I make are my autobiography. They are the calm elegance I want to get to and the damage I've done on the way. They are an expression of tenderness and raging ego. They are an adolescent idealization and its inevitable defeat."
The Curve, the Triennale's signature exhibition space, has been transformed by Rick Owens into an involving pathway covering two decades of endless creativity: a selection of more than 100 garments, objects, accessories, furniture and runway videos displayed and connected through a spectacular site-specific installation created by the designer for the occasion.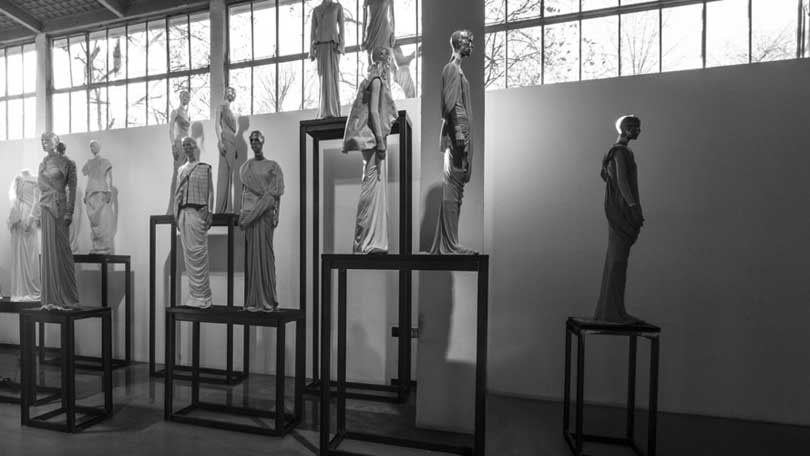 Visitors entering the exhibition are welcomed in a fog-like haze and will be rewarded by much more than Owens' conceptual fashion pieces. Decadent furniture sees wooden chairs covered with camel fur, menacing at first, but soft and comfortable when seated. A suspended organic sculpture that hangs like a hovering cloud covers the visitor's path. Then there are those genre-breaking collections that bring back the surreality of his catwalk presentation.
The first 1,000 visitors (and shoppers) can purchase a special limited edition box catalogue, published by Electa. The tomb is inspired by Marcel Duchamp's boîte-en-valise, containing several books and photo publications, a reproduction of a head by late Italian artist Thayaht and a vial of Owens' personal fragrance.
Titled Subhuman, Inhuman, Superhuman, the Rick Ownens retrospective will be on show in the Milan Triannale until 25 March 2018.
Photo credit: Courtesy of the Triannale di Milano