Sara Ehlers

|
Madaluxe Group just announced a new chief executive officer. Formerly serving the role as president, Adam Freede has now been promoted as CEO to help grow the company.
Freede's new position was announced on Tuesday, February 13, according to WWD. He will be taking over the role from his mother Sandy Sholl, who was named executive chairman for the company. Together, the two cofounded the company approximately seven years ago. While Sholl moves on to executive chairman, she will oversee and manage the retail, marketing and e-commerce side of the business. As CEO, Freede will help build out the company and continue its growth strategy. "We are aggressively pursuing expansion and going down a lot of different roads," Freede told WWD in an interview.
As part of the comapany's strategy, Madaluxe plans to open some of its off-price luxury boutiques including one called Madaluxe Vault. Another location is set to open in San Clemente in California later this year. As reported by the publication, the group also plans to open a store in Manhattan boasting 9,000 square feet. It seems with Freede taking over, he will help lead and direct these new moves.
Vivian Hendriksz

|
London - Jason Wu and Hugo Boss are set to part ways after five years, as the US designer is set to step down from his role as artistic director for Boss woman following the German fashion label's Gallery Collection presentation this evening during New York Fashion Week.
Wu first joined the team at Hugo Boss back in June 2013 and since then his signature style has 'significantly' shaped Boss's womenswear direction. However, after running his own fashion company for ten years, the designer is ready to turn his full attention to developing his own label.
Jason Wu to exit his role as Artistic Director for Boss womenswear after 5-year tenure
"The five years at Hugo Boss have been a very exciting time for me," said Wu in a statement. "I am especially grateful to the entire Boss Womenswear team – for their passion, their dedication and not least for the amazing fashion shows and events that we realized together. Now the time has come for me to concentrate fully on my own label."
The debut Gallery Collection was shown during Berlin Fashion Week last summer, to great success. Since then the German fashion house has been working on redefining its women's and men's collections to appeal to a younger generation. During the presentation of Wu's final collection for Boss womenswear, Hugo Boss aims to highlight a number of keys looks. Wu is said to have been inspired by the purest work of minimalist Robert Morris for the collection, which is reflected in the shape of the bold tailoring.
"I would like to thank Jason for his incredible creative input and inspiration," said CBO Ingo Wilts. "I feel certain that he will approach all his future projects with the same compelling passion and zest that he brought to Hugo Boss – and for which we are highly indebted to him." The German fashion house has yet to appoint a successor to Wu.
Photo: Jason Wu AW17/Catwalkpictures
Danielle Wightman-Stone

|
Roger Vivier has confirmed that its longtime creative director Bruno Frisoni is to leave the label by "mutual agreement" at the end of his current contract.
Frisoni, who has been at the helm at Roger Vivier for the past 16 years, will present his last collection for the brand for autumn/winter 2018 in Paris on February 27, during fashion week.
"These sixteen years dedicated to reviving Roger Vivier represent a fascinating and exceptional experience," said Frisoni in a press statement. "I thank Diego Della Valle for his trust, Ines, an inspiration and a friend forever and of course the talented teams and collaborators who allowed me to bring the brand where it is today. An extraordinary adventure."
The news follows a solid performance by the brand in 2017, with sales at Roger Vivier up 9.7 percent from FY 2016 to 179.3 million euros, driven by positive results in all the main markets. This in comparison to the parent company Tod's Group, which saw a decline of 4.1 percent in FY17, with its consolidated sales totalling 963.3 million euros.
Roger Vivier announces departure of longtime creative director Bruno Frisoni
Frisoni has been credited with modernising the fashion house and taking the iconic footwear brand, known for its 'Belle de Jour' buckle shoes as worn by Catherine Deneuve, in a new design direction, following the passing of the label's namesake.
Diego Della Valle, president and chief executive of the Tod's Group, which owns Roger Vivier, added: "I would like to thank Bruno on my behalf and on behalf of all the people who work for Roger Vivier, for the work which has been done during all these years and I wish Bruno a future filled with new opportunities and success."
Roger Vivier has not yet disclosed who Frisoni's successor will be, or what the designer's next move will be. In 2011, the footwear designer halted his own signature shoe line, after 12 years in business, so is a revival in the works?
Image: courtesy of Roger Vivier by Alessandra d'Urso
Sara Ehlers

|
Marc Jacobs just recently made a key change in their staff. The LVMH-owned fashion label just announced the brand's newest creative vision director as John Targon.
Targon joins the iconic fashion house after working as a co-founder and creative director for Baja East. He will start his role effectively on Friday, February 2 with no official role title. According to Business of Fashion, LVMH confirmed that he will join the company but has not disclosed his actual position. "We are happy to welcome John to our design team," a spokesperson told the publication.
Targon also has previous work experience at luxury brands such as Burberry and Celine. He worked as director of wholesale for menswear for Burberry in 2012 and as national sales director for Celine starting 2009. He also worked as sales manager for Conde Nast before moving forward in the fashion industry to higher-end brands. At Marc Jacobs, it'll be interesting to see the direction that Targon chooses for the label's newest revamp.
Sara Ehlers

|
Canadian footwear brand Manitobah Mukluks recently just hired on Paul Silvertown and Impact Group as a strategic move for its business. As its exclusive agency for sales and distribution outside North America, the new partnership is set to take the label to a global level.
Silvertown comes to Manitobah Mukluks with over 35 years of experience in the industry. Previously, he worked at Canada Goose as Vice President of Global Sales. He helped drove revenues of 12 million dollars in 2006 to over 300 million dollars in 2016, distributed over 40 countries, according to a press release from the company. With this experience, it's clear that Silvertown can help make an impact in the Canadian's labels sales. "I'm excited to be working with Manitobah. The mukluk is the original winter boot, and no other company has such a unique, authentic connection to it," Silvertown said in a statement. "I strongly support the brand's vision to make an impact in Canadian Indigenous communities and look forward to taking it global."
He also worked previously at Pegasus Shirt Company as a co-owner. Most recently, he was GM and VP at Canada Goose. His work in industry shows that he has the experience and backing to propel a brand forward in terms of revenue. "Paul is a Canadian brand pioneer who understands iconic products that offer both function and fashion," Josh Fine, Manitobah Chief Brand Officer , said in the release. "His track record in bringing Canada to the world will provide a huge lift to our global ambitions."
Danielle Wightman-Stone

|
Australian swimwear brand Seafolly has named former DKNY commercial head, Paul Kotrba as its new chief executive officer, to "further develop its global growth potential".
Kotrba is an experienced global retail executive with over 15 years spent in New York City at Donna Karan and DKNY during the period of ownership under LVMH. There he successfully built brand equity by leading the execution of the groups' commercial growth strategy across the US, Europe, Middle East and Asia.
Commenting on his new role, Kotrba said: "I am very much looking forward to joining the Seafolly team and for us to expand this powerful Australian brand across the globe. It is impressive what the founders and the management team have accomplished and to experience the loyal following the brand has, especially here in Australia.
"I believe there is now a real opportunity to build Seafolly into the world's number one iconic swimwear and beach lifestyle brand."
Chairman and managing partner of the majority shareholder private equity group, L Catterton Asia, Ravi Thakran, added: "Paul's appointment is another significant step in our journey in continuing to expand the brand that Peter and Anthony Halas have successfully built over the last four decades.
"Paul's leadership and experience will be a huge asset to Seafolly in the next stage of growth and bring us closer to becoming the world's most recognised brand in this exciting category."
Former DKNY commercial head Paul Kotrba named chief executive of Seafolly
Founded in 1975 by Peter and Yvonne Halas, the Seafolly brand was led by Anthony Halas since 1998 when he became chief executive, and subsequently grew the business across several international markets in Europe, North America and Asia.
Halas, who remains a non-executive director and shareholder said: "Paul's extensive commercial acumen and experience building brand equity in established and emerging markets is second-to-none. His international experience combined with Seafolly's unique history is a success formula for the brand's future."
Seafolly is sold in over 2,700 doors in 41 countries, through its own channels, leading retailers and major online sites. There are 33 Seafolly stores, 22 in Australia, 7 in the US and 4 in Singapore. The company ships to Australia and the US through its own e-commerce site. The brand also operates another premium swimwear and apparel resort brand, Miléa, and a chain of multi-brand swimwear stores under the Sunburn banner.
Image: Seafolly Facebook
AFP

|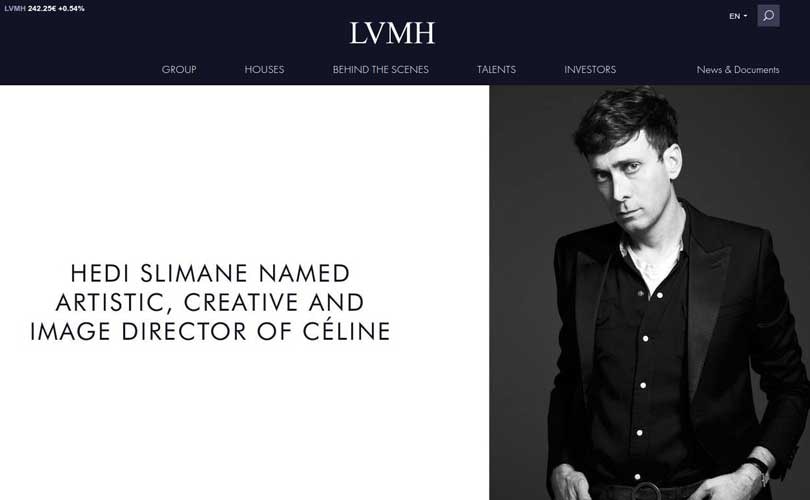 Hedi Slimane, the designer who pioneered the skinny look at Dior and Saint Laurent, is to take over at Celine, the brand's owners LVMH said Sunday.
The 49-year-old French-born creator is one of fashion's biggest and most enigmatic names, and his future has been surrounded by speculation since he walked away from Saint Laurent last year.
The luxury giant LVMH, which owns Celine, has given Slimane complete control of the brand's images and creative side in order to sign him up -- a concession which put him alongside Chanel's Karl Lagerfield as one of the most powerful designers in fashion. He has also been given his head to create a menswear line at the label, which up until now only made clothes for women.
Announcing the surprise appointment, Bernard Arnault, the owner of LVMH, said: "He is one of the most talented designers of our time. "Hedi will oversee and develop all creativity for both women's and men's fashion, but also for leather goods, accessories and fragrances," he added. "He will leverage his global vision and unique aesthetic virtuosity in further building an iconic French fashion house," he added. Lagerfeld, who famously shed 41 kilos (90 pounds) in order to squeeze into his Slimane's skinny jean, was the first to cheer the news. "I am enchanted, what a great choice," he told Women's Wear Daily. "It will be great."
Céline to launch menswear under Slimane
Like Lagerfeld, Slimane is a renowned photographer, and he has spent the last few years living in Los Angeles, where he had moved his studio at the end of his reign at Saint Laurent. The designer drew much of his inspiration from the LA rock, which he tirelessly documented with his photographs. AFP understands that he will that will continue to live in the city while he designs for Celine.
"I am delighted to join Bernard Arnault in this all-embracing and fascinating mission for Celine," Slimane said. "I greatly look forward to returning to the exciting world of fashion and the dynamism of the ateliers." Slimane will be reunited with Sidney Toledano, one of fashion's most influential backroom figures, at Celine. The pair were a formidable team at Dior where Slimane was a huge trendsetter until his departure in 2012, designing for the late rock star David Bowie, with his skinny silhouette dominating men's style for nearly a decade. (AFP)
Photo: screenshot LVMH website
Kristopher Fraser

|
Alix Browne, the founding editor of V Magazine, has been named Helmut Lang's new editor-in-residence. Browne's most recent position was as features director of W Magazine, and she was previously deputy style editor of T: The New York Times Style Magazine. She succeeds Isabella Burley, the editor of Dazed & Confused.
In her new role, Browne will handle the brand's creative projects, content and marketing. Helmut Lang's editors-in-residence are intended to help the brand streamline daily content to provide consumers with newness in a digital age.
The idea of the editor-in-residence program happened in 2016 as the brain child of Andrew Rosen, chief executive of Link Theory Holdings which owns Helmut Lang, and Brian Phillips, founder of Black Frame PR. Rather than having a traditional creative director, they created the rotating editor-in-residence position to have a continued sense of newness for the brand.
Shayne Oliver of Hood by Air was invited to be the brand's first guest designer. His collection for the brand showed during September 2017 at New York Fashion Week. Under Burley's direction, the website was relaunched as well as a program to sell pieces from Helmut Lang's archive called Re-Edition.
Browne told Business of Fashion, "If you look around at the fashion landscape today, the influence of Helmut Lang, his relevance, has probably never been greater and it's evident in the way fashion is designed, presented, and communicated [today]."
Kristopher Fraser

|
Cole Haan has announced the appointment of Tom Linko as Chief Financial Officer.
"We are delighted Tom Linko has joined Cole Haan as CFO. His unique pedigree makes him ideal for Cole Haan. His experience in growth-oriented, multi-channel, global fashion and lifestyle brands will serve a vital role on our management team at a time when Cole Haan is gaining marketshare and expanding globally," said Jack Boys, CEO of Cole Haan.
Linko brings a wealth of experience to this role, having served most recently as CFO of Kate Spade & Co., where he oversaw and lead their global finance team that included accounting, reporting, treasury, tax, internal audit, FP&A and global planning.
"I am thrilled to be joining one of the strongest American brands in the marketplace that is bridging technology and innovation with classic style. It is an exciting opportunity to be able to bring my experience in the fashion industry to a growth brand such as Cole Haan," said Tom Linko.
In February of 2013, Apax Partners acquired Cole Haan, making it privately owned for the first time in 25 years. Since then, the brand has continued to expand domestically and internationally through new partnerships and distribution agreements.
Kristopher Fraser

|
Elaine Welteroth, Teen Vogue's editor-in-chief and one of the magazine industry's biggest media personalities, has announced that she will be leaving Teen Vogue and Condé Nast Publications. The internal e-mail went out to Condé Nast's staff on Thursday afternoon.
Welteroth officially became editor-in-chief of the teen glossy publication in April 2017, after she shared leadership duties with digital director Phillip Picardi and creative director Marie Suter for a year. Before joining Teen Vogue and Condé Nast, Welteroth began as an intern at Ebony, and climbed up the ladder to become the beauty & style editor. She then made a lateral move over to Glamour, and after that she was promoted to Teen Vogue's beauty and health director prior to becoming editor-in-chief. This made Welteroth the youngest person and the second woman of color after Keija Minor at Brides to become editor-in-chief of a Condé Nast publication.
Elaine Welteroth departs Condé Nast Publications
Teen Vogue ceased print publications in November 2017, and it's unclear what Welteroth's role would have been going forward. According to a statement from Condé Nast issued to Fashionista, "We talked to Elaine about a number of different opportunities but ultimately she decided to go in a different direction. She was instrumental in the successful launch of the Teen Vogue Summit and know that she will carry that same passion and enthusiasm into her next venture. We wish her all the best in what we know will be an incredible career."
In an exclusive interview with The Hollywood Reporter, it was revealed that she has signed with CAA, meaning she could be pursuing an on-camera career. Welteroth is known to be an impressive interviewer, having nailed interviews with high-profile figures such as former Vice President Joe Biden and 2016 Democratic presidential candidate Hillary Clinton.
Despite her departure from one of the world's top publishing houses, Welteroth's future is still looking bright.