Sara Ehlers

|
Lifestyle and accessories brand Sprayground recently just announced a new pop-up. The label is opening temporary shops in New York in order to attract more new customers.
The pop-up will remain open for a week on 42nd Street in the city. The store opened earlier this week on November 21. The company's merchandise ranges in price from approximately 70 to 350 dollars and is also available online in addition to the pop-up shop. The store's hours are from 12 p.m. until 12 a.m. in order to accommodate most shoppers in the New York City area. The space, boasting 5,300 square feet, is strategically planting the temporary store in a way that will attract shoppers based on their window of leisurely shopping time.
The company, which was established three years ago, is now sold in over 35 countries. Known for their travel-inspired collections, high-quality bags, and iconic accessories, the label combines function and design. In the future, the company plans to expand with various other apparel offerings. "[We want to] kill it in bags first, then [move forward]," the founder, David Ben-David states in the company website.
Vivian Hendriksz

|
London - Global Blue, tax-free shopping and currency provider, has launched its new and improved Shop Tax-Free app. Designed to offer international shoppers a seamless and personalized experience during every stage of their tax-free shopping trip, the app offers new features such as the live tracking of tax refunds, advanced mapping, and a digital shop tax-free card.
The revamped app is part of Global Blue's wider series of digital innovations to improve the tax-free shopping experience for globe shoppers. Aimed at frequent international shoppers (those who have shopped tax-free three times over the last 24 months), the app offers everything they need to plan, shop and claim their tax-free refunds. The app features a comprehensive range of tools to help travelers manage their tax refunds, which can be accessed at the touch of a button. Geolocation services help users find their nearest Custom and Refund offices.
In addition, Global Blue's Refund Calculator has been incorporated into the app, offering live currency updated and automatic home currency conversion, as well as tax-free shopping information. It also features one-touch enrolment to Global Blue'sShop Tax-Free Card via passport scanning, cutting down on time spent on registration. The new app complements Global Blue Mobile Customer Care , an innovative service which was created to offer real-time support to less frequent international shoppers.
"Global Blue's new app is the latest innovation in our mission to provide a digitized, personalized Tax-Free Shopping experience for Globe Shoppers. The traveler now has a smart, intuitive tool with everything they need to shop Tax-Free in the palm of their hand," said Tomas Mostany, Senior Vice President, Product Tax-Free Shopping at Global Blue.
"For our partners, this service represents an important differentiator, enabling them to offer a truly market-leading Tax-Free Shopping service to their customers. Aside from the customer satisfaction and service benefits, the app will help deliver more travelers to stores, reduce time spent on enrolment and increase completed Tax-Free refunds, maximising revenue for partners."
The new Global Blue Tax-Free Shopping app is available now for iOS and Android.
Photo: Global Blue
Danielle Wightman-Stone

|
Luxury fashion label Marni has launched a new retail concept focusing on accessories, to boost its bags, shoes, eyewear and jewellery collections, which currently account for more than 40 percent of its annual turnover.
To highlight its accessories, Marni has unveil four new retail concepts in Rome, Paris, Madrid and Shanghai within key department stores that focus exclusively on leather goods, eyewear and jewellery, as well as its bags, which have reported an increase in sales of more than 50 percent since 2016.
In Rome, Marni accessories are located at the ground floor of the just inaugurated La Rinascente Tritone store, while in Paris the concession is within Printemps Louvre, and in Madrid, Marni has opens its accessories area in the El Corte Inglés Castellana. In addition, Marni has opened in the Grand Gateway 66 mall at the centre of the dynamic Xujiahui commercial district in Shanghai.
All the concessions reflect the Marni retail concept, which plays around with "linear geometry, sophisticated marble inlaid flooring and witty handling of delicate colours that contrast with bolder hues" said the brand in a press statement.
Images: courtesy of Marni
Danielle Wightman-Stone

|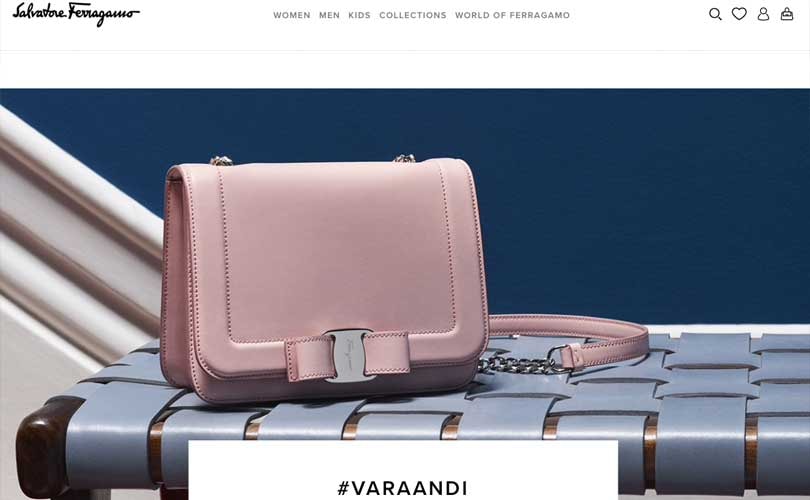 Luxury brand Salvatore Ferragamo has launched a new flexible and multi-functional website in Europe, following initial testing in the US and Canada.
The new website, which offers quick product viewing and user-friendly navigation, has a focus on product and imagery, and highlights the brand's penchant for innovation, said the luxury label. It utilises an easy, linear approach across the site that takes visitors to the catwalk to showcase Ferragamo fashion collections including menswear, womenswear, and accessories.
In addition, new, integrated e-commerce and omnichannel functions also give shoppers direct access to boutique products and the chance to order online and collect their purchases at the store of their choice.
The website's architecture and layout has also specifically been designed to optimise the e-commerce functions for all types of devices, from smartphones to tablets.
"We wanted to combine the contemporary modernity and style of today's Ferragamo with the brand's intrinsic legacy," said Eraldo Poletto, chief executive of the Salvatore Ferragamo Group. "Salvatore Ferragamo is constantly evolving and our web division has managed to capture it and make it even easier to use on the new website, with a clear, elegant and dynamic language that speaks to users with vibrancy and colour."
The website was initially launched in the US and Canada, and is now being rolled out across Italy and Europe, as well as China. The new makeover will the roll out across the rest of Asia, Australia and Latin American by the end of 2018. When the rollout is complete it will cover 28 countries around the globe, offering Salvatore Ferragamo products in 13 different currencies.
Images: Salvatore Ferragamo website
Sara Ehlers

|
Los Angeles - Stone Island is set to open a boutique in Venice this year. The company has recently unveiled plans to move forward with retail locations.
This plan includes a flagship in Los Angeles that will occupy 5,382 square feet. "This is not only our biggest store but also the most beautiful," Carlo Rivetti, president of Sportswear Co., parent firm of Stone Island, told WWD. "Since we opened last summer, we can say that it has been working really well, exceeding our expectations." The store will carry the brand's newest collections as well as hold an exhibition space dedicated to Stone Island's heritage.
The store's aesthetic will also reflect the brand's modern designs. The store will have displays including high-tech materials including aluminum, industrial felt, fiberglass, and more according to the publication. As the brand currently is available in various retailers in the U.S., this store will serve as one of the label's core standalone shops.
Sara Ehlers

|
Good American just announced its first pop-up boutique on the West Coast. The temporary store will be located at the Americana at Brand in Glendale.
The store is set to open just in time for the holiday season on Friday, December 1. The store will retail apparel from the line as well as host in-store events. The brand is known most for its well-fitting jeans, bodysuits and sweaters. The company's website states, "Good American will be hosting a series of in-store events with special appearances by the GOOD SQUAD and more." The pop-up will have a full, inclusive range of clothing and will stay open through January 2018.
Co-founded by Khloe Kardashian and Emma Grede, the brand has made a name for itself through selling clothes for various body types. According to the website, the label's apparel retails from 75 to 189 dollars including lace-up jeans, jumpsuits, hoodies, and more. Ranging in size from double zero to 24, the brand is moving into retail territory with the upcoming holiday pop-up.
Kristopher Fraser

|
ModCloth, the retailer known for women's vintage inspired apparel, decor and gifts, has announced that this year they will be shutting down their site for Black Friday. In an effort to promote more family time, ModCloth decided to forego being another retailer that's part of the day after Thanksgiving discount craze. Not only will they be shutting down the site, but they will also be giving employees the day off.
"It's easy to get caught up in the hustle and bustle of the holidays and we wanted to do something different and remind our community that this time of year is about friends, family and helping others in need," said Nicole Haase, ModCloth's vice president and general merchandising manager.
ModCloth not participating in Black Friday this year
This year, ModCloth is also encouraging people to donate to charity. Rather than promoting shopping, this year the company wants customers to nominate someone they know who is giving back to their community. In return, ModCloth will be donating merchandise to Dress for Success, the organization aimed at helping women transitioning back into the workforce and give one deserving do-gooder consumer 4,500 dollars.
ModCloth's efforts are not only admirable, but also business sensible as Black Friday is no longer considered the prime retail event it once was. According to a study by PwC, "Super Saturday" otherwise known as the Saturday before Christmas, has surpassed Black Friday in terms of sales, as customers find that's when they get better deals. The PwC study stated only 35 percent of shoppers plan to shop on Black Friday this year, down 59 percent from last year.
As online shopping continues to see growth, that's where companies, including Modcloth, are focusing their efforts. The site will be up and running a Cyber Weekend promotion starting on Sunday with 30 percent off deals and free shipping through Tuesday.
photo: via ModCloth.com
Kristopher Fraser

|
Sweaty Betty's going full speed ahead with their U.S. retail expansion, with their new Aspen store being a key part of their business. The store opens today, and will primarily sell ski apparel.
In 2016, skiwear made up of 35 percent of the brand's sales. "Having skied for more than 30 years, Aspen has always been a dream location of mine for Sweaty Betty," said Tamara Hill-Norton, founder and creative director of the brand, to WWD. "With some of the best slopes and après ski in the world, it's the perfect place for our new seasonal shop to open."
Price points for the ski line range from 30 dollars for technical ski socks to 730 dollars for an all-in-one ski ensemble. In a climate that is very temperamental for brick-and-mortar, Sweaty Betty has made it a focus with the opening of three physical retail locations. This fall they have opened two other locations including a London flagship and a Manhattan location in TriBeCa. Currently, Sweaty Betty has a total of 62 stores between the U.S. and U.K.
Often referred to as "a pricier Lululemon", Sweaty Betty has been able to find global success thanks to the global athleisure and athletic wear trend. In October, the company reported double digit sales growth, with an increase of 16.3 percent according to Retail Gazette.
Sara Ehlers

|
Pop-In @ Nordstrom is partnering with The Museum of Modern Art's MoMA Design Store in order to bring a curated, creative take on everyday living and products. The collaborative effort opened this past week as a gift shop.
The lifestyle products and fashion accessories are product-tested using real-life scenarios and are reviewed by MoMA curators. Prices start from 10 dollars up to 6,000 dollars depending on construction and stylistic design. "I've always been a huge fan of MoMA Design Store and their ability to thoughtfully consider the most interesting, exclusive, and enticing products from around the world and to have the opportunity to partner with them this holiday season is very exciting," said Olivia Kim, vice president of Creative Projects at Nordstrom. "We are looking forward to seeing our customers engage with an institutional and iconic brand through a compelling and fun shopping experience and hope they love it as much as we do."
Pop-In @ Nordstrom has featured designs from Everlane, Proenza Schouler, Rodarte, and A.P.C. for its various themes. The pop-in offers exclusives, early access designs, and various apparel items sold in the U.S. for the first time. In partnering with MoMA, the gift shop debuted at Nordstrom locations in Bellevue Square, Washington; South Coast Plaza, California; CF Toronto Eaton Centre, Canada; and more.
"MoMA Design Store is thrilled to present a selection of MoMA curator-approved design objects and gifts to the incredible Pop-In@Nordstrom customer base this holiday season," said Thomas Randon, general manager, retail at The Museum of Modern Art. "With such an engaging shopping format, it is a wonderful opportunity for design-conscious shoppers on the West Coast, in the Midwest, and in Canada to discover our unique products in person."
Kristopher Fraser

|
In an effort to go toe-to-toe with Gucci, their toughest competition on N. Michigan Avenue, Louis Vuitton has opened a completely remodeled location. The store was designed by Peter Marino, who has also designed Louis Vuitton's SoHo and Place Vendome locations.
The Chicago store's new facade includes layers of metal and wooden mesh as an homage to the Palmolive Building in which the store is housed. In addition, the exterior features features an intricate bronze pattern based on an abstraction of the iconic Damier Geant pattern used in many Louis Vuitton leather goods.
The store entrance also features floating shelves to display several of the handbag offerings. The actual store itself has also been expanded an extra 10,000 square feet.
According to the company, the new store will carry all of the brand's major product categories, in addition to products exclusive to the Chicago store. Two exclusive handbag offerings are already available.
While Louis Vuitton and Gucci are competing with each other, retail traffic on the rest of N. Michigan Avenue hasn't been that great in the past two years. Many retailers have left the once booming shopping area, leaving many vacancies in their wake. While the avenue is in a state of uncertainty, select luxury brands at least some to be doing well for the time being. However, the retail economy there can't survive on just two stores alone. It will be interesting to see who tries to move in next.
photo: via Louisvuitton.com