Vivian Hendriksz

|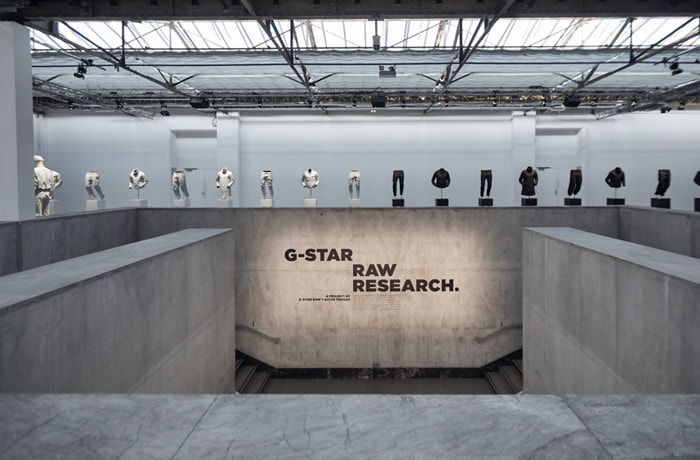 London - The eponymous ready-to-wear line from couturier Azzedine Alaïa has launched exclusively online on Net-a-Porter.
An edit of 60 pieces from Alaïa's spring 2017 collection launched Thursday on the luxury retailer's website, including the signature knitted dresses the rtw brand is known for. In addition to offering its ready-to-wear collection, Net-a-Porter will also offer beauty products from Alaïa, which include fragrance, bath and body items and candles, another first online launch for the brand.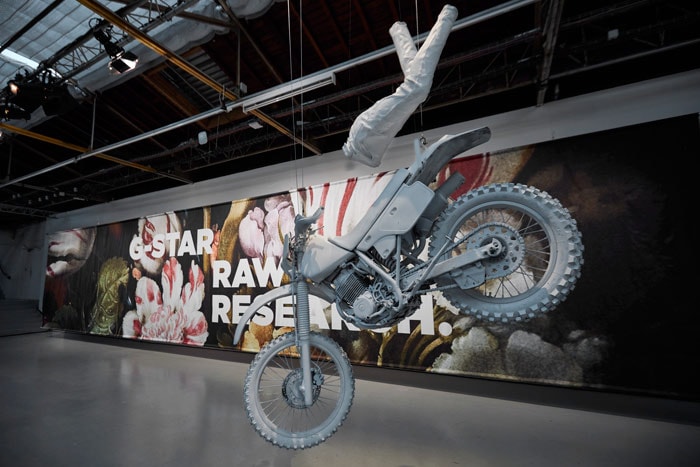 The brand has a much more edited online presence in comparison to some of its luxury peers, only operating an Instagram account as its sole social media channel. But the move sees Azzedine Alaïa becoming the latest designer to join forces with the Yoox Net-a-Porter Group in offering its fashion collections online.
However, it is not the first time that Net-a-Porter offers designs from Azzedine Alaïa. Both the luxury website and the sister platform Outnet.com, the off-season website also owned by YNAP, already offer accessories, footwear and handbags from Alaïa.
Prices for Alaïa ready-to-wear collection range from 280 pounds for the strech-knit shorts to 4,830 pounds for the laser-cut pleated maxi skirt and prices for the brand's beauty products range from 36 pounds for a shower gel to 1,800 pounds for their Eau de Parfum.
Photos: Courtesy of Alaïa and Net-a-Porter
Vivian Hendriksz

|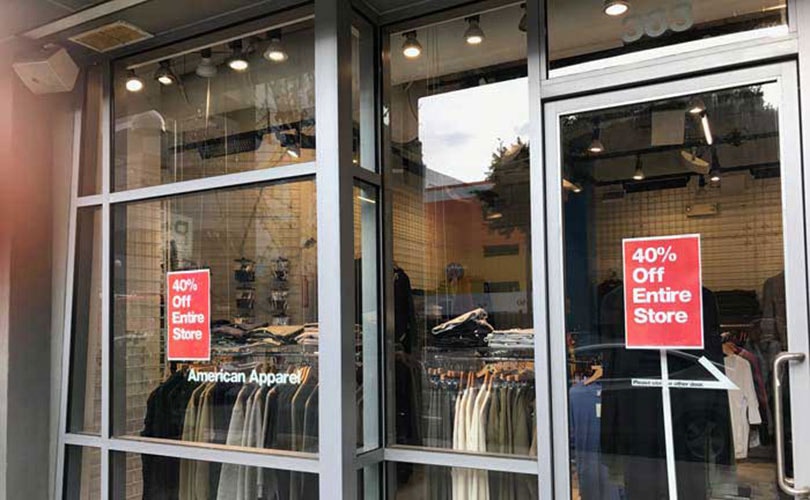 UPDATE London - Although bankrupted American Apparel may have found a new owner in the form of Canadian manufacturer Gildan Activewear, the future of the retailer's store chain was remained bleak as the agreement did not include store locations.
Earlier this week news emerged that the Los-Angeles based company had let go of approximately 2,400 employees, with a total of 3,500 jobs being axed across the board, from garment factory workers to senior management roles. As the company was unable to find a buyer for its 110 store portfolio, reports indicated that American Apparel would begin shuttering all its stores across North America with immediate effect.
However, a spokeswoman from American Apparel has stressed that the remaining stores are set to stay open for at least another three months. Arielle Patrick confirmed to Business Insider that under the terms of American Apparel's sale to Gildan, which includes a 100-day license, no stores will be shut during the period. The retailer added that it has not shut any additional stores in North America since the closure of nine stores, announced last October.
If American Apparel does shut all of its stores, then an additional 2,000 store workers will be made redundant. Until then, the fashion retailer is trying to sell off as much stock as possible, and is currently offering a 40 percent off discount across its entire collection online and in store. American Apparel previously shut all but one of its store in UK last month after it fell into administration.
Photo: FashionUnited
Sara Ehlers

|
Last year, many retailers struggled with mall decline and declining retail sales. In 2017, BCBG Max Azria Group has succumbed to these obstacles and has announced store closures for later in the year.
The contemporary luxury brand has confirmed that it will close stores as part of a restructuring process. "In order to remain viable, the company — like so many others in its industry — must realign its business to effectively compete in today's shopping environment," the company said in a statement, as reported by WWD. As consumer patterns have shifted mostly online, mobile and other e-commerce platforms; the physical store has become less of a necessity for most brands. BCBG seems to be no exception in this current economic climate.
While bankruptcy has not been announced or hinted at from the company, restructuring is typically a sign that the company many be struggling financially as well. Store closures are also usually a step towards bankruptcy. The Limited recently just filed for Chapter 11 after facing the same issues. Although BCBG's plan to restructure may help with the the business, it may not come as a surprise to see the company headed in the same direction.
Danielle Wightman-Stone

|
A third of shoppers would rather 'wash the dishes' than shop in-store, according to a new report by Capgemini's Digital Transformation Institute, that surveyed consumers and retail executives from the UK, US, China, Germany, France, Italy, Spain, the Netherlands and Sweden.
The report, which spoke to 6,000 consumers and 500 retail executives, highlights a growing divide between retailers and consumers on the importance of physical stores, while 81 percent of retail executives see the store as important, less than half of consumers, 45 percent agree.
It found consumers were frustrated with the high street shopping experience that they say offers little of the convenience of online counterparts, with four in ten (40 percent) claiming shopping in-store is a 'chore'. Dissatisfaction was shown to be highest in Sweden and Spain where a respective 54 percent and 49 percent of respondents said bricks and mortar shopping is a chore, while the lowest was in China and the US, 29 percent and 31 percent respectively.
The research found that some 54 percent of the retail executives surveyed admitted they had been slow to digitise their physical stores although it was a top priority for 78 percent of those canvassed. However, 40 percent added that they are limited by both existing technology investments and the capabilities of in-store staff.
The report also notes that consumers are exploring new purchase paths, with more than half willing to buy directly from manufacturers in the future or buy from technology players such as Google, Apple, and Facebook if they partnered with local retailers for last-mile delivery. Overall, 71 percent of consumers would consider bypassing traditional retailers, but this attitude is most prevalent in China, where well over three quarters (87 percent) of respondents would consider alternatives.
Consumers claim in-store shopping a chore in new retail report
Mike Petevinos, global head of consumer products and retail at Capgemini Consulting, said: "Shoppers are increasingly disconnected with the in-store experience, and it's easy to see why. Most physical shops remain stubbornly 'offline', unable to offer the speed, flexibility and sheer ease of use that consumers take for granted on websites. Rumors of the death of the high street store may be exaggerated, but they are becoming uncomfortably close to the mark.
"Many retailers we spoke to admit they aren't digitising stores quickly enough because making a business case for investment is challenging. This report makes it clear the real question retailers have to be asking themselves isn't whether they can afford to transform the in-store experience, but can they afford not to?"
So what can retailers do? Well, the report notes that 70 percent of consumers still believe that stores have a role in their lives as they still want to "touch and feel products before they buy", however, they not only expect to see the same features that they find online implemented in-store, but also want more incentives.
For instance, 75 percent of consumers want to check if stock is available before going in-store, while 73 percent expect same day delivery of products purchased in-store, and 68 percent expect loyalty points for spending time in store and repeat visits, with 61 percent added that they want store memberships that offer lower prices.
In addition, the survey revealed that stores need to do more than sell and fulfil, 57 percent of consumers want retailers to provide social spaces, learning experiences and inspiration, such as cooking or DIY workshops.
Kees Jacobs, consumer goods, and retail lead, insights and data global practice at Capgemini, added: "Brick and mortar stores of the future will need to be very different if they are to give consumers a reason to leave their computer, abandon their dishes and visit. What is clear from this report though is that they still have a big role to play, the industry is going to see a fascinating struggle take place in the next few years to decide what exactly the new breed of retail store looks like.
"The battle to create the modern retail experience, between traditional retailers with a long, successful history of high street store building and new digital entrants built around the internet and mobile technology, is finely poised."
Danielle Wightman-Stone

|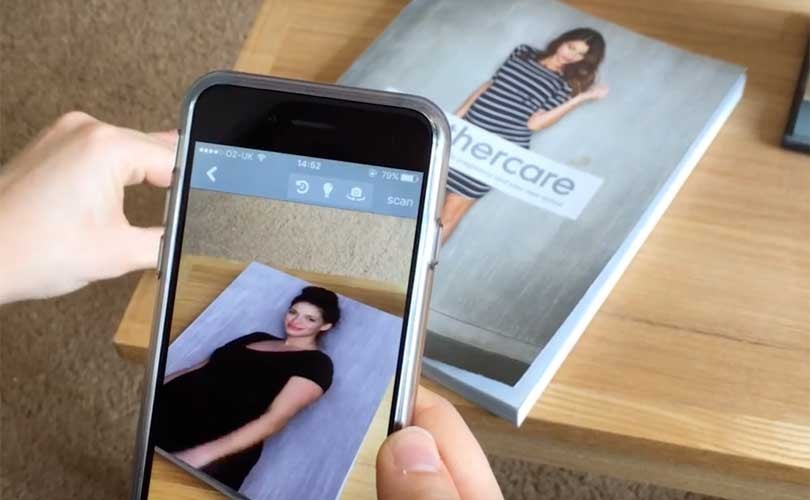 London - What can retailers expect this year? Well, according to consulting, technology and outsourcing agency Capgemini the four key trends will be 'the rebirth of loyalty', 'the Internet of Things', 'virtual reality' and 'biometric recognition'.
Bhavesh Unadkat, management consultant in retail customer engagement design at Capgemini said: "2016 demonstrated a real shift in retailers executing more targeted and relevant content at scale. We also saw digital being used in stores to improve experiences through things like contactless payments and the use of tablets for ordering and engagement. Retailers demonstrated their versatility in finding interesting ways to adopt disruptive technologies such as Augmented Reality and the Internet of Things into their ecosytem.
"No doubt 2017 will be a very exciting year in retail with brands competing for that share of wallet which is more diluted than ever before through the choice the customer has. Retailers are looking for ways to be more meaningful and relevant to their customers, to offer that extra bit more which is not just product and price but great service and experience."
One the key trends is going to be the 'rebirth of loyalty' with Capgemini stating that retailers need to be thinking about how their schemes can be more sustainable and built on a reciprocal value exchange with their customers that provides more reasons to be loyal.
"Loyalty isn't built in a moment, but instead over time, and it needs to be considered as a more holistic outcome, achieved through supporting, inspiring and engaging the segment of one customer," added Unadkat.
Next is the 'the Internet of Things', with the number of wearable devices purchased during 2016 doubling, Capgemini is predicting that this sector will expand its reach in retail. It states that there are lot of opportunities from customer facing to benefits in the supply chain, for instance, having a more accurately measure supply and demand in a near-real-time way will allow businesses to better ensure things do not run out based on a surge in demand, or that stores are not overstocked.
Virtual reality and biometric recognition key trends for retail this year
The third key trend is to see 'augmented and virtual reality' continue to influence retailers' interactions with consumers. There were a number of retailers and shopping centres who used this technology during the festive break and it is expected that this trend is set to continue for 2017, as the virtual reality eliminates the limitations of space and time, so retailers can dream of whatever experience or design they choose.
Capgemini is predicting that this technology will be "more of common site" and will be used to create virtual showrooms and virtual fitting rooms.
One recent example of this was from Mothercare who used the technology to introduced an innovative twist to its catalogue by allowing those customers with its app to scan the page and watch models showcase the products on their screens.
The final trend is 'biometric recognition', which providing opportunities for retailers to really understand and learn more about their customers with the aim of enhancing the shopping experience. While AR and VR employs technology to enhance interaction, biometric recognition allows retailers to instantly collect more details on their customers than a simple online registration form, such as their approximate age, height, gender and preferences. One such use has been to monitor customers' reactions while trying on products so the brand can adjust the clothes offered online accordingly.
Unadkat, added: "Expect 2017 to offer even more innovation and trialling in this space, as retailers look to stay ahead of the competition through the adoption of technologies that are becoming more and more accessible to brands regardless of their size and budget."
Image: screenshot from Mothercare AR video
Sara Ehlers

|
Los Angeles - Travel goods manufacturer Herschel Supply Co. just recently made the move to Los Angeles with a new showroom. After announcing a new apparel line launch, it seems that the company's next move will be growing its presence in SoCal.
The accessories and bag brand recently acquired The Ntwrk Agency, which has allowed the company to put up a residency in Los Angeles. The showroom has handled the company's American sales, as reported by Apparel News. Details of the acquisition were not publicly disclosed. The founder of The Ntwrk, Kellen Roland, will continue to run the L.A. office focusing on Herschel products according to the publication.
This new move comes at an opportune time for the company, as its retail line will launch this year alongside its accessories. Founded by brothers Lyndon and Jamie Cormack, the company is mostly known for its global accessories with a "fine regard for detail," according to Herschel Supply Co. website. The brand offers merchandise ranging from 11.99 to 209.99 dollars varying from outerwear, backpacks, duffel bags, hip packs, and more. When the new apparel launches, the brand will offer various womenswear and menswear including lightweight pieces, jackets, parkas and other outerwear.
Sara Ehlers

|
Nordstrom recently decided to shutter one of its locations in Southern California. The Seattle-based retailer has confirmed it will be closing the doors of its Santa Ana location this upcoming March.
The flagship has been at the location since 1987 and was one of the staple shopping destinations of MainPlace Mall. The reason for the store's closure is due to the fact that Nordstrom is focusing more on opening other locations. "Southern California is one of our strongest markets and we're continuing to invest in our growth there to ensure we're offering customers a broad assortment of merchandise and a great shopping environment into the future," Jamie Nordstrom, president of stores for Nordstrom, said in a statement. The retailer plans to open flagships in Century City, La Jolla, and a new remodeled store at South Coast Plaza. "[We] believe our other nearby locations will better serve [our customers] longer term," Nordstrom said.
The store will officially close on March 17 and will continue serving customers until then. Currently, Nordstrom has six other existing locations in Orange County including Brea Mall, South Coast Plaza, Fashion Island, The Shops at Mission Viejo, Los Cerritos Center, and Irvine Spectrum. While this location will be closing, the reason doesn't seem to reflect on the brand's overall business.
Guy Chiswick

|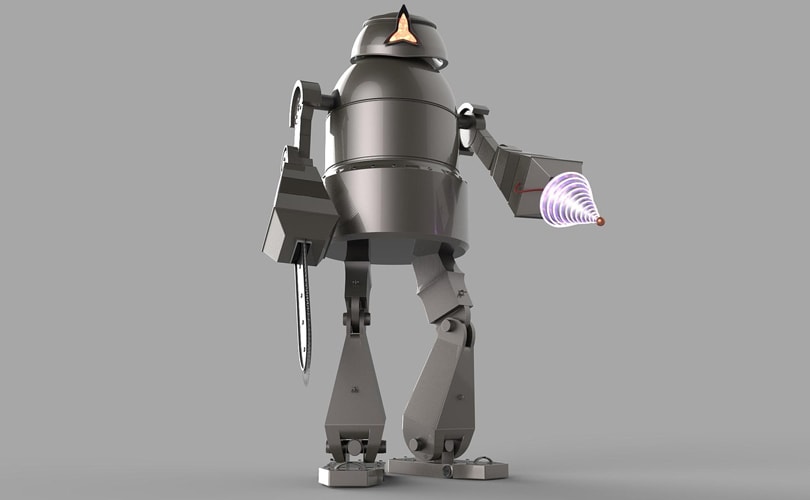 The last year has been characterised by uncertainty, unpredictability and change both on a global political scene and in retailing. In particular, technology has been developing at such an accelerated pace that what's cutting edge in January becomes old news by June. Nowhere has this been more notable than in the retail sector. 2016 saw some great leaps forward in innovation and fashion brands experimenting with new digital technologies. The bar has been set high for 2017 to push the boundaries and innovate even further.
AI everywhere
Technology is now at a stage where Artificial Intelligence (AI) systems can not only analyse data but make predictions, and this has vast implications for fashion retailers. This year, I believe tailored customer shopping experiences will become increasingly elaborate. Brands can easily use AI, which they can harness thanks to the rise in e-commerce and tools like Sentinent.ai, to analyse shopping data in real-time, and entirely redefine how they interact with you.
Some of the more exciting applications for AI in fashion retail are around visual search, offering shoppers items that are similar to a picture they like and have uploaded, and for personalised recommendations. The goal is that AI engines will be able to serve customers the way that a good shop assistant would – by working out what features are important to customers, and which aren't.
It's something we've been seeing already at shoe retailer Skechers.com, where shoppers can click on a product they like, and AI-powered engines analyse the catalogue in real time to identify and serve up similar styles. Italian lingerie company Cosabella is also now using it to rapidly test alternative options for its website design — a process that would have been time-consuming using traditional A/B testing. Clearly, far from being 'inhuman', AI has the potential to help provide a more personal service and accelerate the intuitiveness of the online shopping experience.
Blockchain and the fight against counterfeits
An emerging technology, Blockchain has the potential to revolutionise the supply chain for retailers. Blockchain, a shared ledger for recording the history of transactions, has applications across a range of industries, including retail, finance and manufacturing. It can be used to register the transfer of goods on the ledger as transactions that would identify the parties involved, as well as the price, date, location, quality and state of the product and any other information that would be relevant to managing the supply chain. The public availability of the ledger would make it possible to trace back every product to the very origin of the raw material used, helping to increase transparency One new tool, BlockVerify, promises to use blockchain's transparency to fight against counterfeiting, aiming to make the verification of a product's authenticity as easy as scanning a QR code on the box. Each product will have its own identity on the blockchain to record changes of ownership, which can be easily accessed by everyone. It's being lauded to help in the clampdown on counterfeit drugs, which accounts for huge economic damage and the loss of hundreds of thousands of lives every year, but could also have applications for fashion counterfeiting in the future too.
Robotics in the supply chain
As well as transforming a customer's in-store experience, embracing AI could also change the way fashion products are delivered. Advanced data analytics can help the logistics industry be more agile and efficient and seamlessly link real-time customer demand with stock planning and management.
The future lies in more sophisticated robots which can be programmed for many different tasks such as picking and packing. Delivery is fast becoming a key brand differentiator for fashion retailers, and harnessing the rapidly developing advances in automation and robotics can only help reduce the time to market. Taking it a stage further, the move towards Robotics Process Automation (RPA), provides the glue that integrates multiple systems dedicated to order taking and fulfilment, going beyond physical systems to embrace the underlying software, with the help of AI.
The potential market for deployment of RPA and accompanying systems is huge. PwC estimates that as much as 45 percent of current work activities can be automated, saving 2 trillion US dollars in annual wages.
The rise of voice search
According to Google, voice searches make up more than 20 per cent of all searches now, so it's only a matter of time before consumers will be shouting 'black jeans' into their phones to find the perfect pair.
Ted Baker has already made strides in this space, becoming the first-ever fashion brand application of Google App's Voice Search in its Autumn/Winter '16 campaign film. The espionage-inspired Mission Impeccable film allows users to speak into their phones to activate a Google search.
In Ted Baker's case, the brand is re-imagining window shopping – engaging shoppers who activate Voice Search on their phones – and speak key phrases that appear in their brick-and-mortar window displays – to unlock thousands of incentives and unique products in-store. Using geofencing technology, Ted Baker ensures that customers are where they say they are – within earshot of the shop, bringing an online component to the typical retail experience. It's another example of the online and offline coming together and something that we can expect to see other retailers experimenting with.
Fledgling innovation was well and truly catapulted into the mainstream in a few short months in 2016. From manufacturing and logistics all the way through the consumer shopping journey, innovation has the potential to transform fashion retailers beyond recognition in 2017.
Guy Chiswick is Managing Director of Webloyalty, Northern Europe. He has 17 years' experience in marketing and advertising and has worked for some of the industry's biggest brands as well as emerging start-ups.
Guy leads a diverse team of experts focussed on client development and category growth, and has spearheaded Webloyalty's retail and multichannel client engagement strategy since joining in 2010.
Webloyalty is a leading provider of online savings programmes designed to help companies build stronger, more profitable relationships.
Image: Pixabay
Vivian Hendriksz

|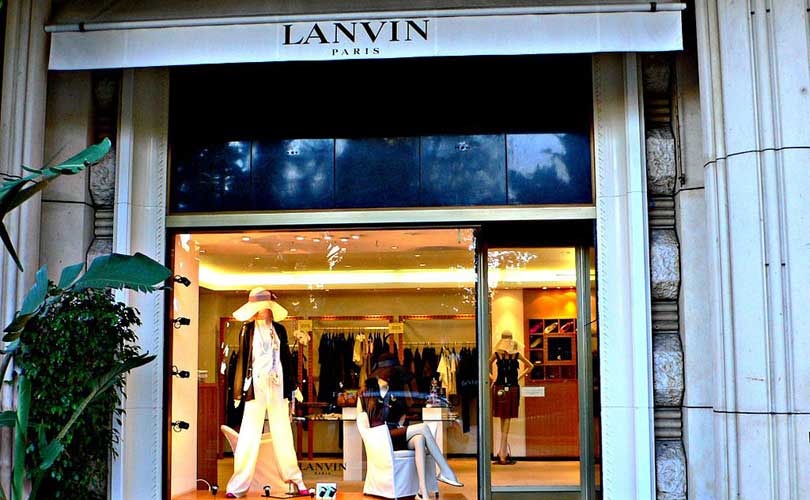 London - It seems as if French fashion house Lanvin has yet to complete a full turnaround following the appointment of its new creative director Bouchra Jarrar. Staff at Lanvin are said to be waiting in fear for a fresh wave of job cut following news that the brand's new creative head was unable to boost sales out of the red in 2016, according to Reuters.
The new creative head, who was appointed last March, designs have yet to strike a chord with the public, as numerous pieces on Lanvin website are currently on sale for up to 50 percent. In addition, the fashion house has been struggling to attract sufficient new customers following the decline in luxury spending and fighting against under-investment, as controlling shareholder Shaw-Lan Wang is said to be unwilling to inject fresh capital into the brand.
She is also said to have stopped private investor and associate Ralph Bartel, from investing more cash into the fashion house as it would affect her stake in Lanvin. "It is clear that the company's situation is deteriorating fast and now it is in a stalemate," one source said to Reuters. "But since Mrs Wang simply refuses to sell or [let the capital] be diluted, there is nothing we can do about it. It is so sad for the brand and its staff."
The French fashion house hired advisory firm Long Term Partners to carry out an audit and its findings, which are set to be presented to the company's board sometime at the end of this month, will include areas the fashion house can cut its cost base, according to the report. The fashion house is expected to report a net loss of over 10 million euros for the fiscal year 2016 in comparison to profits of 6.3 million euros reported in fiscal 2015.
Photo Credit: By HerryLawford (herry) [CC BY 2.0 ( http://creativecommons.org/licenses/by/2.0)], via Wikimedia Commons
Sara Ehlers

|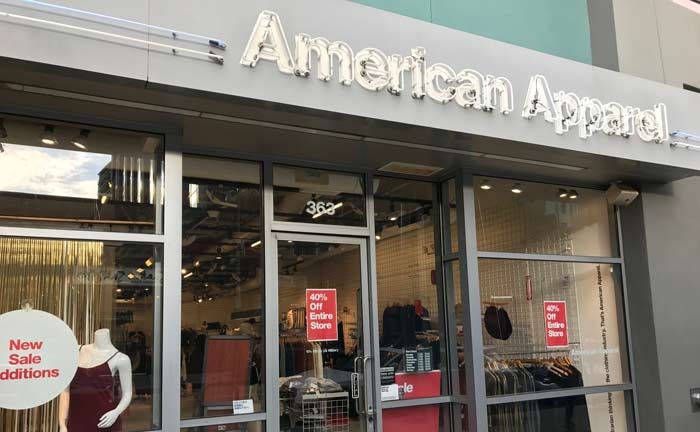 Los Angeles - As American Apparel nears its bankruptcy, the closures are tunneling in. Recently, the basics apparel brand has shown its preparing for shuttering its sales starting with sales in its existing locations.
Recently, Forever 21 and Amazon have shown interest in acquiring the Made-in-LA company. Authentic Brands Group and Next Level Apparel also are in talks with the retailer, according to Reuters. As American Apparel comes closer to its acquisition and letting the next company takeover, it shows throughout its locations that the stores are nearing closures.
Many stores in SoCal have already put up signs announcing 40 percent off of everything in the store. With the sale, which started as an end-of-year promotion, everything in stores is also final sale. Although not confirmed publicly, the continuation of the sale along with the company's impending bankruptcy suggest that the retailer may be closing its stores sooner rather than later.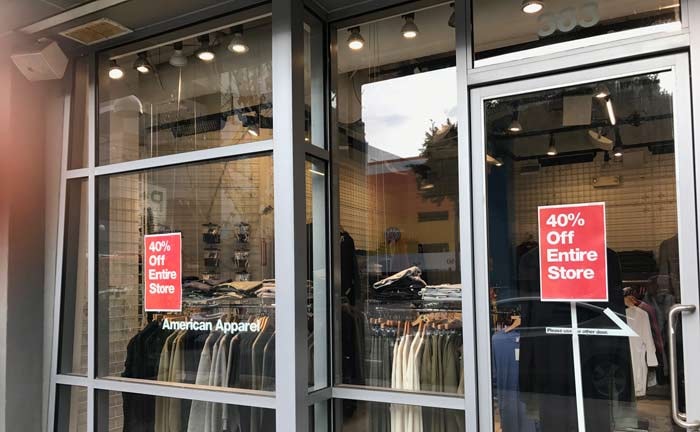 The store closures come as no surprise as the company has shut down many locations this past year already. The Los Angeles-based retailer already announced its international branch was to close last month. By December 24, the U.K. branch had already closed approximately a dozen stores with only one remaining in London. As previously reported by WWD, all 107 locations of the company were unlikely to stay operating under the new buyer. Some of the stores may be acquired in the bankruptcy auction, but the leftover flagships will close by April 2017.
Photo credit: FashionUnited