Nordstrom debuted the third of its New Concepts series on Thursday during a drinks reception at its Manhattan flagship hosted by Sam Lobban, VP Men's Fashion. New Concept 003: printings.jp is a collaboration with esteemed Japanese publishing house, printings.jp, and features a curated selection of rare pieces by perhaps the two most seminal and revered menswear designers of our recent past, Raf Simons and Helmut Lang.
On display behind glass are Raf Simons's 90s David Bowie top, a fishtail coat from fall 2005, Helmut Lang's bulletproof vest, and his painted denim jacket from 1996, among other pieces sourced from personal archives. The limited pop-up shop/gallery is also installed at Nordstrom Downtown Seattle, and Nordstrom Pacific Centre in Vancouver, B.C. and on nordstrom.com until the end of the month.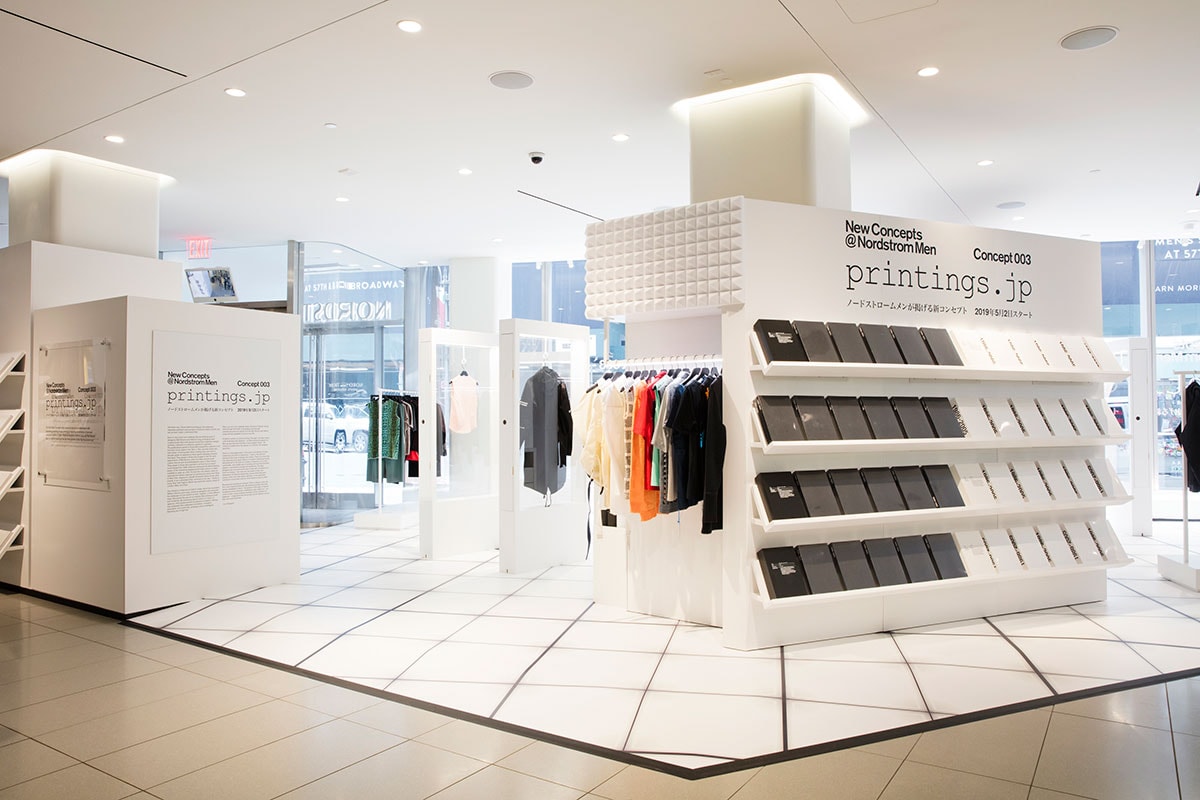 At the center of the Concept 003 retail experience is the exclusive launch of "1986-2005," a new two-volume digest detailing the work of Helmut Lang released by printings.jp. A companion Raf Simons tome featuring designs from 1996-2006 is also available on limited re-release, documenting Simons' collections through his formative years. Austrian Lang left NYC's runways in 2005 to quietly pursue art on Long Island and in December last year Simons parted ways with Calvin Klein where he had been creative director since 2016, and turned all his attentions to his eponymous brand based in Europe. Nonetheless the spirit of both visionaries who changed the landscape of menswear lingers in this city. The high cost of each book, just under 300 dollars, goes some way to explaining how in demand iconic imagery of these collectible items have become. To understand further the interest this pair generates, FashionUnited grabbed Lobban at the event and asked him to elaborate.
Firstly, the Concepts, how have they been going so far?
Phenomenally well. We're very excited. What we're trying to do with each concept is show a different idea, a different element, of the menswear industry at large, and we're very pleased with the flow between the three so far: the first was performance outdoorswear for cold weather; the second, luxury French house, Dior; and now, Japanese publisher and archive Helmut Lang/Raf Simons project.
What is the story behind making this Concept happen?
I'm old friends with the guys behind Printings.jp, the publisher. We met 7 or 8 years ago over dinner in Tokyo and bonded over our shared love of archive Raf. I knew they were working on a Helmut Lang book, and we're the exclusive North American retailer of that. We just discussed how to take those books and bring them to life in a store setting. So it happened through a personal connection to the product but also a professional friendship.,/p>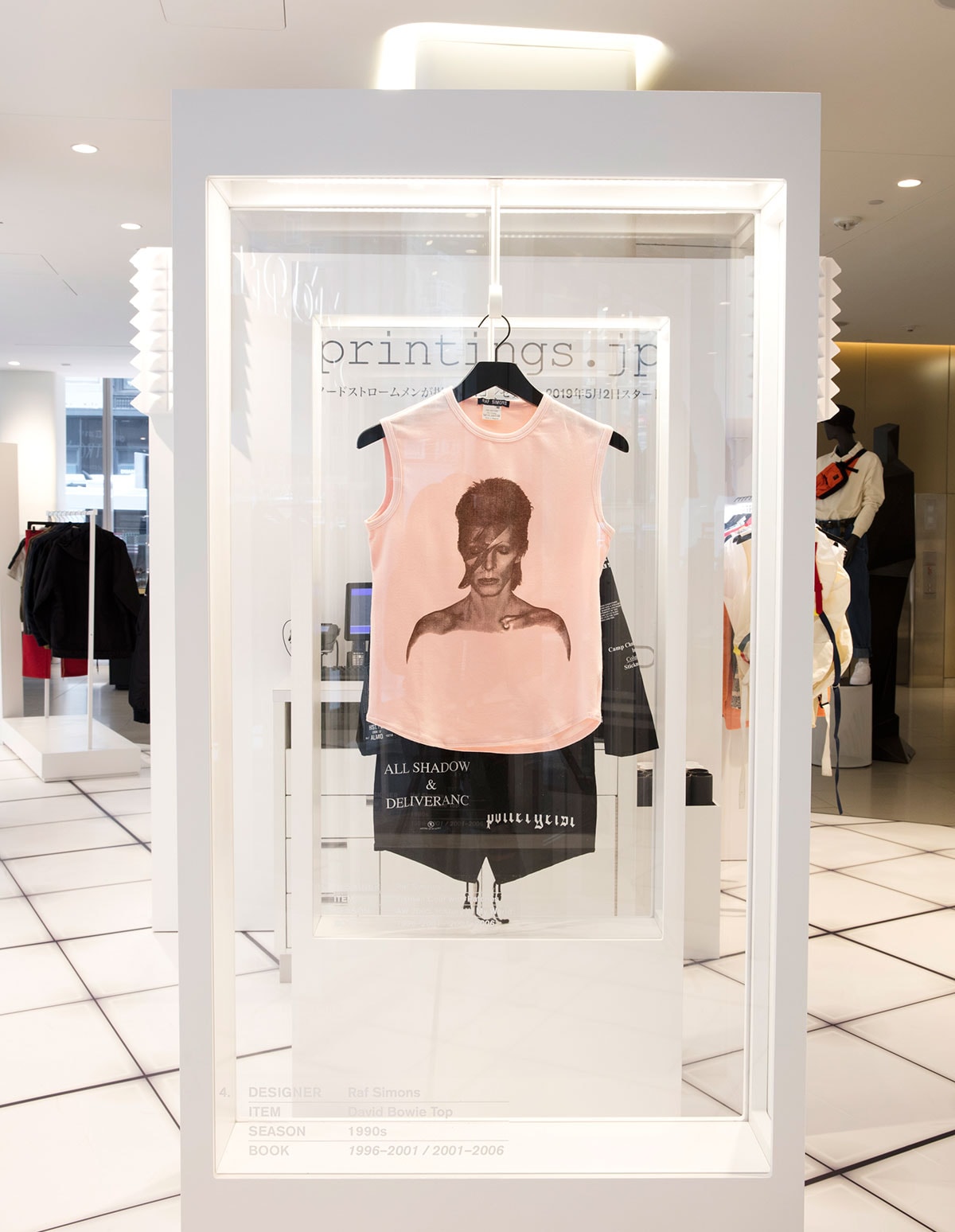 How do you explain the endless obsession with these two designers?
My personal view is that they are different obsessions. Lang was arguably all about subverting simplicity. All the ideas are rooted in core menswear staples, like military or denim, and then his approach was to take those ideas and either produce or treat them with really interesting fabrications or techniques, for example adding bondage straps or reflective materials, that kind of thing. Whereas Raf was more about visual iconography and sub-cultures. His obsession with youth culture and the sub-cultures within, especially how they link to music is something that's quite translatable. I don't think it's specific to any age, any decade. If you're really into the Manic Street Preachers, as I am, the Fall 2001 show is still going to mean something to you, all this time later. Personally I didn't get into Raf until around 2005, but that earlier show has always been a personal favorite. Likewise for other people with his Bowie or New Order references.
Lobban credits Simons' work from the mid-00s with introducing him to the world of designer menswear, saying, "It connected with me personally and had an enduring effect on my style."
Do you think his work and Lang's can also be credited with marking the start of the mainstreaming of streetwear that we are still experiencing fifteen–twenty years later?
Raf has been linked to that a lot and he is part of it. I think it is a much bigger, much broader conversation. There are so many offshoots and different levels of influence there––it's part of it, although I don't think you can put it all down to them.
Fashion editor Jackie Mallon is also an educator and author of Silk for the Feed Dogs, a novel set in the international fashion industry.
Photos Nordstrom