It's all about lifestyle brands now
The last time we spoke to Rob Schalker, owner and founder of A Fish Named Fred, he was in his car heading to his next appointment. This time, a furniture manufacturer. Rob explained; "The idea is to deliver prints they can put on furniture. Think, chairs, cabinets, sofas, cushions, rugs or even paintings".
Rob's also looking to put subtle prints on top side table sets. Customers, nowadays, want a full experience of the brand, say Rob. Brands that fit into every nook and cranny of a person's lifestyle. But growing and expanding the brand is not an easy feat. Key to A Fish Named Fred's strategy is forming out-of-the fishbowl partnerships. A Fish Named Fred has collaborated with such companies as the Jopenbier beer brewery and the Misty Cove wine company. These collaborations put a unique spin on the brand, whilst maintaining their uniquely quirky identity.
China. A treasure trove of opportunity
A Fish Named Fred is doing well, Rob says. In the coming two years the brand is focused on creating a strong international presence and fortifying the brand here at home in the Netherlands.
China is an incredible new market for the brand, with a treasure trove of opportunity. Rob explains; "If you look at the income level of China's middle class, it's comparable to income levels of someone in their 50's here in Europe. Only, people in China with a similar income are not 50 but between 25 to 35 years of age".
The brand, Rob notes, really appeals to Chinese audiences. That's something they felt early on. In 2011 they stood at both the Shenzhen Fashion Week and the Chick Exhibition in Shanghai. A year later, at the Canton Fair in Guangzhou. Visitors immediately took notice of their unique and quirky designs.
Selling branded furniture will do well in China too, Rob remarks. He continued; "If people like your style, they quickly go all in. They deck their homes and buy any and everything. Price is secondary". In the Spring, the first mono-branded A Fish Named Fred stores will open in China and India. Visitors to these stores will be able to experience the brand in its full glory.
At the moment A Fish Named Fred, exports to 28 countries including the Middle East, Asia, Europe, America and Canada. The brand is also a frequent sight at major international trade fairs. Last season the brand attended fairs in Berlin, Amsterdam, London, Chicago, New York and Las Vegas. This year the decision was made to exchange Panorama for Premium. Rob expresses, "This is a strategic decision since our most important German-market gateway agent attends the Premium Exhibition".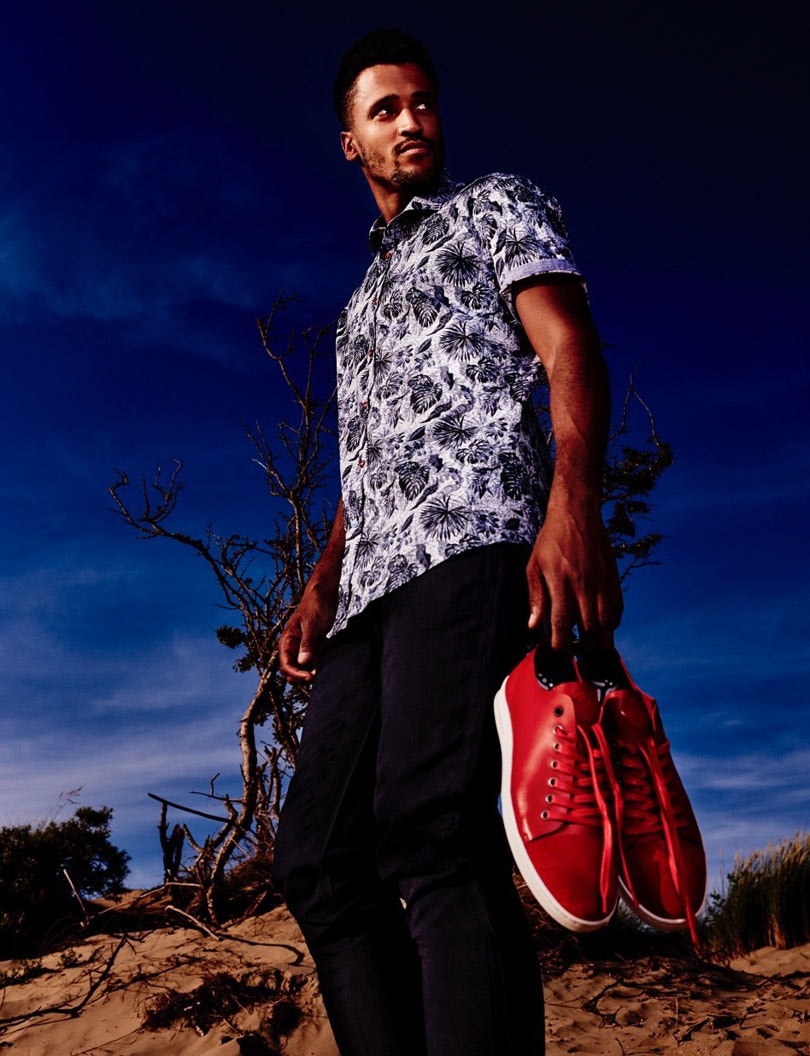 More than a shirt brand
From the very beginning Rob envisioned A Fish Named Fred as a complete lifestyle brand; a complete story. Rob wanted the brand to be more than just shirts; "Our customers are buying more broadly. We've sold more jackets, gilets, pants, shoes and knitwear than in previous seasons". This has lead the brand to increase turnover by 62 percent in the Netherlands for the winter 2018 collection. And the brand is still expanding its product range with watches, socks, underwear and shoes.
At the heart of their success lies a superbly skilled inhouse creative and design team. This has enabled A Fish Named Fred to develop a captivating and cohesive story; building collections around well-structed and clearly defined themes. Something retailers and consumers really like. It also allows A Fish Named Fred to create more visibility in stores; bringing more of a shop-in-shop feel to retails. Soon, A Fish Named Fred will start working closely with retailers. Together they'll look at how many square meters can be apportioned to the brand to create a shop-in-shop look. In this way, the brand hopes to create a stronger presence for new and existing customers.
In addition to clothing, many retailers buy A Fish Named Fred wine to give to customers as a gift or when they purchase a few select items. A Fish Named Fred has also optimized their B2B channel. Retailers can now make use of services provided by Stock-Base; giving retailers the opportunity to offer their customers a wider range of products.
A Fish Named Fred has also started an exciting new collaboration with startup Gibbon; an on-the-go rental marketplace for travelers. Gibbon works closely with hotels, retailers and brands to supply clothing, toiletries or tech items to travelers during their trip. That way, travelers don't really have to ever pack a large suitcase. Travelers choose clothes on the Gibbon platform which are then sent to their hotel. When travelers leave, they can decide whether they'd like to buy the clothes or hand them back in.
Summer 2019 preview
Coming summer, A Fish Named Fred is introducing 4 fresh new themes: African Savanna, African Tribal Cyber Fred and Funky Fred. "The design team has put a lot of time into developing original prints where we've hidden our fish logo in the prints. Sometimes obvious and sometimes you really have to sit down before you find him". Rob remarks.
The African Savanna theme has pastel shades and quiet prints with Escher-like zebras, jungle themes, lions and elephants. The African Tribal theme consists of shields and signs of African tribes and modern print art. Cyber Fred consists of more tech-like prints such as DNA strands, the source code of the A Fish Named Fred's website, circuit boards, Wi-Fi signs, QR codes and crypto currency logos. There is also a print of a sound wave that's a visual depiction of some text taken from the A Fish Named Fred website.
Funky Fred is a fresh succession of crazy prints with beetles, Keith Haring-like drawings, colored paper clips and sunglasses. All executed in a colorful potpourri of original graphics that are funky and commercial.
The full collection contains many beautiful prints that you'll not only see on shirts but come back in the lining of jackets, the inside of shoes, underwear, socks, inside bags and in the pockets of trousers.