Fashion is an ever-changing industry. Companies who dominate the global fashion industry today, need to keep pace with, and even capitalize on changes. In a highly competitive environment, business analytics and market intelligence are must-have tools. FashionUnited took a closer look at the largest listed companies worldwide within the apparel and fashion industry and analysed internal and external data to signal important trends and developments. For some companies the future looks bright, for others it will be challenging.
1. Geek-chic vs Sex-bomb: the differences between Gucci's Alessandro Michele & Tom Ford
Although Alessandro Michele has just been at the creative helm of Gucci for 10 brief months, his vision has had a tremendous effect on Gucci. However, given his background at the Italian fashion house, this should come as little surprise as he has been working behind the scenes with the luxury label since 2002. Moreover, he was hired by none other than Tom Ford, who was the creative director at the time, as an assistant, which should also have been an indication of his creative potential.

But which of the two has had a greater influence on the brand? Has Michele's influence translated into a direct sales boost for Gucci? And can he bring the brand back to its former glory days of the 1990s? FashionUnited takes a closer look: here.

Or discover the shorter version: our infographic.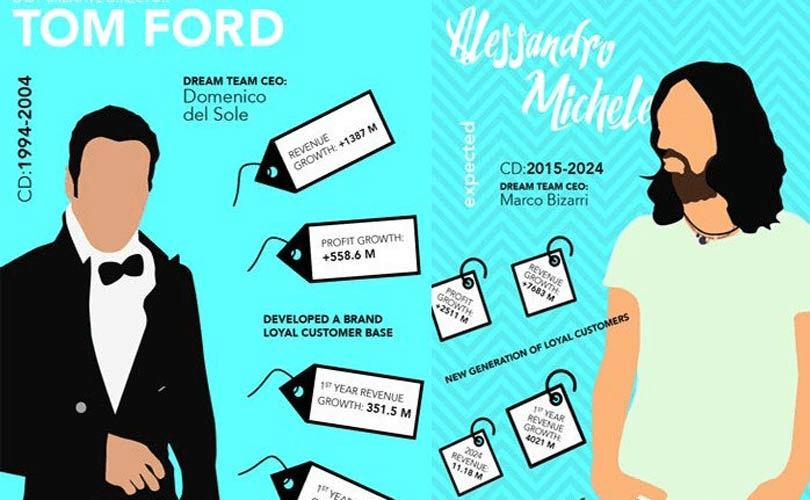 2. Can Gap bounce back after becoming fashion's 'basic' brand?
Gap was once seen as the ultimate American brand for fashion basics, but over the years the US retailer has struggled to hold consumer interest as attention for its denim jeans and fleece pullover waned. Now with increasing competition from fast-fashion retailers, Gap's popularity is fading fast and parent company Gap Inc has found itself in slumped, which has led to the closure of multiple stores.
FashionUnited questions where America's former fashion sweetheart went wrong and ponders if they can turn things around, or if they would be better off cutting off their losses, along with the failing brands pulling the rest of the company down. Read further for our best and worst case scenarios.
Read further: here. No time to read the whole thing? Check out the the 20 second version: the infographic
3. How a sense of fineness can lead Prada to a bright future
Things are said to be looking gloomy for the Italian fashion house, but Miuccia Prada, the youngest granddaughter of Mario Prada and creative head of Prada and Miu Miu is convinced that the company is only going through momentary dip. The price of Prada's stock has been decreasing immensely over the past year, dropping from 44 Hong Kong dollars per share to 25.95 HK dollars per share on December 7, the lowest share price in history and certainly cause for many to ring the alarm bells. The brand's market value also dropped down to 8.9 billion euros as of December 8, down from 10.6 billion euros by the end of August (16 percent decrease in 3 months). And although Prada posted a sales increase of 4.1 percent in its first half year report for 2015, the company lost sales in its home market as well as its Asia-Pacific region. FashionUnited investigates whether things have really taken a turn for the worst at Prada, or if the brand just going through a temporary impasse.

Interested in learning more about FashionUnited's Prada predictions, click here.

No time to read the whole story? Then click here for the 30-second-version: these illustrations and higlights will give you the answer.
4. How Michael Kors can change its current direction
Michael Kors has certainly enjoyed its time in the limelight. Filling a gap in the market, the brand appealed to millions of consumers around the world who were ready to invest in luxury brands, but not quite able to afford their high prices. But a shadow over the company has been spreading as the brand's popularity in its home market of the US continues to wane. Some say that the brand has lost its once shiny luster and consumer interest in Michael Kors is fading, causing comparable sales to decline and its share price to slip. These issues, coupled with an aggressive expansion plan that was set in motion when the company went public in 2011, means that Michael Kors is currently expanding at a faster rate than it's business actually growing.
With supply from the brand being larger than consumer demand, FashionUnited takes a closer look at the reasons behind these issues and how Michael Kors can turn things around.
Interested in fashion business data? Discover all of FashionUnited's available lists, indexes, rankings and statistics, including the Facebook and Twitter fashion index and Fashion fortune 200. Click here to go to FashionUnited's business intelligence page.
Photo credit: Dreamstime