Luxury footwear label Kurt Geiger has its sight set on international expansion, with the brand set to add a London flagship store to its roster by next year, following a boost in sales during its third quarter.
The premium British label revealed a 13 percent increase in like-for-like sales for the seven months to September 30, despite the unseasonably warm weather witnessed across the UK which affected other high street retailers sales, such as Next.
Kurt Geiger attributed part of its success to the introduction of its Saffiano handbag leather range, which saw a 50 percent increase during the period, after British model Rosie Huntington Whiteley was photographed with the handbag in the US.
Kurt Geiger enjoys "tremendous year"
The footwear label, which separated from its former parent company the Jones Group earlier this year after chief executive Neil Clifford staged a management buyout in April, also reported a gross turnover of 210 million pounds for the 7 months to the end of the September compared to 230 million pounds for the entire last year.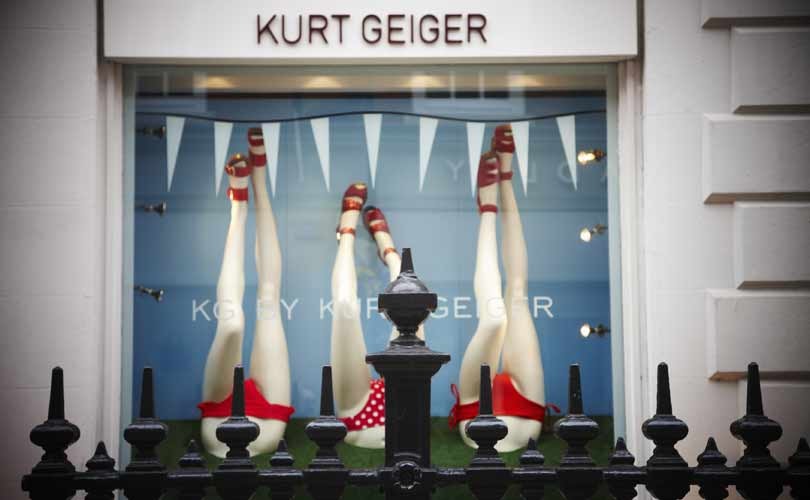 Online sales increased 30 percent, accounting for 20 percent of the company's total sales and wholesale sales grew 12 percent. Kurt Geiger predicts double digit sales growth for 2014 and "strong underlying EBITDA" for the year ending December 31.
"This is proving to be a tremendous year for Kurt Geiger," commented Clifford. "Following our management buyout, the company's new strategic direction has facilitated a renewed focus on growth and international expansion."
The luxury footwear brand has opened 28 new stores during the first three quarters of 2014, including 20 stores in the UK and a flagship store in Milan, whilst franchise partners opened flagship stores in China, Hong Kong, Singapore and Thailand. In order to continue expanding, the brand plans to open an additional 28 new stores during its fourth quarter and the first half of 2015.
In the UK, Kurt Geiger opened in Harrods a refurbished Shoe Heaven in London and is set to open a new outlet store in Bicester Village in December and as well as a new London flagship on Oxford Street in the first quarter of 2015. The premium footwear label currently operates 59 stand alone stores across the globe as well as 198 department store concession stands.