London - PETA US has taken its fight against animal cruelty within the fashion industry to the boardroom. Following the initial public listing of outerwear company Canada Goose on the New York and Toronto Stock Exchange on Thursday morning, the animal welfare group invested 4,000 dollars (3236.8 pounds) in purchasing 230 shares in the company.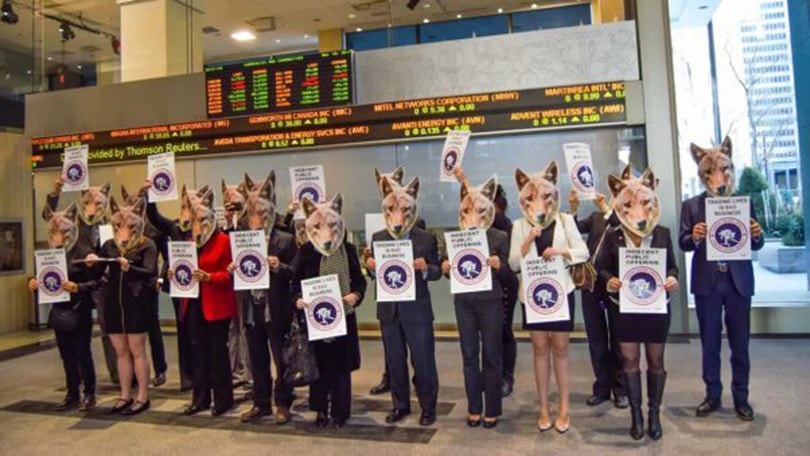 The move, which sees PETA acquiring the minimum number of shared needed to submit shareholder resolutions and attend the company's annual meetings, allows the group to call on the Canada Goose to make much needed policy changes concerning its use of coyote fur and geese down. As a shareholder in the company, PETA aims to bring in a shareholder resolution and ask them to stop using real fur, as well as down and feathers in their collections. "At the very least we would like to bring them to the negotiating table," said PETA spokesman Ben Williamson to CBC News.
At the moment the outerwear company continues to use coyote fur as a trim and lining for a number of its high-end parkas and jackets, as well as insulation made from goose and duck feathers, despite receiving regular compliments and facing protests from animal rights group like PETA. "Cruelty is part of every Canada Goose jacket trimmed with real fur and filled with real down", said PETA founder Ingrid Newkirk in a statement. "From holding demonstrations and taking resolutions to the boardroom to having people rip the fur from their collars and give their jackets to the homeless, PETA US is pushing the company to stop peddling parkas that cause immense pain and suffering to coyotes and geese."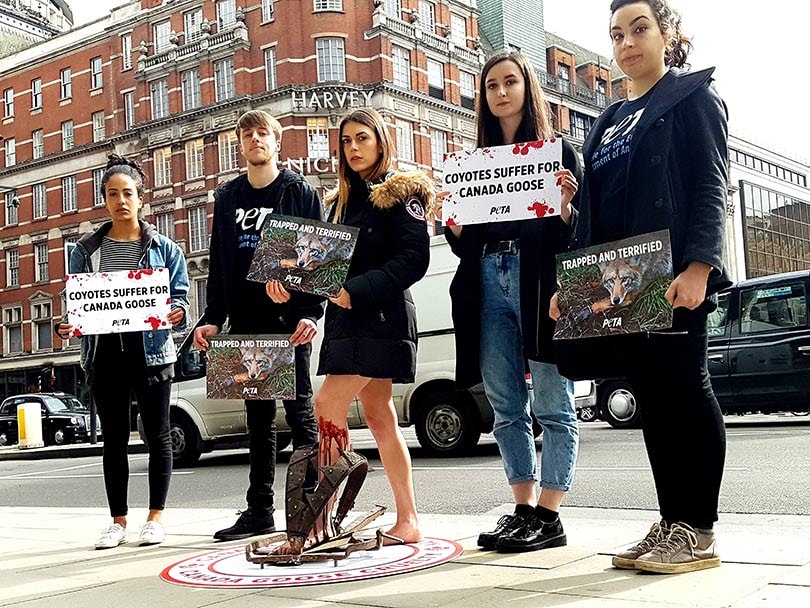 Although coyotes are an invasive species in Canada, where the outerwear company sources its fur, the outdated metal traps used to capture the animals have been highlighted for their cruel and ineffective tactics to kill the animal caught. Coyotes have been known to chew through their own limbs in an attempt to escape, die from blood loss, infection or frostbite and are often trampled, beat or shot to death when trappers return to check their traps. In addition, other animals such as lynx, cats, dogs and birds, also known as "trash kills" are often accidentally crippled or killed by the same traps, according to PETA. The geese and ducks used for the down do not fare much better, as they are kept in crowded, dirty peds until they are killed.
Canada Goose maintains that although they believe all animals are entitled to human treatment in life and death and are committed to the responsible use and ethical sourcing of the animal materials used in its products, wearing fur is a personal choice. "We understand and respect that some people think animal products should never be used in any consumer products, however we do not share that view," said Canada Goose on its website. "We know that wearing fur is a personal choice and we respect that. In turn, we hope that people will respect our responsible use and ethical sourcing of fur."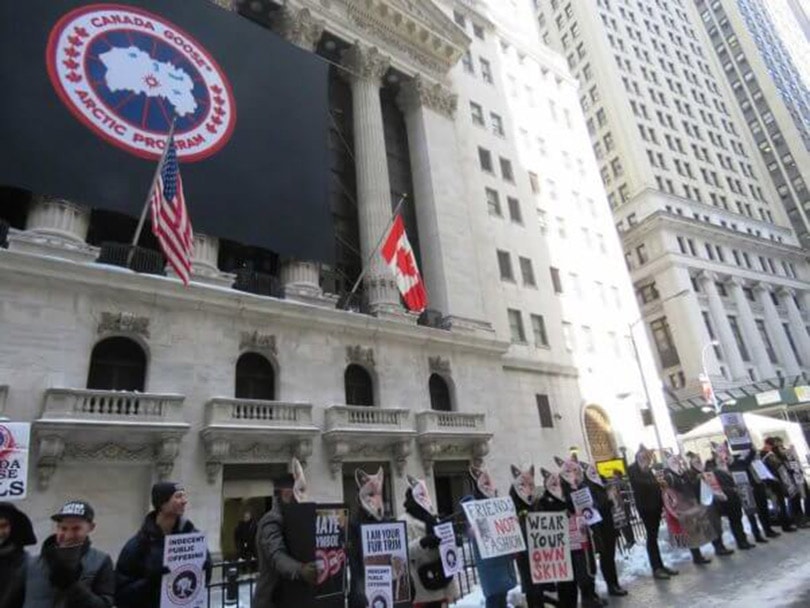 This is not the first time PETA has acquired shares in a fashion company with the aim of bringing around change. The animal welfare group previously purchased shares in Italian fashion house Prada and Hermes in the hopes of persuading them to halt their use of exotic animal skins such as alligator and ostrich.
Photos: PETA protests against Canada Goose, Courtesy of PETA