Sara Ehlers

|
Las Vegas - As the center of fashion trade shows, Las Vegas will be hosting three apparel shows that are teaming up this season. In the month of February; Agenda, Liberty and Capsule are coming together for a combined conference.
The launch will be entitled Assembly Conference running from February 12 to 14. The event is organized by the three combined trade fairs. Located at The Venetian, the conference will run during show hours from 10 a.m. to 6 p.m. The event will include keynote speakers, tastemakers, and innovators. The conference will also hosts workshops and networking resources for both brands and retailers in attendance. "We're looking to innovate on our platform by providing inspiration and education to drive our industry forward," Aaron Levant, founder of Agenda, said in a statement as reported by Apparel News.
The conference is meant to expand the trade show format in a more efficient way. By creating this space, the event can help connect more brands and retailers in a business-driven way. The show will take place in mid-February while all other major trade fairs take place in Las Vegas. Other shows that will be ongoing during this time include WSA, FN Platform, and more.
FashionUnited

|
REVIEW
Written by Hyun Yeu. Yeu worked as head of design at Gsus for the last six years. Before that he owned his own label Ado Les Scents.
Amsterdam - Taking place twice a year, Kingpins Amsterdam is the place to be for denim lovers from around the world. A wide range of fabric manufacturers, denim mills, suppliers, stitching-, trimming- and washing houses and fabric tech companies from all over the world gather in Amsterdam to present the latest developments in the denim industry at the denim trade fair.
There are two reasons for me to visit a trade show: inspiration and solutions. This edition of Kingpins managed to do both!
I soaked up the atmosphere of the participants simply by wandering through the Westergasfabriek venue and seeing the 'indigo blooded' crowd there – looking at their style of clothing, the accessories and shoes worn and hair. Their passion for workwear and denim, on display like live mannequins gathered in their seemingly natural habitat, talking to each other, doing serious business. For me to observe and enjoy from a distance.
But maybe the biggest value add of this edition of Kingpins for me lies in the solutions area: as a designer I am constantly looking for solutions – solutions to challenges in the design of garments or challenges related to fabrics, washings, stitching, trimmings et cetera.
The biggest value add of this edition of Kingpins for me lies in the solutions area: as a designer I am constantly looking for solutions
Green solutions at Kingpins Amsterdam
I saw solutions – and they were all green! Almost everything I saw at Kingpins was in some form or way linked to sustainability and the notion of green fashion.
Green fashion always has been on my mind, but I have been neglecting it mostly because of higher prices or high minimum production numbers. For me sustainability was more for brands that built their identity around it – not for all. Today, I stand corrected!
For me sustainability was more for brands that built their identity around it – not for all. Today, I stand corrected!
At the first day of Kingpins, I saw a inspiring display of the fact that our sector has matured in this respect and that there are so many different options and solutions available: being green and affordable can go together! Throughout the entire production process and the entire fashion value- and supply chain, sustainable options are available: organic cotton, yarn made from recycled materials like bottles and waste clothing, natural dye, energy and water saving washing processes. Almost every exhibitor at Kingpins has something sustainable to offer. It was hard to miss.
Hyun Yeu: 'My favourite material was Refibra from Lenzing'
My favourite material was Refibra from Lenzing. We know Lenzing from it's famous Tencel and Modal fibers and fabrics. This new developed Refibra is mixture of cotton pulps made out of waste cotton and wood pulps from sustainable forests.
It has great hand feel of tencel and soft cotton. Depends on the mixture of Refibra and other yarn could make all different kind of fabrics. There were already multiple options in Refibra mix in display.
'The circular economy has now also entered the fashion industry'
It is encouraging to see that the concept, the importance and reality of the circular economy has now also entered the fashion industry - and that our industry is fully embracing it.
Some odd years ago the notion of using organic cotton or recyclable fabrics was seen as new and kind of odd. Now (high)-tech companies are in the lead with inventing new sustainable fabrics and energy efficient and CO2 neutral production processes.
During the month of October FashionUnited focuses on Denim. For all our articles on Denim, click
here
.
Photos: The Kingpins Show Amsterdam. Credit: Hyun Yeu for FashionUnited.
Isabella Naef

|
The third Autumn edition of Chic Shanghai, a fair that has been held in China since 1993, but only took place once a year in March until recently, closed its doors on October 13, 2017 after welcoming a total of 65,722 visitors. Visitor numbers at Chic (short for China International Clothing and Accessories fair) were essentially in line with its 2016 edition, which welcome 65,71 visitors in total.
850 exhibitors participated in the fair this season, the vast majority of whom were Chinese. There were a few product catalogues present at the stands, but there was a QR code present in every space from which all information about the brand could be directly downloaded on WeChat, the social network used for communication from all the Made in China companies.
There were also 13 Italian companies present at the fair, promoting 20 fashion brands and 6 French labels. In the exhibition halls of the crowded National Exhibition and Convention Center, there was no shortage of Korean brands, such as fashion brand Kim Chul Ung Mode, which was recently exhibited on the runway in Seoul fashion week. As Kim Chul Ung, the label's creative director, explained to FashionUnited, the brand will soon also participate in New York Fashion Week and it is preparing to debut in Europe with its cashmere garments and its pleated tartan skirts. The brand's innovation lies above all in its flowing shapes.
Chic Shanghai welcomed a total of 65,722 visitors.
And as Chen Dapeng, Vice President of China National Garment Association and Head of Chic, told FashionUnited, innovation must be the focus of the brands that want to go abroad. "Chic remains a platform dedicated to fashion labels that intend to focus on the Chinese market, but brands that want to go abroad need to invest in creativity and innovation. When companies set internationalisation as a goal, they have to check whether they actually have the capabilities," said Mr Chen.
At the moment, it seems that many of the Chinese companies present at the Chinese fair are still organising their development across borders. According to official figures, the number of fashion textile companies in China, at least the large ones, amounts to 100,000 and they employ 90 million people.
Despite owning trademarks, the larger companies primarily position themselves as third party suppliers. The young brands, many of which were created by designers who have studied at the top European schools, show creativity and innovation, but lack the economic resources and the right advice to position themselves in other markets. This, for example, is what the young designer who launched Art On, a fledgling Chinese label that offers Trench Bon Ton and also Lu Joe Nottingham, thinks. This brand is named after the founding designer who completed his studies in fashion in Nottingham itself. Both brands were present in the Chic Impulse area, a space dedicated to promising Made in China talents.
Chic hosted young Chinese talent in the Impulse area.
But if businesses in this market struggle to cross the border, except for some such as Guangzhou Zhuofeng Clothing, already a supplier of the well-known Primark chain and present in Chic with several denim lines, foreign brands, including Italian ones, appear instead to be directed towards Chinese consumers.
According to the Altagamma Worldwide Market Monitor, created by Bain & Company in collaboration with Altagamma, the global market for high-end personal goods will reach 254-259 billion in 2017, a steady growth rate of between 2 percent and 4 percent, mainly driven by the recovery of Chinese consumers both in the local and overseas market and by the increased propensity to buy in Europe.
Finding local Chinese partners at the moment seems to be one of the most popular paths, also because even though China is the leading online retail market (543 billion for products in each segment), the risks of counterfeiting and fraud lead Chinese consumers to be wary of online shopping for luxury goods. According to the Altagamma Digital Luxury Experience - DLE3 (e-commerce, experience and enterprise), created in partnership with McKinsey & Company, only 16 percent of Chinese luxury consumers expect to increase their online spending over the next year.
Young Chinese people, the so-called millennials, are looking for increasingly sophisticated shopping experiences and for personalised garments. "Chinese consumers are more and more careful and selective, no longer looking for the logo and label, but rather for individuality and also a sustainable approach by fashion clothing manufacturers," stressed Mr Chan.
"Chinese consumers are more and more careful and selective", stressed Mr Chen Dapeng.
European labels are therefore sharpening their weapons to attack this market, as evidenced by the emergence of trade fairs such as Milan Unica Shanghai and the debut of Style routes to Shanghai. A platform created by Confartigianato businesses with the Italian White Fair and supported by the Italian trade Agency to promote the internationalisation of Made in Italy. However, for some years now, Emi's tried and tested partnership with Ente Moda Italia has continued and has brought the Made in Italy businesses to the March edition of Chic. At the edition just concluded, the Italian brands - a total of twenty - were at the Italian Fashion exhibition hall.
Mr Sun Guowei said: "We are trying to attract international showrooms and buyers."
The Chinese company Famory, which produces garments inspired by traditional Chinese dress, made of silk and embroidered by hand, has been exporting abroad for some time, especially to the USA, Europe and South Asia. Founded in 1955, the company has also developed across borders, thanks, at least in part, to the maxim that the "Chinese get married in Chinese dress".
To export, however, it is also necessary to attract international buyers. "We are trying to attract international showrooms and buyers", Mr Sun Guowei, General Manager of China World Exhibitions, told FashionUnited. Mr Sun explained that the fair organisers are moving in this direction also because of the fact that the Chinese market is changing. The distribution network is moving, though still slowly, towards multi-branding. "Competition in the fashion industry pushes fashion companies to improve their quality and to seek distributors throughout the territory. But also foreign companies that want to grow here are looking for reliable partners". That is why, from the next Chic edition, there will be meetings of the present brands with showroom representatives.
Photo: Chic, credit FashionUnited
Simone Preuss

|
The first Denimsandjeans India show, which took place from 25-26 September in Bangalore, attracted over 1,500 visitors and more than 30 exhibitors from nine different countries including Bangladesh, Brazil, Ethiopia, Italy, Spain, Switzerland, Turkey and Vietnam. Apart from brands and retailers, the show also brought together garment manufacturers and exporters with international buyers as well as technology providers and garment suppliers.
"The buyers' turnout at the exhibition as well as during seminars was phenomenal, we are very happy to see the responses. We thank everyone for supporting us and I hope all the stakeholders will be surely get benefited by such events in a long run," said Sandeep Agarwal, founder and CEO of Denimsandjeans.com, according to the show's media partner Fibre2Fashion.
More than half the exhibitors were from India - among them Archroma, Arvind, Raymond and Reliance Industries - but many made the trip from abroad to support and showcase their wares at the first international denim supply chain show in India, among them Bluesign Technologies from Switzerland; Delta Composite Knitting, Denimach, Mahmud Group and M & J Group from Bangladesh; Hyosung from Vietnam; Jeanologia from Spain; Kanoria Africa Textiles from Ethiopia; Kilim Denim from Turkey; Mactec and Ribbontex from Italy and Vicunha Textil from Brazil.
On the visitor front, all major international denim retailers and brands had sent their representatives to Bangalore, among them Asmara International, Benetton, C&A, Gap, H&M, Levi's, Li & Fung, Marks & Spencer, Ostin, Pepe Jeans, PVH, Spykar, Target, Tesco, VF Corporation and Zara. Among the Indian brands and retailers, Aditya Birla Fashion, Arvind Brands, Being Human, Blackberry, Hypercity Retail, ITC Limited, Jabong, Killer Jeans, Landmark Group, Mufti, Myntra, Pantaloons, Raymonds Apparels, Reliance Trens, Shoppers Stop, Tata Cliq, V-Mart and Westside were represented.
On the first day, Stefano Aldighieri, former creative director of 7 for all Mankind, spoke about "The secret of success for a denim brand" while Jordi Juani, division director at Jeanologia, pondered "The evolution of jeans finishing from hand to technology". On the second day, denim expert Dilek Erik from Turkey explained the question "Why should we use stretch denim in men's fashion despite the rebirth of the rigid look?", while Vasco Pizarro, director of Pizarro laundry from Portugal presented "Denim wash trends from op European brands for AW18".
Denim has been one of the most promising textile segments in India in the past decade and is set to grow further, given India's status of being an avid producer of denim - second only to China - as well as an avid consumer with a higher volume of jeans sold than in the USA and the second largest consumer worldwide.
Photos: Denimsandjeans and Killer Jeans website
Vivian Hendriksz

|
UBM Fashion, the company behind fashion trade shows Magic in Las Vegas and Coterie in New York, has realigned its New York fashion trade calendar for 2018 in order to keep up with retail's evolving landscape.
The shift sees two key changes taking place in the New York trade show lineup, which are geared to 'create new and more efficient business opportunities for both brands and retailers,' said the organisation in a statement. After consulting with the Accessories Council, industry influencers and customers, UBM Fashion aims to launch a new women's New York fashion trade show calendar that is in line with the changes occurring within New York Fashion Week and New York Market Week.
UBM Fashion realigns its tradeshows to match industry changes
"As the global leader in fashion tradeshows, UBM Fashion has been seeing firsthand the dramatic changes in the retail landscape," said Mike Alic, Managing Director, UBM Fashion. "From the growth of e-commerce and fast fashion and changes in consumer buying patterns to the importance of delivering lifestyles and experiences – we at UBM Fashion realized there was an opportunity, in fact, a duty, to make real changes for our industry."
As New York's women's spring and fall fashion weeks continue to grow, UBM is set to launch an additional pre-collections show in June. Running from June 10 to 12, 2018, Coterie, Fame, Moda, AccessoriesTheShow and Pooltradeshow, will take place, offering the sector a local point to capitalise on the key market period. In addition to this new event , UBM Fashion is set to unite men's and women's contemporary apparel, accessories, and footwear communities by launching the first dual-gender fashion trade show in New York.
The decision to unite the two comes as more and more fashion companies serve both men's and women's markets. By creating a single, inspiring event which allows brands and retailers room to connect and grow their businesses more effectively, the organisation hopes to fulfil both parties demands. UBM Fashion's first dual-gender New York trade show is set to take place in July 2018, with Project being the marquee show for both men's and women's.
However the men's and women's market weeks in January 2018 are set to remain separate, with the women's taking place from January 7 to 9 and men's January 21 to 23, 2018. Women's wear fashion trade shows for FW' 18 Coterie, Fame, Mode, Sole Commerce and Children's Club are set to take place from February 26 to 28, 2018. The dual-gender trade show, which includes Project, Fame, Mode, MRket and Children's Club will then run from July 22 to 24.
"As the world of retail shifts, it makes perfect sense that our market week and tradeshow dates would better align to meet the changing needs of our retailers and brands. We know there is not a 'perfect' date for everyone, but the logic behind this move makes a lot of sense for most. We plan to realign some of our event dates for 2018 to reflect this new schedule," added Karen Giberson, President, Accessories Council.
The Jacob Javits Centre will continue to serve as the home base for UBM Fashion. Magic in Las Vegas will remain unaffected by the change, running in February and August 2018 as per usual.
Photos: NY Women's Sept, courtesy of UBM
Kristopher Fraser

|
Denim Days came to New York for the first time this weekend from September 30 to October 1. The star of the first New York Denim Days was Dutch designer Anbasja Blanken of Ala Blanka.
The young designer is a recent recipient of the Global Denim Awards, and came to New York to debut her award winning collection and see how customers would react to it. For three years, New Yorkers got to watch their friends across the pond enjoy the Denim Days festival in Amsterdam, but both the festival and Blanken were welcome additions to New York's fashion scene for the weekend.
Blanken, who is preparing to launch a full-scale denim collection, was on site with samples of her work from her Global Denim Award winning collection to show people how she works with materials and puts her own spin on things.
Anbasja Blanken of Ala Blanka brings Global Denim Awards collection to New York Denim Days
Before she dived into the denim world, her specialty was luxury materials like silk, but, as she transitioned to being a denim designer, she took the same approach to the material as she did with luxury fabrics. "That's what makes my collection different from the rest," Blanken said. "I treat it like it's something elegant, rather than street style. People want to wear these things on the red carpet, not just on the street."
Blanken never saw herself becoming a denim designer. However, her first experience with denim came when she was in college and she interned at Intoxica Jeans, where she worked as a design and studio assistant.
Her biggest challenge when she first returned to denim was how to make something new. "I asked myself how was I going to do a denim jacket, and still be new with it," Blanken said. "When I first got called to be part of the Global Denim Awards I was just like 'I don't know.' I wasn't sure I could do that, but they really loved my style, so I guess they wanted to see how me collaborating with a denim mill could transform into something else. I was so happy when I won the award, and it just opened me up to a world of possibilities."
Blanken describes her collection as being somewhere between ready-to-wear and demi-couture. She is aiming to officially launch her collection at retail early next year, and plans on taking a seasonless approach to her designs. "I don't like the idea of doing a spring or fall collection," Blanken said. "If you want to look beautiful, you don't want to think 'this is so next season.' You just want to pull it out of your closet and wear it."
Her goal for her collection is to be the "Trouser Woman of the World."
With sustainability being such a hot topic in denim, Blanken made sure to keep that in mind for her collection. She uses a lot of her materials really raw and tries to avoid too many dyes and chemicals. When she does prints, she does it with laser machines to reduce waste pollution from dyes. Simplicity is the mother of invention, because as she classically states, "Less is more."
And who said denim couldn't be luxurious?
During the month of October FashionUnited focuses on Denim. For all our articles on Denim, click
here
.
Caitlyn Terra

|
INTERVIEW Amsterdam - This weekend marks the first edition of New York Denim Days, the denim event for both industry professionals as well as denim aficionados. The first-ever New York Denim Days follows on from several, successful editions of big-sister event Amsterdam Denim Days, as members of the event organisations felt the time was right to introduce the concept in the United States. FashionUnited spoke to Lucel van den Hoeven, one of the organisers of New York Denim Days, before the event kicks off to learn more about his vision of the festival.
The first Amsterdam Denim Days took place in the capital of the Netherlands four years ago. The event took place simultaneously with boutique denim trade fair Kingpins, as it attracted both a national and an international audience. "It's a unique event," said Lucel van den Hoeven. "We had plans to expand for a long time, we have been asked by several countries to come." After considering several options, the organisers announced in March that New York City, the home of their partner event Kingpins, had been selected. "It was the logical follow-up."
New York Denim Days: 'We are more focused on the consumer
The concept behind New York Denim Days, which aims to unit denim enthusiasts, will take place from September 29 to October 1 at the Metropolitan Pavilion. The event will include hands-on workshops and interactive installations, as well as seminars and lecturers run by denim experts and leading denim mills. For example, the first day is set to see a FIT Denim Talk from Stefano Rosso from Diesel and Adriano Goldschmied, also known as the Godfather of Denim. The following days are set to include one on one fit sessions with the Godmother of Denim, Christine Rucci, as well as expert styling sessions, pop-up shops and DIY workshops.
Although its big sister event in Amsterdam focuses on both consumers and professionals, New York Denim Days is more focused on consumers. "There is more for sale than in the Amsterdam edition," says van den Hoeven. For example, a vintage denim market is set to take place on Sunday, next to a number of food trucks and musicians who will also be on site to serve the visitors every need. Another big difference between the two events is the noticeable absence of Kingpins, which usually runs simultaneously with Amsterdam Denim Days. "Due to the lack of the trade fair, we have opted to take a more consumer-oriented approach, among other things."
The event will host both established as well as upcoming denim brands from the American denim industry, as well as a number of Dutch brands, as part of Denim Days international denim exchange, to add a hint of Dutch flavour. "In my opinion, we couldn't miss that," says van den Hoeven with a laugh. "We made a selection of brands to showcase what is happening in the denim industry in Amsterdam. Together with House of Denim [one of the partners behind the denim event, together with the city of Amsterdam], we made the choice to tell our Dutch story at New York Denim Days." Kings of Indigo, Anbasja Blanken, Tenue de Nimes, Benzak Denim Developers and Tossijn are the Dutch brands which will be present at the event. In total, 75 to 80 denim companies will be present at New York Denim Days.
New York Denim Days: "A hint of Dutch should not be missed"
Tickets are said to be selling at the same pace as that of Amsterdam Denim Days, which van den Hoeven thinks is a good sign. "We are, of course, curious about how many tickets we will sell at the door." However, the turnover figures from the event will not go directly to the organization. "It's mainly about the image we want to create. We want to have a nice start in New York, with the right target audience." But will there be a second edition? "Of course, we need to evaluate how the first edition went, but we do not just want to do one or two editions, we're in for the long run."
Originally written by Caitlyn Terra for FashionUnited NL. Translated and edited by Vivian Hendriksz
Photo: courtesy of Denim Days
Sara Ehlers

|
As the biggest trade event for fashion, this year at the Las Vegas Convention Center, various industry buyers and retailers alike came together for a sneak peak on styles and trends to come. The bi-annual trade show fashion event took place from August 13-16 at the convention center. The show had over 40 countries represented at its Sourcing at Magic show as well as various exhibitors showcasing throughout FN Platform, Project Men's, Project Women's and more. The trade fair drew in approximately 85,000 people this year, according to the Review Journal.
This year's Magic show additionally included events as well as innovative technology to focus on the latest advancements in fashion. New fashion lines and various customer sales were made at Magic Las Vegas. To catch up on the highlights of the event, there were five major takeaways from this year's trade fair.
Classic rockers performed at FN Platform's opening night concert
World Class Rockers performed including members from Steppenwolf , Journey , LynyrdSkynyrd , Santana and Boston to kick off the show's first night.
At Sourcing Square One, attendees experienced a virtual alternate reality
Square One featured a new interactive curated space by Fashion Scoops, including an on-site installation for attendees to experience.
James Kennedy from Vanderpump Rules launched a new accessories line
In partnership with Kate Mesta, Kennedy debut a line of dog tags at the show.
Blair Underwood debuted his line of men's shoes at FN Platform
The collaboration, Q by Blair Underwood launched as a collection in partnership with Pasquale.
VIETNAM featured over 40 of their best apparel manufacturers and fashion resources
As a total of 12.45 percent of U.S. imports are from Vietnam, the country was the focus for the Sourcing at Magic event this year.
Photos: UBM Fashion / Magic Las Vegas
Sara Ehlers

|
Las Vegas - Twice a year, various wholesalers, retailers, and buyers come together in the flashy city of Las Vegas for one uniting cause: fashion. The business of fashion strikes off in the months of February and once again in August where exhibitors showcase off their newest styles, with buyers perusing for the newest trends.
At MAGIC, there are various shows including FN Platform, WSA at Magic, WWDMAGIC, Project, Project Women's, Project Men's, The Collective, Pooltradeshow, Curve, Sourcing at Magic and more. For the Footwear Sourcing at Magic, a typical day for the exhibitors including various meetings, sales appointments, and networking.
As a participant of the WSA at Magic Show, I worked on the exhibiting side of the trade fair. I work full-time for a footwear wholesaler based in Los Angeles county. On the Footwear Sourcing at Magic floor, here is a behind-the-scenes look at a 'Day in the Life' of an exhibitor at Magic.
7:30 AM
A typical day at the Las Vegas show includes waking up around this time in order to get to the booth on time. With so many clubs close by the convention (XS, Omnia, and Hakkasan to name a few), it's not uncommon for exhibitors and buyers alike to have a bit of a Vegas hangover. Many clubs offer Magic attendees exclusive entry to events, that can last well into the night. As the show is open to buyers and attendees at 9:00 AM, depending on how far you are from the convention (or how hungover), it may take extra time to get there and prepare your booth.
8:30 AM
At the booth, exhibitors are all preparing their products and footwear to look their best. All of the shelves and interior are placed in perfect showroom fashion in order to showcase the styles to interested existing and new customers.
9:00 AM
The madness for the show begins with customers perusing new collections, pending collections, and upcoming developments. Sales people in each booth are helping out new buyers as well as assisting customers with orders. In the midst of placing orders, the booth requires constant maintenance in order to keep everything looking pristine and neat for customers.
This goes on for the entire show, with various appointments for prospective buyers. Also, there are appointments with online shopping destination ShopTheFloor, and various others from the fashion industry to discuss new trends in upcoming fashion. Other exhibitors and sourcing attendees come by to pursue other booths, but are typically not interactive with other exhibitors.
1:00 PM
Throughout the bustle of the day, it's hard to fit in a lunch. But whenever there was a slow wave, exhibitors would make a run to the nearest food spot for either a sandwich or pizza slice. Most exhibitors also offered snacks and refreshments at the booth for customers as well.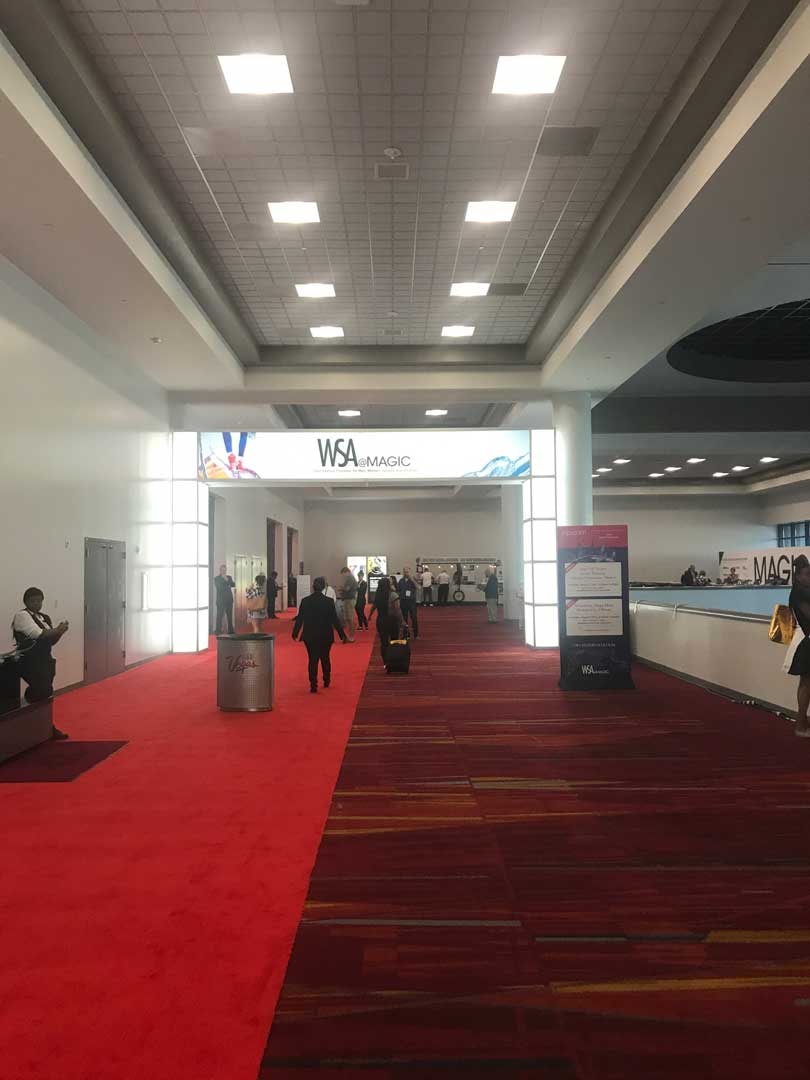 2:00 PM
For the rest of the day, exhibitors are highlighting their products in detail of the material, style, and finish of the shoes. Every possible step is taken to answer any questions or concerns customers may have. Various booths also had foot models that would try on the shoes in order to show customers how the products would look on a potential consumer.
Details about pricing, purchase orders, and incoming dates are discussed. Customers often asked which styles were "hot," or "high-selling" in order to make their choices. Various upcoming color trends as well as footwear styles were also discussed. For this year's show, exhibitors all agreed traffic was slower overall for Footwear Sourcing at Magic from its previous February show. However, booths seem to stay consistent with buyers flowing in and out throughout the day.
3:00 PM
Around this time everyday, UBM Fashion put on a "Happy Hour" VIP event for attendees at the show. Anyone with a badge was able to go to this area and receive a free gift bag (complete with goodies and a small complimentary notebook) as well as receive two drinks. The libations event allowed for various buyers and attendees to walk around the show with their drinks, causing for a more relaxed, networking environment. Around this time, it wasn't uncommon to see buyers and exhibitors alike walking through the isles complete with beer or wine in hand (after all, it is Vegas).
5:00 PM
Around this time, the exhibitor crew is in clean up mode, prepping the booth for the next day. Any customers that are in the booth are typically wrapping up their sales orders as the shows close at 6:00 PM.
6:30 PM
Exhibitors clean the booth and wipe down tables, restocking their products on the shelves. Any sales orders are typically organized together by each sales person. The exhibitors close up the booth and prep for prospective dinner and other potential outings with customers or various buyers from the show.
Exhibitors and buyers alike are then invited to events for exclusive Magic attendees only. These events included fashion shows, lounges, and more. While the events were free for members, the cost would include sacrificing a good night's rest before another long day of work.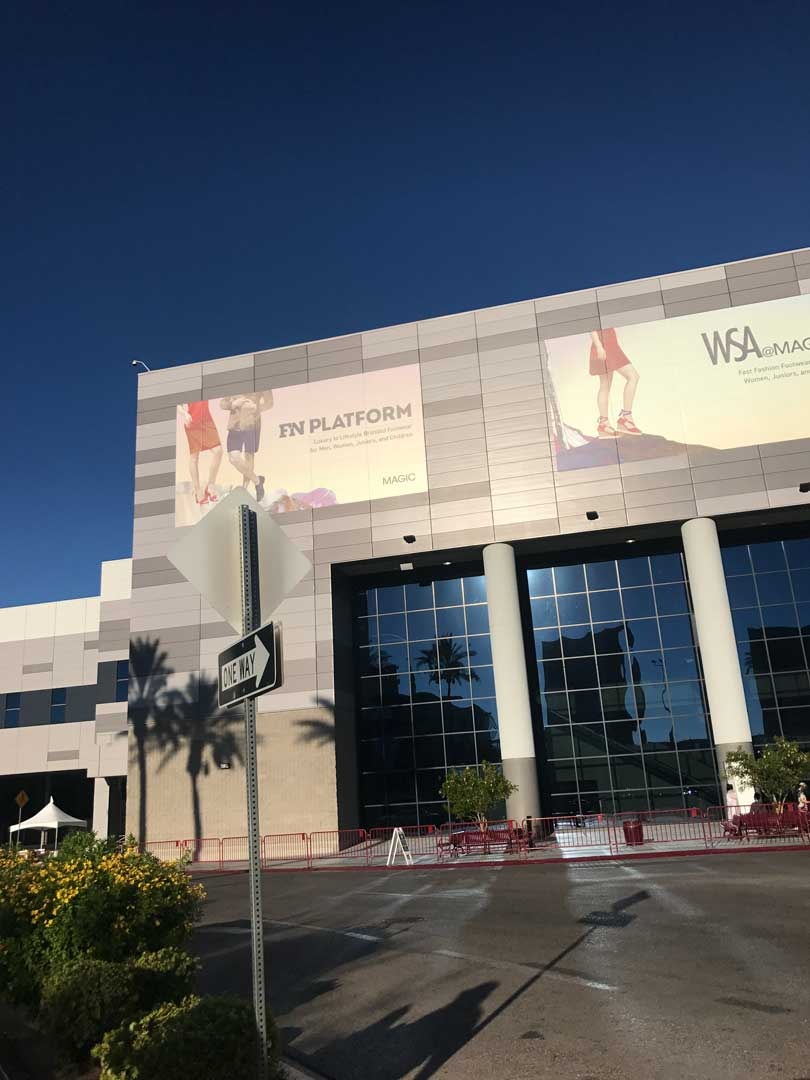 Magic in Las Vegas shows less foot traffic than previous shows
The show this year took place from August 14-16 spanning over three days. At the Las Vegas Convention Center, the featured various key players in the fashion industry. Overall, this year's show was said to be less busy in attendance in comparison to previous years. This trend shows the possibility that attending actual trade shows m ay be less valuable in the sense of business. While most clients can make their orders through direct contact or online methods, it seems that the appeal of the trade show may be fading out. While this is the first show to display less traffic, it'll be interesting to see how the next February show fares in terms of business.
During the month of August FashionUnited will focus on Work in Fashion. For all reads on the theme, click
here
.
Kristopher Fraser

|
EST WST, co-founded by siblings Jhana and Arya Cayton, is set to debut their first full collection at NY NOW. The brand has been nominated for the Innovation Showcase, which is an exclusive invitation-only section for emerging brands. From August 19 to the 22, they will be on display at the Javits Center as part of NY NOW.
For the past four years, the brand has been researching textiles across the globe to develop sustainable materials with positive impact. Through direct partnerships with weavers in Nepal and India, they custom textiles woven from natural fibers. Textiles are selected for their versatility and applicability to the trends of contemporary fashion.
EST WST debuting their eco-friendly designs at NY NOW
EST WST joins NY NOW with a range of textiles developed straight from the hands of their partner weavers. Their debut collection features three textiles woven from natural fibers unique to South Asia. Their Himalayan Nettle grows exclusively in the mountains of Nepal and India. From harvest to textile, the fabric is manufactured completely by hand without electricity in villages across Nepal. Due to its artisanal processing and natural characteristics, it has been named "The World's Most Sustainable Textile" by TreeHugger.
Another selection includes their handwoven organic cotton denim, which is featured in three unique colors. The cotton is grown in Tamil Nadu, only miles from where the textile is woven. EST WST uses the same organic cotton yarn in a handwoven ikat that has been woven for hundreds of years in a small village in Andhra Pradesh. Each textile is paired with a gorgeous vegetable-tanned leather that develops a unique patina, characteristic only of low-impact eco-leather.
Each of their bags features a laptop sleeve and well thought out pockets, allowing it to serve as commuter bag or weekender.
Jhana and Arya have lived between Nepal and India for the past three years working side-by-side with their artisan partners. Jhana, EST WST's CEO, shares the process endured while developing their business model: "We knew our supply chain would require additional R&D to meet demand, but we didn't realize exactly what we were getting ourselves into nor how long it would take before we were ready to go to market. We needed to be very careful not to jump into manufacturing until our artisan partners were ready. We needed to be confident in our ability to meet demand and manage quality control expectations prior to sharing our project with the world."
photo: via PR Newswire