Don-Alvin Adegeest

|
Tommy Hilfiger is returning to Pitti Uomo's 92nd edition, the men's fashion tradeshow destination in Italy. From June 13-16, Florence will welcome back both Tommy Hilfiger, who showed last January at Pitti Uomo '91, as well as Sir Paul Smith.
With the action taking place both inside and outside the walls of Fortezza da Basso, the designers will present their Spring / Summer 2018 Hilfiger Edition and PS collection by Paul Smith at the fair this season.
Tommy Hilfiger will show in the Ottogonal Hall and present a 'Store of the Future', a retail project that aims to digitize the brand stores in the next two years following the 'Digital show-room' introduced in Florence six months ago.
PS by Paul Smith will be showcased in the Pavilion of the Gravel, in addition to the Spring Summer 2018 collection also being shown during a Fortress event.
Photo credit: @TommyHilfiger, Pitti Uomo 91
Kristopher Fraser

|
Cindy Bellamy of Aarvee Denims and Imports Ltd. shows us what the major styles and materials are in denim this season at New York Kingpins. Kingpins is one of the biggest denim tradeshows in the world, with shows also taking place in Amsterdam and Hong Kong. In this video, Bellamy takes us through fabrics, discusses the inspiration taking from 80s and 90s trends and shows us natural denim.
Some of Aarvee's most popular pieces include their outerwear and denim jackets due to the revival in Western and trucker style jackets. It's all about the stretch this season too. Above all else, remember to never underestimate the power of a good mood board.
Kristopher Fraser

|
REPORT Kingpins, the international denim trade show, made its annual return to New York City this week one may 11 and 12. While vendors were engaged in their usual attempt to get more buyers, there was one word that was the hot topic on everyone's lips: sustainability.
Amrin Sachathep of Atlantic Mills, a Thailand-based denim supplier, has found that there has been a big trend in recycled denim, but the problem with that is it goes against the principle that can wear long and well. When you recycle jeans it actually shrinks the cotton, giving it less durability. Therefore, people are only getting a few uses out of their jeans and then discarding them, which isn't as eco-friendly as they are intended to be.
"People shouldn't have to need new product every two to three weeks," Sachathep said. "The true nature and story of denim is that you can have it for a while, it should mold to your body. We are about creating a product that is long lasting."
The other conversation that's been big in the denim industry right now is the use of water. "It's the biggest problem in denim," Sachathep said. Atlantic Mills is good about this and attempts to recycle 95 percent of the water they use. However, it's not just the mills who need to be cautious of water consumption. According to Sachathep, the majority of water being consumed is by cotton farmers, so it is on the industry to teach the cotton farmers to how recycle water.
Denim industry going more eco-friendly
Sustainability has become a trend and conversation not only on more than just the cotton and mill side of things. Companies that produce leather trims for denim manufacturers have found that sustainability is the key topic of the moment on their side of the business as well.
ISA TanTec specializes in vegetable tan leather and undyed natural leather. Many Los Angeles based denim companies who are focused on sustainable, environmentally friendly fashion come to them for trims.
The company's tanneries also hold the distinction of being the only Sustainability Apparel Coalition certified tanneries in the world. All of their hides are traceable back to the actual farms where the animals are known to be humanely resorted, which according to Mitzi Guidry, a representative for the brand, "Is not something that really exists in the leather good industry. So we are providing something that doesn't really exist in the market."
Many of the tanneries they work with have been in the leather goods industry for decades. It's not unheard of for some of their suppliers to have been in business for eighty years.
Another major trend on the sustainability front for denim is waterless products. Karla Strebet, a representative for Fire Mountain, a denim supply company, has found that the rise in desire for sustainability was directly linked to an increase in waterless products.
"With all the technology nowadays, we can go waterless without compromising the quality of denim," she says. In addition to the rise of waterless products, the increase in more technical, waterless production of denim has also led to more laser cuts. These trendier processes are more eco-friendly, and help create unique denim styles without using any water resources.
The movement to be more environmentally conscious in fashion is there. Kingpins showed us that denim is happily on the bandwagon.
Photos: FashionUnited
Danielle Wightman-Stone

|
Luxury French footwear designer Christian Louboutin is to make his Pitti Uomo debut with a "one-of-a-kind project" at the menswear tradeshow that will feature a competitive sporting event.
Taking place on June 13, the "engaging sporting event" will be held in a historic location in the centre of Florence and will feature Christian Louboutin Homme's collection showcased by eight competing teams from the "four corners of the globe".
Pitti guests will be invited to watch the tournament, but also, should they wish, they can participate in a series of masterclasses led by the sportsmen themselves. However, the types of sports have yet to be revealed.
"Florence to me has always been a city of leisure. For the first time, I am happy to mix leisure and the pleasure of my work there," said Louboutin in a statement.
The 92nd edition of Pitti Uomo takes place from June 13-16 in Florence, Italy.
Sara Ehlers

|
This year, Coeur and Project Womens are teaming together for a co-joined show. The partnership will be featured this year at the Mandalay Bay Convention Center in Vegas from August 14-16.
The show will feature both aspects of each show infusing Project Womens' ready-to-wear with Coeur's accessories and home goods. The Coeur x Project Womens neighborhood will showcase a curated selection of apparel, accessories, gifts, and beauty merchandise for retailers. "Traditional retailers are looking for a way to reinvent their stores now, more than ever," said Kelly Helfman, vice president of Project Womens. "COEUR is the perfect partner for Project Womens offering a curated selection of home, gifts and beauty merchandise that will create an added value for our retailers to shop."
The trade fair will take place in Las Vegas this August at the Mandalay Bay Convention Center infusing classic pieces from Coeur with contemporary clothes from ProjectWomens. The Coeur x Project Womens neighborhood will include Kelly + Jones, Lux-Eros, Happy Habitat and Castify including more with a modern and current design to inspire retailers in revitalizing their shops.
Sara Ehlers

|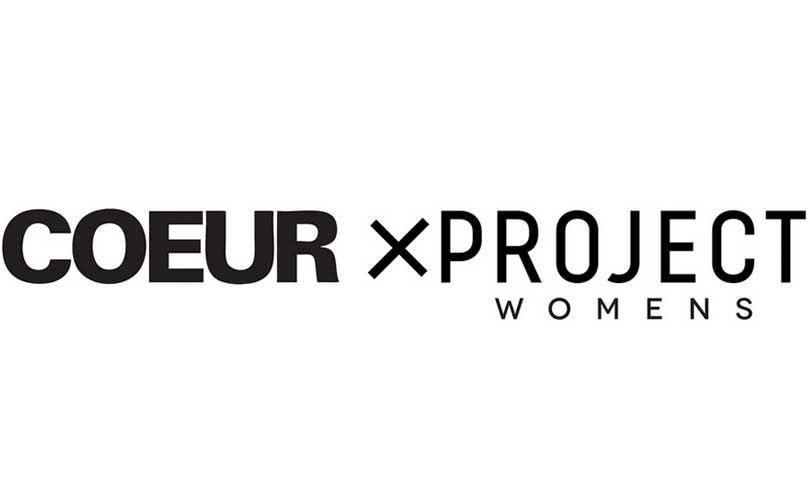 Las Vegas - Two major trade fairs are joining this year for their show to take place at the Mandalay Bay Convention Center in Vegas. Womens contemporary apparel Project Womens and apothecary home and gift fair Coeur are partnering up for the three-day event to take place this August.
The partnership has brought on interior designer Joseph Jagod in order to create an on-site installation with retailers. This will incorporate both elements of the shows together combining gifts, home, apothecary, and tech accessories with ready-to-wear. This infusion is a way for the trade fairs to bring a new way of re-inventing to retailers, by bringing lifestyle options to their stores. "Project Womens attendees have echoed this interest in tech accessories, apothecary, home décor and gifts, propelling this partnership with COEUR," shares Kelly Helfman, Vice President of Project Womens. "COEUR is the perfect partner for Project Womens offering a curated selection of home, gifts and beauty merchandise that will create an added value for our retailers to shop."
Coeur x Project Womens to take place together this year in August
Coeur is known for its premiere fashion accessories, home, gift, and lifestyle showcase involving handbags, footwear, and more. The show often features classic and timeless pieces including established brands, targeting a bohemian and artsy audience. "The trend in gift and beauty brands engages a more involved shopping experience to the end consumer, thus more excitement and demand to shop," said Henri Myers, co-founder and creative director of Coeur. "COEUR has partnered with Project Vegas to bring to life a fast growing category in the overall Lifestyle industry including hand-picked brands in beauty, home, gift and tech allowing retailers, from hotels, spas, specialty and majors to discover hand-selected items to add to their store curation." Overall, the show will be able to add to Project Womens, which is known more for its chic women's apparel, by bringing a new influx of merchandise.
Project Las Vegas is scheduled to take place from August 14-16 at the Mandalay Bay Convention Center. The Coeur x Project Womens neighborhood will showcase Kelly + Jones, Lux-Eros, Happy Habitat and Castify as well in order to show modern and current design trends. With both trade events together, the show will bring together both top retailers and fashion brands for this year's Vegas show.
Photos: Coeur
Simone Preuss

|
Africa Sourcing & Fashion Week (ASFW), taking place at Millennium Hall in Ethiopia's capital Addis Abeba from 3 to 6 October 2017, will focus on sustainability and its central theme "Sustainability in Clothing".
Given that currently, clothing and textiles represent about seven percent of world exports - a percentage that is likely to rise - the trade fair puts particular emphasis on production, the environment and certifications. A fashion show, trend area and matchmaking platform for finding business contacts are just some of the other programme highlights.
From this year onward, Messe Frankfurt's three trade fair brands Texworld, Apparel Sourcing and Texprocess have been integrated into ASFW after Messe Frankfurt reached an agreement with the fair's organiser Trade and Fairs East Africa last year. More than 250 international exhibitors from 25 countries worldwide are expected to participate.
Because the origins of fashion and sustainable production are becoming particularly relevant to more and more fashion buyers, ASFW is anticipating an increasing interest in eco fashion and will present new approaches in this regard. Fast fashion giant H&M, GIZ (Society for International Cooperation) Ethiopia as well as circular economy and resource efficiency experts of WRAP and development agency Solidaridad will present sustainable solutions.
In addition, international manufacturers of textile machines will showcase new technologies for the African market. This includes the Italian textile machine association ACIMIT, which will be represented with a range of product innovations.
Visiors also look forward to the annual fashion show with African creations as well as the designer conference where experts will give presentations on "International fashion – designed in Africa". In terms of trends, trend forecasting and analytics company WSGN will present future trends in women's, men's and children's clothing while "Trend House" showcases international trends made in Africa.
The ASFW will take place for the seventh time in Addis Ababa, Ethiopia in 2017. It serves as a meeting point for garment manufacturers and the east African textile industry, focusing on apparel fabrics, leather, fashion and fashion accessoires to home and contract textiles, technical textiles and the processing and care of textiles. Machine manufacturers for garment production, CAD/CAM systems, printers, inks and accessories also have a strong presence.
Photos: Africa Sourcing & Fashion Week website
Simone Preuss

|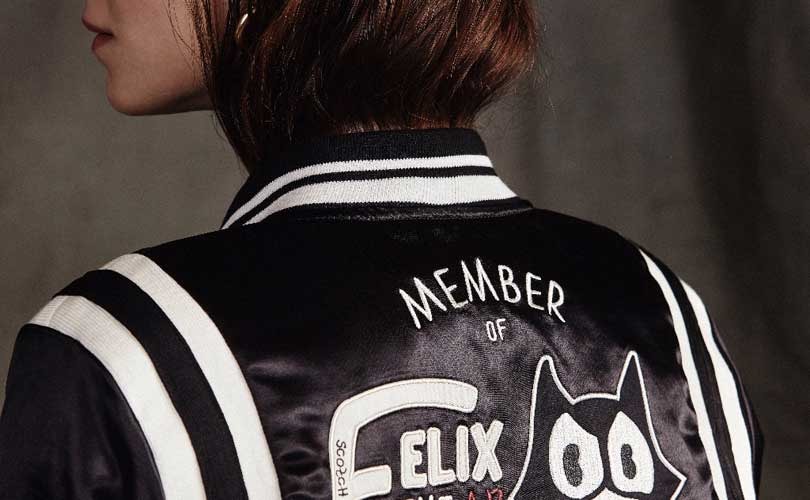 Amsterdam denim brand Scotch & Soda will show for the first time at international fashion trade fair Premium Berlin, which will take place from 4 to 6 July 2017 at Station Berlin. The brand's presence at the trade fair supports a recent increase in investment in Germany as part of Scotch & Soda's strategic growth plan.
"Berlin's naturally buzzy, creative and open spirit is a lot like Amsterdam, our home city. Premium Berlin feels like the right event to profile Scotch & Soda at, as part of our growth plan in this key market. We look forward to making the space at Premium our own, showing the full Scotch & Soda offering for our main line," commented Alex Jaspers, global director of merchandising at Scotch & Soda.
At Premium Berlin, the brand will present its spring summer 2018 lines for men and women in a 220 square meter space that includes an outdoor terrace. In the past year, Scotch & Soda has invested in three permanent showrooms in Germany: a 1.500 square meter space in Dusseldorf and two 600 square meter spaces in Hamburg and Munich. In addition, a new shop-in-shop concept with accompanying refreshed P.O.S. concepts has been rolled out with wholesalers across Germany, where a team of 25 sales experts led by sales director for Germany, Andreas Firneburg, services the market.
The decision to participate in Premium Berlin is part of a number of steps implemented to drive the brand's growth in Germany, including two seasonal instalments of Scotch & Soda's first global campaign "From Amsterdam, From Everywhere." A third phase of the brand campaign is currently in development and will be released in fall winter 2017.
The brand also just launched an exclusive denim capsule collection together with Universal Brand Development featuring Felix the Cat, the world's oldest cartoon character. The capsule collection offers denim and sports apparel for men, women and children that has been inspired by Felix the Cat. It will be launched in addition to the Amsterdam Blauw SS18 collection and will be supported by launch activities in October and November of this year.
Photo: Scotch & Soda PR
Céline Vautard

|
Paris - On the eve of its tenth anniversary, Denim Première Vision demonstrated what might be tomorrow's denim. The buzz at the Paris Event Center on 26th and 27th April was all about ecology and technology. "If ecology is the major topic for the whole industry and has experienced real evolution, then technology remains associated with active sport, namely performing-fibre products, for example, with a vintage look", explains Marion Foret, fashion product manager of Denim Première Vision.
A greener denim
In the field of recyclable denim, Advance Denim (China) displayed a canvas combining 100 percent recyclable cotton and filament (Solucell®). The recycling of cotton/polyester mixes is usually impossible as fibres cannot be separated. Here, this action is possible because Solucell® dissolves in water thus enabling both fibres to be recycled. The idea is like inviting the consumer to take their used denim to the shop and from there it will be sent back to the factory so that the product can be fully recycled.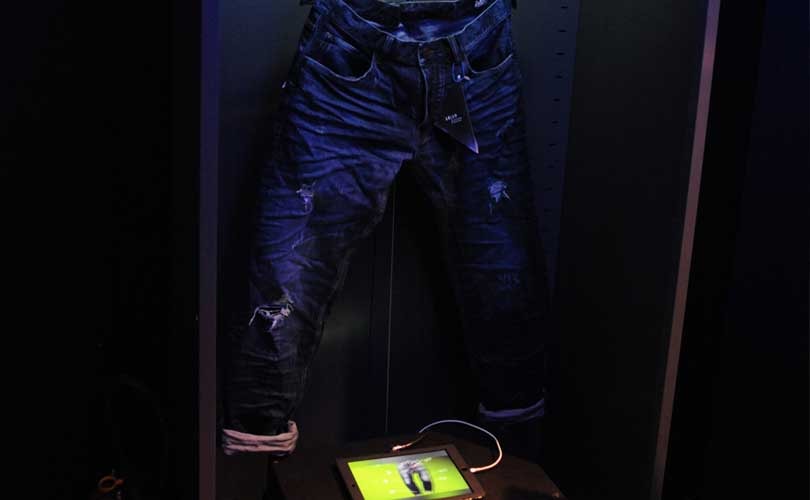 At M&J Group, innovation involves the reduction of laundry costs. Water, energy, chemical products…by means of a full-cycle monitoring and measuring system enables complete traceability of the denim canvas production process, all measures are taken into account in order to help the implementation of a consumption reduction plan. The only one of its kind, this software should soon be available at various launderettes.
A revolution is at last taking place on the display shelves of Artistic Fabric Mills (Pakistan) who aim to stock articles with a QR code allowing access to production information for jeans. As an overview, the strategy of the company's ecology manager is to provide full transparency of the production process: from cotton to the finished garment. This already involves a mix of eco-responsible fibres (bio cotton, cotton BCI, recycled coolmax polyester), a greener dye (reduced amount of water used), a cleaner wash…."This kind of approach which aims to attract the consumer is very new for manufacturers", outlines Marion Foret. "We are entering the era of global traceability which allows customers to understand the product manufacturing process."
The technological side
Meanwhile, another world enables the discovery of tomorrow's denim. This way, the artist Pauline Van Dongen, was able to present Solaar Windbraker: a recycled, waterproof denim jacket featuring solar panels. Concealed within the lining is a battery recharged by means of flexible solar panels thus allowing any mobile technology (telephone, camera, GPS…) to be recharged even with little sun. A smartphone can also be recharged wirelessly.
American streetwear brand Rochambeau displayed one of its limited edition jackets with Avery + Evrythng (15 units were marketed in December 2016). Equipped with microchips and QR codes concealed in the lining, it enables access to exclusive content. The wearer can use their smartphone to interact with the technology concealed in the jacket. It offers a tour of New York city and suggests unique points to the user for a personal itinerary (art galleries, shops, events or restaurants).
Written by Céline Vautard for FashionUnited France
For all our articles on Denim, click
here
.
Foto: Denim Première Vision
Sara Ehlers

|
After confirming a new venue this year for their New York show, Capsule has now officially announced its dates for the year. For its Spring/Summer 2018 shows, Capsule will be introducing its shows spanning from June to October in various countries.
Kicking off first this summer, Capsule's Paris Men's show will take place at Maison de la Mutualite from June 24-26. Next, the trade event's Men's show for New York will take place at the Javits Center from July 17-19. In August, Capsule will be introducing both its men's and women's show at the Sands Expo Center in Hall B from the 14-16. Finally, the trade event will return to Pier 94 or women's RTW and accessories from September 16-18. Lastly in Los Angeles, Capsule Women's will take place October 9-10 at the California Market Center.
Launched originally in 2007, the Capsule show has developed its own gathering of workers from the fashion industry as well as a global network of creatives, artisans, and more. Bringing in various brands and buyers for menswear, womenswear, and accessories, the show showcase internationally throughout the year. Based in new York, the trade fair has effectively grown as an accessories and apparel show showcasing a couple times each year.
Photo: Capsule