FashionUnited

|
Trendstop's menswear team bring you a first look at an essential trend direction that will be impacting the men's market into F/W 2018-19 and beyond. First identified in our Themes forecasts this influential trend will be inspiring all sectors of he men's fashion market, from apparel and accessories to print and materials. Our carefully curated seasonal reports evaluate each trends commercial value and longevity with accurate analysis from our trend experts giving you the best possible basis for decision making.
This week, Trendstop reveal three key aspects of our Fall/Winter 2018-19 menswear theme, The Elemental Estate to FashionUnited readers. Fall embraces the elements, taking inspiration from rugged landscapes, winter wildernesses and windswept highlands. Cocooning silhouettes, cosy textures and heritage handcrafting are modernised with subtle sportswear influences and performance qualities to bring the technical and traditional together.
The Elemental Estate - Apparel
Cocooning outerwear protects against the elements with layered, padded textures, plush fabrications and thick knits creating voluminous silhouettes. Intarsia knits in Scandinavian inspired patterns hint at a homespun, handcrafted aesthetic that both compliments and contrasts with the technical coatings and rain-proof technological aspects.
The Elemental Estate - Print & Materials
Cosy borgs, rugged shearlings and towelling textures provide add extra warmth to heavy winter constructions while rubberised treatments and tubular quilting introduce a technical quality to seasonal materials. Print and pattern takes inspiration from nature with landscape motifs seemingly blurred and distorted by harsh winter climates.
The Elemental Estate - Footwear & Accessories
Fall footwear and accessories focus on functionality and durability in the great outdoors. Sports inspired trail runners and sturdy hiker hybrid boots mix traditional constructions and performance components for a sure-footed feel. Cross-body utility packs have a clean, unfussy aesthetic with extreme sports inspired hardware details that compliment their practical hands-free quality.
Exclusive Offer
FashionUnited readers can get free access to Trendstop's Fall Winter 2016-17 Menswear Commercial Themes, an essential report featuring the season's best commercial apparel, footwear and accessories products. Simply click the banner to receive your complimentary report.
Trendstop.com is one of the world's leading trend forecasting agencies for fashion and creative professionals, renowned for its insightful trend analysis and forecasts. Clients include H&M, Primark, Forever 21, Zalando, Geox, Evisu, Hugo Boss, L'Oreal and MTV.
Images courtesy of Trendstop: DSquared2, Kenzo, Joseph, London Street Style, Prada , Marni, Christopher Shannon and Dirk Bikkembergs, all Fall Winter 2017-18.
Danielle Wightman-Stone

|
New York's Parsons School of Design is partnering with Yoox on its socially and environmentally responsible destination Yooxygen to promote sustainable fashion practices through education and collaborations.
The collaboration will see the introduction of the Yooxygen Award, which will be awarded to a graduating BFA Fashion Design student of Parsons at the colleges annual benefit in May.
The winner of the inaugural Yooxygen Award will be awarded a six-month internship at Yoox's headquarters in Milan. The internship will start in July and will see the award winner creating a sustainable women's collection to be sold exclusively on Yoox in January 2018.
An additional six-month internship will be awarded to a second student who will work at Yoox's headquarters in New York City, beginning in September.
The aim of the honour is to encourage Parsons BFA Fashion Design students to consider fashion design as a vehicle to address urgent and current societal problems, which include climate change and sustainability.
"In 2009, when Yooxygen debuted online, we were amongst the first to acknowledge the importance of responsible choices in fashion," said Federico Marchetti, founder of Yoox and chief executive of Yoox Net-A-Porter Group. "Our partnership with Parsons combines our commitment towards education and our desire to encourage sustainable fashion choices. We are convinced that the next generations of talents will drive a more sustainable fashion agenda and we feel it is our responsibility to empower them."
Burak Cakmak, Dean of Fashion at Parsons School of Design, added: "We are excited to collaborate with Yoox on this important partnership for our students. Sustainability education is vital for our students, and Parsons is committed to training designers who are prepared to address urgent issues in the fashion industry."
The Parsons' 69th Annual Benefit will take place on May 22, 2017, at Chelsea Piers in New York.
Danielle Wightman-Stone

|
London-based barefoot shoe company Vivobarefoot is collaborating with San Francisco-based crowdfunding clothing platform for independent designers and major brands, Betabrand, for its new shoe collection.
The partnership has led to the launch of the City Sock, a breathable, stretchy mesh trainer, and will see Betabrand hosting a vote for consumers to select their favourite concepts to create new shoes.
"Due to its popularity, the City Sock was chosen as the first shoe to launch in the collection," said Asher Clark, Vivobarefoot co-founder. "The new shoe is designed to give freedom through barefoot design, with the protection needed in an urban environment."
The 100-percent vegan footwear features an ergonomic flex-mesh body, highly breathable foot bed, ultra-thin, puncture-resistant sole, and radically reflective detailing for nighttime excursions. The City Sock is the first of several shoes to be released in the collection, with additional shoes to be released in the forthcoming weeks. These will include the City Proof and Yoga Flat.
"We are excited and honoured to have partnered up with our pals at Betabrand," added Clark. "Because there is no point in having a pair of stretchy walk to work, disco yoga pants if you don't have the shoes to match. Conceived in London, designed for toe freedom and flavoured in the Californian sunshine - these are footshaped shoes that let your feet be feet...again!"
Vivobarefoot was founded in 2012 by Galahad and Asher Clark and offers sustainably made shoes for men, women and children for everyday wear and running. It has previously used crowdfunding for its company, securing funds for its expansion on Crowdcube.
"Vivobarefoot is an incredible brand and it's been amazing to connect our customers with their design team," said Chris Lindland, founder and chief executive of Betabrand. "They've welcomed fans into their creative process, thereby creating some of our most popular projects yet. Thousands of people have voted and provided feedback so thousands more can purchase crowd-designed footwear."
The City Sock is now available for purchase/funding in grey and black for both men and women, and retails at 91 dollars. Customers save 30 percent by ordering the shoes at this stage of development.
Image: courtesy of Vivobarefoot
Simone Preuss

|
TIMELINE
For the fourth time, people around the world will commemorate the anniversary of the worst industrial disaster, the worst blow to the garment industry. On April 24, 2013 the Rana Plaza building in Savar, close to Dhaka in Bangladesh, collapsed. It housed five garment factories and cost the lives of 1,134 of their workers; more than 2,500 were injured. Tragically, most - if not all - of the deaths and injuries could have been avoided had the garment workers been allowed to evacuate early like other workers in the building.
FashionUnited has put together a timeline of events from that tragic day in April to the most current developments - events like the Dhaka Apparel Summit, Fashion Revolution Day, efforts by the Bangladesh Accord on Fire and Building Safety and the Alliance for Bangladesh Worker Safety, factory inspection reports and other efforts by local and international stakeholders. Will their joints efforts be enough to turn the tragedy around to become a change maker for the global garment industry and its supply chain? Time will tell.
Use the arrows to navigate through the events ordered by date or click on a timeframe (in the grey bar) to learn more.
Photo credit: Zakir Hossain Chowdhury / ANADOLU AGENCY
Don-Alvin Adegeest

|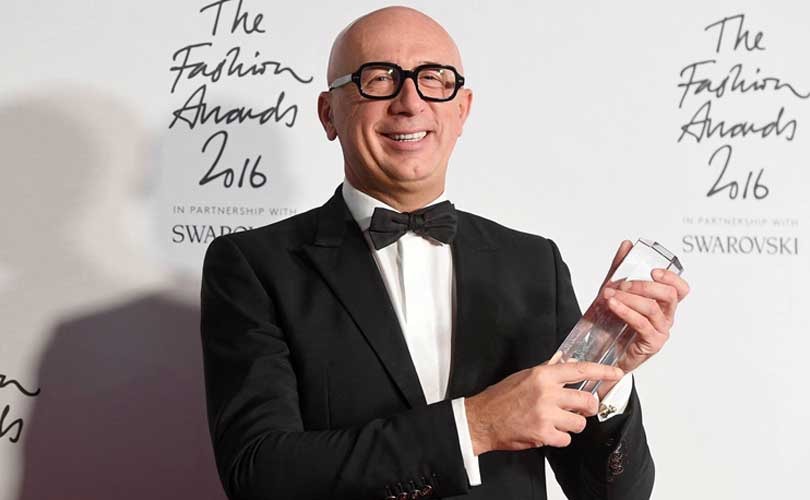 In 2009 when Lindsay Lohan was named creative director of French fashion house Emanuel Ungaro, celebrities moonlighting as fashion designers hadn't yet reached its peak.
Brands had been looking to fill creative positions with big names, big personalities and even bigger followings, where fame often gets the upper hand over talent. Unsurprisingly, these jobs have often come at the expense of those second in command, the designers behind the creative director, the number twos, who have the technical and creative skill to fulfill these roles, but lack the celebrity status.
Things took a change in 2015 when Gucci, previously led by big personalities like Tom Ford and Frida Giannini, opted to choose unknown designer Alessandro Michele to lead its billion euro business.
Gucci led the way with hiring an anonymous designer
Gucci's CEO Marco Bizzarri didn't have Michele on his shortlist of potential candidates when it was decided Giannini should be replaced. Michele began as a junior designer under Tom Ford, and remained anonymous throughout his ten year tenure. Even under Giannini, nobody knew who Michele was.
It was a courtesy meeting with Bizzarri that started the course of Michele being appointed creative director. He had already seen two well-known designers, but it was Michele, with his near archive knowledge of the house and passion for the brand, that led to him being given an assignment to come up with a men's collection in just five days. Two years later and it is fair to say Michele has transformed Gucci both aesthetically and profitably, and brands are looking toward Gucci to emulate its success.
Should fashion houses be led by big personalities?
One of the problems in fashion is the "old guard believes that fashion, as an art form, should be led by visionaries with big personalities and even bigger reputations," notes Refinery29. It is the newer generation, however, that embraces fashion as a business, and should be led by creatives with an understanding of what modern customers want from their clothes. "This tension between old versus new, number ones versus number twos, gets at the heart of the industry's most fundamental question: Is fashion mostly art? Or is it mostly a business?"
Fashion, of course, is both. The artform can't exist without the business, and the business would be nothing without the aspirational and creativity. CEO's of fashion companies are realizing that number twos can be good for business as well as the creative.
Fashion houses are hiring number two's
The past two years have seen an ascension of number twos take the roles of number ones. Take for example Raf Simons' former number two, Serge Ruffieux, who is now creative director at Carven. Last month Natacha Ramsay-Levi was appointed as head of Chloé, but she was Nicholas Ghesquiere's number two at Louis Vuitton. Last October Marni hired Miuccia Prada's number two Francesco Risso and Mulberry onboarded Johnny Coca, previously Phoebe Philo's number two at Celine.
All these designers were largely anonymous until their appointments, all the while leading their own quiet revolution behind the scenes.
Photo credit: Marco Bizzarri, Alessandro Michele @ British Fashion Awards, source: Gucci Facebook
Jackie Mallon

|
What does Giorgio Armani have in common with Steve Jobs, Karl Lagerfeld with Mark Zuckerberg, Anna Wintour with Mother Teresa? They are associated with wearing an instantly recognizable daily uniform. Jobs and Zuckerberg might be said to dress for the technology industry, Mother Teresa had little time for trends, but fashion designers and magazine editors? Aren't they in the business of telling us what to buy and what to discard every six months? What gall, what sense of entitlement, what perverse elitism affords them the luxury of getting to stay the same?
"All change!" they decree from their ivory towers to us commoners below, then watch as we're buffeted about against the waves: Get the New Strong Shoulder! Say goodbye to the Skinny! High waists are back! Embrace Fall's New Volumes! Do as I say not as I do seems to be their modus operandi. But what is behind their abstinence? Are they lazy? Uninspired? Having a laugh at our expense? Is this the ultimate power play of master puppeteers tugging the strings of their colorful playthings?
Former president Barack Obama told Vanity Fair, "You'll see I wear only gray or blue suits. I'm trying to pare down decisions. I don't want to make decisions about what I'm eating or wearing. Because I have too many other decisions to make. You need to focus your decision-making energy. You need to routinize yourself. You can't be going through the day distracted by trivia."
The Trivia of Necessity
Yes, but with all due respect, Mr President, what constitutes trivia in the world of politics is the raison d'être of the fashion industry. Yet our most powerful sartorial leaders don't buy into the magic and energy of their own runways, nor cave to the oppressive need for uniqueness, nor succumb to the sense of adventure they peddle each season.
While Obama might argue the idea of a uniform is liberating, there might be something else at work with our designers, as Giorgio Armani explains to The Guardian, "When I look at myself in the mirror, I am super-critical. I have to think of what I can wear that will look good on me. I can't wear stripes or bright colours because they make me expand. I like to wear navy trousers with a white T-shirt from Emporio Armani during the day, with white trainers. For evening, I wear black velvet dinner jackets and handmade shirts from Giorgio Armani, hand-made to measure. I almost always wear the same thing. I have an athletic body but am only 1m 70cm tall, sadly, and I know what suits me best."
So instead of freedom, uniform dressing offers a form of damage control for figures who must represent their brand every waking moment. It becomes referred to as their "signature look."
Shades of Black
From Riccardo Tisci's casual separates and pristine white sneakers to Tom Ford's immaculately tailored suit, from Thom Browne's schoolboy knee-length shorts with shirt and tie, Michael Kors's tonal blazer over t-shirt and trousers, Alexander Wang's T-shirt and jeans accessorized with only his glossy dark locks, they all have one. But the focus of this signature look is even more honed: the only acceptable color of it appears to be black––unless it's Armani's equally neutral navy. Yohji Yamamoto delivered this assessment of their favored palette, "Black is modest and arrogant at the same time. Black is lazy and easy - but mysterious. But above all black says this: "I don't bother you - don't bother me".
But uniform dressing is not just for the male designers. Carolina Herrera's white shirt with popped collar and monochrome skirt, Diane Von Furstenberg's printed tunic, Donna Karan's voluminous black with statement necklace, Miuccia Prada's knee-length pleated skirt and blouse.
Workwear
Uniform dressing represents consistency and is perhaps an attempt by the designer to remove themselves from the seasonal hue and cry of magazine editorials and trends, allowing them to remain in the background. Martin Margiela famously took this one step farther wearing a white lab coat and refusing interviews.
The uniform projects sobriety and authority, awarding designers the stature of lifestyle gurus who administer selflessly for the benefit of their followers. Their humble "regulation-wear" in the face of constant change may even ironically borrow from the idea of the blue-collar worker by evoking the tradition of a trade, a craft, possibly artisanal, which is under threat, and often passed down through generations.
What will I wear today? Whatever works.
By contributing guest editor Jackie Mallon, who is on the teaching faculty of several NYC fashion programmes and is the author of Silk for the Feed Dogs, a novel set in the international fashion industry.
Images: All from Catwalkpictures
FashionUnited

|
The Trendstop team give FashionUnited readers an industry insider's guide to the key looks from the London press days. Staged by leading labels and top fashion PR firms at destination locations around the city, these events provide a seasonal showcase for influential major labels, avant-garde designers and directional high-street brands. Trendstop's Womenswear experts reveal the must-have pieces that will be essential to any Fall/Winter 2017-18 collection while our comprehensive trade show coverage and press day galleries analyse and evaluate each trend's commercial value and longevity, giving you the best possible basis for your decision making.
This week Trendstop present three key items that will be impacting the Fall/Winter 2017-18 womenswear wardrobe. The Peplum Shirt offers a move on from the masculine shirtings of past seasons with a feminine take on tailoring. The Utility Jumpsuit puts a contemporary spin on functional workwear and illustrates the ongoing importance of utilitarian trends. The Nordic Knit fuses decorative graphic motifs with fashion-forward colour combinations for a fresh take on traditional Scandinavian style.
The Peplum Shirt
The classic white shirt moves away from the masculine proportions and traditional tailoring of previous seasons to embrace a more feminine silhouette. Crisp cottons and starched structure are softened by gently pleated and ruched peplum detailing that compliments the female form.
The Utility Jumpsuit
The utility trend continues apace for F/W17-18 with a focus on durable fabrications and clean-lined functionalism. Denim jumpsuits and boiler suits come in deep dyed indigo or saturated brights accented with contrast stitching. Hardware is practical yet understated for a contemporary take on workwear themes.
The Nordic Knit
Knitwear look to Scandinavia for inspiration as cosy sweaters come adorned with Nordic style placement patterns. Neutral/neon colour combinations modernise traditional folkloric geometrics while fluffy brushed yarns and super-soft mohair textures soften graphic motifs.
Exclusive Offer
FashionUnited readers can get free access to Trendstop's Spring Summer 2017 London Trade Show Overview, featuring the key seasonal themes, directional products and fashion innovation. Simply click here to receive your free report.
Trendstop.com is one of the world's leading trend forecasting agencies for fashion and creative professionals, renowned for its insightful trend analysis and forecasts. Clients include H&M, Primark, Forever 21, Zalando, Geox, Evisu, Hugo Boss, L'Oreal and MTV.
Images courtesy of Trendstop, left to right: Kate Spade, Vivetta, Karl Lagerfeld, L.F Markey, Kenzo, Revolve, Pinko, Toast and Markus Lupfer all Fall Winter 2017-18.
Kristopher Fraser

|
Cruise shows are known for taking place at some of the most unexpected venues imaginable. From Gucci's 2017 cruise show at Westminster Abbey to Chanel's 2017 cruise show in Cuba, designers often search for the most headline worthy places to showcase their resort looks. After taking their cruise collection to Rio de Janeiro in anticipation of the 2016 Summer Olympics, Louis Vuitton has set its sights on I.M. Pei's Miho Museum in Kyoto, Japan for their next cruise show scheduled to take place May 14.
The museum features a huge tunnel leading to a structure with a steel-and-glass roof, along with a floor and walls made from beige colored limestone from France.
Louis Vuitton staging cruise show in Kyoto
"We've always made architecture a very integral part of our story," said Michael Burke, chairman and chief executive officer of Louis Vuitton, to WWD. "When I launched cruise when I came here, it had to be exotic, it had to be places that you knew of but that you never went to."
Louis Vuitton has a longstanding history with Japan. The Mon family's crest is what inspired their iconic monogram pattern. In 1978, Tokyo also became home to a Louis Vuitton boutique. Louis Vuitton has also collaborated with prominent Japanese artists, such as Takashi Murakami, who was behind the brand's famous Murakami bag, one of the most major It bags in the company's history.
Japan has been getting plenty of attention from French luxury brands lately. On Wednesday , Dior opened their new five-story boutique in the Ginza district, and celebrated by hosting two shows, one couture and one menswear. Given Japan's moderate growth in the luxury goods sector, it is slowly becoming retailers new country to watch.
Photo via: Miho.or.jp
Sara Ehlers

|
Menswear essentials brand Mack Weldon has just announced its first line into activewear. Launching through its online site and Equinox locations, the brand has just launched AIRKNITx.
The new series includes a variety of basics including crew neck shirts, socks, boxer briefs, and more. Priced approximately ranging from 24 to 42 dollars, the line was developed from innovative fabrics mills as well as manufacturers. The launch includes apparel composed of a unique microfiber blend that infuse the brand's signature design approach. This includes a flyless pouch for support, anti-bacterial technology, a high-stretch microfiber zone, and more. "Guys are active all day, every day; so we created a product that is as suited for the boardroom as it is the locker room," Matthew Congdon, vice president of design at Mack Weldon said in a statement. "Our customers want a hybrid product that compliments their active lifestyle."
As the Equinox brand represents a high-performance lifestyle, the Mack Weldon brand goes hand in hand. "As members ourselves, we knew that AIRKNITx and the Mack Weldon brand would align perfectly with the Equinox value proposition," Brian Berger, founder and chief executive officer of Mack Weldon, said in a statement. Available starting April 20, the apparel is available through mackweldon.com as well as in-club shop locations at Equinox.
Simone Preuss

|
For the third time, the Abury Design Experience (ADEx) takes place, an annual, international design competition with a social cause, looking for the best talent, whose task will be to create an accessory capsule collection using traditional crafts knowledge from different cultures. This year, the winner will spend two months in Ethiopia. The experience is about reviving the world's dying artisanal heritage by blending it with modern design and to train the artisans in quality management and design.
"We want to change the fashion industry. The winning designer has the opportunity to really experience how the people who produce live and work. And they can positively leave their trace. This is real empowerment - for both sides," says Abury founder Andrea Bury. 50 percent of the profits will be re-invested in education projects in the country.
After Ecuador in 2015 and Marokko in 2016, this year is about the artisan community "Sabahar" from the Ethiopian capital Addis Abbeba, which was selected in an application process among artisan labels from 14 African countries. Inspired by ancient weaving traditions of Ethiopia, Sabahar creates exquisite handmade accessories and home linens using locally sourced silk and cotton. All products are entirely handmade - from the spinning of the thread to the weaving of the fabric.
"The Abury Design Experience is a unique way for young designers to broaden their horizon and find not only new inspiration, but also the opportunity to create their own voice. Working with traditional ways of craftsmanship and thinking on a more sustainable level is exactly what fashion should be moving towards to," says jury member, model and designer Eva Padberg.
Interested designers who are at least 21 years old and are about to graduate or have graduated not more than five years ago can send in their applications until May 5th, 2017. Abury and one jury member will select nine designers for the semi-finals, of which three will be selected via public voting before the jury announces the winner.
Abury is the first fashion platform to combine traditional craft with avant-garde designs creating a new luxury style that fosters intercultural exchange while preserving world crafts through connecting designers and traditional artisans from remote and inspiring cultures.
Photos: Abury