FashionUnited

|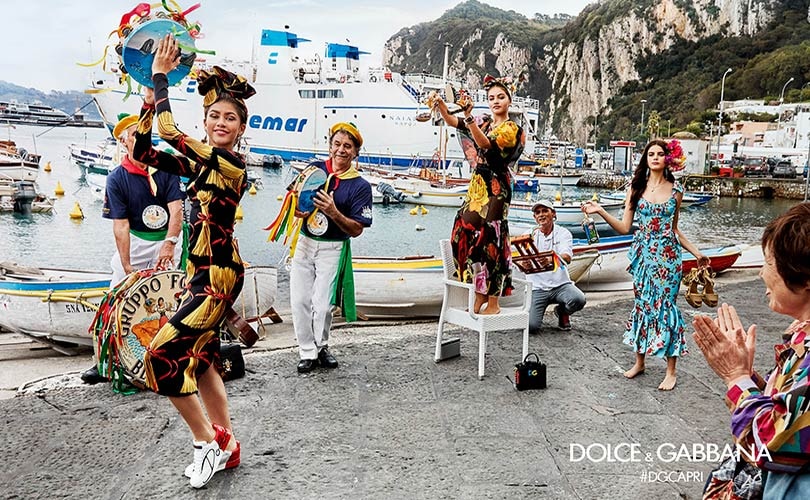 London - Although we have to wait a little longer until Spring, we can already dream of warmer days and look forward to wearing less layers and brighter colours. But nothing really captures the essence and feeling of these seasons and encourages consumers back to the high street quite like a well thought out and executed campaign. FashionUnited has rounded up the top spring/summer campaigns from 2017 from some of the world's leading luxury fashion houses, so you have something to look forward to during these cold and dark winter days.
Dior
Dior's Spring/Summer 2017 campaign is a continuation of the French fashion house recently appointed Creative Director Maria Grazia Chiuri art project dedicated to feminism. The campaign, entitled The Women Behind the Lens, features a series of photographs featuring women photographed by other women. Chiuri selected Ruth Bell, the same model which opened her debut catwalk show for Dior in September, and her twin sister May, to star as the main faces of the elegant, black and white campaign shot by Brigitte Lacombe.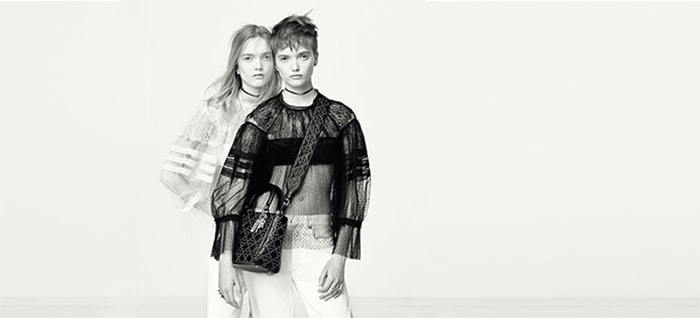 Photo: Dior SS17, Facebook
Prada 365
Rather than building its SS17 around a single theme or idea, Italian fashion house Prada decided to create its campaign around five different visual narratives. The campaign brings together still photography and films in a unique way and bring the collection's story to life. The five themes which act as the basis for the campaign include Pathways, Frontiers, Stations, Exits and Terrains. Each theme was shot at a different locations, such as a formal office, the city and the bead, by Willy Vanderperre.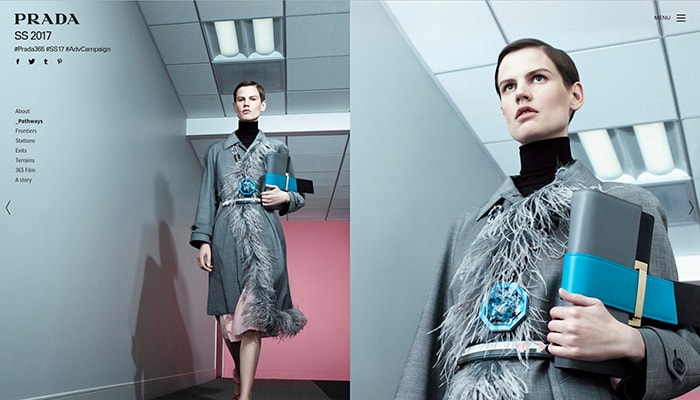 Photo: Prada SS17
Moncler
Outerwear brand Moncler joined forces with Chinese artist and photographer Liu Bolin, best known for his portrait series 'Hiding in the City' to star in its campaign for SS17. Just as in the portrait series, Bolin camouflages himself in a number of locations for Moncler, including a bookstore and a forest, and is captured by iconic photographer Annie Leibovitz
Balenciaga
Creative director Demna Gvasalia tapped British photographer Harley Weir to capture his SS17 collection for Balenciaga, which focused on one material in particular: spandex. The collection itself is said to be an "exploration of the intimate relationship between couture and fetishism", according to the fashion house's show notes, and the campaign, which features models Alek Wek, Eliza Douglas and Shujing Zhu, is a clear reflection of Gvasalia vision.
Photo: Balenciaga SS17
Miu Miu
Miu Miu's Spring/Summer 2017 collection, entitled 'Suddenly Next Summer' pays homages to the iconic images of summer holidays featured in movies such as 'Il Sorprasso' and 'Beach Blanket Bingo.' Featuring a number of young high profile models, including Elle Fanning, the campaign, shot by Alasdair McLellan aims to capture that careless, breezy summer feeling.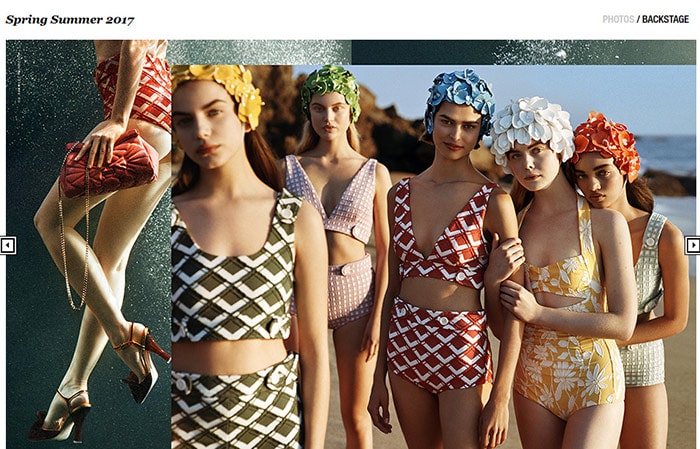 Photo: Miu Miu SS17
Moschino
Moschino's Creative Director Jeremy Scott tapped model sister stars Gigi and Bella Hadid to star in the Italian fashion house's SS17 campaign. The models showcase a series of dresses and gowns, whilst "fighting" off paparazzi in the campaign shot by the famous Steven Meisel.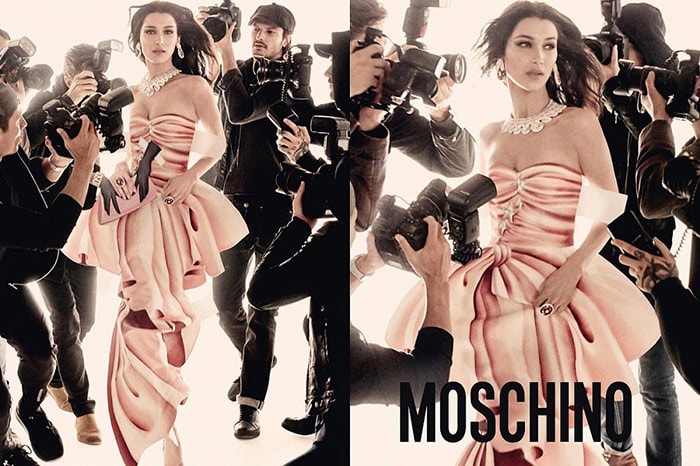 Photo: Moschino SS17
Saint Laurent
Anthony Vaccarello, Creative Director at Saint Laurent, has decided to continue his sexual overhaul of the French fashion house image by creating a series of provocative images for SS17. Models including the likes of Binx Walton, Lexi Boling and Yasmin Wijnaldum pose for Collier Schorr in skimpy slip dresses, low-cut gowns and nothing but an earring for the campaign.
Isabel Marant
Dutch photography duo Inez van Lamsweerde and Vinoodh Matadin shot German model Anna Ewers posing both fiercely, and playful in office space, including the kitchen, for Isabel Marant's SS17 campaign.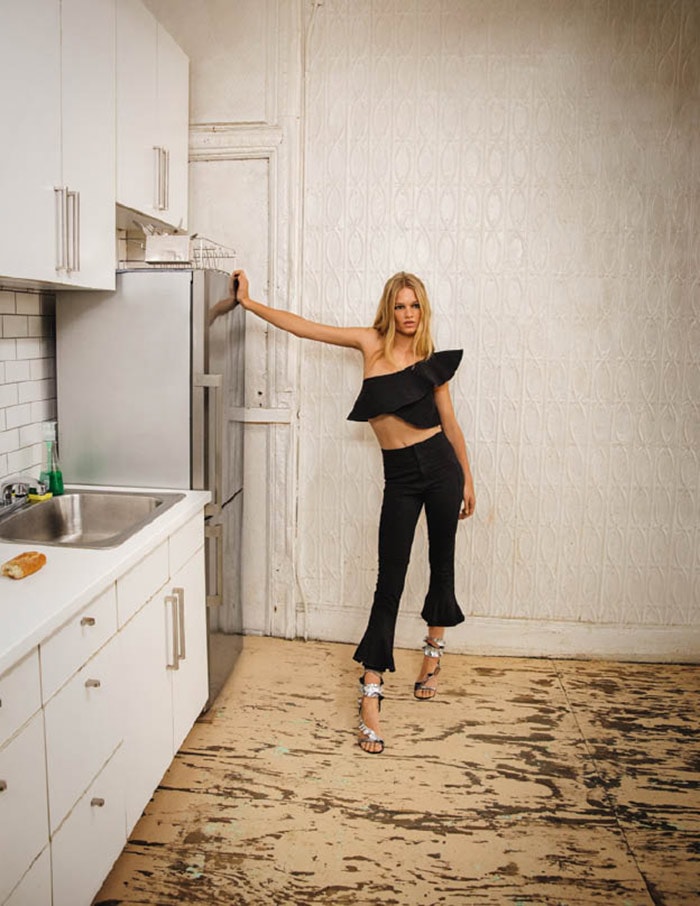 Photo: Isabel Marant SS17, website
Dior Homme
Creative Director for Dior Homme, Kris Van Assche selected a cross-generation of men from the music and fashion sector to star in the French fashion house's SS17. Boy George, A$AP Rocky and Rami Malek are some of the very different faces to star in the campaign shot by Willy Vanderperre.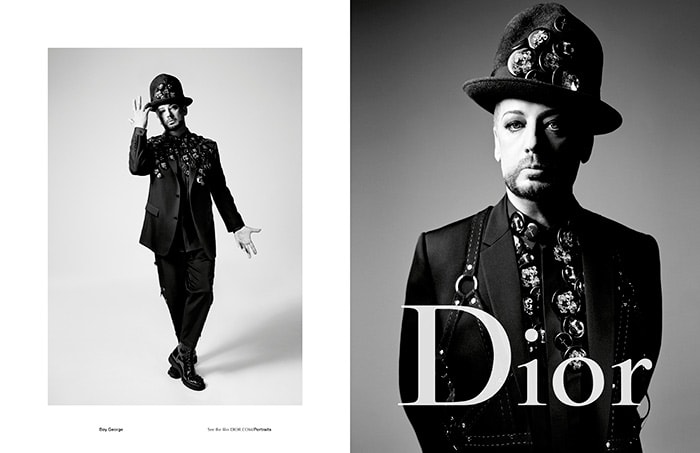 Photo: Dior Homme SS17
Alexander Wang
US designer tapped one half of the South African rap group Die Antwoord - Ninja - to star in his SS17 campaign together with models Binx Walton, Lexi Boling, Anna Ewers and Adwoa Aboah. Shot by duo photography team Inez & Vinoodh, the campaign depicts the rapper mocking analogue photography after arriving at a club for a night out.
Lanvin
Creative Director at Lanvin, Bouchra Jarrar, casted supermodel Stella Tennant to star in her debut self-directed advertorial campaign for the fashion house. Jarrar stressed that Tennant was a natural choice for Lanvin, who was photographed by Paolo Roversi. "Her aura, her beauty and the quiet strength she exhudes made her the perfect for my idea of the new Lanvin women," said Jarrar to WWD.
Balmain
Models Natasha Poly, Doutzen Kroes and Isabeli Fontana were shot by Steven Meisel in the desert showcasing Balmain's signature glamorous looks for SS17.
Chanel
Chanel aimed to highlight its many different faces in its SS17 campaign. Creative Director Karl Lagerfeld created a series of looks, ranging from tech-inspired, Dark Punk, retro-anime world to a gothic, punk lolita and a reimagined Gabrielle Coco Chanel, with Carine Roitfeld before shooting his muse and model Arizona Muse.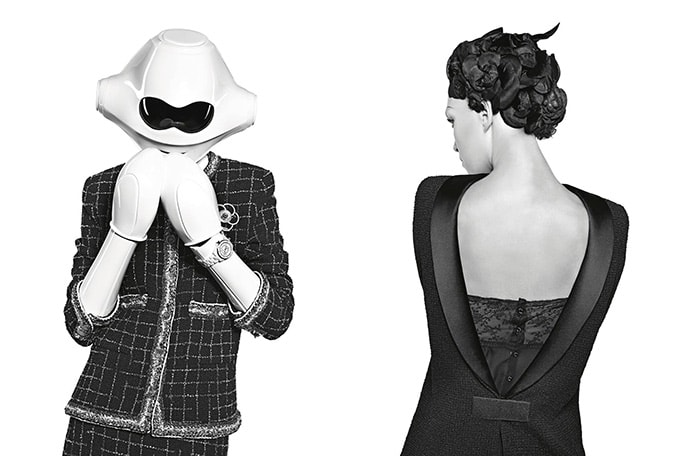 Chanel SS17
Jimmy Choo
Jimmy Choo Creative Director Sandra Choi chose to showcase both the brand's womens and mens collection in a single campaign for the first time. "I wanted the new campaign to portray the Jimmy Choo woman and man in the same environment. The one-of-a-kind beauty found in nature was a key inspiration for the Spring Summer collection and how we need to pause in our busy lives to stop for a moment and marvel at the wonders we co-exist with," said Choi in a statement. Shot by Daniel Jackson, the campaign features Kiki Willems and Lou Gaillot.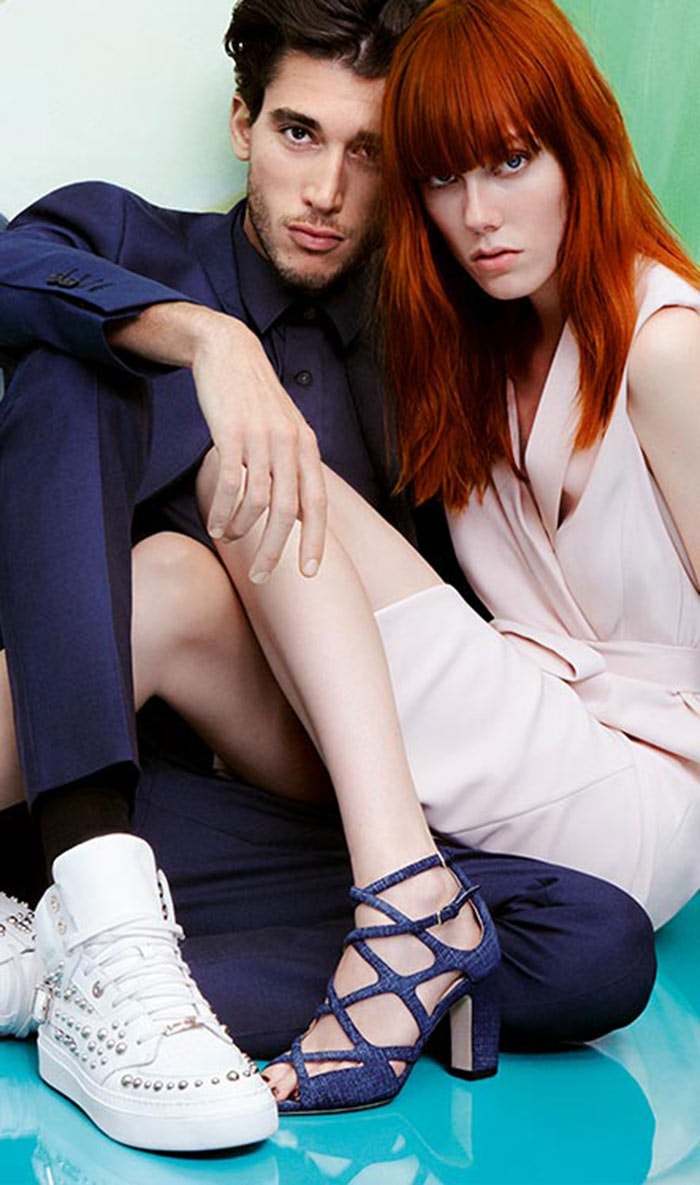 Jimmy Choo SS17
Louis Vuitton
Brand ambassadors Michelle Williams, Jennifer Connelly and Sasha Lane pose in Paris for US photographer Bruce Weber in Louis Vuitton SS17.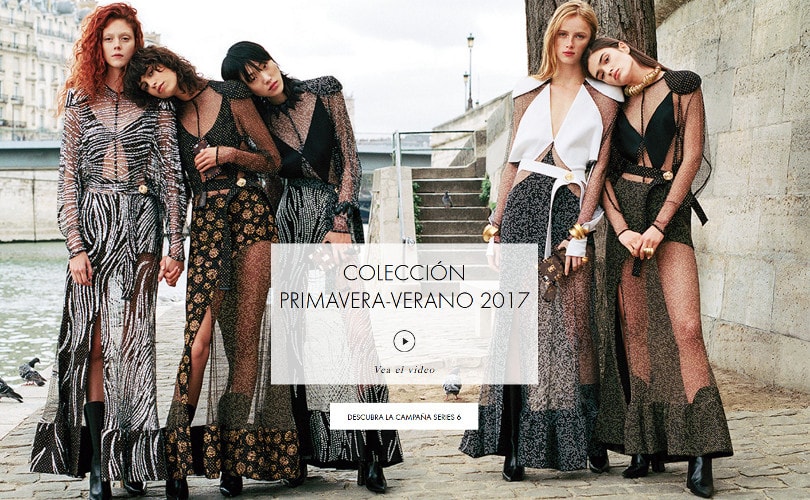 Photo: Louis Vuitton
Dolce & Gabbana
Famous millennials, including actresses Zendaya, models Thylane Blondeau, Rafferty Law, Presley Gerber and Youtube star Cameron Dallas, star in Dolce & Gabbana's SS17. Shot in the colourful Capri, in Italy the campaign aimed to capture the attention of the younger generation.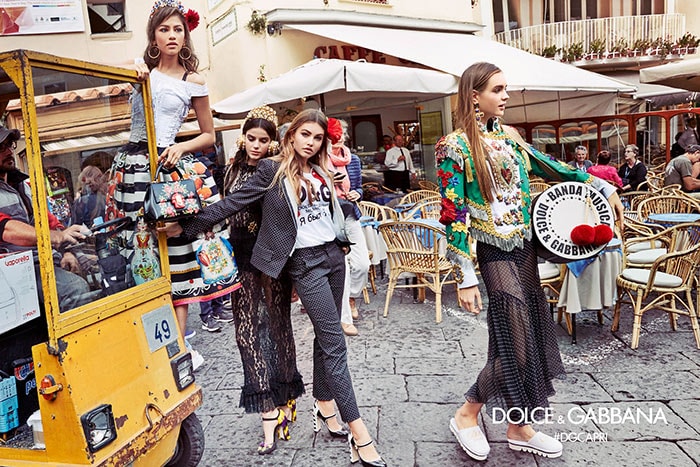 Photo: Dolce & Gabbana SS17
Don-Alvin Adegeest

|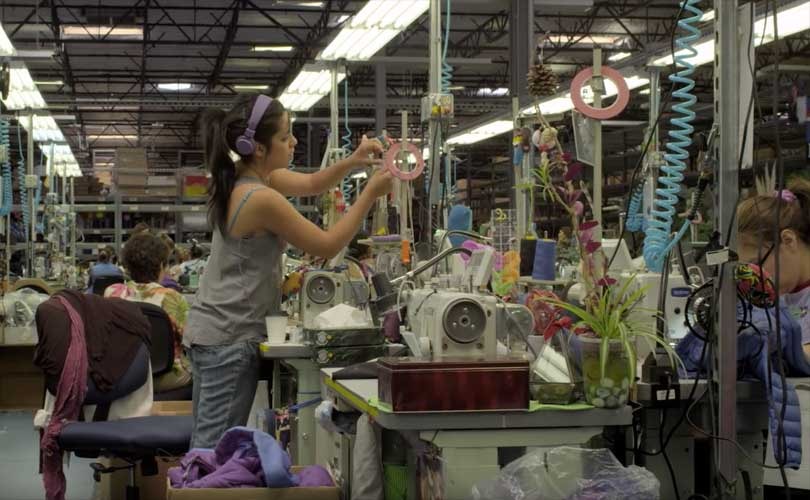 London - Sporting giants Nike and Patagonia jointly took home the Accenture Strategy Award for Circular Economy Multinational at the World Business Forum in Davos, Switzerland this week.
The Circulars, an initiative of the World Economic Forum and the Forum of Young Global Leaders, is the world's premier circular economy award program, offering recognition to individuals and organizations from commerce and civil society across the globe that have made notable contributions to the circular economy in the private sector, public sector and society.
Nike was awarded for being a champion of material efficiency and waste reduction. The company aims to double its business with half the impact through adopting circular economy principles.
Patagonia is recognised as a world leader when it comes to sustainability efforts, starting as far back as 1996 when it began using only organic cotton for cotton products.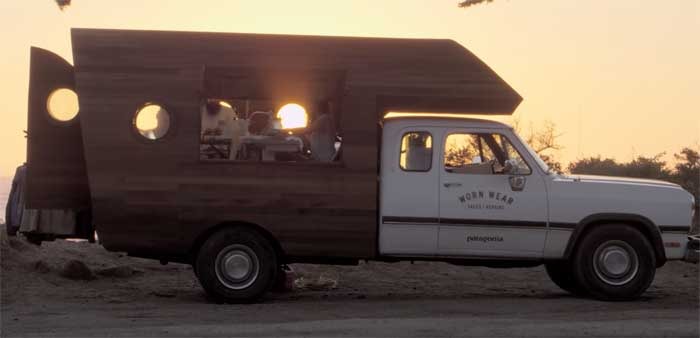 Patagonia advocates clothing repair
Where Patagonia leads the way, is with its after sale service, taking responsibility for its product long after it has been bought by the customer. The company strongly advocates for clothing repair and has sought to provide the support customers need to extend the life of their garments.
Patagonia's initiative 'Worn Wear' was launched five years ago as an extension of this goal, helping customers repair damaged clothing and equipment themselves or providing a way for customers to send clothing to the company for repair or recycling.
Patagonia now operates the largest clothing repair center in North America, handling 30,000 repairs each year in Reno, Nevada. Stores across the United States carry out several thousand more repairs each year.
The company has been challenging traditional growth models in two ways: by urging its own customers to buy only what they need (and make it last as long as possible) and via a 20 Million dollar change internal venture fund, which was established in 2013 and targets sustainable or circular-leaning companies.
Photo credit: Patagonia repair center Nevada, source: Patagonia.com
Herve Dewintre

|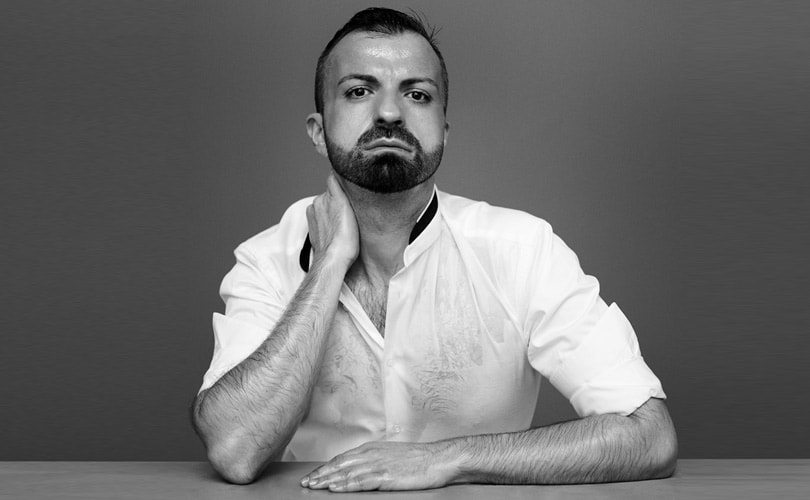 OPINION Haute Couture is particular to Paris and has gone through numerous phases. Although it would take too long here to explain what these phases are, let's just say, to summarise in general terms, that the initial vocation of Haute Couture was to systematise innovation by elevating the artisan dress designer to the status of artist designer. For a long time, Haute Couture meant the avant-garde, a break with the system, permanent invention - one at the service of the client.
It's hardly worth stating that this principle of innovation changed shape and moved from Haute Couture to ready-to-wear. It is the ready-to-wear division that has for over fifty years been the embodiment of innovation and fashion, leading to the question: Has Haute Couture permanently lost its avant-garde role? The figures seem to indicate this. In the 1960s, the share of made-to-measure garments only represented 18 percent of the direct turnover (excluding perfumes) of the fashion houses. Consequently, the last rites were read and this percentage has continued to fall to practically nil.
This also applies to the personnel employed. In the 1920s, Patou employed 1,300 people in its workshops; Chanel employed 2,500 before the War; Dior employed 1,200 in the 1950s. However, today, all the fashion houses benefiting from Haute Couture label or officially communicating with this label, employ an absolute maximum of 2,000 workers and in this niche produce garments for no more than 3,000 women across the globe.
Commercial reality or branding?
It is an irrefutable fact: the venerable fashion houses only prosper through their ready-to-wear items, their accessories, their perfumes and cosmetics ranges. They continue to organise two shows each year solely for branding, simply in order to flaunt their world of prestige and promote items sold under their brand label worldwide. Neither classic nor avant-garde, Haute Couture reproduces only its "eternal" brand image by producing masterpieces of gratuitous aesthetics. Metamorphosed in prestige display windows, Haute Couture seemed to be condemned not to create anything for anyone anymore.
However, despite the trek from its initial vocation, and this total disembodiment, Haute Couture continues to attract talent and whisperings have been apparent for several seasons now. The presence of the Vêtements brand, which was invited last year to show on the Haute Couture show schedule, was an intelligent decision and hints at an awakening in the Chambre Syndicale de la Couture Parisienne.
Its presence attested to the fact that Haute Couture was not simply the terrain of technical prowess and masterpieces of design and execution, but that it was still able to clothe the trendiest of women. Vêtements is the brand of fashion. And Haute Couture, so the Chambre Syndicale tells us, is also fashion and not just the perpetuation of a grand tradition of luxury and virtuosity that falls between the museum and the laboratory.
This also applies to the brand of Georges Hobeika, officially invited for the first time this season to show on the Haute Couture schedule. Whilst the Lebanese designer creates dresses which conform to the imagined idea of traditional haute couture, it is nevertheless a perfectly viable fashion house that proves the world of haute couture is still a dream for many clients who are supporters of made-to-measure.
The recent announcement of the attribution of the term Haute Couture to new fashion houses has extended this desire to promote fashion houses connected with their époque. The Commission de Classement Couture Création [Commission for the classification of clothing and design] of the Ministry of Industry, which met on 16 December 2016 in the offices of the Fédération Française de la Couture du Prêt-à-Porter des Couturiers et des Créateurs de Mode [French federation of Ready-to-wear designs of fashion designers and dressmakers], bestowed the label Haute Couture upon the fashion house Julien Fournié.
A graduate of the school of the Chambre Syndicale de la Couture Parisienne, and former artistic director of the fashion house Torrente, Julien Fournié is not a designer of the old school. For example, he has developed 3D tools through his partnership with Dassault Systemes, a European company with which he co-founded FashionLab in 2011.
This latest decision by the Chambre Syndicale expresses a welcome desire to bring Haute Couture into the modern age, but with an attendant commercial reality. This is because the best way of saving Haute Couture is to promote the fashion houses that are of most interest to clients and to highlight designers who think that their houses are not just a window display for selling It Bags or lipsticks.
Photo Credit: Julien Fournié dr.
Haute Couture Fashion Week takes place Sunday 22 January - Thursday 26 January 2017 in Paris, France.
AFP

|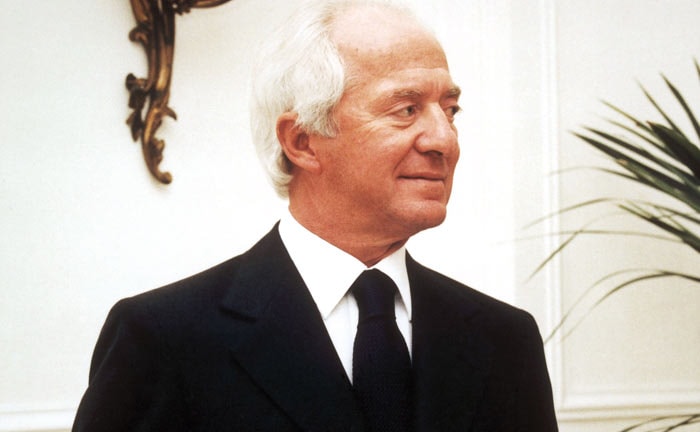 PROFILE From the small factory he founded in 1961 near Venice, Leonardo Del Vecchio created an eyeglasses empire, and at 81 is invading the corrective lenses market by merging his Luxottica firm with Essilor.
The merger story is the latest chapter in Del Vecchio's rags-to-riches story. Born in 1935 in Milan, Del Vecchio was sent to an orphanage at a young age after his father died. At 15, he began working in a factory where the owner encouraged him to take night classes at the Brera Fine Arts Academy, in particular for design.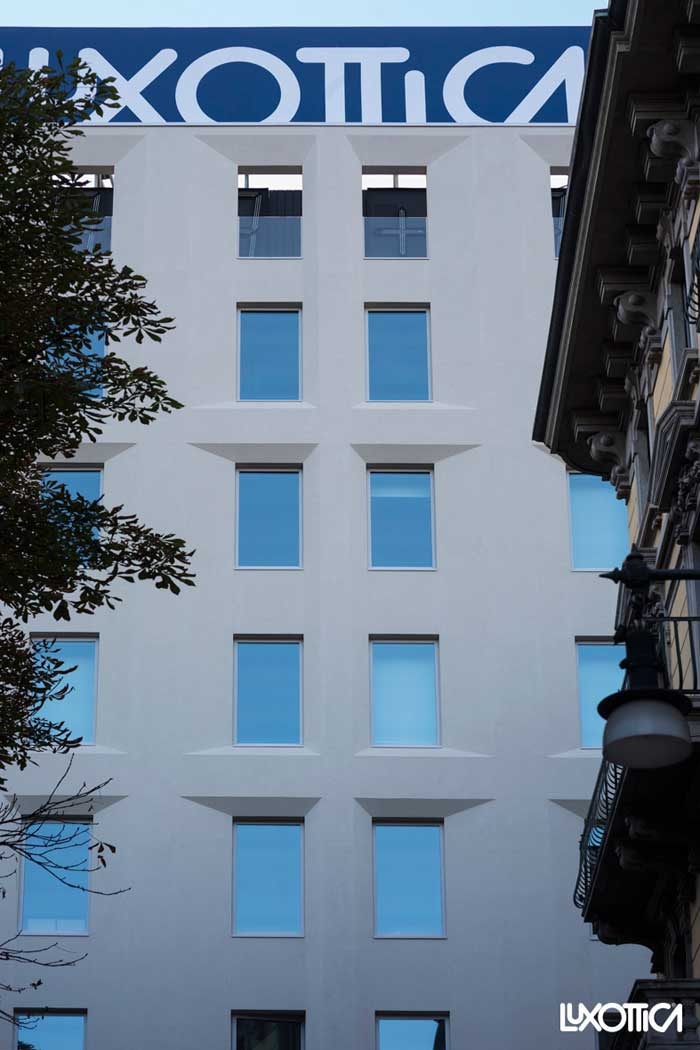 In 1958, Del Vecchio struck out on his own, opening his own eyeglasses workshop in the Venice region, the home of Italy's eyeglasses industry. Three years later, he founded Luxottica, which specialised in making pieces for eyeglasses manufacturers. The business began to take off in the early 1970s when Luxottica shifted focus to making its own eyeglasses frames, and then boomed in the 1980s when the company went after the US market.
The group is today a giant quoted on both the Milan and New York stock exchanges that generated more than 9 billion euros (9.5 billion dollars) in sales in 2015 and counts some 80,000 employees throughout the world.
It has a stable of top brands including Ray-Ban and Oakley sunglasses, while also manufacturing frames for luxury brands such as Chanel, Prada and Versace. Luxottica also owns the Sunglass Hut chain of retail shops.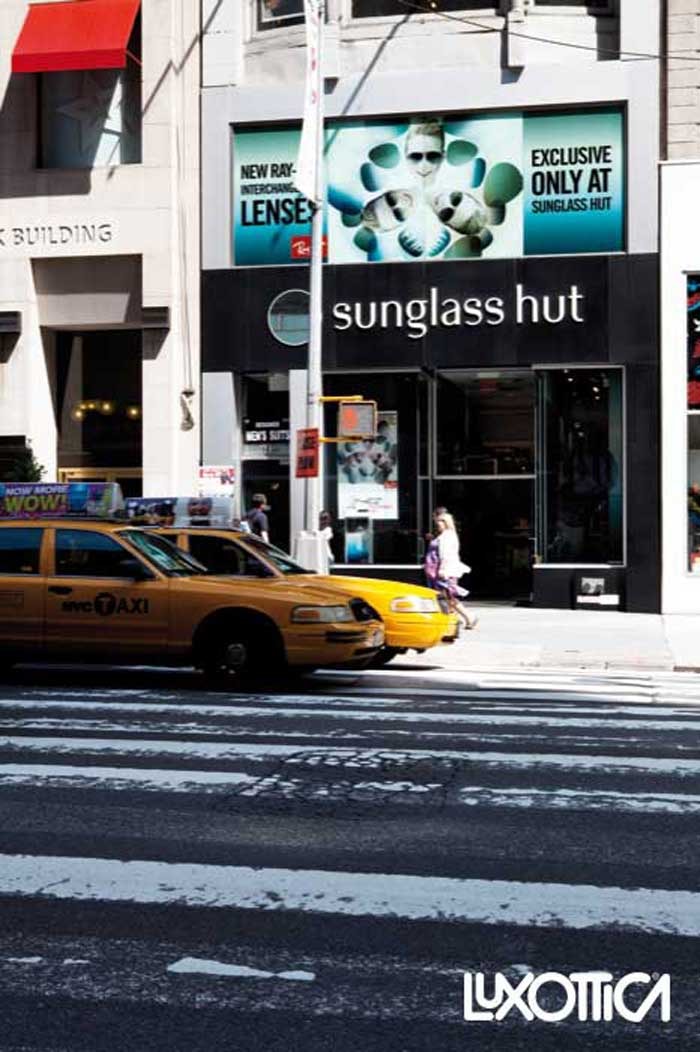 'Big vision'
The success of Luxottica has made Del Vecchio Italy's second-richest person after Maria Franca Fissolo, the widow of Michele Ferrero, who transformed Ferrero into one of the world's leading sweets companies. Forbes magazine has estimated Del Vecchio fortune at 18.8 billion dollars (17.75 billion euros).
"He owes his success to his own abilities. He was an orphan, he didn't benefit from privilege. And despite that, he built an empire," said Andrea Sianesi, dean of the business school at the Milan Polytechnic University.
"He's someone who has a big vision," said Sianesi, pointing out that Del Vecchio had the smarts to develop everything from "the factories, distribution networks to retail chains". Del Vecchio "has a love for products and a deep knowledge of all the details.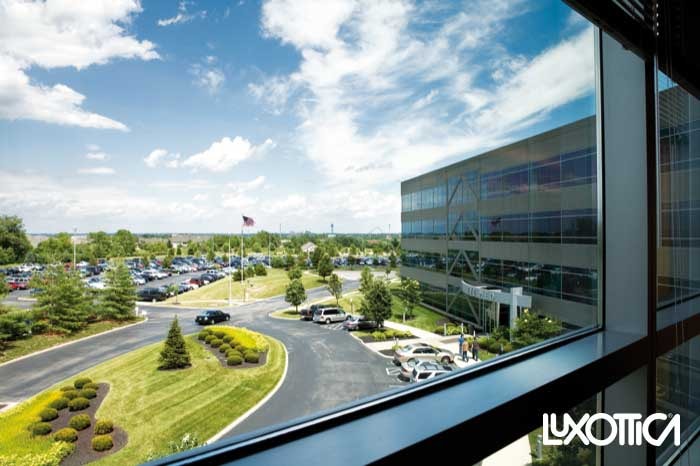 He knows all the elements of the cycle, from production to distribution," said Sianesi, adding "he acquired all this experience on the ground". Having worked his way up himself, Del Vecchio has forged a strong bond with his employees.
On his 80th birthday, he gave the firm's 8,000 employees in Italy shares worth a total of around nine million euros. "Luxottica has always been a very innovative company in terms of human resources management, for example allowing employees the possibility of setting their work hours depending on their personal obligations," said Sianesi.
Succession turmoil
The issue of succession and the future of the company had raised concern and occasionally sparked turmoil in recent years. In September 2014, Andrea Guerra quit after a decade as Del Vecchio's right-hand man in charge of managing Luxottica, after falling out with the company's founder.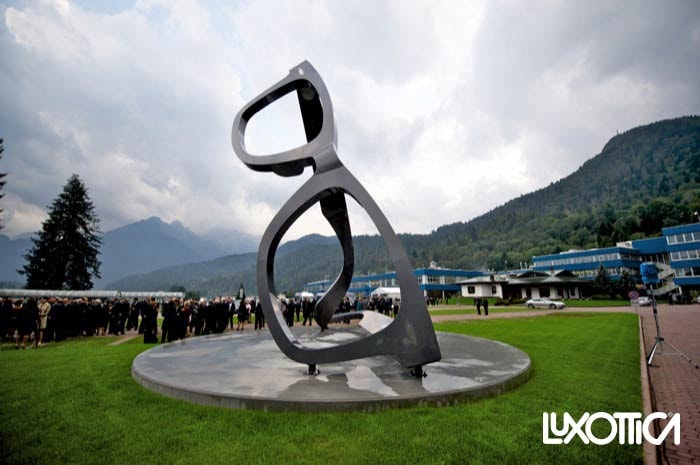 Guerra's replacement lasted just 40 days. After a year with two chief executives, Del Vecchio finally took over direct control of the firm in January 2016, along with the sales. With the merger of Essilor, the world leader in corrective lenses, "...my dream to create a major global player in the eyewear industry, fully integrated and excellent in all its parts, comes finally true," Del Vecchio said in the merger announcement.
Del Vecchio will be the chief executive of the new Essilor Luxottica. The merger "is very coherent with the history of Luxottica's development" as it will create a completely integrated group, said Sianesi at the Milan Polytechnic University. (AFP)
Photos: Courtesy of Luxottica
Vivian Hendriksz

|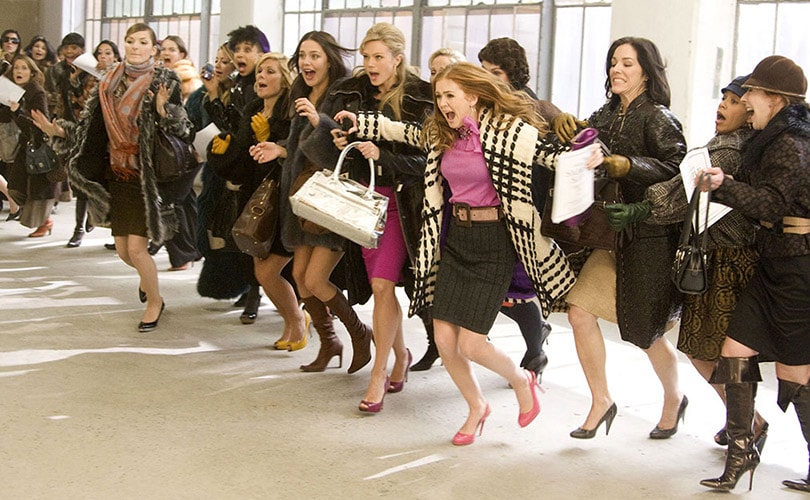 OPINION London - The most dark and depressing day of the year is upon us: Blue Monday. But is what makes this Monday, the most depressing of them all? Well, nothing apparently, as the entire idea was originally invented by a PR team to sell more holidays for Sky Travel over a decade ago. Since then the concept has been debunked numerous times in countless studies, but the concept remains as active as ever in 2017.
The term was originally coined by a Welsh psychologist known as Cliff Arnall, who came up with a formula which apparently indicated that the third Monday in January is the year's most depressing day. However, the idea that a formula, which includes W for weather and the number of days passed since Christmas and Q, the days since people abandoned their New Year's resolutions, as well as personal debt levels seems almost absurd. British physician, academic and science writer Ben Goldacre thoroughly debunked the "science" behind the concept back in 2009, calling the formula "bullshit presented as fact."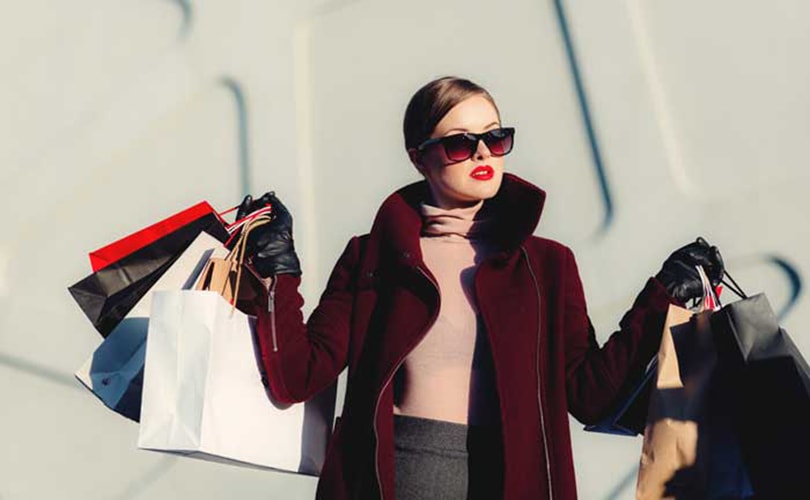 How retailers, marketing agencies and PR teams use Blue Monday to sell us things we don't need
However, that has done little to stop the concept from spreading to all corners of the globe, as well as all sectors and industries, with everyone from high street fashion retailers to mental health organisations using it to market their goods and services to unwitting consumers. This year saw Arnall himself proclaiming 2017 Blue Monday the bluest day to date, due to the number of celebrity deaths in 2016 reminding the public of their own morality, concerns over the Brexit and growing fear of Donald Trump's impending presidency.
Another clever marketing ploy from the dear doctor's side, as media outlets across the world scrambled to share his predictions for Blue Monday. #BlueMonday was even trending on Twitter early Monday morning, with the bulk of the tweets advertising everything from exotic holidays, to beauty subscription services and clothing giveaways. At the end of the day however that is all the concept really is - a device designed to promote goods or services to make people feel better about themselves. But there is a real, tangible danger in the constant assertion that buying something will make you happy. Every day consumers are bombarded from all sides from advertisements that they too can be happy, just like everyone else - if they just buy this shampoo, or dress, or shoes or car.
Battling #BlueMonday with an exclusive flash giveaway! For your chance to #win an exclusively curated mystery box RT & Follow @GlossyboxUK x pic.twitter.com/vKq7xAglVV

— Glossybox UK (@GlossyboxUK) January 16, 2017
To brighten up #BlueMonday we're giving away a piece of denim of your choice! Simply retweet to enter! pic.twitter.com/fsFnzXNkVL

— River Island (@riverisland) January 16, 2017
Forget #BlueMonday we're giving you the chance to #WIN a dress from our all new bridesmaid collection! Just RT & Follow to enter pic.twitter.com/let0afiIjI

— LittleMistress (@Little_Mistress) January 16, 2017
The latest pair of jeans that promise to lift your rear-end and give you that butt you've always wanted. A new lipstick shade to help brighten your mood - and make your lips looks two sizes bigger. A bigger, fancy car that will help you land the job of your dreams - these are all things marketing campaigns promise to deliver to the public - if only buy it. However, following that initial rush of adrenaline and feeling of joy you get when you buy something new, as know as buyers high, most of us are then hit with a sense of guilt. Because once you get home you realise you already have 20 pairs of jeans which promised the same, in the same colour. The lipstick gets all over your teeth and face and doesn't really make your lips any bigger and your new car payments are close to impossible to keep up with, even when you sell your old ride.
Blue Monday and Overconsumption
It's a classic case of overconsumption, just one of the many issues linked to retail therapy. However in a world with limited resources, something as trivial as overconsumption is certain to lead to further complications and problems in the future. For example, the emergence of fast fashion has seen the average wardrobe size explode over the last twenty years. We went from owning 5 pairs of well-made shoes, designed to last their owner a good 5 to 10 years to owning over 30 pairs, with each pair lasting a season or two - if we're lucky. Our growing appetite for fashion, combined with the world's growing population, means we are headed for resource scarcity - not to mention the environmental implications linked to overconsumption.
But there is another, darker side to retail therapy as well. Although books and films such as "Confessions of a Shopaholic" shine a light on the mental health issues linked to excessive shopping, the reality can be much more harmful for those struggling with mental health problems. Just try to imagine that you feel incredibly down, stuck in life, that you are a total failure and another burden on your friends and family. But then a commercial comes on television, or you see an advert in a magazine which promises to turn your whole life upside down and make all your problems disappear - if you buy their product. Out of pure anxiety you open up your wallet and cough up a credit card and grab your chance to be happy - even if it's just for a moment before the guilt and regret sets in.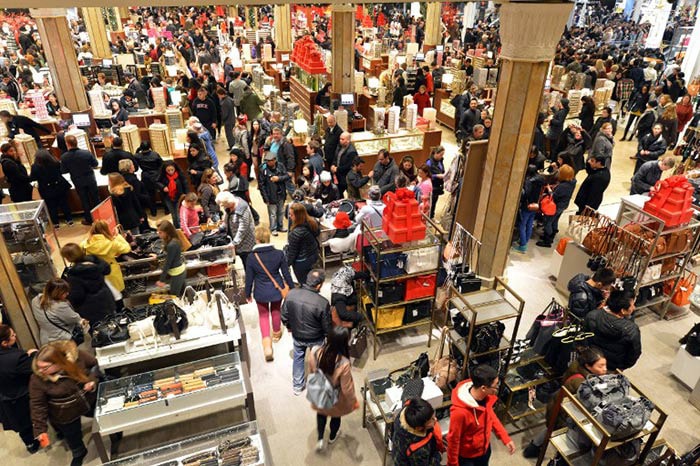 "Confessions of a Shopaholic" shows the dangers of Blue Monday
According to a study from the Money and Health policy institute, a UK charity, nine out of ten people who struggle with mental health issues, spend more when they do not feel well. Many turn to shopping to distract themselves, to fill an empty day or in the hopes that a shiny new item may make them feel better when nothing else will. And thanks to the rise of the internet, it is now easier than ever to make a purchase at any time of the day - all you have to do is click a button and presto - transaction complete. People with mental health problems are also more likely to regret online purchases once they arrive and are more likely to struggle to return them to the store on time. This often leads to personal debt and financial insecurity, which in turn only enhances the person's mental health issues leading to an endless cycle of overconsumption.
Which is why it is important to remember that happiness is not something you can just buy in a store. Although actress and model Bo Derek (as well as the famous Blair Waldorf) famously once said: "Whoever said money can't buy happiness, simply didn't know where to go shopping," at the end of the day it doesn't really matter where you go shopping. Happiness is not something you can buy.
Homepage photo: Still from 'Confessions of a Shopaholic'
Photo 1: Pexel.coms
Photo 2: : Flickr, by m01229
Jackie Mallon

|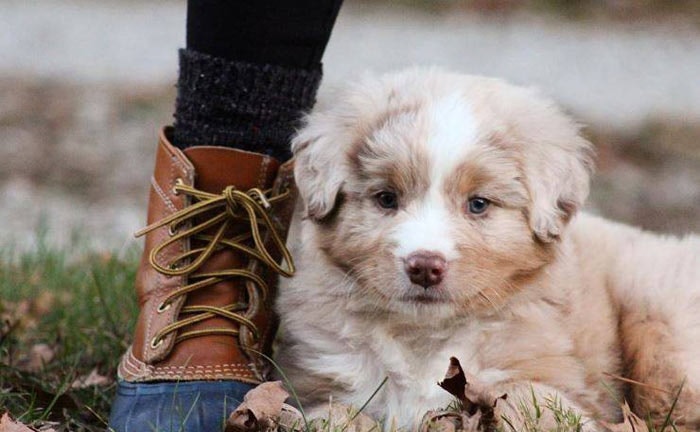 In New York City at this time of year, this boot, know as the Original Hunting boot, the Duck boot or the Bean boot, is seen on nearly every square inch of sidewalk. Its recognizable two tone color scheme and ridged toe in the shape of a duck's bill is as ubiquitous as the Canada Goose tab on upper arms. Waiting lists are common and stores often run out of stock adding to their desirability.
New York winters can be messy, the grey slush that was a delightfully crisp blanket of snow a few days earlier now festering at the sides of roads waiting for you as you to step off the sidewalk. But stylish New Yorkers consider themselves nothing if not prepared. The L.L. Bean boot has got it all covered, style, function, but also a third elusive quality: It imbues these committed city dwellers with the belief that they could just shoot off for an afternoon of white water rafting or sit by a lake fly fishing when really they'll be catching up with some emails in the morning and then meeting friends for brunch in the West Village.
At one with nature since 1912
The L.L. Bean website of the Maine-based family-owned company founded in 1912 celebrates "the adventure of a life lived outdoors, the promise of a fair deal, and the guarantee that everything we make is designed to last." It also states "We believe nature has all the answers." A "bootmobile" tours the country running on biodiesel that gives great "smiles per gallon." The brand evokes satisfying imagery of the great American road trip, the optimism of wide open horizons, and swirls with the stamp of patriotism, entrepreneurship and resourcefulness.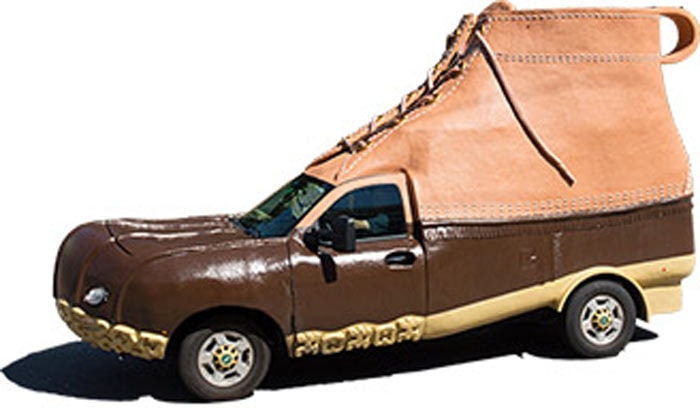 The city of New York, a Clinton stronghold during the last election which proudly identifies as a "blue bubble" rang with reports this week that L.L. Bean had allegedly contributed $60,000 to a Trump superpac during the election campaign. It was incidentally a tweet from Donald Trump thanking Linda Bean of L..L Bean for her support that called nationwide attention to the transaction followed by his professionally unethical encouragement of his followers to "Buy LL Bean." The sound of rubber soles skidding to a stop citywide was deafening. A legion of confident stargazing careerists had been reduced to hunched shoe gazers.
No political agenda
L.L. Bean released a statement expressing their disappointment to learn that the online activist website Grab Your Wallet which lists all companies associated with Trump and encourages its readers to boycott them had added LL Bean to their list. L.L. Bean's executive chairman, Shawn Gorman, highlighted the company's lack of political agenda, its history of fair employment practices and charitable donations, its quality craftsmanship and dedication to customer service and went on to say, "We fully acknowledge and respect that some may disagree with the political views of a single member of our 10-person board of directors. Like most large families, the more than 50 family member-owners of the business hold views and embrace causes across the political spectrum."
On Friday they posted on Facebook a universally pleasing image of the iconic boot alongside a puppy with the caption "A cute pair." Underneath are comments ranging from "You've just gained a new customer here. Thank you, Linda" to simply "Boycotted. Done."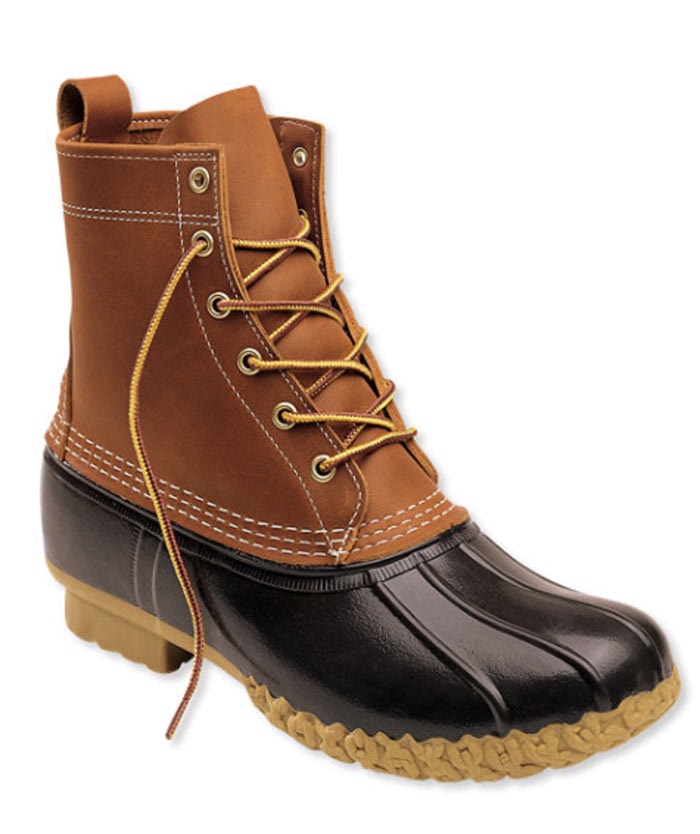 Linda Bean subsequently addressed the boycott during a TV interview, explaining that the money was from her own personal funds, and called it "an attack on free enterprise" and "bullying. They want to control how we spend our money, what we buy, where we buy it. That's wrong, it's un-American."
But In a city like New York which tends to vote almost unanimously one way, will Gorman's response hold water?
Duck Boot's Mixed Message
In general New Yorkers tend to dress in a chic impenetrable uniform that communicates their professional desire to be taken seriously, allowing them to stand out where it matters––in the workplace––and not with clashing colors and prints. Practicality and polish are priority and the corporate nature of much of the city's industries contributes to this responsibility to fit in. Individuality is expressed stealthily, coming from the labels you choose and the codes attached to your clothes; what you project with your appearance demonstrates your alliances, your aspirations, and builds your sense of belonging.
New York City is the "liberal elite" writ large in that 80 percent of the city voted Democrat in the last three elections and the cost of living in this city qualifies it as a habitat for the elite.
Now that these boots have become politically loaded, do they match the message image-conscious New Yorkers want to convey? Does the iconic Duck boot now lean too conservative for these committed liberals? Will this waterproof winter staple be considered soiled goods?
By contributing guest editor Jackie Mallon, who is on the teaching faculty of several NYC fashion programmes and is the author of Silk for the Feed Dogs, a novel set in the international fashion industry.
All photos from LLBean.com and L.L. Bean Facebook page
Don-Alvin Adegeest

|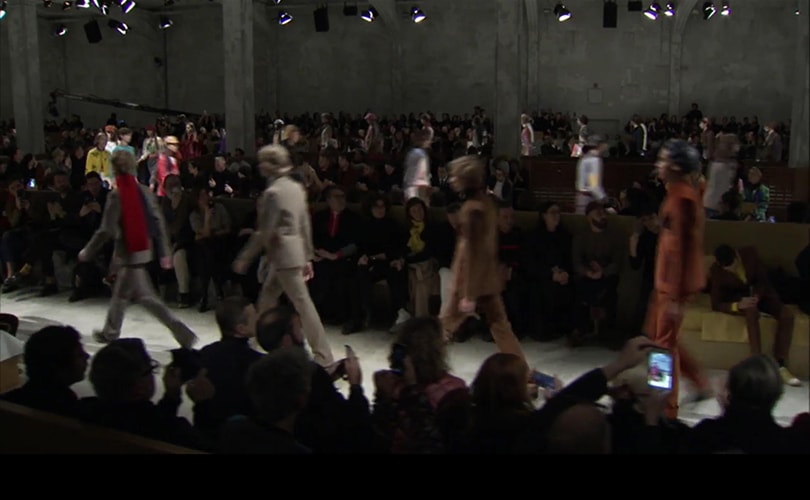 Prada's AW17 menswear presentation embraced the surprisingly normcore. The opening look, corduroy trousers cut roomy and straight, v-neck sweater and chambray shirt, were a powerful message from Miuccia Prada: that fashion needs to return to simplicity, embracing realness rather than reinventing the wheels of fashion each season.
What followed were a series of looks tinged with flashes of seventies nostalgia, the relaxed trouser cut, the models' tousled hair, leather jackets and coats that could have been sourced from Camden market - though never quite as luxe or desirable. Sweaters with tacky motifs were tucked into pants. The shades of brown and colour combos were typically Prada. There was an absence of black and the slick. Furry trumped shiny, old-school trumped tech.
The chunky belts and shoes, the latter round-toed, clunky and furry, and floral accessories, brought the collection back into the current zeitgeist of individualism. The best looks, though, were stripped of the fur and artifice: a corduroy suit with leather detailing; a cropped wool check bomber with ample ribbing worn as a sweater, the roomy trousers in a melange of wools, leather and patterns. The outerwear some of the best we've seen this season.
Photo credit: Prada AW17 menswear, source: Prada.com
FashionUnited

|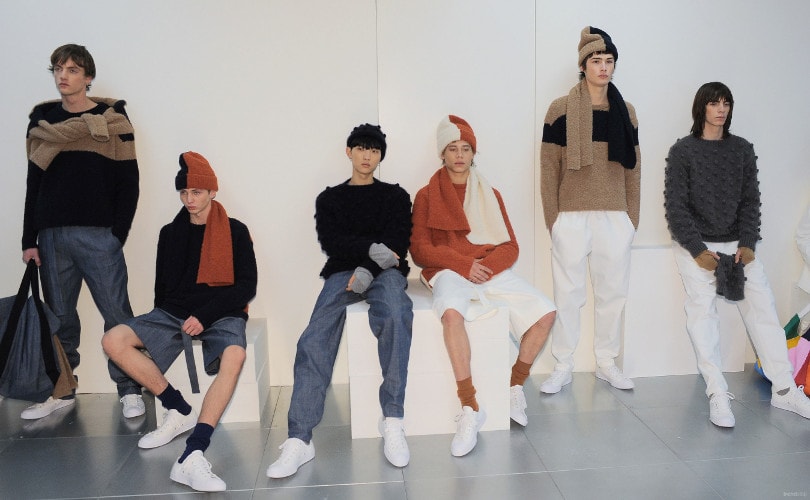 Trendstop's catwalk team bring you the latest trend directions that will be impacting the men's market into F/W 2017-18 and beyond. Emerging on the runways of London Fashion Week, these essential looks introduce some of the season's key finishes, construction techniques and detailing inspiring the menswear sector. Our inspirational seasonal reports are curated by our experts who evaluate each trends commercial value and longevity, giving you the optimum analysis to inform decision making.
This week, FashionUnited readers get an exclusive insight into three key trends from the Fall/Winter 2017-18 menswear collections. Utility fabrics are reworked with a tactile touch that responds to the wearer in Reactive to Touch Denim while utilitarian apparel is given an urban appeal with the sport-infused darkness of Dystopic Deconstruction. Traditional tailoring is also given a contemporary twist with clean lines and cocooning shapes that soften hard-edged power dressing.
Reactive to Touch Denim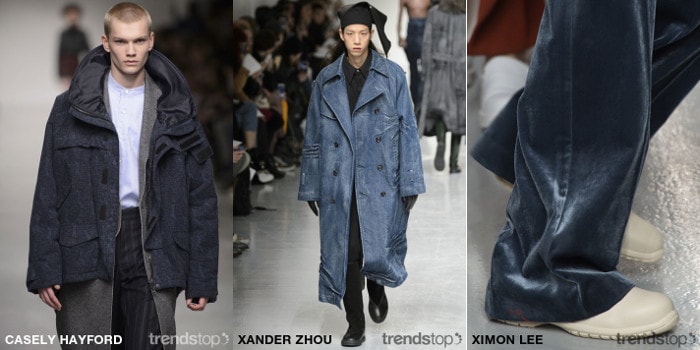 Workaday denims are elevated for Fall as indigo tones and mid-blue washes are imbued with a new tactile quality. Plush fabrications with brushed napped surfaces have a 'reactive to touch' appeal that leave evidence of the wears presence. Oversized, cocooning outerwear and fluid relaxed-fit pants in soft time-worn finishes have a well-loved and lived-in appeal.
Dystopic Deconstruction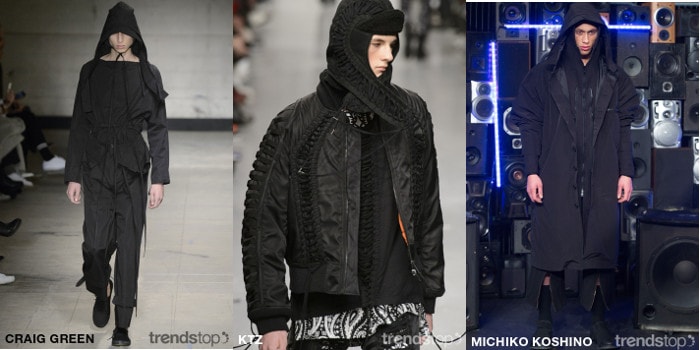 Form meets function as a darker, more urban attitude updates utilitarian references. A predominantly blackened palette amplifies the edgy dystopian aesthetic of protectively hooded outerwear while suiting is modernised with self coloured sports inspired detailing. Extra long straps, cords and lacing make a feature of wrapped and tied constructions.
Angular Formalities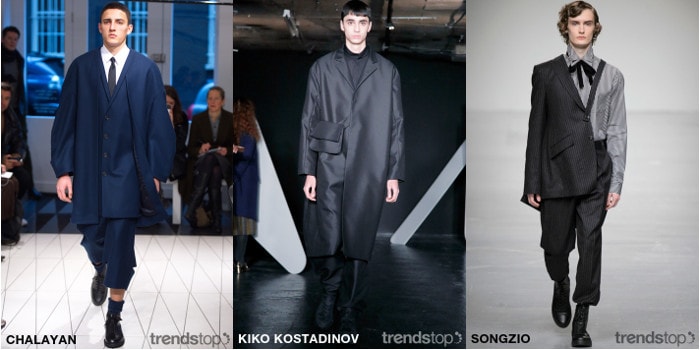 Traditional suiting is reinvented for Fall with a sharper more statement feel. Playful proportions, deconstructed elements and folded details give men's formal power dressing a cotemporary reboot while subtly cocooning silhouettes softens previously hard lines. Single colour layering has a clean-lined sophistication while mixing pinstripe patterns offers new options for print.
Exclusive Offer
FashionUnited readers can get free access to Trendstop's Fall Winter 2016-17 Top 10 Collections by City, an essential report featuring the season's best collections and directional designers from the leading fashion capitals. Simply click then banner to receive your complimentary report.

Trendstop.com is one of the world's leading trend forecasting agencies for fashion and creative professionals, renowned for its insightful trend analysis and forecasts. Clients include H&M, Primark, Forever 21, Zalando, Geox, Evisu, Hugo Boss, L'Oreal and MTV.
Images courtesy of Trendstop: Casely Hayford, Xander Zhou, Ximon Lee, Craig Green, KTZ, Michiko Koshino, Chalayan, Kiko Kostadinov, Songzio all Fall Winter 2017-18.
Vivian Hendriksz

|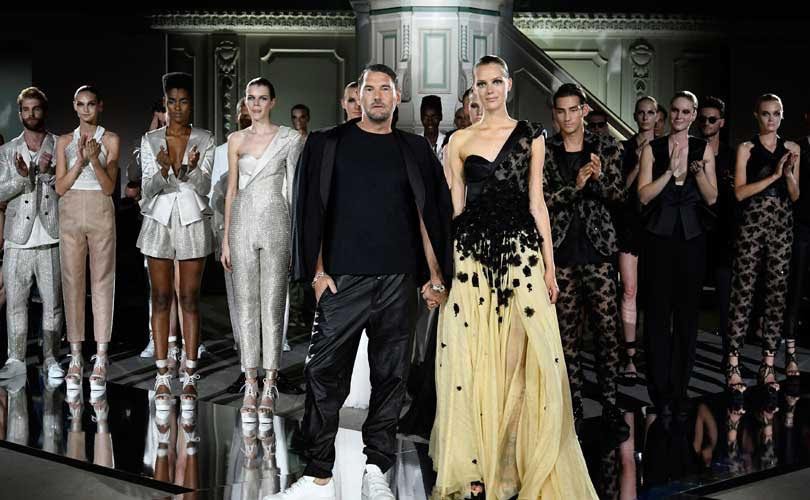 London - The start of a new year brings the start of a new season for the fashion industry and signals the kick off of the bi-annual showcase known as fashion week. The top four international fashion capitals of the world - New York, Paris, London and Milan - have solidified their reputations as the fashion-hot spots in part thanks to their bi-annual fashion showcases, which offer both establish designers and upcoming brands a platform to present their collections to the world.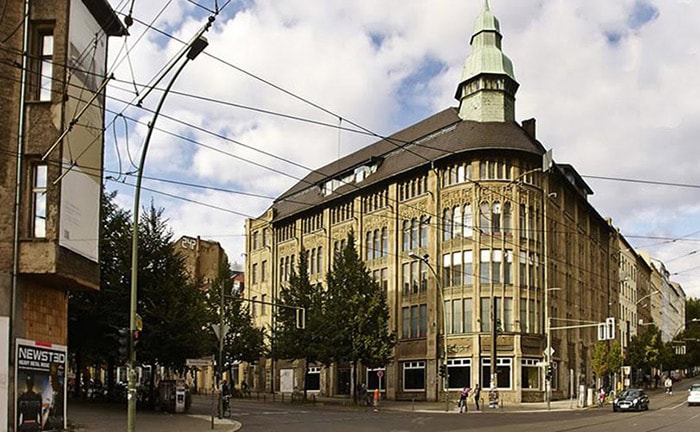 Thousands of visitors, buyers, members of the press, designers, models, make-up artists and more descend on fashions weeks around the globe, and it is not uncommon for large fashion houses such as Chanel, Tommy Hilfiger and Burberry, to spend million of pounds, euros or dollars on a single fashion week event. Why? Because the bi-annual showcase is one of the key acts as one of their biggest advertising tools. However, although it is clear what brands and designers gain from hosting a fashion week show, the questions arises - what is in it for the cities these events take place in? In this mini-series, FashionUnited asks how much money cities gain from hosting a fashion week and examines what the financial impact of fashion week is in Berlin.
Key Figures for Berlin Fashion Week:
Unique visitors: 40,000
Total Income: 70.5 million euros
City Income: 11.5 million euros (11.626.500)
Business Income: 59 million euros
Venue Income: 12 million euros
Restaurant Income: 19.5 million euros
Retail Income: 29 million euros
Accommodation Income: 9.5 million euros
Average Visitor Spend: 1.457 euros
As one of the first main fashion weeks to take place this year, Berlin Fashion Week takes place from January 17 to 20 at numerous locations across the city, including Kaufhaus Jandorf, the Crown Prince Palace and Project Gallery. However, this season marks the first time event organisers are set to host the majority of the catwalk shows, presentations and events at Kaufhaus Jandorf, a historical building located on the Brunnenstrasse in the city centre, a stone's throw from the Rosenthaler Platz.
Unlike other fashion weeks around the world, Berlin Fashion Week coincides with German fashion trade fairs Panorama, Premium, Seek, and Bright making it one of the largest fashion events on the calendar. Over 40,000 visitors are expected to attend Berlin Fashion Week this season, so it comes as little surprise that the event ranks in 8th place in our top ten fashion in terms of revenue, generating an impressive 70.5 million euros each time it takes place, according to FashionUnited's calculations. An estimated 11.5 million euros going straight to the municipality itself - for a city that funds limited events during fashion week, that is not a bad income.
However, this updated chart indicates that Berlin Fashion Week is likely to generate less income overall this year than last year, which can be attributed in part to a decline in expected visitor spend and local costs, such as hotel costs, dining out costs and shopping. In 2016 Berlin was listed in 3rd place, generating a total income of 74 million euros, only surpassed by major fashion weeks in London and New York. However, this year visitors are expected to spend 1.457 euros on average, which is approximately 100 euros less than last year. The number of expected visitors is also predicted to decline, as the trade fairs attract a significant number of visitors.
FashionUnited's update for 2017 on fashion week's economical impact is verified by the local municipality in Berlin.
Photo credits: Michalsky, Catwalkpictures and www.kaufhaus-jandorf.de
Danielle Wightman-Stone

|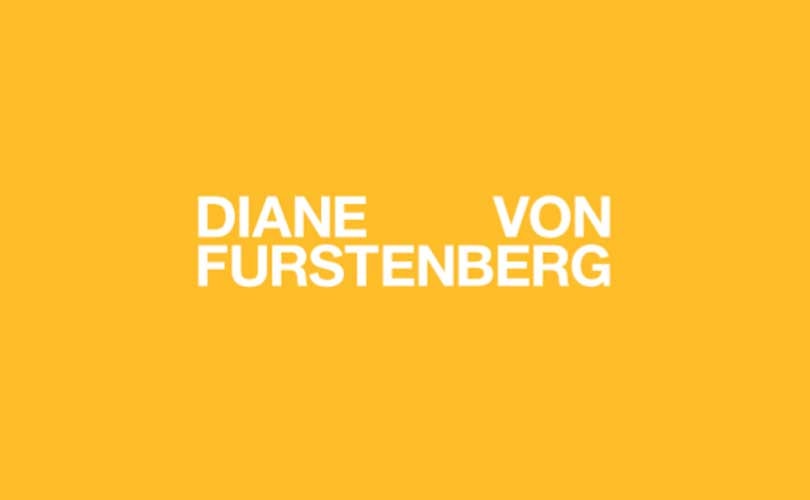 London - American fashion brand Diane von Furstenberg has a new logo, monogram, and brand colours as part of its rebrand under new chief creative officer Jonathan Saunders.
Released to coincide with the first drop of spring/summer 2017 and ahead of the autumn/winter 2017 presentations, Diane von Furstenberg has had a facelift, which features a simple sans-serif typeface, canary yellow colour scheme, and a new monogram inspired by an archival DVF brand mark from the 1970s.
"I'm very excited to finally share with consumers my vision for DVF," said Jonathan Saunders. "We have taken the brand's core values and energised them for our modern woman."
Saunders has collaborated with creative director Jonny Lu to produce the new brand logo that the designer label describes as a "bold, timeless and modern identity" that it believes is "accessible and inviting" to a new DVF audience. The custom typography was designed to complement the brand's pattern, print and changing colourways from season to season.
The new logo, which has a wide separation between "Diane" and "von" and then on a second line has "Furstenberg," will be used across all brand elements, including hangtags, woven tags, packaging, and DVF.com.
Jonathan Saunders rebrands Diane von Furstenberg
Saunders also collaborated with Lu on a new monogram inspired by an archival DVF brand mark designed by Italian architect Massimo Vignelli in the Seventies. The new monogram references geometric forms used by design schools such as the Bauhaus in a modern and contemporary way, while its rounded edges have soft lines that are feminine and sensual. The monogram will appear across architecture, product and other categories in the future, said the brand.
The designer label is using its spring 2017 ad campaign to communicate its rebrand. Instead of using products from the new collection, the campaign will feature the new logo at the centre of the new brand colours, which will be forms of primary colours, red, yellow and blue.
DVF said that the campaign will "speak more widely to the brand itself by strategically placing the new logo at the centre and communicating a colourful, optimistic and inclusive message". The new rebranding will run in niche international fashion publications, across digital platforms, wild postings and out-of-home.
Saunders joined Diane von Furstenberg in May 2016, following the closure of his eponymous label at the end of 2015, and he was given responsibility for the overall creative direction of the brand, as well as tasked with evolving the identity of DVF. His first collection for the label was for spring/summer 2017 where he showcased playful, pattern-heavy pieces to wide acclaim.
Image: courtesy of Diane von Furstenberg