Kristopher Fraser

|
This fall Faherty has joined forces with Huckberry to produce their Exclusive Zuma Haze Tech Poncho in a Chankillo Horizon. CEO Mike Faherty has been longtime friends with Andy Forch, one of Huckberry's founders, and thought it was the perfect time to collaborate with the brand.
Priced at 248 dollars, ​the styling is based on late 70s/early-80s outdoor technical clothing, with a pattern layout that is a mix of Southwestern saltillo, overlaid with a primitive Navajo-style motif. It's not your average poncho though, but, rather, done with Faherty's signature swim fabric, which was no easy picnic for Mike to create.
"It was a long journey. Prior to founding Faherty I spent almost a decade working on RRL and really tried to be a sponge and learn as much as possible about the fabric development process," he said. "I made the decision about 6 years ago to launch Faherty and focus on sustainable fabrics. I spent a bunch of time researching the possibilities with recycled materials and the technology that allowed plastic bottles to be turned into yarn. After about a year and a half of testing, we developed a blend of recycled polyester (derived from plastic bottles) with cotton and lycra. The recycled polyester is extremely quick drying and lightweight, while the cotton adds softness and the lycra adds a stretch performance component."
For Mike, the collaboration was all about the vintage. For style inspiration, he went through an archive of outerwear designs and studied 1970s pullover from old outdoor brands, which were inspired my military anoraks.
Mike was motivated to do a poncho because he's been obsessed with the baja poncho since he was a little kid. He wanted to create one that was suitable for all the elements from rain to snow.
As for his target customer for this piece, Mike said, "We aimed to create something that would appeal to the Huckberry guy, but was different than anything else he owned. It's such a unique piece, so it's for a guy that appreciates something that's a bit more novelty. He may live in jeans and a tee, but wants something new to throw on over it. It's also a guy that really appreciates quality and pieces that can live in his closet for a long time."
photo:courtesy of Faherty
Vivian Hendriksz

|
London - In the wake of revelations concerning the sexual predatory behavior from the likes of Harvey Weinstein, Louis CK and Jeffrey Tambor, creative industries around the globe are waking up and taking violence and harassment against women more seriously than ever. Now creative directors from leading luxury fashion houses such as Gucci, Stella McCartney, Joseph Altuzzarra, Christopher Kane and Qeelin, have joined forces with the Kering Foundation to encourage Generation Z to end violence against women through the campaign #ICouldHaveBeen.
"To put an end to violence against women, I believe we must change mindsets, and to do so, we have to engage younger generations, particularly Generation Z. I think they can have an incredible impact by taking action against gender inequality and the root causes of gender-based violence," said Salma Hayek Pinault, Actress, Director and Producer, and Kering Foundation Board Director. Alessandro Michele, Stella McCartney, Christopher Kane, Joseph Altuzarra, Dennis Chan and Salma Hayek Pinault, Director of the Kering Foundation, are the faces behind the Kering White Ribbon for Women annual campaign.
"Being born a girl should not equate to a higher risk of violence"
Under the hashtag #ICouldHaveBeen and through the website created for this occasion, the campaign aims to raise awareness, especially among adolescents and young adults, of violence against women. Through the platform, the Kering Foundation invites those who were not born a woman to imagine what their lives would be like if they have been born female by entering a girl's name into the site. Subsequently, users then discover the violence they could have experiences as a girl and are invited to share this on their social media channels.
'Although one can not understand what victims experience without having lived through violence ourselves, I Could Have Been aims to draw attention to the higher risks of violence girls and women face - simply for being born female,' said the Kering Foundation. Similarly, as a sign of solidarity with the victims of violence, women are invited to take HER as their first name and to encourage their family and friends to participate in the campaign.
"Being born a girl should not equate to a higher risk of violence," said François-Henri Pinault, Chairman & CEO, Kering, and Chairman of the Kering Foundation. "Yet, unfortunately, it is the case in our world today. We all could have been born a girl, we all must take on this combat. A combat I am proud to confront together with the Kering Foundation, our Houses, and their designers via our sixth annual White Ribbon For Women campaign." In addition to working with its artistic directors, the Kering Foundation will also work with young influencers, such as Panayotis Pascot in France, Leonardo Decarli in Italy and Z.Tao in China, who are set to take part in the campaign.
The Kering Foundation, launched in 2009 by François-Henri Pinault to combat violence against women, aims to continue breaking the silence surrounding this epidemic with its annual White Ribbon for Women campaign, by raising awareness.
Photos: ICouldHaveBeen.org
AFP

|
The star-studded, super-hyped Victoria's Secret lingerie show hits the catwalk in Shanghai on Monday, the first time the US brand is holding its self-described "sexiest show on earth" outside the United States or Europe.
Coming to China is all about business: the company's bottom line is sagging and it is staking its future on the growing Chinese market. Here is everything you should know about the annual festival of music, lace and flesh, now in its 23rd year.
China or bust
Western markets for intimate wear have already matured, but China's is still blossoming as rapid societal changes help loosen Communist-era prudity. China's women are a growing consumer force and more interested than ever before in expressing their sexuality, fashion analysts assert, and they increasingly have the money to do so.
Lingerie is among the fastest growing segments of Chinese women's apparel market, reaching 112 billion yuan (17 billion US dollars) in 2015, according to market-intelligence firm Mintel Group, which projects it will grow by another 32 percent by 2020.
Victoria's Secret, whose business performance has withered amid US competition and a product realignment, has taken notice, opening its first two Chinese flagship stores this year, including a huge four-story Shanghai emporium.
Local talent
Making the VS runway is one of the most coveted gigs in modelling, but the company has been accused of bias toward leggy blondes or Latinas in selecting its "angels" -- so-called for the trademark wings they wear. But last year it tapped a record four Asian models and, in a nod to this year's hosts, Shanghai will feature six of Chinese origin, according to reports.
They are led by China's top model Liu Wen, the first Asian on Forbes' annual list of the world's highest-paid fashion divas. She'll reportedly be joined by Shu Pei, Sui He, Xiao Wenju, Shanghai's own Ming Xi, and Paris-born Estelle Chen, who will prowl the catwalk along with top earners such as Adriana Lima, Alessandra Ambrosio, Jasmine Tookes, and Karli Kloss.
Fallen Angel
Holding the racy event in Communist-ruled China seemed destined to get somebody's knickers in a twist. Sure enough, US model Gigi Hadid withdrew Friday after Chinese netizens accused her of racism and warned her to stay home over a video clip of her making a squinty-eyed "Asian" face.
Hadid, who had apologised to Chinese fans in September, gave no reason for suddenly withdrawing, and it was not clear whether VS or China's government may have dropped her to avoid a PR fiasco. US fashion media also have run unconfirmed reports that Russian models Julia Belyakova, Kate Grigorieva and Irina Sharipova, and Ukraine's Dasha Khlystun, had been denied Chinese visas, for reasons unknown.
Bring the bling
Critics pan the show as a sexist and bloated branding stunt, but it nevertheless manages to generate significant buzz with its mix of bling and star power. Musical performers through the years have included the Spice Girls, Phil Collins, Destiny's Child, Sting, Bruno Mars and Lady Gaga, and A-list celebs typically occupy audience seats that reportedly cost thousands of dollars.
The 2017 performers will include Harry Styles, Grammy winner Miguel, and Chinese singer Jane Zhang. The night's highlight comes when a model dons the jewel-encrusted "Fantasy Bra". The honour this year goes to Brazil's Lais Ribeiro, who will model a 2 million US dollar bra made by Swiss-based luxury-goods company Mouawad and studded with nearly 6,000 gemstones including diamonds, yellow sapphires, and blue topaz. The show tapes in Shanghai on Monday night but will not air globally until November 28.
Bra Wars
Even with the splashy China debut, Victoria's Secret and its premium products -- a single bra in its Shanghai store runs up to 658 yuan (100 US dollars) -- may find a tough battle on its hands.
A range of established domestic and foreign brands like China's Aimer and Cosmo Lady, and France's Aubade, already have staked out Chinese turf, and growth rates are tapering off. Mintel said annual growth spiked to 18 percent in 2011 but projects that to slow to just 4.4 percent by 2020. (AFP)
Photo: Victoria's Secret, website
Danielle Wightman-Stone

|
W Hotels has launched its 'Off Duty' Closet concept, which features 25-pieces inspired by model Joan Smalls "jet-setting style".
The Closet collection will be available globally through W Hotels The Store and has been curated by the hotel group's creative director Sarah Easley.
The aim of the collection is to reflect Smalls' personal style and includes pieces from seven designers who have created signature items for the Closet including Veronica Beard, Yestadt Millinery, K/ller Collection, Krewe, Rails, Jibs Life, and Road Twenty-Two.
"Everyone knows what I wear on the runway, in my shoots or on TV, but when I'm not in front of a camera I still curate my look – I spend so much time traveling, what I wear when I'm off duty shapes a lot of my personal style," said Smalls, who is also the global fashion innovator for W Hotels Worldwide.
"I love that W always wants travellers to be on the inside of the fashion world," added Easley. "What better way to get a real insider experience than sharing styles I love? I can't wait to see fellow travellers rocking these looks!"
To celebrate the launch, W Hotels debuted the line at the W in Times Square in New York and will be hosting a further event at the W Paris Opéra hotel.
The 'Off Duty' Closet is available through W Hotels The Shop, with price points ranging from 78 - 1,500 dollars.
Image: courtesy of W Hotels
AFP

|
Shanghai police have ruled out foul play and cast doubt on allegations that overwork contributed to the death of a 14-year-old Russian model after she took part in Shanghai Fashion Week last month.
The death of Vlada Dzyuba in a Shanghai hospital on October 27 threw a spotlight on the murky world of foreign models in China -- many from the former Soviet Union -- and raised questions over why a minor was working abroad without a proper guardian.
A Shanghai police statement released late Friday said Dzyuba died of multiple organ failure stemming from a suspected central nervous system infection, possibly meningitis. "A forensic examination found no violent injuries on the surface of the body, routine blood tests were negative, and no abnormalities were found," the statement said.
English-language newspaper The Siberian Times had alleged that Dzyuba, from the city of Perm, died of meningitis compounded by exhaustion following "a gruelling fashion show in Shanghai". But the Chinese agency representing Dzyuba, ESEE Model Management, has vehemently denied the claim.
Shortly after her death, ESEE reproduced a medical report from Ruijin Hospital in Shanghai that gave the cause of death as septicaemia, a type of bacterial blood poisoning. The teen, who despite her youth was allowed to model under Chinese law, died without her family at her side because her mother could not travel to China in time.
Her body was returned to Russia on November 11, Shanghai police said. Shortly after Dzyuba's death, Russian investigators in Perm opened a probe into whether her death was caused by negligence, TASS state news agency reported, citing regional investigators. (AFP)
Sara Ehlers

|
OPINION
In 2017, it's clear that casual, everyday fashion has been favored over more luxurious, sophisticated clothing. Retail giants such as Forever 21 and fast-fashion companies have moved forward, while bigger brands have seemed to halt.
"What started in Silicon Valley, was plugged by Levi's as Casual Friday, has eroded into casual everyday, for everyone, everywhere," said Judith Rasband, executive director of the Console Institute of Image Management. "Promoting America's obsession with casual dress, retail giants pushed the dress down trend to the level of faded t-shirts, dirty, distressed, deconstructed denim, and flip-flops. As the result, too many consumers don't buy or wear nice clothing anywhere, anymore."
Discount and e-commerce are growing more popular than high-fashion couture labels. Some of the trends that Rasband has noticed include negative consumer attitude for dressing up, dwindling customer need for clothing, and sluggish store and shopping mall traffic. Internationally, retailers such as Michael Kors, J. Crew, West Seal, Abercrombie, Aeropostale, The Gap and Macy's are all cutting jobs and closing stores. These are all signs of business slowing down as a result of mall traffic decline. These high-end and low-end stores are all suffering due to their "dressier" apparel.
Sophisicated retailers suffering due to distressed styling and everyday fashion labels
"The first to go were Casual Corner, Petite Sophisticate, and August Max, followed by Cache, Jones New York, and the Limited," said Rasband. "Courageous hold-outs not yet giving in to disheveled looks include Talbot's, Ann Taylor, Dillard's, Penny's, Sears, Dress Barn, and Christopher Banks, but they're paying a price they can't afford. Saks, Nieman's, and Lord and Taylor are biting the bullet aimed at them as well."
The Conselle Institute of Image Management is known for its education in certification and image management careers. The courses focus on visual design in dress and non-verbal communication through dress, grooming, and body language. As the executive director, Rasband has tracked department stores for years. Throughout her research, Rasband's predictions seem to hold true.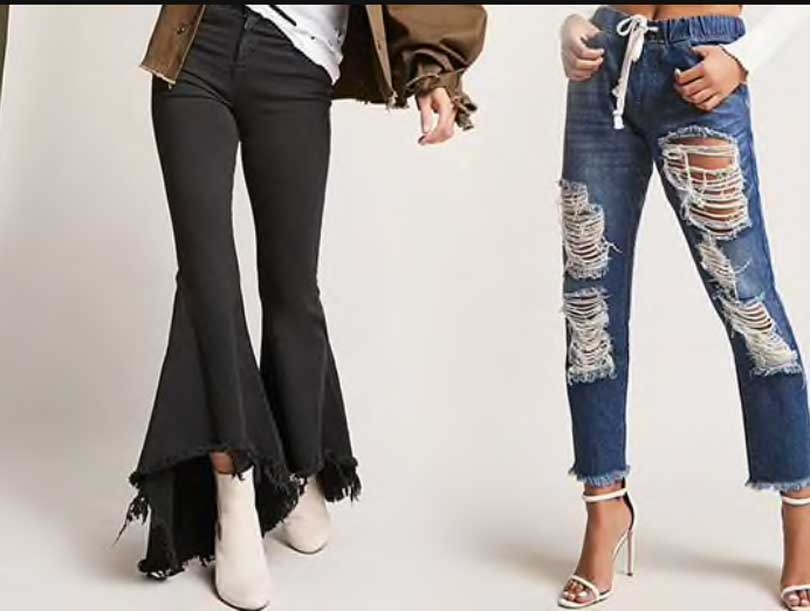 In the past, Rasband foresaw the downfall of department stores in 1985. She has also reported a forecast that came out in 1995, America's Going Down The Tube In A T-Shirt, delivered in Washington D.C. to the Association of Family and Consumer Sciences. She stated that America's focus now is casual dress, faded t-shirts, distressed denim, and flip flops. These looks are imperative for fashion retailers if they want to fight this uphill battle in the industry.
The Conselle Institute of Image Management is known for its education in certification and image management careers. The courses focus on visual design in dress and non-verbal communication through dress, grooming, and body language.
Photos: Michael Kors / H&M / Forever 21
Vivian Hendriksz

|
INTERVIEW Amsterdam - Do you ever wonder who made your shoes? Although every single consumer owns at least 5 pairs of shoes, not many care to ask where their shoes come from, or who made them. However, Andreas Fransson, founder of fair-trade footwear label Fair Frank, aims to change this by actively encouraging his customers to ask who made their shoes and offers complete traceability of his supply chain. Founded in spring 2017, the start-up footwear brand is looking to bridge the gap between consumer and maker by sharing their stories, while ensuring his products are made in a responsible way.
FashionUnited spoke with Fransson during one of Fair Frank's pop-up shops in Amsterdam in order to learn more about his vision for the brand, its philosophy and his hopes for the future.
Fair Frank aims to bring customer closer to the people who make their shoes
"I wanted to start my own company. I have been working in fashion and textile production for my whole adult life," explained Fransson on why he created Fair Frank. "I previously worked for four years for H&M in their production offices in Bangladesh and Ethiopia, and I wanted to use my experience to do something that would have a direct impact in these countries. I was in Bangladesh when Rana Plaza happened and that was very dramatic." After seeing first hand the effect the disconnection within the fashion supply chain had on its workers, Fransson was inspired to set-up his own brand. He aimed to develop a business which would facilitate the sustainable development of trade in and with developing countries. "Later in, when I was in Ethiopia, I saw first hand how everyone was trying to work for the textile and fashion industry, and it made me want to try and do my own thing in a new, responsible way."
During his time in Ethiopia, he became acquainted with a number of leather tanneries and shoe factories, which inspired him to start researching the possibilities of setting up his own footwear label. Although he came from a manufacturing background, he keen he needed the right partners to help him succeed - which is where Hafde, a vertically integrated manufacturing hub came. "I stumbled across this factory which I develop a very close partnership with, who eventually became my sourcing hub for Fair Frank. It was so important to me to find a good partner in Ethiopia and it was Hussein Feyysa at Hafde who really helped me develop the brand, he really gave a lot of input," said Fransson. However, he did not begin working on developing his own label until he was working in South Africa, helping make agricultural supply chains work for the poor. He eventually left his job in December 2016 to set up Fair Frank and officially launched his first shoe, a men's sneaker, in October 2017, at a pop-up store at Rosmarijnsteeg 10, Amsterdam.
"My mission is to inspire people to care about where their products are made"
Fair Frank held its second pop-up at Spaces, on the Vijzelstraat in the city and will be selling its shoes at Constyle, a store in Amstelpassage in Amsterdam Central Station, from 16 November to 31 December during the Christmas trading period. But why did Fransson decided to launch Fair Frank, an Ethiopian brand in Amsterdam, one may ask? "Amsterdam is the hub for sustainable fashion. A lot of fair trade companies are based here." In addition, Fransson aims to increase Fair Frank's exposure to its target market and felt that Amsterdam was a good place to establish his brand. The debut style from Fair Frank is the Milo sneaker - made from vegetable tanned leather, the sneaker is available in six colourways and retails for 139 euros. Fransson worked together with a design team from Italy to help him create his first collection. The leather used to make his shoes is tanned in the same factory they are produced, which is quite unique. "It is groundbreaking because the factory in Ethiopia is the first one in the country to produce and use vegetable tanned leather. I am very happy to have found them as my manufacturing partner because Hussein is a chemist himself, and was able to develop his own vegetable tanned leathers."
Fransson is pleased with Fair Franks's initial results, although he admits that it was not easy sailing when it came to setting up the brand. "The first few months were quite difficult, in terms of getting the productions numbers up and running and ensuring the shoes where the right quality level. But after a lot of hard work, we finally managed to get to a place where we wanted to be." He spent most of September and October at the factory in Ethiopia overseeing the first production bath of the shoes, during which he met and spoke with a number of its workers. "I met a lot of the workers. I interviewed some of them, even though there was a language barrier, so customers could see first hand who made their shoes." Each pair of Fair Frank shoes is signed by the worker who made them and shoppers are able to go to the brand's website to learn more about them and read their stores in order to develop a link between maker and consumer. "Some of their stories are already online on our website and we plan to increase the number of stories."
"I wanted to create a connection between the customer and the worker"
Approximately 40 people from the factory work in the shoe production division and the majority of them are women. Fransson is on first name basis with most of them, although due to worker turnover, keep tabs on all them can be a bit tricky. But this has not discouraged Fransson in the slightest, who is keen to share their life stories with his shoppers. "I wanted to inspire customers to be aware and actually care about where their products are made and by whom. The fashion industry disconnected from its supply chain and I want to change this," added Fransson. He seeks to bridge the gap between the two by showing shoppers how the purchase of the shoes can have a direct, positive effect on the lives of the people who made them, outside of paying them a fair, monthly wage. Which is exactly why he set up a workers' premium fund to make sure the workers benefit more from the production of Fair Frank shoes. For every pair of Fair Frank sold, 5 euros from the retail price go directly to a premium workers' fund for the workers.
The overall aim of the fund is to improve the livelihoods of the workers, their families and the communities in which they live by distributing the fund among them. The fund will be distributed through bi-monthly meetings with workers at the factory, with the first one taking place in January 2018. 60 percent of the fund will be equally distributed to all workers below a gross monthly benchmark wage and the remaining 40 percent of the fund will be allocated to chosen development projects, selected by Fair Frank and Hafde, in the workers' local communities, starting from March 2018. "Ethiopia is a particular sourcing market right now because I am paying a premium for these shoes in comparison to other markets," noted Fransson. "I could easily source them from China, or Vietnam or Indonesia, and pay half the price, but the point of producing Fair Frank shoes in Ethiopia is to lift exporting from the country, to try to develop workers skills and help connect them with new customers in Europe. If that requires me having to pay a premium in the beginning then that is fine - at the end of the day, someone has to pay for it."
"Traceability and transparency in the supply chain is very important"
Unlike many fashion brands, Fransson is a strong believer in being transparent when it comes to his supply chain and pricing - he is very open in sharing with his customers and others where and how his products are made. "I think that its just good business to be open about what you are doing and what you want to make out of your business," said Fransson. "Traceability and transparency in the supply chain are very important to me." However, he is also aware that it is easier to be transparent when you are a start-up and implement it as one of the brand's main pillars. "I may have just started out and still have much further to go as a brand, but I want to make sure it is always clear to everyone where all my products are made and where all my components and input materials are coming from. People deserve to know and they should know it is coming from a good, reliable and ethical source."
Shoppers who want to know more about Fair Frank, its workers and its products can visit Fairfrank.com, which features information on each stage of the production of its shoes, worker stories and an international online store, which launched earlier this week. In addition to Fair Frank's Milo shoe, Fransson is working on developing two additional shoe models with Hafeda, a boot and brogue, which he hopes to launch sometime next spring. "But they require additional expertise from abroad to ensure they are up to the same standard as the sneaker." At the same time, he plans on launching a new sneaker design as well as launch women's sizes, "as the sneakers are quite unisex." Fair Frank will also be available for sale at the Sissy Boy Christmas Market in Amsterdam on December 9 and the Museum Market on December 17.
Images: Fair Frank
Sponsor

|
The November 2017 edition of International Apparel and Textile Fair (IATF) proved to be grand success, making apparel and textile manufacturers from around the globe look forward to the highly anticipated 8th edition due to take place in 24th,25th,26th April 2018. The three-day event that took place from 1st to 3rd November 2017 was inaugurated by H.E Butti Al Ghandi, Board of Director of the Dubai World Trade Centre on 1st November at 11:30 am at Hall 6, Dubai World Trade Centre.
With more than 140 exhibitors from various countries around the world, IATF has once again proven its status as UAE's exclusive sourcing fair for textiles and clothing. IATF provides a platform to manufacturers and their agents to showcase their collection to the most influential buyers and designers in the MENA region. The event also, offers buyers, distributors and designers the opportunity to view a wide range of textiles from prominent mills in the world of fashion and design.
IATF attracts some of the world's largest manufacturers of fabrics and leading print design studios. Exhibitors mainly from India, UK, China, Japan, Taiwan, Turkey, Hong Kong, Thailand and many more are already gearing up for the Spring/Summer April 2018 edition.
The show witnessed exclusive pavilions from India, China and Taiwan. The Federation of Indian Exports Organizations brought 50 exhibitors from India who displayed their diverse collections in the Indian pavilion which was inaugurated by Mr Vipul, Consul General of India. Dr A Sakthivel, Regional Chairman, FIEO Southern Region and leader of the Delegation said that India and UAE need to work together in the textiles segment to promote high quality and fashion clothing industry which can be promoted not only in the West Asia and West African Region but also to other developed countries including EU and US from Dubai.
The platform was also used to conduct various workshops on hot industry trends like 3D printing and Embroidery using state of the art machines.
The 7th edition of International Apparel and Textile Fair witnessed a significant increase of 44% in attendance of visitors and 27% increase in exhibitors. The show had attracted around 3000 buyers who were mainly from the UAE and GCC region. A number of visitors came all the way from Kuwait, Oman, Saudi Arabia, and Qatar. Other buyers came from all across Asia, African countries, Europe, the USA and Australia. UAE ranks is the third largest country in terms of textile exports, making International Apparel and Textile Fair a much needed show in the region.
IATF continues to prove itself as the one-stop platform to showcase the latest developments and emerging technology for in the textile and apparel industry. IATF's Show Director, Mr. Dilip Nihalani was quoted saying "IATF continues to provide a platform for an intensive interexchange between prominent buyers and exhibitors from around the globe. We are proud to introduce prominent manufacturers from all across the globe to the clothing and textile buyers and retailers not only here in Dubai or the UAE or the GCC, but the whole of the MENA region."
Meanwhile, International Apparel and Textile Fair 8th edition is set to take place on 24th,25th,26th for its Spring/Summer edition. ###
About International Apparel & Textile Fair
International Apparel and Textile Fair – Dubai is UAE's exclusive and premiere platform for sourcing apparels, fashion, fabrics, prints, clothing accessories, machineries and home textiles. IATF is a bi-annual event being organized by Nihalani Events Management. IATF 7th edition had showcased Autumn/Winter 2018 pre-collections and Spring/Summer 2019 highlights.
Principally a "Trade Only" event, IATF provides a professional and conducive atmosphere to business and networking in response to the need of a dedicated trade exhibition in Dubai, UAE. The show has been designed for a quality event for the fabrics and apparel business in the MENA region.
AFP

|
Top US fashion model Gigi Hadid on Friday pulled out of the annual Victoria's Secret fashion show in Shanghai after an online video showing her apparently making a slant-eyes face sparked criticism in China.
The announcement is the second apparent snag to hit the US lingerie maker's A-list underwear extravaganza set for Monday, following reports that three Russians and one Ukrainian model had failed to obtain Chinese visas. Hadid, ranked fifth on Forbes' list of the highest-paid women models last year at 9 million USD, had excitedly announced her participation in the show in August.
She gave no reason for the reversal. "I'm so bummed I won't be able to make it to China this year," the 22-year-old said on Twitter. "Love my VS family, and will be with all my girls in spirit!" Hadid's pull-out averts a potential PR disaster for Victoria's Secret, which is hoping to shore up a sagging bottom line with a push into China's growing intimate-wear market.
I'm so bummed I won't be able to make it to China this year. Love my VS family, and will be with all my girls in spirit!! Can't wait to tune in with everyone to see the beautiful show I know it will be, and already can't wait for next year! :) x

— Gigi Hadid (@GiGiHadid) November 16, 2017
The company opened its first flagship stores in China this year and Monday's show is the first held outside the US or Europe. Chinese internet users lashed out at Hadid after her sister Bella -- another of the three dozen or more models expected in Shanghai -- posted an Instagram video in February showing Gigi squinting her eyes while holding up a Buddha-shaped cookie.
After Hadid announced in August that she would come to Shanghai, many Chinese accused her of racism and warned her to stay away. She posted a bilingual apology on China's Twitter-like Weibo on September 1, declaring her "respect and love for the people of China" and swearing she meant no harm, but even that drew flak.
A Victoria's Secret spokesman declined to comment when asked by AFP whether Hadid pulled out on her own, was asked to by the company, or whether Chinese authorities applied any pressure.
Not welcome
Chinese Weibo users mostly crowed over her withdrawal. "Suddenly I have better feelings about VS. If she had come, I would never buy VS my entire life," said one posting. Others, however, expressed regret, noting Hadid's apology.
Speculation has also swirled over the participation of Russia's Julia Belyakova, Kate Grigorieva and Irina Sharipova, and Ukraine's Dasha Khlystun, after unconfirmed reports suggested they were denied Chinese visas. The Victoria's Secret spokesman declined comment.
"That's getting into a Chinese government issue. Victoria's Secret is not going to comment on that," he said, referring line-up questions to each model's individual agencies. The annual show, viewed by millions worldwide, features the planet's top models including Adriana Lima, Alessandra Ambrosio, Jasmine Tookes and Lais Ribeiro.
It tapes Monday and airs globally on November 28. China's foreign ministry said Friday it was "not aware" of the Hadid or visa issues. "I can only tell you that we welcome foreign citizens to come to China, to engage in normal trade, tourism and cultural activities. And we are willing to issue visas to the eligible applicants," ministry spokesman Geng Shuang told a daily briefing.
Hadid joins a list of foreigners who wore out their China welcome. Celebrities including singers Bjork, Elton John and Lady Gaga, and actors such as Richard Gere and Sharon Stone, have either been banned or pilloried for words or actions deemed as criticising China on sensitive topics like Tibetan independence and human rights.
Argentine international footballer Ezequiel Lavezzi, who plays for Chinese club Hebei China Fortune, apologised in May after publicity photos showing him pulling the corners of his eyes back in a slant-eyed gesture angered many. He is still with the club.
(AFP)
Photos: Julien M. Hekimian / AFP and Victoria's Secret
Don-Alvin Adegeest

|
How fashion brands can reach the next generation of spending power is a marketer's topic du jour. With no such thing as a typical millennial or archetypal luxury consumer, decoding the next wave of high-end consumption is both difficult and daunting.
This week at the annual New York Times' International Luxury Conference, a McKinsey & Company partner summarized how millennials generally act and explained that the demographics' behavior ripples through to older consumer segments. Born between 1981 and 2000, or ages 18 to 35, millennials make up 30 percent of the global population and primarily live in emerging markets, creating a enormous potential for luxury brands.
"Millenials have become a marketing channel of their own"
Nathalie Remy, partner at McKinsey & Company and speaker at the conference stated: "Millennials have actually become a marketing channel of their own. In a nutshell, we are talking about the core luxury buyers of the future," she said.
Ms. Remy shared that the millennial market is worth 17 trillion dollars in private wealth, a figure that will multiply by 1.4 by 2020. Also, millennials have massive spending power, with the global value coming in at 2.45 trillion dollars which will triple by 2025.
Millennials' spending power has resulted in true luxury aspiration. Currently, millennials are responsible for 20 percent of the luxury goods market.
By 2025, millennial consumers' spend will triple and the demographic will control 40 percent of the luxury goods market.
Millenials are trendsetters
Besides spending, the consumer group is also responsible for starting trends. Ms. Remy explained that it is because of millennials that smart wearables and mobile payments have taken off recently.
Millennials also serve as a community accelerator and influencer. This is why it is common to see a grey-haired Gen Xer in sneakers, without a tie and texting with emojis.
The influence also expands to social media as the demographic can be considered their own marketing channel.
For example, Chanel has posted 867 official posts to its social media accounts, but #Chanel has been shared by consumers more than 50 million times.
Millennials are a very targeted young audience and can help brands modernize their perception through positive likes, mentions and comments.
Some of the qualities to consider in Millenials is that they are true global citizens, they are digital natives, value driven and search for authenticity.
To concentrate on millennials, luxury should brands listen to the generation's wants and values to gain an understanding, think digital-first, refrain from just marketing at them, maintain an ongoing dialogue via engagement and ultra-social connectedness and lastly, make the consumer feel unique.
Photo credit: Chanel online; Article source: McKinsey, as featured in Luxury Daily online, "Luxury Needs to be Redefined on Millenials' Terms: McKinsey", by Jen King