AFP

|
Fur farms will be illegal in the Czech Republic from 2019, after the senate passed an amendment to the animal rights law. Countries such as Austria, Britain, the Netherlands and Switzerland have already outlawed the practice.
Approved late Thursday by the senate and last month by the lower house of parliament, the text still needs to be approved by President Milos Zeman to become law in the EU member state.
The amendment bans "raising and killing animals exclusively or primarily for their fur" and should save around 20,000 animals a year -- especially foxes and minks -- according to lawmakers.
An opinion poll published in April found that about 83 percent of Czechs support the ban. Most of the world's fur farms are found in China, Scandinavia, and the United States.
The Czech Republic has around nine such farms, according to local media reports and it is possible that their owners will receive compensation from the agriculture ministry. (AFP)
Sara Ehlers

|
Retail start-up Find Me A Shoe recently just launched the beta version of its fitting service. The service, called "Try Me," launched July 18 as a way to make shoe shopping a more efficient, accelerated process.
Find Me A Shoe aims to give all footwear shoppers an easy-to-use service that helps the online shopping experience for shoes more accessible. The mobile-based technology allows customers to see shoe recommendations based on precise measurements and fitting algorithms.
"We are the pioneer in this personalized fitting space. We don't use analytics or purchase history. Our technology takes the purist approach to shoe fitting. Our passion for the art of shoe fitting and cutting-edge technology has led us to bring you the world's first personalized virtual trial shopping," said Anand Ganesan, CEO of Find Me A Shoe.
The service works by simulating a shopper's fit inside every model before recommending any sizes or fits. These computer vision algorithms then work off of artificial intelligent to make a perfect match. These personalized and customized services are ways that Find Me A Shoe is working to increase customer loyalty by creating a brick-and-mortar experience with personalized fit. Launched this week, the beta version will serve as a test for the final service.
Kristopher Fraser

|
With all this talk of who is coming (Rihanna and Fenty are returning) and going (Proenza Schouler is off to Paris) at New York Fashion Week, it has been reported that Yeezy Season 6 will be a part of NYFW in September.
While West has never received any particular high praise for his designs, his celebrity popularity and ability to bring out other celebrities and top fashion industry professionals to his show is still very much appreciated by many members of the industry. His wife, Kim Kardashian West, along with the rest of the Kardashian/Jenner clan, help generate ample media coverage to the event.
Kanye West in talks for NYFW show
Currently, no date or location for the show has been specified, and the schedule of official shows has not been released by the CFDA.
In the past, West has found himself in trouble over not consulting with the CFDA over the scheduling time for his show. His show times have conflicted with more established fashion houses like Naeem Khan and Marchesa. Last season, he moved his show up two hours as to avoid conflict with Marchesa's time slot.
He once staged an entire concert at Madison Square Garden to debut his line, but last season he scaled back and showed at Pier 59 studios.
West may receive his share of flack from fashion critics, but his merchandise sells. His Yeezy Boost shoes are known to sell out within 24 hours of dropping, and his Yeezy merchandise has sold out at Barneys New York.
photo: via Kanye West Facebook page
AFP

|
BACKGROUNDYou'd be hard pressed to find an item more representative of Brazil than Havaianas: those brand-name flip-flops adopted by just about every inhabitant, rich or poor, as well as tourists seduced by the beach vibe.
Now the footwear find themselves linked with a more somber aspect of Brazil that has been grabbing headlines recently -- corruption. Last week, to pay off a mega 3.2 billion USD fine over 25 years for various graft cases, the Brazilian brothers Joesley et Wesley Batista started selling off assets they controlled through their J&F group, whose main business is being the world's biggest meat processor.
J&F had a 54-percent stake in Alpargatas, the parent company of Havaianas. That was purchased by three holding firms: Itausa, Cambuhy Investimentos and Brasil Warrant. The Havaianas success story started in 1962, riding the sudden international popularity of flip-flops in the post-WWII boom.
Inspired by traditional Japanese rice-straw sandals, the origin of the rubber-soled flip-flops is variously claimed by Brazil, Australia and New Zealand. But it was Havaianas that emerged as the most recognizable brand of the toe-strap footwear. The brand name comes from the Portuguese spelling of another tropical playground: Hawaii.
'Cool' for all classes
It was a big marketing push in the 1990s that burnished the Havaianas name, along with a colorful range of designs. The Brazilian firm now sells more than 150 different models, from the basic beach pair for 5 USD, to ones with tropical motifs and a tiny Brazilian flag for 9 USD, right up to custom Swarovski gem-encrusted luxury options for more than 60 USD.
In a Copacabana shop, Solange Brascher, a 55-year-old employee in a telecoms company, bought an average-priced pair for her daughter. "Before, there was an idea of them being for poor people," she said. "But now all social classes wear them because they're cool." Havaianas sells more than 200 million pairs each year, 16 percent of them exported.
For sheer Brazilian-ness, they rank up there with soccer and samba. "They're the first thing I bought when I arrived, to give to friends," a young Portuguese tourist, Beatriz Rodrigues, said. "I've already bought 10 pairs and I'm going to buy another 10 because they're much more expensive in Europe."
Today, Alpargatas, whose headquarters is in Sao Paulo, has more than 700 sales outlets in more than 100 countries. "Havaianas represent the Brazilian soul, and is an object of desire, synonymous with a Brazil that works," opined Claudio Goldberg, economic professor at the Getulio Vargas Foundation.
Celebrity feet
Certainly, they have attracted star power. Havaianas have adorned the feet of Madonna, David Beckham, and Kim Kardashian, who flaunted ones designed by the jeweler H. Stern with gold settings worth 18,000 USD.
When Havaianas rolled out their first pairs they were a basic white rubber sole with blue toe straps. Then in 1969 an employee accidentally painted the straps green. To Alpargatas' surprise, the variation took off, and from then on Havaianas started playing with colors and then designs.
The company asserts that two-thirds of the people in Brazil -- total population 200 million -- buy on average one pair of Havaianas a year. And that if all the pairs it had sold in its history were laid end-to-end they would circle the Earth 62 times. But how will the whiff of corruption wafting from its former owners affect the brand?
"It's already a good thing that such a brand is remaining Brazilian," Goldberg said. The company "won't lose its identity." As for the new owners, they've said they want to expand further into the US market. And the current management of the famous footwear won't get the boot. (AFP)
Danielle Wightman-Stone

|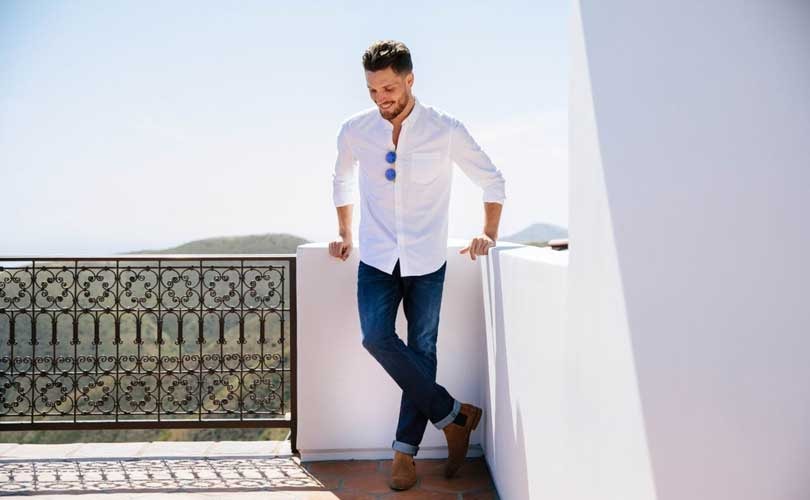 Los Angeles-based denim and sportswear line Liverpool Jeans is launching its first men's denim collection.
The collection, which has already launched on the brand's website, will be unveiled to buyers and press at Stitch Las Vegas in August and Los Angeles Men's Market, and by appointment at the brand's showroom in New York City.
The line utilises the brand's advanced comfort stretch denim that features Coolmax technology that is designed to make every pair feel like a custom fit. Men can choose from slim or relaxed straight leg jeans inseams 30", 32", and 34" and waist sizes 29"-42".
"We are fit fanatics committed to delivering the absolute best looking and most wearable jeans in the ever-changing denim market," said Ron Perilman, co-founder and president of Liverpool. "Shoppers have fallen in love with our women's line and we're excited to bring our trend-forward design, cutting-edge fabric technology and uncompromising value to the men's market as well."
Liverpool Jeans was founded in 2012 and has become known for its technical innovations to fit various body types. The brand is currently sold via its own e-commerce as well as department stores Nordstrom, Bloomingdale's, and Dillard's. The men's collection will also roll out to all major department stores that currently offer the womenswear jeans.
"As every retailer knows, denim shoppers have become extremely discriminating in their purchases, demanding unparalleled performance, consistent fit and value from their jeans," added Liverpool design director, Jill Perilman. "The ultimate jean is the one that looks best on you and with the launch of our new men's line we're making it easy for the style-conscious man to find jeans they can fall in love with."
Image: courtesy of Liverpool Jeans
Kristopher Fraser

|
There's no party like a Steve Aoki party, because a Steve Aoki party doesn't stop. Aoki, a house musician and DJ, who is better known to the fashion industry as the designer behind Dim Mak, shut down 4th Street between Broadway and Lafayette in New York City so he could not only stage his runway show, but also debut his new album Kolony.
With the help of Build Series, Aoki sent a series of hip-hop inspired, contemporary looks down the runway that were worthy of the music video he was filming accompanied by him DJing. The show began with a marching band opening the show, and then Aoki doing his first DJ set from his new album.
The collection was then debuted playing on the themes of dystopian paradise. Aoki wanted to respond to the world we live in now, which he feels is riddled in mayhem, by doing jackets, hoodies and t-shirts that sent a message whether through their design or styling, or being literally spelled out.
Steve Aoki debuts Kolony and spring/summer 2018 collection for Dim Mak
Some pieces read "Land of the Free, Home of the Brave" on the back. Other pieces, like hoodies, said "Paradise Dim Mak" on them, as they were styled with overalls only buttoned on one side, looking like an outfit for dystopian survival. The utilitarian meets contemporary music video was an angle about the world we live in.
Everyone is evolving to dress more laid back and casual, meanwhile the world is in disarray. It was fashion that is a reflection of the times in seemingly the most subtle and in some instances literally spelled out ways.
After the fashion show ended, Aoki performed the rest of the album, and closed out the show with a final song, throwing six cakes at random audience members and throwing money at audience members by the stage. It was a see it to believe it situation, but he knows how to throw the type of party to rival all fashion parties.
photos: courtesy of Williamson PR
Kristopher Fraser

|
In the wake of a growing menswear market, Los Angeles-based Thomas Wylde has launched its first menswear collection for spring/summer 2018. The brand has shown their womenswear at New York Fashion Week for several seasons, and is sold on luxury e-commerce site Farfetch.
Capitalizing on their womenswear fame, the men's collection is positioning itself to became a global designer menswear brand targeting rock influenced, sophisticated, über cool customers. The collection was created utilizing Thomas Wylde staples, such as leather, and building on the Thomas Wylde DNA.
Despite retails temperamental climate, menswear is still having its moment, so Thomas Wylde couldn't have chosen a better time to launch men's. Market research analysts at Technavio have predicted that the global menswear market will grow steadily and post a CAGR of more than 4 percent by 2020. Men are more invested in looking fashionable and trendy, and as long as that cultural aspect of fashion is there, it will drive the economic factors of the market.
Danielle Wightman-Stone

|
Designer brand Stella McCartney is highlighting the issues of waste and consumption by shooting her autumn/winter 2017 campaign in a Scottish landfill site.
The campaign shot by Harley Weir in collaboration with artist Urs Fischer who has added illustrations to the imagery uses backdrops of a decaying car, a vast landfill and a household refuse collection centre as the brand looks to spark a conversation about consumption and the environment alongside its latest fashion collection.
Stella McCartney explains: "The idea we had with this campaign is to portray who we want to be and how we carry ourselves; our attitude and collective path. Our man-made constructed environments are disconnected and unaware of other life and the planet which is why there is waste."
The imagery sees models Birgit Kos, Iana Godnia and Huan Zhou lying on or stood surrounding piles of rubbish and lounging on a scrapped car, in an attempt to highlight how "single use" and "disposable" items are wreaking havoc on the environment, while also showcasing the collection's new pieces including signature textures and shapes in tailoring, knitwear and embroidery.
"Stella's fashion to me is about dignity, love and a beautiful attitude to all challenges, all while feeling good and looking great," artist Urs Fischer. "We wanted to reflect that in the concept of this campaign."
Stella McCartney drives home environmental message in latest campaign
While the message behind the campaign is serious, the campaign's use of the graphic squiggles and the high-fashion editorial still has an upbeat feel rather than one that is preaching. This campaign could have been depressing, however, Stella McCartney's commitment to the environment teamed with the brand's ethos for fun strikes the right balance and makes it less of a gimmick and hopefully will make more of an impact with consumers.
Stella McCartney has always been a vegetarian brand, the brand has never used leather, fur, skins or feather in any products for both ethical and environmental reasons, and has set a standard for the use of alternative materials. 53 percent of the womenswear collection comes from sustainable materials including sustainable viscose, regenerated cashmere, organic cotton and denim, recycled nylon, sustainable wood and cork, and eco alter nappa.
In addition to the print campaign, the brand has produced a video featuring the models lip-syncing along to a song by Australian rapper Tkay Maidza, and the designer is set to highlight the environmental message further across the brand's social media platforms.
Images: courtesy of Stella McCartney
Danielle Wightman-Stone

|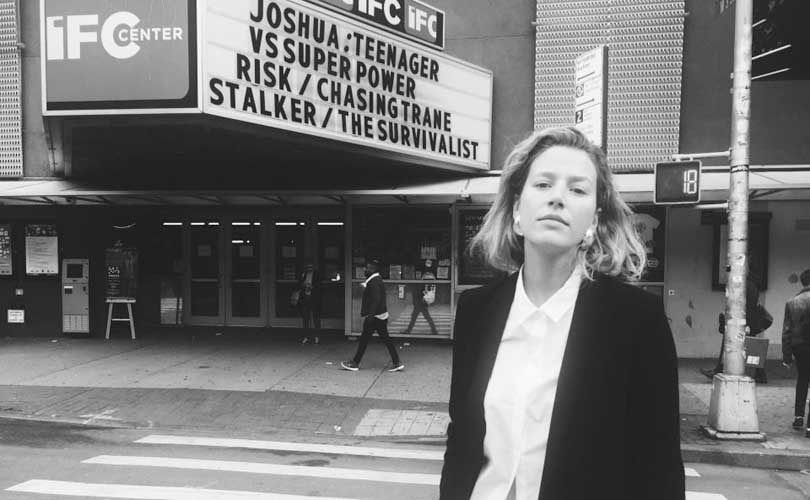 New York-based contemporary label Theory has launched its Theory 2.0 project with a curated capsule collection for the "modern working woman" that has been designed and spearheaded by its "young, forward-thinking members" employees.
The capsule collection is described as "versatile and easy-to-wear" and is made up of 32 pieces that have been designed to "look stylish and appropriate for work and everything else". The pieces are all machine washable to make them "unfussy and easy to care for, and clean," including the vegan leather and suede.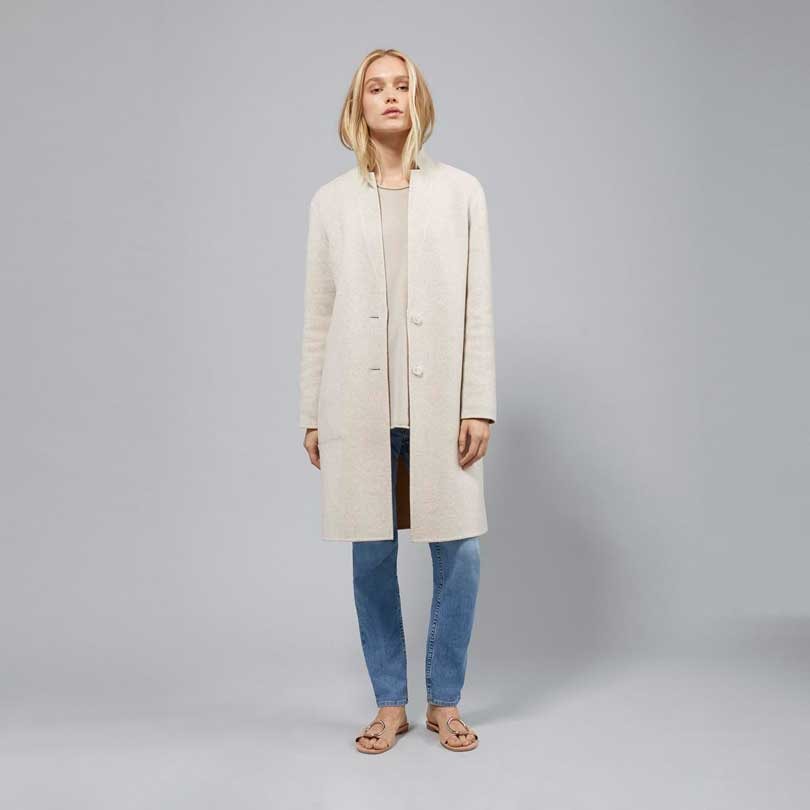 The idea is that the capsule collection of "hero wardrobe staples" never go out of style and that the pieces are filled with "expert tailoring and technical, high-quality fabrications, at a great price" that have longevity and are part of what it is describing as its long-term sustainability practices as well as supporting women's empowerment.
Launching the collection to consumers, Theory explains on its website: "Joined in a singular mission to bring meaningful clothing to our customers, we developed 2.0 to include a versatile, easy-to-wear capsule collection, plans for long-term sustainability practices, and a leadership series supporting women's empowerment. We're putting mindful fashion in motion."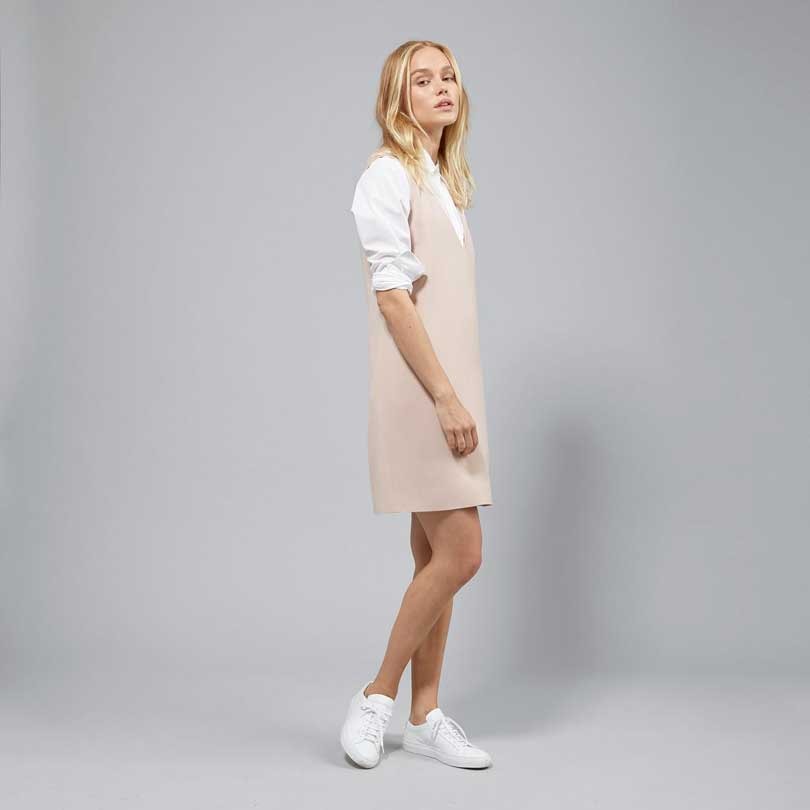 The collection features pieces including blazers, T-shirts, suede jackets, shirts, knitwear, trousers, dresses, outerwear, skirts, jeans, and leggings, with prices ranging from 55 dollars for a tee to 495 pounds for the Doubleface BF Coat that is reversible.
Images: via Theory's website
Georgie Lillington

|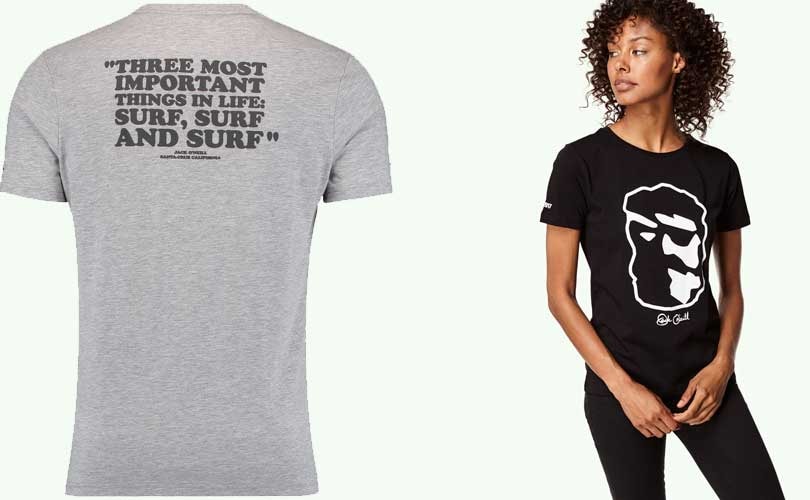 O'Neill, the global surf, snow and lifestyle brand have launched a t-shirt campaign to raise funds for O'Neill Sea Odyssey.
'Jack's Memorial' unisex t-shirts, in white, black and grey were released in conjunction with a worldwide ceremony to celebrate brand's founder, Jack O'Neill, and honour his legacy. On July 9, surfers around the world in countries including Australia, Belgium, Canada, France, Netherlands, South Africa, UK, and Santa Cruz, USA took to the seas, participating in a 'paddle out' to pay tribute to the life and adventures of the late Jack O'Neill
The t-shirts retail at 22.99 pounds and are available to buy from the O'Neill website.
Proceeds from the sales will be donated to the O'Neill Sea Odyssey, a hands-on educational experience for 4th-6th grade students which promotes protection and preservation of the sea. Founded by Jack O'Neill in in 1996, the Sea Odyssey is now in its 21st year and will welcome its 100,000th student in 2018.
O'Neill was founded in 1952 by Jack O'Neill, the pioneer of the world's first neoprene surf wetsuit. O'Neill has grown globally from their Santa Cruz home, sustaining production of innovative products for the global surf and snow market.
Photos courtesy of O'Neill