Vivian Hendriksz

|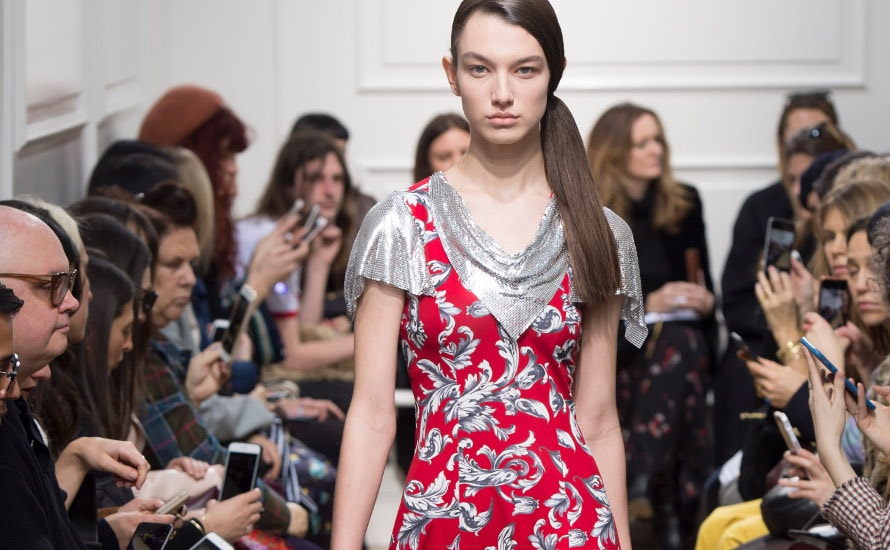 London - The second day of London Fashion Week began early Saturday morning with a catwalk show from Hussein Chalayan, who returned to show his collection in London for the first time in 16 years at Sadler's Wells. The British designer presented a collection reflecting his structured, minimalist style, with loose tailoring that was inspired by Greek folk culture.
Later on in the morning Parisian-born designer, Faustine Steinmetz, hosted a static presentation of her 009 collection at the Topshop Show Space in the Turbine Hall of the Tate Modern. The collection was described as a textile study of how denim has been worn in numerous different countries across the globe over the past 30 years and featured references from Bogota, Vancouver and Tel Aviv. Original reference pieces of denim were presented alongside of Steinmetz work, which included a denim puffa jacket, an acid washed denim track suit as well as a denim jumpsuit and pencil skirt. Alongside of some of the denim pieces shown was a description of how many hours it took to craft the denim garment, how much natural indigo it contained as well as how much cotton.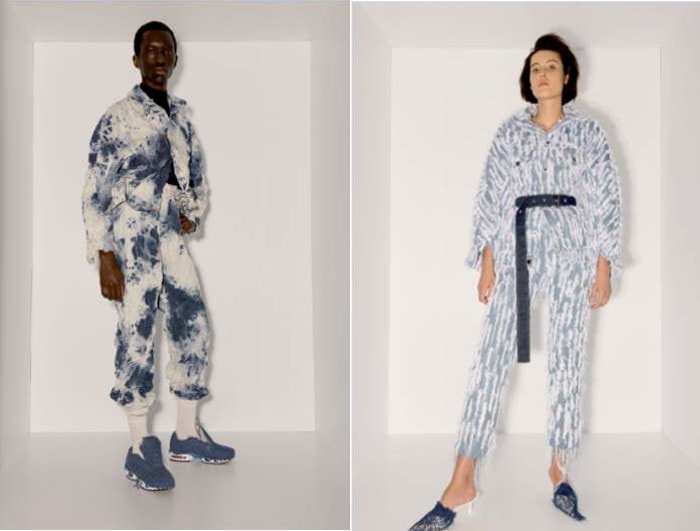 Faustine Steinmetz explores the history of denim at LFW
The second day also saw Canadian-born, British designer Edeline Lee host a moving presentation for her Autumn/Winter 2017 at the OxO Tower Wharf. Visitors were first welcomed to the space with a performance from pianist Belle Chen, which was layered over a track of daily news, before moving to the stairwell where the noise was further broken down with electronic percussion from Jaeva. In the presentation space, models moved around a set featuring deconstructed and reassembled photomontage elements from Hannah Hoch, who Lee was inspired by for her collection, and looping film footage playing on screens, creating a layered and multi sensory experience.
The collection included sharply tailored and refined pieces, which Lee is known for, in rich deep colours such as navy blue, brick red, saffron yellow and muted aqua. Some garments featured layers of shapes over each other, such as circles layers in top over breasts in reference to Hoch's work, a dadaist artist. "I was inspired by how Hoch's work concurrently addressed the issues of female identity and her historical context," said Lee on her collection. "In my work, I have been searching for a way that the Future Lady dresses. We are also experiencing an uncertain moment in history, We had a strong idea of how a 'lady' was supposed to look in the past…but how can she dress now with relevance, power, femininity, grace and dignity, without being nostalgic, unnatural or uncomfortable?"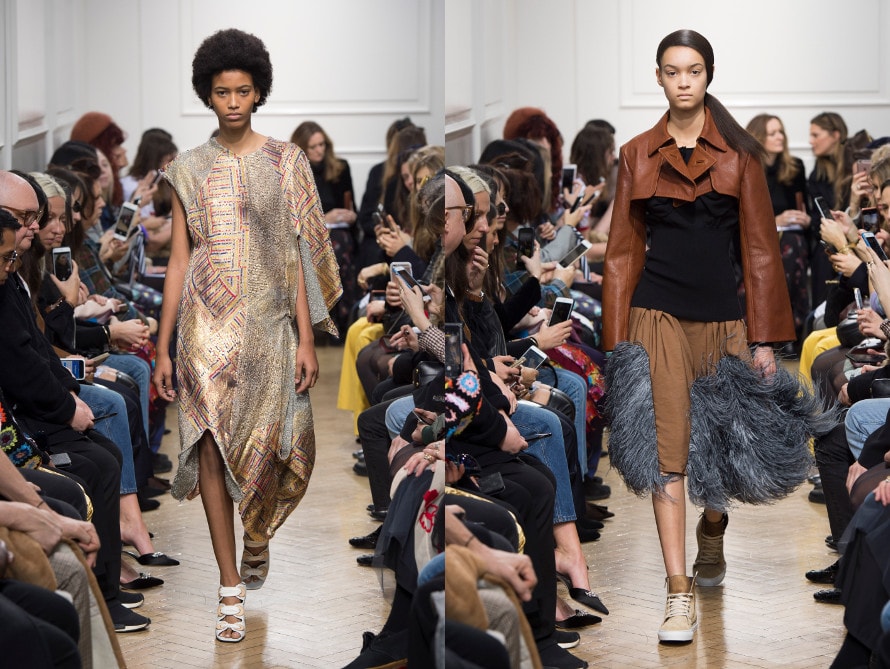 Jonathan Anderson Autumn/Winter 2017 catwalk show for his eponymous label J.W Anderson received warming reviews on Saturday afternoon. Described as "uber-feminine" by the designer himself, the collection featured a range of sophisticated looks which highlighted the female form, such as asymmetrical patchworked dresses, dropped-waist skirts with ostrich feathers inserts at the bottom, paired with cropped leather jackets and draped jersey dresses. Most of the collection included neutral shades for AW17 such as beiges, greys, black, tan and whites with hints of red floral prints, shimmery blues and shiny purples. The outfits were finished off with high, squared-toed black boots, tan sneakers with white laced and bejewelled wedged sandals.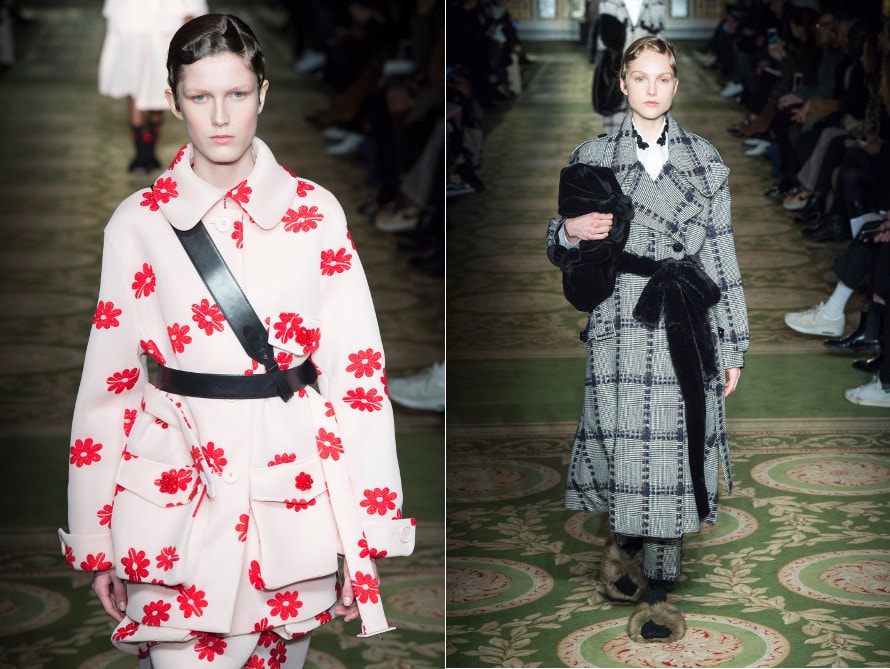 One the main highlights on Saturday was Simone Rocha's catwalk show. The Irish designer showed a collection which aimed to reflect the current uncertain political times, while offering women the armour and protection needed to continue battling on. The show opened with military inspired coats crafted from heavy fabrics such as velvet in darker, more somber colours, such a brown, khaki and black before moving into lighter colours and prints, such as primroses, and organza with embroidered flowers offering a more feminine take on traditional camouflage. The show notes featured the key words of inspiration for the collection: "armours, camouflage, foliage, peace, peace of mind, protection, feminine, famine, archivists, dirt and grit." The show also embraced diversity by featuring a range of models from all different ages.
Other highlights of day two of London Fashion Week also included a presentation from Globe-Trotter, which saw the British heritage luggage brand celebrated its 120th anniversary with a showcase of some of its most-celebrated luggage designs. In addition, the leather goods manufacturer also unveiled its AW17 collection with included leather accessories, handbags and clutches inspired by the brand's rich history. Henry Holland, the designer behind House of Holland presented a collection inspired by the cowboy-life style of the wild west for Autumn/Winter 2017, which included cowboy shirt dresses, flared trousers and playful cowboy boots adorned with flames and stars. Held at the Topshop Show Space in the Tate Modern, House of Holland also presented its "Woody Woodpecker" 15-piece capsule collection, which featured bright tops, jackets, jeans as well as dresses all inspired by the beloved cartoon character Saturday evening.
Photo credits: JW Anderson and Simone Rocha via Catwalkpictures
Faustine Steinmetz Photos: Courtesy of Faustine Steinmetz
Sara Ehlers

|
Orange County has officially announced its dates for this year's fashion event. The community's week-long event will start on next month on March 6.
The event will take place at The Resort at Pelican Hill in Newport Beach. The fashion trade event takes place bi-annually in the city to bring together West Coast designers and buyers in one place. The show will span over four days and will be held as a variety of venues. After debuting at the Resort, the next day will take place at the Orange County Museum of Art at 7 p.m. The show will also take place at Soka University's Founders Hall and at Lamborghini Newport Beach with individualized catwalks for a unique experience. The four-day event will include designers such as Olivia Barbaczy, Stefani Alvarado, Tatiana Shabelnik, Ionica Moldovianu, Coral Castillo, Chadia Almeddin, Neon Beige, and many more.
Currently, Orange County spends over 34 billion dollars in retail with a median household income above the national average. As the community is known for its expansive spending and luxury shopping, the fashion scene has grown over the years. South Coast Plaza, located in the county, had surpassed Rodeo Drive's shopping by over 1.5 billion dollars. As an emerging fashion week, the spring event will take place from March 6-7 this year.
AFP

|
Hussein Chalayan returned to the London catwalk on Saturday for the first time in 16 years, with relaxed but structured tailoring inspired by Greek folk culture -- and an explosion of glitter.
The Cyprus-born British designer is known for his minimalist, elegant and sculptural creations, which have been worn by Bjork and featured in exhibitions and theatre productions around the world. Models took to the stage at Sadler's Wells theatre to showcase his latest collection, featuring shirts with built-in waistcoats, and carrot-shaped trousers with wrap belts in wool blend knitted felts.
For the finale, they ripped off geometric print panels on the front of their dresses -- helpfully labelled "Pull To Open" -- to unleash a spurt of glittery foil streamers onto the ground. "It was a combination of a protest and a celebration -- I wanted these very tacky things coming out, that I found very beautiful," Chalayan told reporters backstage. "That's what life is, that you can have that duality -- the protest element, but also the purity."
Elsewhere, there were cashmere black dresses cut to look as if they were falling off the shoulders, bold black and white prints and delicate tops embroidered with hand-drawn Greek figures. Chalayan, whose parents were Turkish Cypriots, started his career in London, where he was twice named Designer of the Year.
But like many of his peers, flew the nest for the commercial opportunities of Paris. "We felt we were making this very big effort, but a lot of people weren't coming. When we moved to Paris our business grew considerably," he said. Returning to London this season to join British names such as Burberry, Mulberry, Christopher Kane and J.W. Anderson, has delighted his British fans. But will he stay? "I don't know yet. Let's see." (AFP)
Danielle Wightman-Stone

|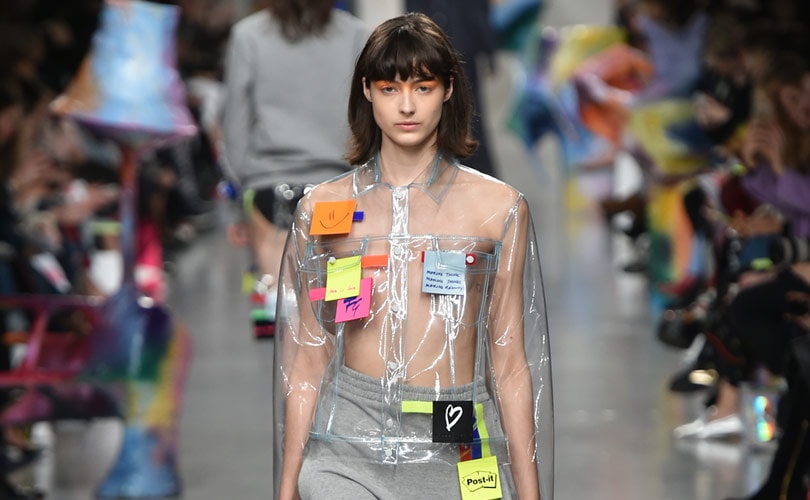 Following the rousing opening of London Fashion Week by the British Fashion Council and its calls for unity, Teatum Jones took to the catwalk and celebrated diversity with two disabled models walking in the opening show.
The British design duo Teatum Jones cast Kelly Knox, who was born without the lower half of her right arm and Jack Eyers, whose leg was amputated when he was 16, to model in their autumn/winter 2017 collection.
The show, entitled The Body, featured an original soundtrack that included an extract from Meryl Streep's speech at the Golden Globes where she denounced President Donald Trump for his alleged mocking of a disabled journalist.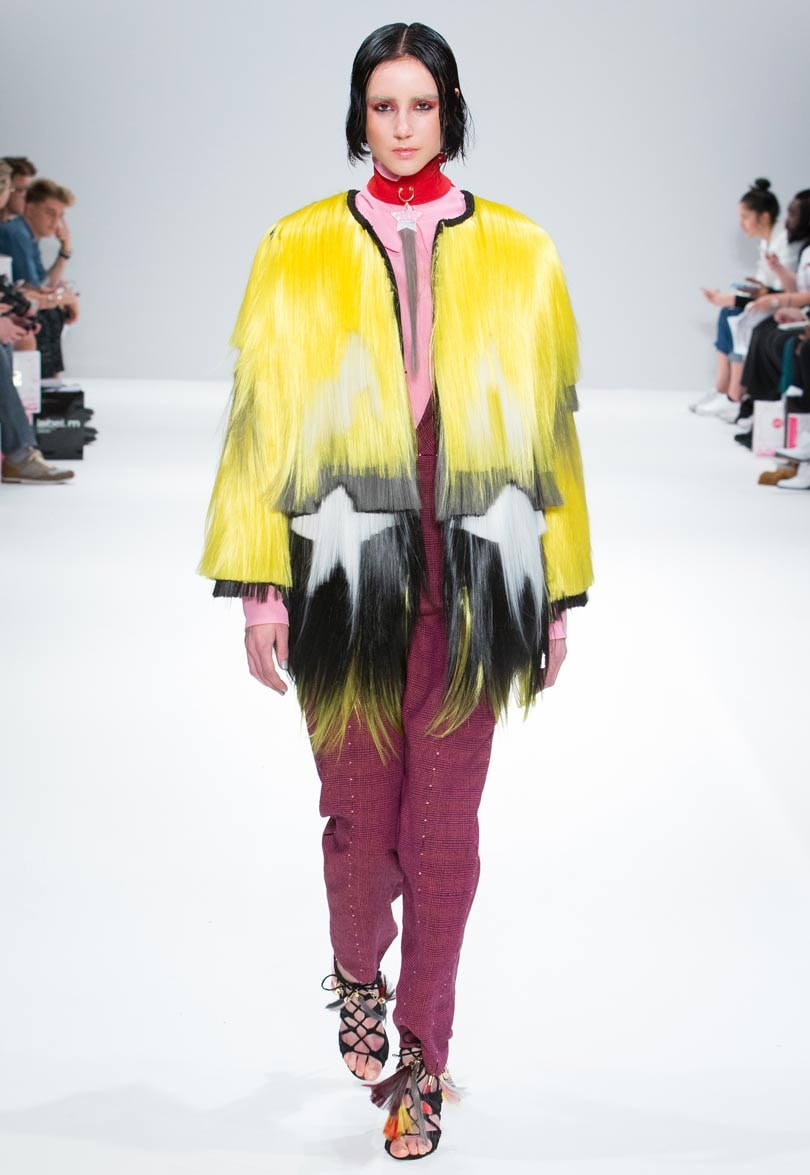 The collection itself was inspired by the surreal, anatomically unconventional dolls by German artist Hans Bellmer and featured mid-length dresses, mannish tailoring with trench coats with exaggerated sleeves and designs that highlighted seams and stitching.
The opening day also included the return of the "knit-meister" Mark Fast who took to the catwalk as part of the Fashion Scout showcased with his vibrant collection of sculpted knitted dresses in bright purple, blue and orange tones and jewelled detailing. One of the standout pieces was a baby blue midi dress with knitted fringing styled with an open-back cape.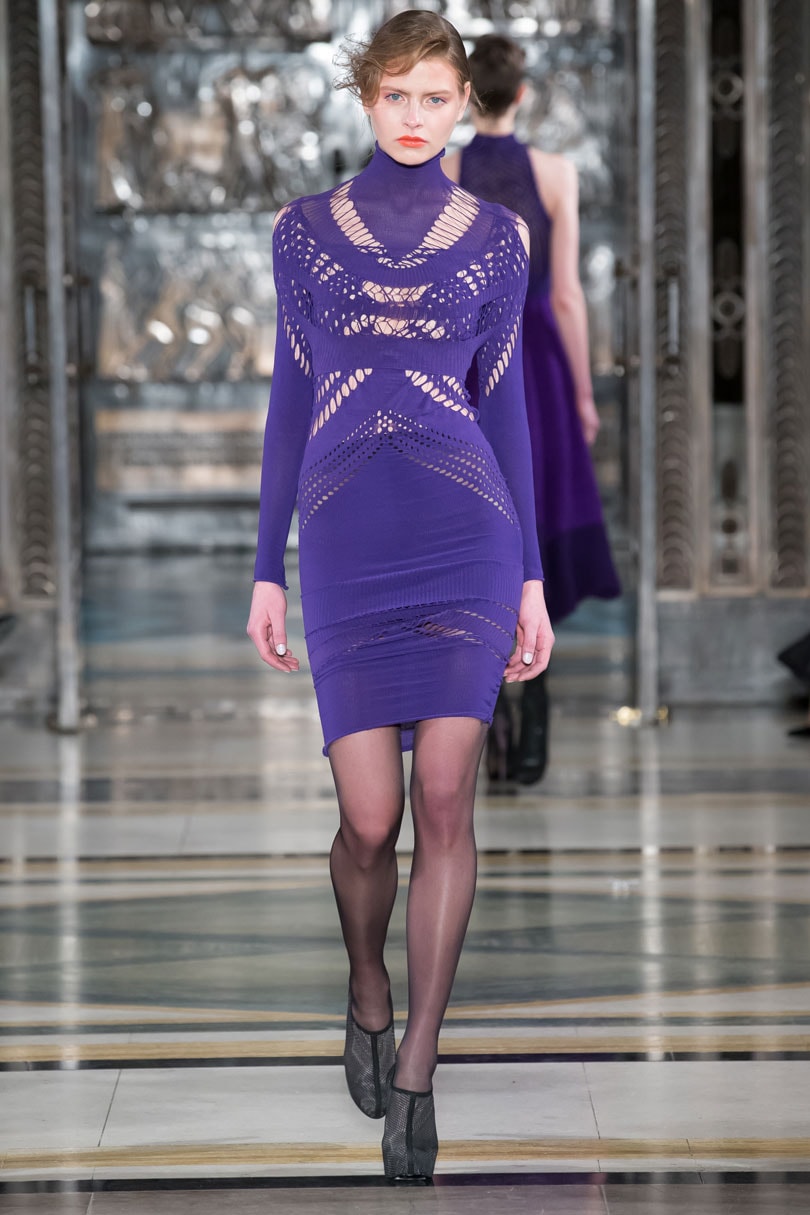 Fashion Scout showcase Ones to Watch on opening day at LFW
Fashion Scout also presented its Ones to Watch with University of East London graduate Krasimira Stoyneva impressing with her use of synthetic hair, bold, star prints and contemporary designs as well as her Wear Hair Not Fur motto.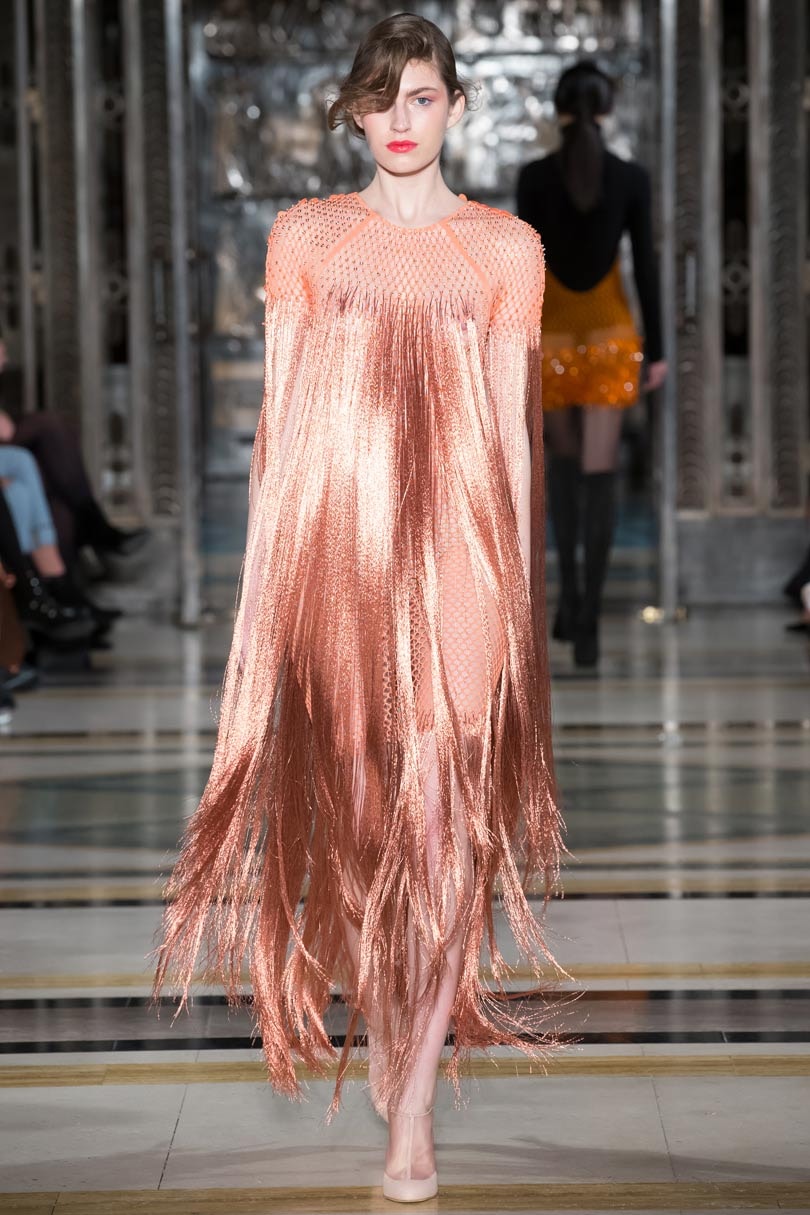 "My aim is to make an ultimate luxury alternative of fur by using synthetic hair. Using hair allows me to create an endless possibilities of colour and texture varieties in my garments," explains Stoyneva. "It gives it stand out shout and incredible luxury feel. I believe that hair with all its potential will become new material to be used within the fashion industry. I would love to be one of the pioneers that made that possible."
Stoyneva was joined by London College of Fashion graduate Joanna Berling who referenced the sculpture of Berlinde de Bruckyere, in a collection that juxtaposes girlishness with an undercurrent of grotesque darkness. Nigerian menswear label Orange Culture combined classic western silhouettes with African sensibilities, while Central Saint Martins graduate Ru Chen showcased a sporty collection.
Other highlights came from Eudon Choi who was inspired by minimalist architecture in a sophisticated collection featuring volume and structure, while Fyodor Golan presented a playful, bold and colourful collection celebrating all things nineties citing Power Puff girl cartoons and using Post It notes to create a rainbow effect pattern to pieces, and emerging designer Billie Jacobina presentation was a pink affair with pink curlers, balloons, and layered multi-coloured outfits featuring abstract brushstroke, splattered paint patterns and embroidery details.
Images: courtesy of Fashion Scout, Fyodor Golan and Eudon Choi
Danielle Wightman-Stone

|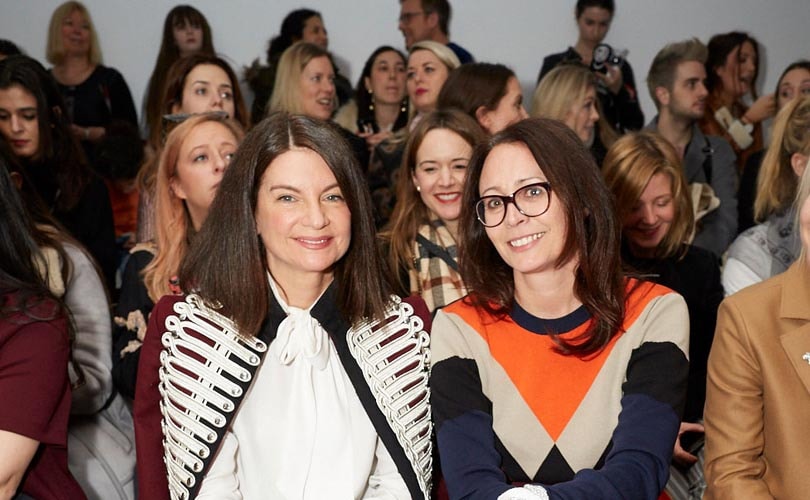 British Fashion Council's chair Natalie Massenet has called on the fashion world to unite in these "times of uncertainty" and showcase to the world that London Fashion Week and its designers stand for "inclusivity, unity and humanity".
Massenet added: "We are seeing seismic political changes, not just here in the UK with Brexit, but in the US and throughout Europe. Our industry is also going through change; see now – buy now, men's and women's collections coming together and for some brands, the pull to the couture shows. Change can be challenging but in this time of extraordinary innovation we will thrive."
In the uplifting speech to open the autumn/winter 2017 fashion event, Massenet stated that putting a spotlight on creative businesses through events like London Fashion Week was "essential" and added that the industry needs to start supporting talent to develop sustainable businesses as well as encourage creatives to be "creative entrepreneurs and to innovate", which she added was a "must for future success".
British Fashion Council Caroline Rush reiterated the organisation's position on the Brexit negotiations, and urged the government to listen to its concerns about visas, talent, tariffs and intellectual property. "This is incredibly important to sustain this amazing industry," Rush said. "We are worth 28 billion pounds to the British economy each year, 880,000 jobs and are an industry that repeatedly exceeds the figures for national average growth."
Rush added: "Amongst the uncertainty this year we will be championing and shining a light on businesses that have great talent, that are sustainable, that have good news stories that represent our Positive Fashion vision for global best practice."
The British Fashion Council also added that it would be launching a best practice database of manufacturers that work with London Fashion Week designers to champion skills and craftsmanship. As well as put a focus on education initiatives, with Sarah Mower, trustee of the BFC Education Foundation, explaining that since September 2016, the fund has given out more than 100,000 pounds to 12 students and that it is currently working with 32 colleges nationwide.
BFC announces plans to host Richard Nicoll retrospective
Massenet also used the launch event to announce that plans are underway for a multifaceted, retrospective exhibition of Richard Nicoll's work to launch later in the year. This news follows the unveiling of the Nicoll Blue wall as you enter London Fashion Week's new home at Shore Studios. Nicoll Blue is a new Pantone colour to commemorate the designer who died last year.
The opening event also announced that the British Fashion Council would be supporting the Business of Fashion's Tied Together campaign, calling on all involved in LFW to "stand together and make a clear statement of solidarity, unity and inclusiveness" by wearing a white bandana as a sign to the world that you believe in the "common bonds of humankind — regardless of race, sexuality, gender, size, religion and ability".
This season also sees London Fashion Week settling into its new home at 180 The Strand Shore Studio, which is also home to London Fashion Week Men's and the consumer festival. The new home houses the catwalk as well as a presentation space and an exhibition holding 120 designer businesses and the fashion week sponsors.
The autumn/winter 2017 London Fashion Week runs until February 21 and will showcase 51 catwalk shows on schedule, including the return of Roland Mouret to celebrate his 20th anniversary, and 32 presentations on-schedule.
Image: courtesy of London Fashion Week/British Fashion Council
AFP

|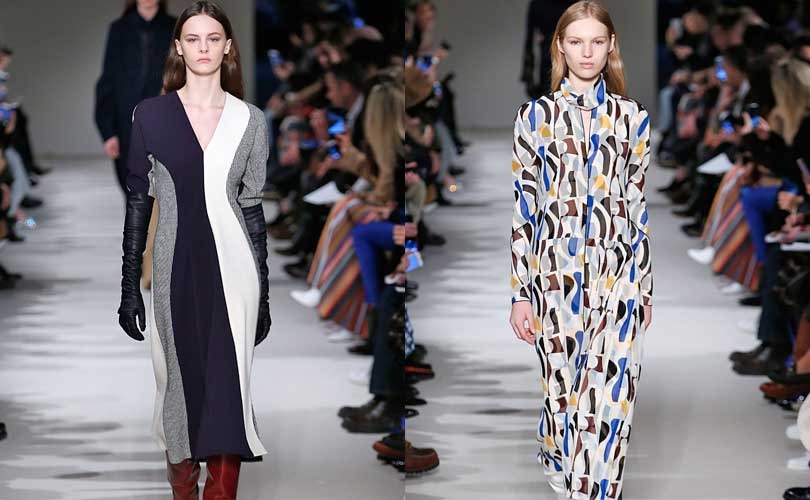 New York fashion week wrapped Thursday with designers unable to agree on the season, the future of the runway in jeopardy and anti-Donald Trump political outrage palpable. As the global fashion circus now flits to Europe with fashion week beginning in London on Friday, before moving onto Milan and Paris, here are the top 10 trends that New York offered this season:
Politics
There was no escaping the specter of Donald Trump, with America's cultural elite upset that Hillary Clinton, much admired in the fashion industry, lost the election and angry over the first chaotic weeks of his presidency. Public School parodied his "Make America Great Again" hats, Mara Hoffman opened with a manifesto from protest organizers and Nepal-raised Prabal Gurung sent models out in protest feminist T-shirts.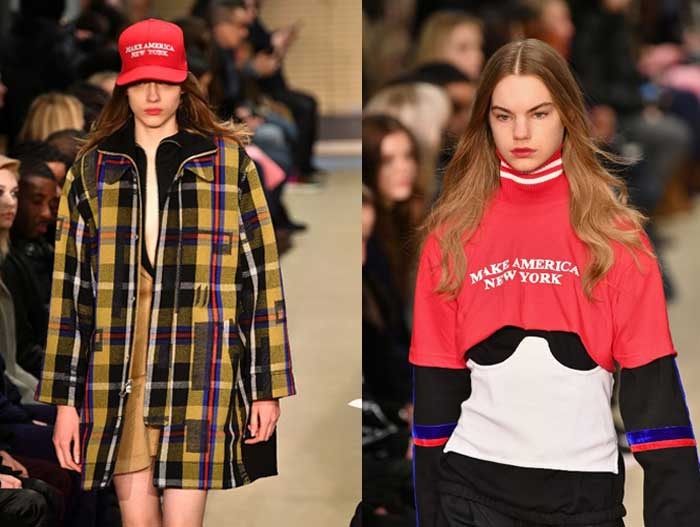 White bandanas, intended to promote tolerance, were ubiquitous, included in invitations from Calvin Klein and worn by models at Tommy Hilfiger. Many designers distributed buttons in support of Planned Parenthood.
Bigger is beautiful
After years of complaints that stick-thin models do not reflect the average woman, plus-size models took to the catwalk. Ashley Graham -- self-proclaimed body activist and the first plus-size model to appear on the cover of Vogue -- walked for Michael Kors, who complained last season that larger models on the catwalk were not possible logistically.
Gurung, who has designed a line of clothes for plus-size label Lane Bryant, led the way earlier in the week by sending out Candice Huffine and Marquita Pring. All three wore looks intrinsic to the rest of the collections.
Taboo busters
Breast cancer survivors modeled lingerie or dared to bear all for AnaOno, a label that designs for women who have had mastectomies, breast reconstruction or breast surgery, in a bid to raise awareness for the disease Downs Syndrome model from Australia, Madeline Stuart, who has also sought to confound stereotypes in the beauty industry, debuted her own fashion label.
The hijab
Mere weeks after Trump temporarily banned travelers from seven Muslim majority countries, the hijab made a statement this season. Somali-American Halima Aden, 19, walked for Kanye West's Yeezy Season 5, while Indonesia's Anniesa Hasibuan returned for a second consecutive season with a hijab-only show styled with iridescent gowns fit for a princess.
Power dressing
Tory Burch offered a Katharine Hepburn-inspired collection for the powerful woman. Victoria Beckham came into her own with menswear given a sexy, feminine edge with statement boots and flat men's style shoes with a pointy toe.
Diversity
Quintessential American brand Ralph Lauren offered a nomadic-inspired collection, with shimmering gold lame, snake-skin wedge sandals and silky sheaths with billowing trains. Belgian designer Raf Simons made his Calvin Klein debut inspired by the diversity of American culture, from traditional quilting to Art Deco and the wild west.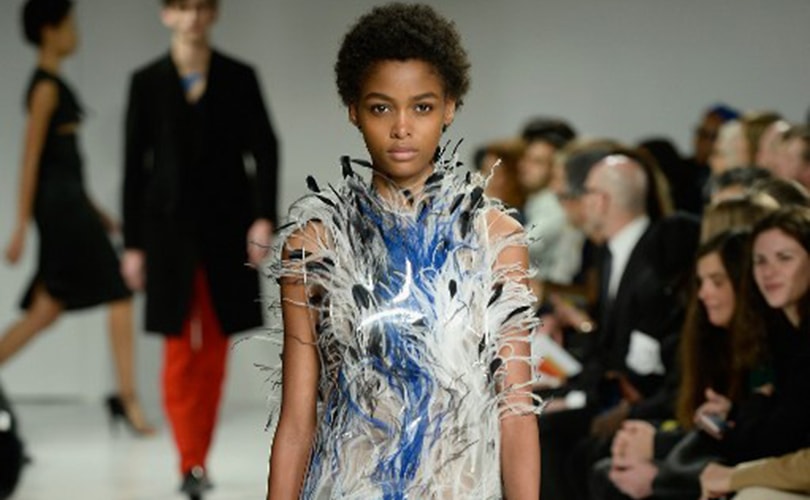 Indian designer Bibhu Mohapatra said his muses were women throughout the world, while Chilean designer Maria Cornejo used models from 16 different countries from Uganda to the Dominican Republic.
Bella Hadid
The model younger sister of Gigi is having a moment. The daughter of Dutch-American model Yolanda Foster and Palestinian American Mohamed Hadid, she wowed on the catwalk from Ralph Lauren to Anna Sui to Oscar de la Renta. The girlfriend of singer The Weeknd also features in a string of lucrative campaign ads for the likes of Bulgari, DKNY and Moschino.
Velvet
Luxurious and warm for fall/winter 2017, velvet was everywhere -- velvet boots, velvet track pants and velvet capes at Anna Sui; and gowns at Marchesa. Furs were also prominent, as were capped shoulders or strapless gowns.
New horizons
Marc Jacobs made his models walk the runway in silence and asked guests to refrain from whipping out mobile phones until the last minute. Zac Posen said changing times called for a new approach and threw a photo exhibition to create a conversation. Vera Wang is to release her collection by video and Sophie Theallet commissioned an online photo campaign.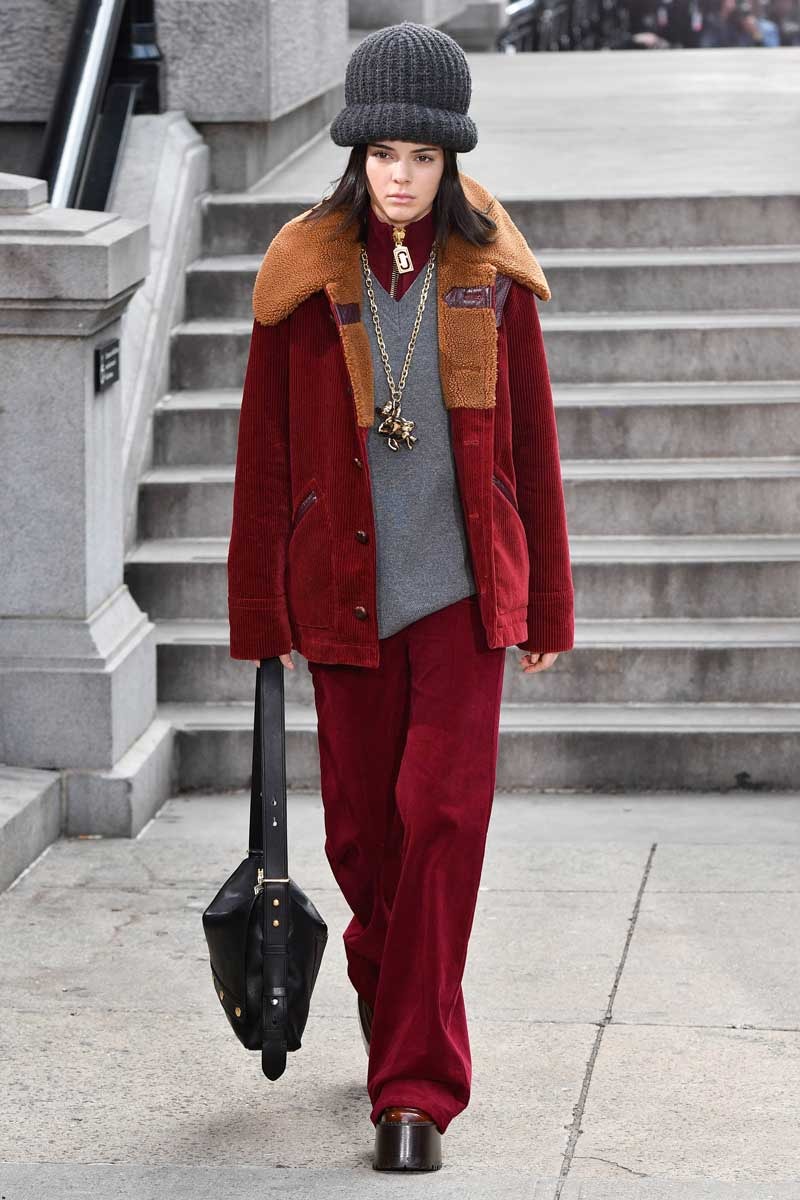 New York losing its touch?
Fashion week was noticeable for its absentees: Tommy Hilfiger went to Los Angeles, as did Rebecca Minkoff. Vera Wang is to release a video at the beginning of Paris fashion week and Rodarte is going to Paris. Next season, Lacoste will stay in France and cutting edge New York label Proenza Schouler is also joining the exodus in moving to Paris. (AFP)
Photos: Catwalkpictures
Don-Alvin Adegeest

|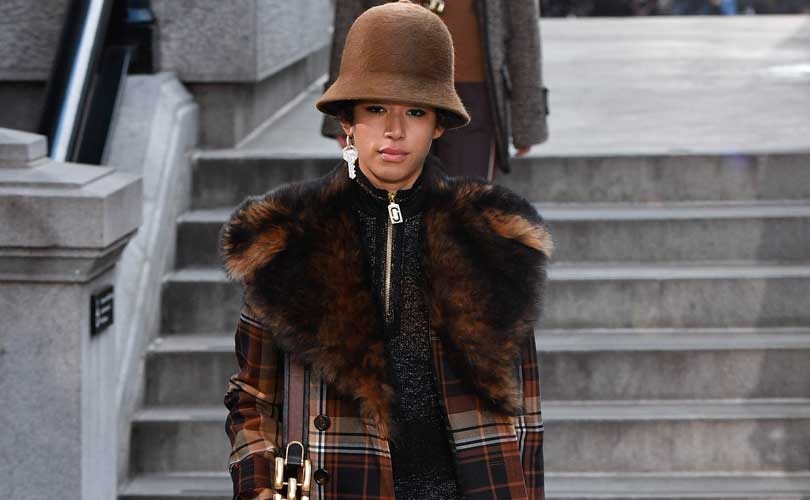 Marc Jacobs on Thursday closed New York fashion week, reigniting the fashion press by doing something as novel as removing ostentatious and superfluous production and making the show about the clothes.
Guests were asked to not post anything on social media, followed by a runway show with no music. As models strutted by in silence, the end of the presentation took a diversion to the streets of Manhattan where the models stood in front of giant boomboxes and speakers.
The show heralded Jacobs back to his best. He had been seemingly disengaged after LVMH with several productions and shows that failed to cause a stir. This time round he payed homage to the world of hip-hop, summarised in the show notes as "a representation of the well-studied dressing up of casual sportswear, it is a gesture of my respect for the polish and consideration applied to fashion from a generation that will forever be the foundation of youth culture street style."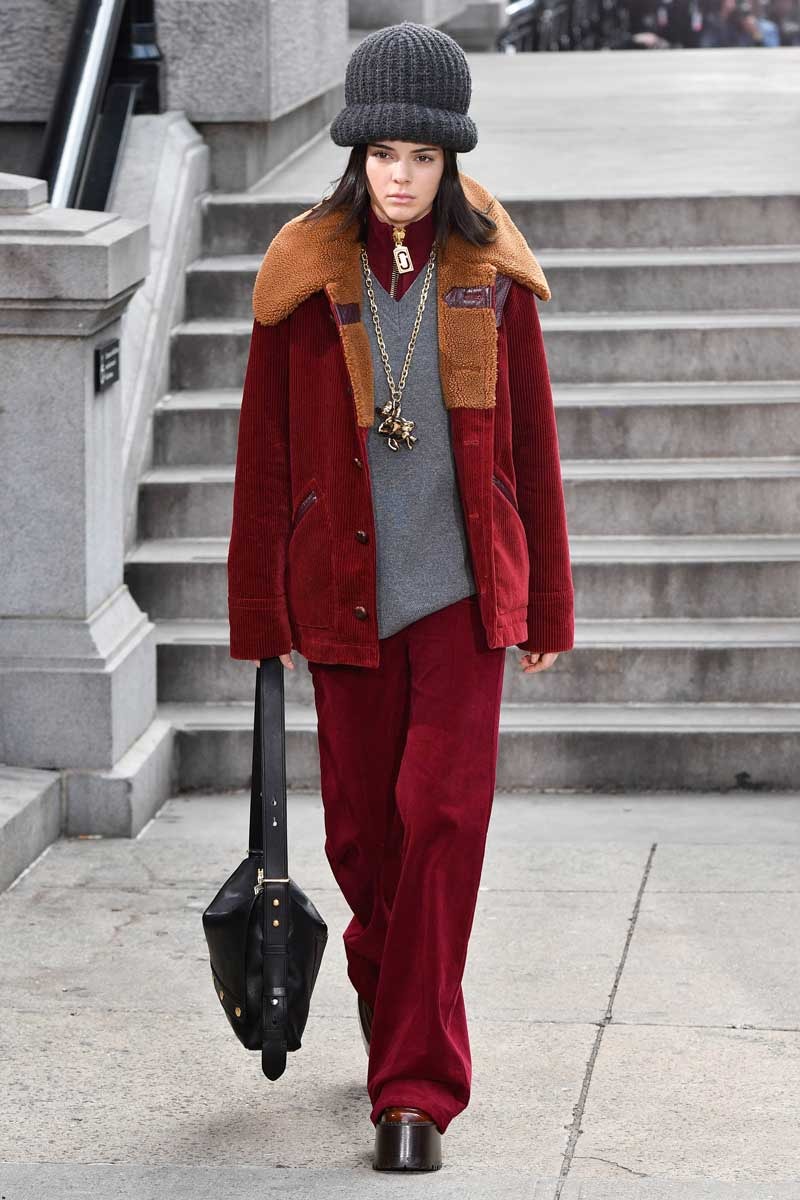 Jacobs gave us wearable street style
What Jacobs gave us was sheepskin, fur-collared jackets worn a size up, corduroy, hoodies, all worn with platforms and plenty of bling. It was Jacobs gone street style, but removed from the fantastical that it never felt unreal. These clothes were wearable, desirable and most of all commercial.
Because Jacobs could do with a commercial hit. Earlier this year LVMH chairman Bernard Arnault, parent of Jacobs' fashion empire, stated he was concerned more about Marc Jacobs than President Trump. The brand's economic health has come into question as it is the only LVMH business in the red.
Jacobs once toyed with floating the company on the stock market, but to date has struggled to regain the momentum from the early noughties. After it shuttered its diffusion line Marc by Marc Jacobs in 2015 the brand has been veering in a new direction, a fresh strategy of bringing both luxury and entry price points under one umbrella.
The idea seems like it is working, but the annual reports will tell us if if the strategy pays dividends.
Photo credit: Catwalkpictures
Vivian Hendriksz

|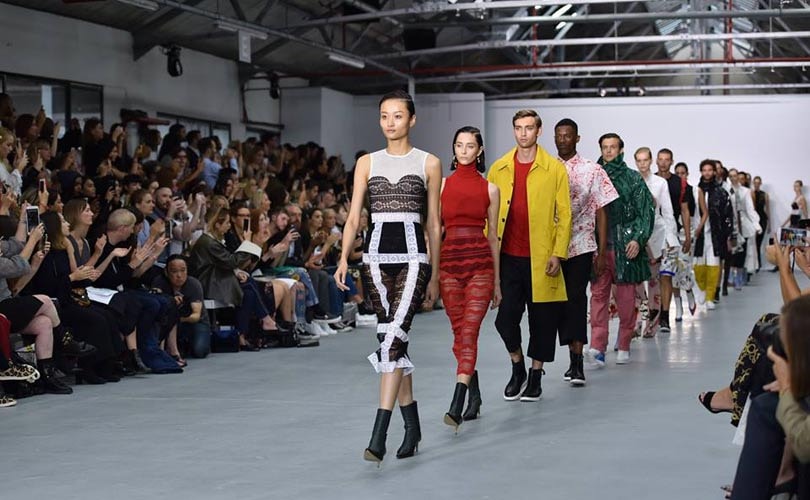 London - The moment all British fashion industry insiders have been looking forward to since the start of the year is finally upon us, as London Fashion Week Autumn/Winter 2017-2018 officially kicks off tomorrow. Running from Friday, February 17th to Tuesday the 21st, the 65th edition of London Fashion Week sees the event move to a new home at the Store Studios on 180 Strand as part of the event's larger overhaul.
With 51 catwalk shows and 32 presentations on schedule, including countless shows, events and presentations taking place across the city off schedule, finding your way to the best shows, events and presentations can be a difficult task. As FashionUnited is set to attend the top, most innovative and exciting events during London Fashion Week, we share with you our guide to the places to be. Scroll down to navigate through our interactive map on the top events to visit during London Fashion Week.
Instructions: Click the button 'Start Exploring' and use the arrows to further explore our interactive guide.
Interested in reading more on London Fashion Week and how much money the city makes? Then click here to read our in-depth article.
AFP

|
Rap superstar turned designer Kanye West broke boundaries by putting a hijab-wearing Somali-American model on the New York catwalk Wednesday, unveiling a new, more adult Yeezy Season 5 collection.
Halima Aden, 19, made her runway debut on day seven of New York fashion week at one of the hottest and most exclusive tickets in town -- West's at times experimental collaboration with Adidas. She walked in front of West's reality star wife Kim Kardashian and Vogue editor-in-chief Anna Wintour not long after West was slammed by fans for meeting then president-elect Donald Trump in December.
Born in a Kenyan refugee camp and now a US citizen, her appearance in such a high-profile show will propel her into a much bigger league than did the headlines she first made last year -- when she became the first woman to compete in a Miss Minnesota beauty pageant in a hijab.
Style bible Vogue said her appearance made her the show's "most talked-about new face" and credited her with starting a "meaningful conversation" by proudly representing Muslim women at fashion week. While finding looks that meet her required modesty can be challenging, Aden told Vogue that so far her experiences had been positive.
"My goal is to send a message to Muslim women and young women everywhere that it's okay to break stereotypes and be yourself," the magazine's website quoted her as saying. "I haven't received any pressure to be anything other than myself," she told Vogue, "and for that, I am so grateful."
The Season 5 show saw West apparently bounce back from a reported mental breakdown as his family was still recuperating after Kardashian was robbed at gunpoint in Paris in October. And after a fiasco last season, which saw one model collapse due to extreme heat, West bucked the trend and refused to broadcast it live.
It was a radical departure for the 39-year-old whose shows have been over the top -- presenting at locales from Madison Square Garden to New York's Roosevelt Island -- since he started his fashion line two years ago. But on Wednesday his latest collaboration with Adidas was shown in a more traditional, stripped-down industrial space in Manhattan's Chelsea neighborhood, in an area along the Hudson River used by other designers.
Guests were warned not to use phones, take pictures or videos, and not to post anything on social media -- but of course, those warnings appeared on social media anyway, as did a few photos. The clothes departed a bit from his usual sportswear, though that influence was still present.
Denim hit the Yeezy catwalk for the first time, in the form of high-waisted jeans, shirts and jackets. Coats in leather or fur put the label into another sphere, as did an anthracite gray blouse with a decidedly feminine cut. (AFP)
Don-Alvin Adegeest

|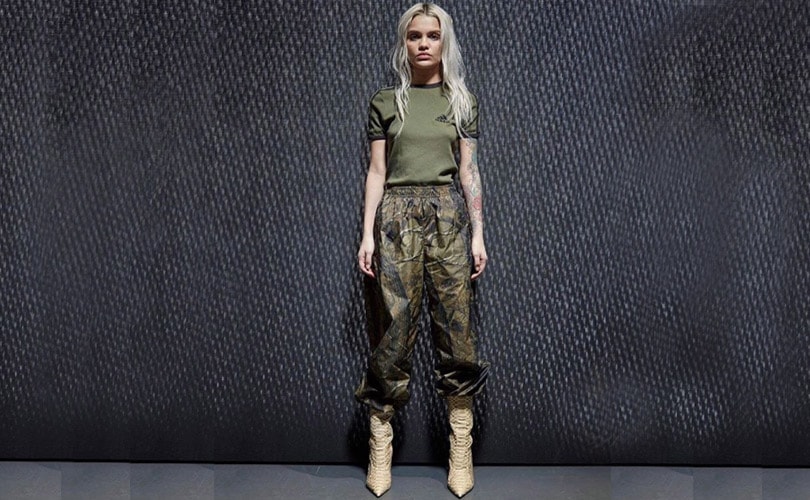 Kanye West managed to keep editors waiting only briefly for his AW17 presentation during New York Fashion Week.
Giant video projects replaced his static presentation of last season, avoiding models fainting from overheating, an incident that clouded his SS17 Roosevelt Island show.
New this season is denim, which came in 70s bleached and faded black, in high waisted slim silhouettes, worn tucked in boots. The looks felt fresh and were sportier than the previous season. Elsewhere there were slouchy sweats and chunky outerwear, worn with wide-leg came trousers. And of course the footwear for which the brand is so coveted.
There were introductions to logo's with branded sweatshirts, t-shirts and adidas athletic gear, which despite a very crowded streetwear market will be a surefire commercial hit.
Photo credit: Instagram Yeezy AW17