Danielle Wightman-Stone

|
London - The environmental and social footprint of Fairtrade cotton is five times lower than conventionally produced cotton, new research from the Fairtrade Foundation has revealed.
The research released to coincide with Fashion Revolution Week 2017, reveals that Fairtrade farming methods were 97 percent lower for the social elements and 31 percent lower for environmental components in the study, and unless cotton is farmed sustainably, its production leaves a heavy environmental and social toll which will affect its long-term viability.
The aim of the study is to provide fashion brands with a new valuation tool to enhance visibility of their cotton sourcing and deepen understanding of their social and environmental responsibilities, to help them make informed strategic decisions that will help create a more resilient business and be more accountable for their environmental and social impacts, said the Fairtrade Foundation.
The tool translates environmental and social values into the language of business and economics, converting impacts and dependencies into costs and benefits expressed in monetary terms. With an overall indication of cost and benefit, companies can identify trade-offs and synergies in a systematic way.
Fairtrade cotton has less environmental and social footprint
One of the most significant social advantages for Fairtrade farmers was having more income. The research compared community benefits from Fairtrade Premiums, fair wages, income for farmers, engagement of unacceptable labour practices, such as child labour and social cost of overtime. It revealed that Fairtrade cotton farmers tend to have lower social costs and higher social benefits such as fairer wages and investment in local schools.
In addition, Fairtrade cotton also performed "significantly better" than conventional for all environmental KPIs cotton. Areas surveyed included land use, water pollutants, water use, GHG emissions and soil pollutants. It was only for land use where Fairtrade cotton's cost was a little high as the yield for organic practices for cotton per acre is lower than conventional.
Subindu Garkhel, cotton manager at the Fairtrade Foundation said: "Cotton is an integral part of our lives, from the sheets on our beds to the identity we project through the clothes we wear. Not only that, but cotton also provides livelihoods for millions across the globe.
"But there is a strong cost for people and planet with cultivating the cotton that goes into our clothes, and our study shows that is markedly higher for conventional cotton farming. This research illustrates how Fairtrade empowers farmers to decide their own future, is better for their communities and has a substantially lower footprint than conventional cotton."
Images: courtsey of Fairtrade Foundation
Sara Ehlers

|
Sustainable fashion line Reformation just announced that it will be having factory tours for its Los Angeles location. Showcasing its transparency in this industry, the brand just started holding tours starting this past Saturday, April 22.
The tours will serve as a way to show customers the behind-the-scenes of the sustainable part of Reformation. "There's certain ideas and feelings and thoughts that come to mind when [people] think of factories," Yael Aflalo, founder of the brand, told WWD. The tours will be at downtown Los Angeles where the company houses approximately 300 factory workers. The brand will show off its green practices as well as how the company reduces waste in the apparel industry.
Currently, Reformation is one of the standout eco-friendly brands. The company, which is now aiming to be 100 percent transparent with its customers, already shares its sustainable practices through its online site. The factory tours add an extra way for customers to observe factory workers that specialize in sewing, patternmaking, and cutting. After kicking off this weekend, the tours will be offered once a month for anyone who wants to sign up.
Sara Ehlers

|
Universal Standard is offering the first program of its kind to accept size swaps in a company. Launching University Fit Liberty (UFL), the plus-size label has decided to revolutionize fashion through this new experience.
The brand will now allow customers to enhance clothes for an exact copy for a different size within a year of purchase. Due to women's body types constantly fluctuating, the company has come up with UFL as a solution to this problem. The program will allow customers to trade up or down in size for free in order to support this cause. "Whether you're a size 6, 16, or 26, weight fluctuates. It can go up and down, creating not only an emotional rollercoaster, but a financial burden," the brand states on its website.
The brand will then donate the clothing that is returned to charities that support women in need. The charities included consist Dress for Success and American Red Cross. Using a direct-to-consumer model, Universal Fit Liberty is available now for purchase. Ranging from sizes 10-28, the new program is a unique solution for plus-size women customers.
Sara Ehlers

|
Direct consumer plus-size brand Universal Standard has just decided to offer a new launch entitled Universal Fit Liberty (UFL). The fresh program includes revolutionizing the shopping experience by allowing a size swap for customers.
The idea came from the body positive message of Universal Standard. As women of all sizes have fluctuating weights and experience emotional burdens of replacing clothes because of it, Universal Standard has come up with a unique solution.
Universal Standard has confirmed that if clothes you bought from the brand's core collection no longer fit due to "size fluctuation within a year of purchase," the brand will replace them in a new size for free, according to a statement released by the company. This will be the first program of its kind to offer this type of swap in the apparel industry. With Universal Fit Liberty's introduction on April 17, any purchased U.S. pieces can be replaced without any worry or hassle. "Whether you're a size 6, 16, or 26, weight fluctuates. It can go up and down, creating not only an emotional rollercoaster, but a financial burden," the brand states on its website.
Universal Standard launches first-ever size swap for women's clothing
The returned clothing will be laundered and then donated. Universal Standard will donate these clothes to charities that support women in need including Dress for Success, American Red Cross and others. These clothes are meant to help make a difference in the apparel industry. "As a brand, we intend to create real, lasting, and much-needed change in the fashion business - particularly the 10+ segment, which still sits on the wrong side of an arbitrary size line, and segregates 100mn American women from their peers," co-founder and creative director Alexandra Waldman said in a statement.
Founders Waldman and Polina Veksler created the elevated chic brand in 2015 to offer women's clothing from sizes 10-28. Using a direct-to-consumer model, the brand offers new products weekly and retails season-less clothes that retail from 60 to 160 dollars. With the new launch of UFL, Universal Standard is planning to take its clothes to the next level by empathizing with women and their needs with fluctuating weights. "Our goal with UFL is to lead this sector with big, bold innovations based on insight and a deep understanding of our customers' needs," Waldman stated.
Photos: Universal Standard
Kristopher Fraser

|
Prada's little sister brand, Miu Miu, is collaborating with Mytheresa.com, the Munich-based luxury e-commerce site, for an exclusive collection for spring.
The line, which will feature Miu Miu's colorful aesthetic, includes ready-to-wear, handbags and footwear. It will launch on Mytheresa.com this week on April 26.
Notable pieces from the collection include Miu Miu's popular ballet flats and slides that have been updated in pastel hued shearling. Shirts and trousers feature polka dot prints and bright florals.
The capsule collection is also accompanied by a short film titled Shark by illustrator and director Danny Sangra.
Miu Miu and Mytheresa will make a splash on April 26
The short drama features two women dressed in embellished sweaters and sixties inspired printed skirts. One wants to become a synchronized swimmer, the other fears swimming due to past trauma with a shark.
Price points for the collection range from 755 dollars to 2112 dollars.
In efforts to keep things fresh and new, retailers have turned to collaborations to make news headlines and boost sales. Supreme has made collaborations a major focus this year, debuting collections done with Louis Vuitton, Lacoste and most recently Comme Des Garçons. Derek Lam is collaborating with SeaVees on a collection of sneakers. Some designers, like Chris Stamp of Stampd, have even turned to furniture collaborations with companies like Ikea.
If you aren't teaming up with somebody, you're missing a piece of the market share.
photo: via Youtube.com
FashionUnited

|
Trendstop's menswear team bring you a first look at an essential trend direction that will be impacting the men's market into F/W 2018-19 and beyond. First identified in our Themes forecasts this influential trend will be inspiring all sectors of he men's fashion market, from apparel and accessories to print and materials. Our carefully curated seasonal reports evaluate each trends commercial value and longevity with accurate analysis from our trend experts giving you the best possible basis for decision making.
This week, Trendstop reveal three key aspects of our Fall/Winter 2018-19 menswear theme, The Elemental Estate to FashionUnited readers. Fall embraces the elements, taking inspiration from rugged landscapes, winter wildernesses and windswept highlands. Cocooning silhouettes, cosy textures and heritage handcrafting are modernised with subtle sportswear influences and performance qualities to bring the technical and traditional together.
The Elemental Estate - Apparel
Cocooning outerwear protects against the elements with layered, padded textures, plush fabrications and thick knits creating voluminous silhouettes. Intarsia knits in Scandinavian inspired patterns hint at a homespun, handcrafted aesthetic that both compliments and contrasts with the technical coatings and rain-proof technological aspects.
The Elemental Estate - Print & Materials
Cosy borgs, rugged shearlings and towelling textures provide add extra warmth to heavy winter constructions while rubberised treatments and tubular quilting introduce a technical quality to seasonal materials. Print and pattern takes inspiration from nature with landscape motifs seemingly blurred and distorted by harsh winter climates.
The Elemental Estate - Footwear & Accessories
Fall footwear and accessories focus on functionality and durability in the great outdoors. Sports inspired trail runners and sturdy hiker hybrid boots mix traditional constructions and performance components for a sure-footed feel. Cross-body utility packs have a clean, unfussy aesthetic with extreme sports inspired hardware details that compliment their practical hands-free quality.
Exclusive Offer
FashionUnited readers can get free access to Trendstop's Fall Winter 2016-17 Menswear Commercial Themes, an essential report featuring the season's best commercial apparel, footwear and accessories products. Simply click the banner to receive your complimentary report.
Trendstop.com is one of the world's leading trend forecasting agencies for fashion and creative professionals, renowned for its insightful trend analysis and forecasts. Clients include H&M, Primark, Forever 21, Zalando, Geox, Evisu, Hugo Boss, L'Oreal and MTV.
Images courtesy of Trendstop: DSquared2, Kenzo, Joseph, London Street Style, Prada , Marni, Christopher Shannon and Dirk Bikkembergs, all Fall Winter 2017-18.
Danielle Wightman-Stone

|
New York's Parsons School of Design is partnering with Yoox on its socially and environmentally responsible destination Yooxygen to promote sustainable fashion practices through education and collaborations.
The collaboration will see the introduction of the Yooxygen Award, which will be awarded to a graduating BFA Fashion Design student of Parsons at the colleges annual benefit in May.
The winner of the inaugural Yooxygen Award will be awarded a six-month internship at Yoox's headquarters in Milan. The internship will start in July and will see the award winner creating a sustainable women's collection to be sold exclusively on Yoox in January 2018.
An additional six-month internship will be awarded to a second student who will work at Yoox's headquarters in New York City, beginning in September.
The aim of the honour is to encourage Parsons BFA Fashion Design students to consider fashion design as a vehicle to address urgent and current societal problems, which include climate change and sustainability.
"In 2009, when Yooxygen debuted online, we were amongst the first to acknowledge the importance of responsible choices in fashion," said Federico Marchetti, founder of Yoox and chief executive of Yoox Net-A-Porter Group. "Our partnership with Parsons combines our commitment towards education and our desire to encourage sustainable fashion choices. We are convinced that the next generations of talents will drive a more sustainable fashion agenda and we feel it is our responsibility to empower them."
Burak Cakmak, Dean of Fashion at Parsons School of Design, added: "We are excited to collaborate with Yoox on this important partnership for our students. Sustainability education is vital for our students, and Parsons is committed to training designers who are prepared to address urgent issues in the fashion industry."
The Parsons' 69th Annual Benefit will take place on May 22, 2017, at Chelsea Piers in New York.
Danielle Wightman-Stone

|
London-based barefoot shoe company Vivobarefoot is collaborating with San Francisco-based crowdfunding clothing platform for independent designers and major brands, Betabrand, for its new shoe collection.
The partnership has led to the launch of the City Sock, a breathable, stretchy mesh trainer, and will see Betabrand hosting a vote for consumers to select their favourite concepts to create new shoes.
"Due to its popularity, the City Sock was chosen as the first shoe to launch in the collection," said Asher Clark, Vivobarefoot co-founder. "The new shoe is designed to give freedom through barefoot design, with the protection needed in an urban environment."
The 100-percent vegan footwear features an ergonomic flex-mesh body, highly breathable foot bed, ultra-thin, puncture-resistant sole, and radically reflective detailing for nighttime excursions. The City Sock is the first of several shoes to be released in the collection, with additional shoes to be released in the forthcoming weeks. These will include the City Proof and Yoga Flat.
"We are excited and honoured to have partnered up with our pals at Betabrand," added Clark. "Because there is no point in having a pair of stretchy walk to work, disco yoga pants if you don't have the shoes to match. Conceived in London, designed for toe freedom and flavoured in the Californian sunshine - these are footshaped shoes that let your feet be feet...again!"
Vivobarefoot was founded in 2012 by Galahad and Asher Clark and offers sustainably made shoes for men, women and children for everyday wear and running. It has previously used crowdfunding for its company, securing funds for its expansion on Crowdcube.
"Vivobarefoot is an incredible brand and it's been amazing to connect our customers with their design team," said Chris Lindland, founder and chief executive of Betabrand. "They've welcomed fans into their creative process, thereby creating some of our most popular projects yet. Thousands of people have voted and provided feedback so thousands more can purchase crowd-designed footwear."
The City Sock is now available for purchase/funding in grey and black for both men and women, and retails at 91 dollars. Customers save 30 percent by ordering the shoes at this stage of development.
Image: courtesy of Vivobarefoot
Simone Preuss

|
TIMELINE
For the fourth time, people around the world will commemorate the anniversary of the worst industrial disaster, the worst blow to the garment industry. On April 24, 2013 the Rana Plaza building in Savar, close to Dhaka in Bangladesh, collapsed. It housed five garment factories and cost the lives of 1,134 of their workers; more than 2,500 were injured. Tragically, most - if not all - of the deaths and injuries could have been avoided had the garment workers been allowed to evacuate early like other workers in the building.
FashionUnited has put together a timeline of events from that tragic day in April to the most current developments - events like the Dhaka Apparel Summit, Fashion Revolution Day, efforts by the Bangladesh Accord on Fire and Building Safety and the Alliance for Bangladesh Worker Safety, factory inspection reports and other efforts by local and international stakeholders. Will their joints efforts be enough to turn the tragedy around to become a change maker for the global garment industry and its supply chain? Time will tell.
Use the arrows to navigate through the events ordered by date or click on a timeframe (in the grey bar) to learn more.
Following the tragic collapse of Rana Plaza, the most deadly accident in the history of the garment industry, more and more people begun to question how a t-shirt costing as little as 2 pounds could ever be responsibly made.
The tragedy was not only seen as a wake up call for the international fashion industry to band together and protect those most vulnerable in their supply chains - it was also a immediate call to action for Primark, who sourced from New Waves Bottoms, a supplier in Rana Plaza, to take a closer look at its ethics and CSR, to see where it could improve.
Primark was among the first retailers to sign the Accord on Fire and Building Safety in Bangladesh, initiated by the IndustriALL and UNI Global Union. It was also one of the first to ensure the factory victims and families affected by the collapse receive financial support and food aid immediately following the disaster.
Read more: A closer look at Primark's stance on responsible fashion
Photo credit: Zakir Hossain Chowdhury / ANADOLU AGENCY
Don-Alvin Adegeest

|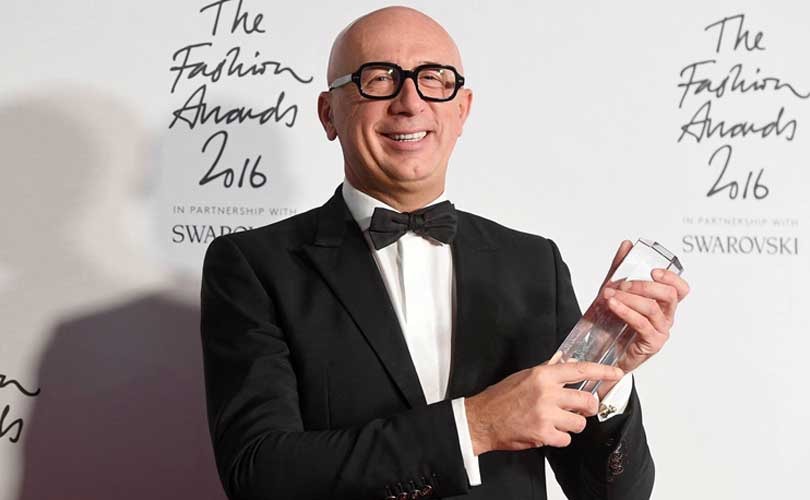 In 2009 when Lindsay Lohan was named creative director of French fashion house Emanuel Ungaro, celebrities moonlighting as fashion designers hadn't yet reached its peak.
Brands had been looking to fill creative positions with big names, big personalities and even bigger followings, where fame often gets the upper hand over talent. Unsurprisingly, these jobs have often come at the expense of those second in command, the designers behind the creative director, the number twos, who have the technical and creative skill to fulfill these roles, but lack the celebrity status.
Things took a change in 2015 when Gucci, previously led by big personalities like Tom Ford and Frida Giannini, opted to choose unknown designer Alessandro Michele to lead its billion euro business.
Gucci led the way with hiring an anonymous designer
Gucci's CEO Marco Bizzarri didn't have Michele on his shortlist of potential candidates when it was decided Giannini should be replaced. Michele began as a junior designer under Tom Ford, and remained anonymous throughout his ten year tenure. Even under Giannini, nobody knew who Michele was.
It was a courtesy meeting with Bizzarri that started the course of Michele being appointed creative director. He had already seen two well-known designers, but it was Michele, with his near archive knowledge of the house and passion for the brand, that led to him being given an assignment to come up with a men's collection in just five days. Two years later and it is fair to say Michele has transformed Gucci both aesthetically and profitably, and brands are looking toward Gucci to emulate its success.
Should fashion houses be led by big personalities?
One of the problems in fashion is the "old guard believes that fashion, as an art form, should be led by visionaries with big personalities and even bigger reputations," notes Refinery29. It is the newer generation, however, that embraces fashion as a business, and should be led by creatives with an understanding of what modern customers want from their clothes. "This tension between old versus new, number ones versus number twos, gets at the heart of the industry's most fundamental question: Is fashion mostly art? Or is it mostly a business?"
Fashion, of course, is both. The artform can't exist without the business, and the business would be nothing without the aspirational and creativity. CEO's of fashion companies are realizing that number twos can be good for business as well as the creative.
Fashion houses are hiring number two's
The past two years have seen an ascension of number twos take the roles of number ones. Take for example Raf Simons' former number two, Serge Ruffieux, who is now creative director at Carven. Last month Natacha Ramsay-Levi was appointed as head of Chloé, but she was Nicholas Ghesquiere's number two at Louis Vuitton. Last October Marni hired Miuccia Prada's number two Francesco Risso and Mulberry onboarded Johnny Coca, previously Phoebe Philo's number two at Celine.
All these designers were largely anonymous until their appointments, all the while leading their own quiet revolution behind the scenes.
Photo credit: Marco Bizzarri, Alessandro Michele @ British Fashion Awards, source: Gucci Facebook