Vivian Hendriksz

|
London - The much-awaited return of cult TV show Twin Peaks has seen a resurgence of 90s fashion styles and led to a number of brands releasing Twin Peaks inspired merchandise. To mark the hit tv show return leading concept store Opening Ceremony has teamed up with Habitat to launch a Twin Peaks capsule collection, which includes five different t-shirts.
The t-shirts each bear a different image from the classic tv show, such as the show's opening title or characters Laura Palmer and Audrey Horne. Each t-shirt is available in either black or white and retails for 30 USD. The t-shirts are currently for sale online via Online Ceremony's web store and in Online Ceremony's stores in New York, Los Angeles, and Tokyo.
Twins Peaks was originally created by David Lynch and Mark Frost and debut on ABC in 1990. The show only ran for two seasons before it was canceled, but has since become a cult classic. The much awaited third season of the show aired on May 21 on Showtime, and is set 25 years after the show's original airing date.
Don-Alvin Adegeest

|
The CFDA Fashion Awards in New York will salute two of the industry's pioneers of the community: the late Franca Sozzani and designer Rick Owens.
Former Vogue editor Sozzani died in 2016, but will be honoured with a posthumous Fashion Icon Award. Owens, who is American but based in Paris, will receive the prestigious Lifetime Achievement Award.
The CFDA Awards celebrate the best of the American Fashion Industry and honours excellence in fashion design. Nominations are submitted by the Fashion Guild, a group of over 1,500 CFDA members, fashion editors, retailers, and stylists.
The ceremony will be hosted in Manhattan's Hammerstein Ballroom and presenters are expected to include Nicole Kidman, Kerry Washington, Paris Jackson and Armie Hammer.
Photo credit: CFDA Vogue Fashion Fund 2016, source: CFDA Facebook
Kristopher Fraser

|
Krammer & Stoudt is that latest menswear brand to hop on the made-to-measure bandwagon. Beginning June 1, their Made in the USA Made-to-Measure program will be their to provide customers their curated import suiting fabrication needs.
The menswear brand is partnering with Brooklyn-based master tailor Martin Greenfield Clothiers and Newark-based shirtmaker Mitch Gambert for their new suiting program.
Krammer & Stoudt launches Made in the USA Made-to-Measure program
Krammer & Stoudt manufactures the brand wholly in the Garment District of NYC, so launching a made-to-measure program with Martin Greenfield Clothiers and Gambert Shirts, both of whom operate production facilities in the New York area, was at the core of what they do.
Krammer & Stoudt's aesthetic is known for being a combination of Southwest and Southern California influences combined with an East Coast feel. As such, they felt there was a whole in the made-to-measure market for their customers.
"The Krammer & Stoudt client lives and breathes creativity. In whatever his occupation, he is the visionary. He wants to look appropriately sharp, but also wants to express himself confidently in his sartorial choices," said the brand's designer Michael Rubin.
The process involves setting up a private appointment with a client for the initial measurements, and guiding them through the fitting process, including selection of fabric, style and fit. Suits will retail between 1,600 dollars and 2,400 dollars and shirts will average 250 dollars. Once an order is submitted, it will take approximately five weeks to receive a finished suit and two weeks to receive a finished shirt. A second appointment for final fitting and adjustments might be necessary.
photo: courtesy of Agentry PR
AFP

|
Like all working mums, Colleen Theriault has her hands full with her four-year-old son and a full-time career as head baker at a patisserie in the US state of North Carolina. But the 24-year-old is also an advocate for a budding movement that is breaking into the international fashion scene. Its models, like their initiative, are small but strong.
The International Dwarf Fashion Show, a non-profit organisation that aims to "reverse the discriminatory diktats of beauty", brought seven women with dwarfism to Dubai this week for a show dedicated to raising awareness about the need for more inclusivity in fashion. "This is the farthest I've ever travelled, especially by myself," Theriault told AFP, after modelling two dresses at the show late Saturday. "This trip was a big step."
In shimmering bodycon dresses and bright embellished saris, models from the United States, the Philippines, Italy, Bulgaria and Russia strutted down an impromptu garden runway under heart-shaped arches of flowers. The show closed with a charismatic model in a bridal dress, her holographic Mary Jane shoes peeking out from under a rose-dotted train.
Zahra Mufaddal Khumri waited for more than two hours with her husband and young daughter to get into Saturday's show. After living in Dubai for more than a decade, she recently set up a Facebook support group for individuals and families in the emirate who, like her own, live with dwarfism.
She and her banker husband have built "a pretty good life" for themselves in the global shopping hub, she said, but even there the basic task of finding clothes that fit has remained a struggle. The couple generally seek out the help of a tailor to alter or make garments to be the right size, particularly traditional Indian clothes. "You should be comfortable in anything you wear," Khumri said.
Beyond the 'kids' section'
She does manage to buy tops and dresses off-the-rack, she said, "but with a bit of difficulty since I do have to search in the petite section. Sometimes in the kids' section." It was witnessing firsthand the exasperation of a woman with dwarfism shopping for basic staples that inspired Myriam Chalek to set up the International Dwarf Fashion Show.
"It was seeing this little lady shopping in a kids section -- very frustrated, not finding clothes that fit her," she said. "I work in the fashion industry, so you always deal with designers and clients who ask you for tall and skinny," Chalek added.
"Even though some people are trying to turn the tide, like we are, unfortunately that still remains the norm." The International Dwarf Fashion Show has attracted worldwide attention since it launched in 2014, taking to the runway during New York Fashion Week, as well as in Tokyo and Paris, supported by France's culture ministry.
But in Dubai, the show almost did not happen after an eleventh-hour cancellation, organisers said. Chalek said there was "chaos, drama, disappointment and anger" when the hotel they had booked cancelled on them last minute. A second hotel also refused to host the show.
Contacted by AFP, the manager at one hotel said he was not aware of any fashion show. The head of communications at the second hotel was not reachable for comment. While Theriault was anxious to fly back home to her son, she said she was not giving up on working for more inclusivity in the world of fashion and beyond.
"We just want to show them that we're people just like they are," she said. "Everybody has a disability, no matter if you can see it on the outside or on the inside," the model added. "Everybody just needs to be accepted." (AFP)
AFP

|
What women wear can often be the focus of critique and controversy -- all the more so when the woman is an ex-model, married to the US president and disembarking in Saudi Arabia.
The question of what first lady Melania Trump would wear on her husband's his first foreign trip echoes similar debates around Michelle Obama's decision to wear colour -- blue and white -- and not cover her hair on a visit to ultra-conservative Saudi Arabia.
But with Trump's hawkish political profile, and the first lady's insider position in the world of fashion, buzz around what the president's wife would wear and whether that would include a headscarf was at a high in the hours before Air Force One touched down in Riyadh.
Melania Trump embarked on Marine One at the White House on Friday in a high-waisted midi pencil skirt in orange leather with a front split, a cream crewneck sweater with bows at the cuffs and a pair of sky-high nude Manolos. (Vogue swiftly identified the sweater as MaxMara and the skirt as tomato-red by Herve Pierre, the designer behind Melania's white inauguration gown.)
When she emerged at Riyadh's King Khalid International Airport the next morning, the first lady's attire was more conservative -- black patent stilettos and a black long-sleeved, wide-leg jumpsuit with a narrow slit down the neckline, cinched at the waist with a wide gold belt.
And like Michelle Obama, and Obama's predecessor Laura Bush, Melania Trump did not cover her hair. Obama had earned praise for her decision not to cover her head, but Donald Trump at the time tweeted his disapproval.
"Many people are saying it was wonderful that Mrs. Obama refused to wear a scarf in Saudi Arabia, but they were insulted. We have enuf enemies," read a Jan. 29, 2015 tweet on Trump's personal account.
Trump's daughter and advisor Ivanka also did not have her hair covered when she emerged from Air Force One in a long-sleeved black-and-white maxi dress, holding her husband Jared Kushner's hand. Anticipation around what Melania and Ivanka would wear during the visit had been building for days: Saudi Arabia is a religious state with some of the world's harshest restrictions on women.
Saudi Arabia's guardianship system prohibits women from driving and from studying or travelling without permission from a male guardian, in the form of a father, brother or husband. Women are also expected to wear long black abaya robes and cover their hair in public in Riyadh.
The country is at a potentially unprecedented crossroads, with its future identity at stake as economic and political interests have brought to the limelight longstanding gender norms.
Local media on Thursday quoted Saudi Arabia's foreign minister as saying authorities did not demand anyone adhere to any specific clothing regulations. The US State Department's website says women who choose not to conform to wearing "a full-length black covering known as an abaya, and cover their heads... face a risk of confrontation by Mutawwa and possible detention/arrest" in Saudi Arabia.
The Mutawwa, which literally translates to "volunteers" from Arabic, are Saudi Arabia's Commission of the Promotion of Virtue and the Prevention of Vice, known as the "morality police". Following accusations the Mutawwa were abusing their power, Saudi Arabia last year announced the religious police could no longer arrest suspects or request identification. (AFP)
FashionUnited

|
Trendstop's womenswear team bring you a first look at an essential trend direction that will be impacting the women's market into F/W 2018-19 and beyond. First identified in our Themes forecasts this influential trend will be inspiring all sectors of the women's fashion market, from apparel and accessories to print and materials. Our carefully curated seasonal reports evaluate each trends commercial value and longevity with accurate analysis from our trend experts giving you the best possible basis for decision making.
This week, Trendstop reveals three key aspects of our Fall/Winter 2018-19 womenswear theme, Softly Sculpted to FashionUnited readers. 3D forms and sculptural shapes inspire a luxuriously feminine take on womenswear. Architectural influences, modernist styling and clean silhouettes are softened by tactile, natural textures in a refined palette of neutral tones for an effortless approach to winter dressing.
Softly Sculpted - Colour & Print
Off-white and putty tones with a chalky handle bring a fresh femininity to a neutral palette. Accented by inky darks or dusty synthetic pastels, classic blocking and two-tone placements are abstracted with rounded edges and muted textural contrasts. Stark linear patterns achieve a more painterly feel through expressive hand-drawn illustrations.
Softly Sculpted - Apparel
Cosy knits and outerwear are the core staples for any winter collection. Trumpet, flared, tapered and cinched silhouettes play with volume while Layering techniques offer a conceptual take on comfort, mixing regular and asymmetric placements. Self fabrics and trims ensure a clean, minimalist line to elongated forms.
Softly Sculpted - Footwear & Accessories
Simple shapes and constructions are elevated through premium quality, fabrications that are ultra-tactile to the touch. Glove weight, butter-soft suede and smooth, fine grained leathers bring a feeling of understated luxury to oversized clutches, structured belts and knee length boots.
Exclusive Offer
FashionUnited readers can get free access to Trendstop's Fall Winter 2016-17 Womenswear Commercial Themes, an essential report featuring the season's best commercial apparel, footwear and accessories products. Simply click here to receive your complimentary report.
Trendstop.com is one of the world's leading trend forecasting agencies for fashion and creative professionals, renowned for its insightful trend analysis and forecasts. Clients include H&M, Primark, Forever 21, Zalando, Geox, Evisu, Hugo Boss, L'Oreal and MTV.
Images courtesy of Trendstop, left to right: TSE Pre Fall 2017, Nina Ricci Pre Fall 2017, Max Mara Pre Fall 2017, Pringle of Scotland Pre Fall 2017, Joseph Pre Fall 2017, Eudon ChoiFall Winter 2017-18.
Don-Alvin Adegeest

|
The next industrial revolution is set to transform the fashion industry, at least according to New York-based FashionTechLabs Venture Inc, or better known as FTL.
FTL is a venture capital fund and accelerator that helps new technologies and sustainable innovations connect, collaborate and create products and brands to evolve the fashion industry and help reduce its social and environmental footprint.
Biotech, nanotechnology, tech textiles and wearable tech
Focusing on biotech, nanotechnologies, tech textiles, and wearable tech, what some of the latest technology can do is create fabrics made from orange peels, or a fabric made from milk protein which feels like the softer cashmere. Then there are lab-mined diamonds, grown under carbon heat to be technically identical to the real thing but which can grow up to 16 carats in two weeks.
The idea is that luxury fabrics can be created using leading technologies, without polluting or robbing the earth of its natural resources.
The idea is not so farfetched, as luxury brands are already experimenting introducing technological fabrics in limited, capsule collections. Italian luxury house Salvatore Ferragamo, for example, this season launched a capsule range of printed scarves and dresses made in collaboration with Orange Fiber (the peel-recycling company), using a silk-mix manufactured in large part from the recycled fruit, noted the Financial Times.
Technology is also changing clothing and fashion in a more personal way, with the potential to alter the way we buy, use, and design clothes entirely with 3D printing.
Since consumer versions began emerging a few years ago, 3D printers have been heralded as a disruptor of mass manufacturing, and a sea of change for industries from retail to food production.
Gensole, for example, is a platform for designing custom insoles for your shoes, based on measurements or a 3D scan of your foot, then 3D printing them to the exact specifications. It's an early example of how we may one day customize and print out the items we wear.
Technology has been weaving itself into our clothes for decades, according to Digital Trends, "sometimes so subtly that we simply haven't noticed, but the connection between them is only getting stronger." Wearable technology was never meant to stop at a smart watch or a fitness band. There is much more to be stitched together.
Photo credit: Electroloom 3D printed fabric swatch
Vivian Hendriksz

|
London - It is not a big secret that ready-to-wear bridal wear is a fast growing market, as mass-market retailers continue to move in the wedding category. Now more than ever it seems as if the leading trends from the seasonal bridal shows are being held under a microscope, as bridal wear labels and fashion brands alike scramble to keep their competitive edge. But what are some of the biggest bridal wear trends for spring 2018? What does the future bride-to-be wish to wear on her big day? FashionUnited rounds up some of the leading bridal wear trends to emerge for spring/summer 2018 based on data from retail and research firm Edited.
Exposed Shoulders & Sleeve Detailing
Following on from last season, sleeve and shoulder details are set to become a big trend for next season. In particular, cold shoulders and off-the-shoulder designs were spotted on the runway at seasonal bridal shows such as White Gallery London, with the Bardot style being favored by many designers. In addition, faux-off the shoulder designs made by utilizing sheer fabrics in order to prevent slipping were also a key trend for spring 2018 bridal wear and seen from designers such as Alan Hannah and Sassi Holford.
Attention to the sleeve is also a big trend and was seen in many different forms. Balloon shapes, floaty, unstructured styles featured in many collections, as well as tighter sleeve styles with sheer layers in which lace appeared to be floating on the arm. 3D appliqués topped with embellishments, which were mostly floral inspired were also seen on the bridal runways, while both designers Monique Lhuillier and Naeem Khan accessorized their spring 2018 collections with statement-making beaded body jewelry.
Sweetheart Necklines & Frills
Even within bridal wear, there are some styles which are timeless, and the sweetheart neckline is one of them. Often cited as a no-brainer for bridal wear, strapless sweetheart necklines were seen across the majority of bridal collections for spring 2018. They were paired with a wide variety of skirts as well as a number of fabrics ranging from full-tulle to satin a-line and form-fitting mermaid. But even though most of the usual skirt shapes were spotted throughout the collections shown, the gowns felt less structured and more flowing, which translated to a more romantic and softer feel. Designers Randy Renoli and Eddy K both paired a sweetheart neckline with a heavily frilled or ruffled skirt for a flowy, sweet look whereas Monique Lhuillier went for a full lace layered skirt for bridal spring 2018.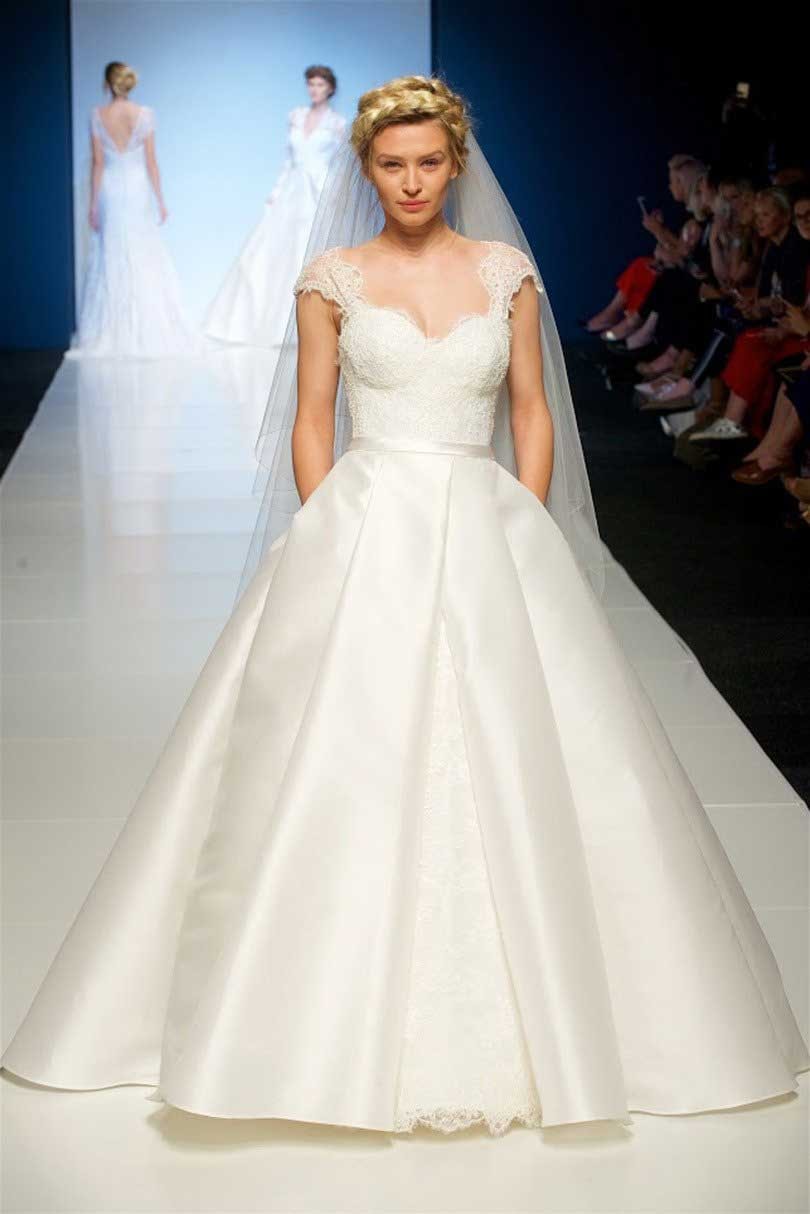 High Necklines & Long Skirts
High necklines, such as turtle necks and halter tops have been in fashion for the past few season and it seems as if this chaste look has made its move into bridal wear for next season. Unlike last year, which saw a number of very sheer and sensual bridal gowns, higher necklines, covered arms paired with floor length skirts were spotted all over the runway for bridal 2018. Vera Wang presented collared gowns with loose sleeves, while Elie Saab and Ines Di Santo included high neckline, demure gowns which completely covered the chest area in their collections for next spring. Monique Lhuillier took things one step further for her bridal 2018 collection presentation by accessorizing gowns with lace capelets and matching gloves, completing the image of a covered, modest bride, a key look for next season.
Plunging Necklines & Thigh High Slit
For future brides to be who may be a bit most daring with their look, then this may be the trend for them. Although a large number of designers favored a more covered look for next season, few entirely cut out the deep v-plunging neckline and thigh-high slit gowns which continue to be in demand. However, rather than sticking to the traditional colourway for this style, alternative looks came in the form of pastel shades such as pinks and blues. Other designers, such as Marchesa and Reem Acra complimented their white and cream gowns with black detailing, which gave the dresses a more modern feel. White or blush-pink, this sensual look will still be a big trend for next season
The Two-Pieced Outfit
Another increasing trend in bridal wear is the two pieced bridal outfit. Although most designers only included one or two two-piece ensembles in their bridal collections this trend is on the rise and will only become more visible for spring 2018. The most popular combination remains a fitted top with trousers or cropped top with a high-waisted skirt, as designers ranging from Carolina Herrera to Oscar de la Renta and Viktor & Rolf all showed two-piece bridal outfits for spring 2018. "I strongly believe in separates for weddings," said Herrera during her collection presentation "that, for me, is the modern way of dressing the bride."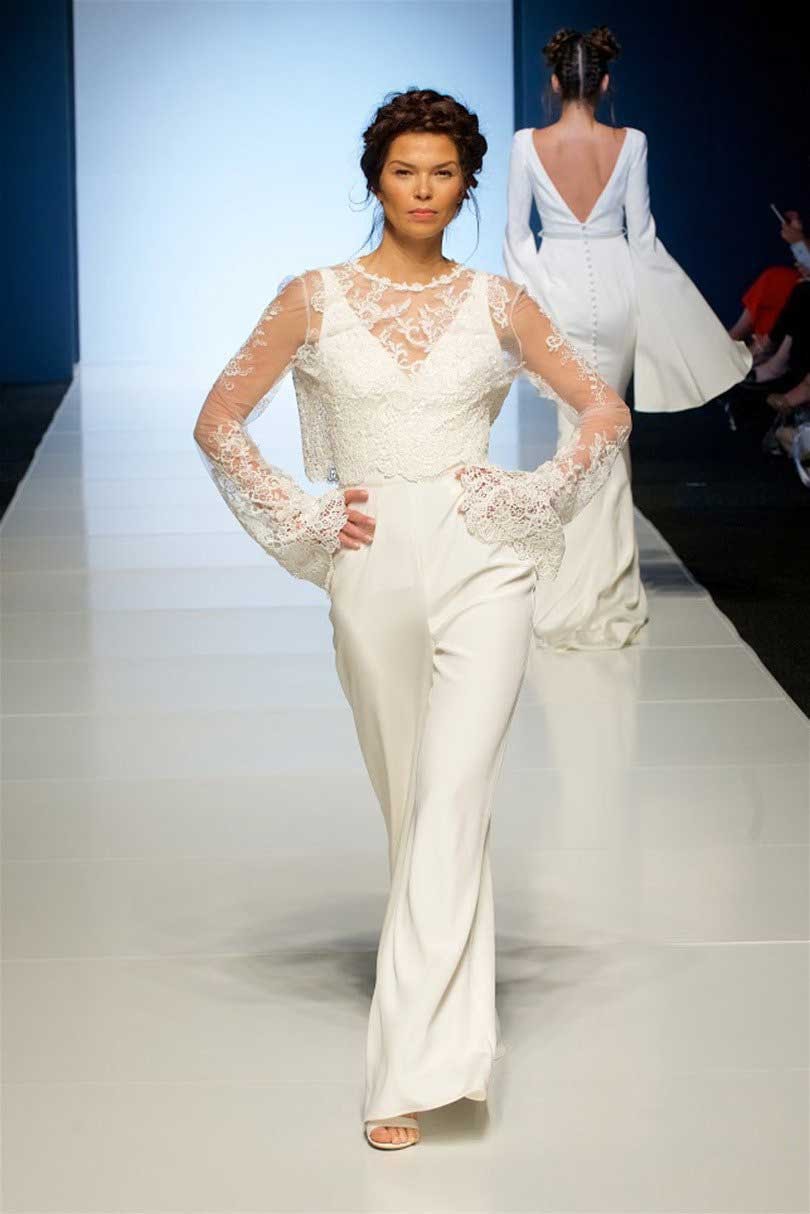 During the month of May FashionUnited will focus on bridal wear. For all reads on bridal wear, click
here
.
Homepage photo: Pexels
Photo 1: Alan Hannah Collection 2018
Photo 2: Sassi Holford Collection 2018
Photo 3: Alan Hannah Collection 2018
Photo 4: Sassi Holford Collection 2018
AFP

|
Israeli Culture Minister Miri Regev triggered a social media storm on Thursday after she attended the Cannes film festival in an evening dress featuring a Jerusalem Islamic shrine. Several tweets altered what one called the "provocative" garment which shows a panorama of the walled Old City in Israeli-occupied east Jerusalem, including the Dome of the Rock, located in the flashpoint Al-Aqsa mosque compound.
The site, known to Jews as the Temple Mount, is sacred to both Muslims and Jews and a regular scene of friction between them. It is the holiest site in Judaism and the third-holiest in Islam, after Mecca and Medina. One tweet redesigns the dress to show a nighttime scene of the Old City with fireworks bursting overhead and no sign of the Dome of the Rock.
The Twitter account of "Exposing Israel's Agenda" shows her Cannes dress as emblazoned with a blue-and-white Israeli flag and spattered with blood. It says that Regev's message is that "occupied #Jerusalem is their capital." Other social media users replaced the image of Jerusalem with Israel's separation wall dividing it from the West Bank.
Regev, a former military censor, serves in what is seen as Israel's most rightwing government ever and is an outspoken member of Prime Minister Benjamin Netanyahu's Likud party. She has spoken in favour of allowing Jewish prayer at the Al-Aqsa compound, currently banned for fears it could spark an Islamic backlash.
Israeli newspaper Maariv said her fashion choice was in homage to next week's Jerusalem Day, when Israel marks 50 years since its seizure of mainly Arab east Jerusalem according to the Jewish calendar. In 1980, the Jewish state annexed east Jerusalem in an act never recognised by the international community.
Israel says the whole city is its united capital, while the Palestinians claim east Jerusalem as the capital of their future state. Some tweets came from fans of Regev's wardrobe choice. "We say W O W. That is a statement dress! Miri Regev brought #Jerusalem straight to the #redcarpet," said one.
Others seemed more concerned about her fashion sense than her message. "Regardless of your politics, I hope we can all agree: whatever Miri Regev paid for this dress, it was too much," said one. (AFP)
Don-Alvin Adegeest

|
London - One doesn't need to read between the lines to see that all isn't rose-coloured at Burberry. The company posted healthy figures, but a little analysis shows the fall in sterling and influx of shoppers snapping up trenches and accessories was only a short term win. Already the company is forecasting a 30 million pound exchange rate problem for 2017.
But the biggest issue is perhaps the brand and its collections, which despite upbeat descriptives in its press release like "greater visibility of fashion and newness," or "evolving our handbag offering" and "a new shape strategy," the industry is anxiously awaiting the arriving of Burberry's new CEO Marco Gobbetti in July, who will takeover from Christopher Bailey.
The Business of Fashion even went as far to say the company may be stagnating under the creative helm of Bailey, who will remain the chief creative office under its latest restructuring. Real newness in the business hasn't happened for some time.
Burberry has reduced its product offer by 20 percent
Burberry said it had reduced its product offer by 15-20 percent to re-focus its offering. It also said that it saw a "positive customer response to direct-to-consumer runway collections and their commercial extensions."
Priding itself on its digital prowess, last year Burberry lost out to Gucci who was voted the most savvy digital luxury brand 2016. In February of this year Tribe Dynamics' monthly earned media value report, which highlights the top luxury brands, third-party retailers' and non-luxury brands' accrual of digital media and respective engagement, saw Zara, Gucci, Asos and Adidas taking top positions in the rankings. Burberry didn't make it in the top ten.
Sales are levelling out, too. China saw comp sales flat although it noted an improved performance in H2. Mainland China delivered some growth, but not in line with previous years.
According to Bloomberg, Burberry is on track to achieve at least 100 million pounds of annual cost savings by 2019. "All this is a comfort for investors, because there's little to console them elsewhere. The company still has a mountain to climb to make itself a millennial must-have."
Photo credit: Burberry runway AW17