Area, the brand who's known for their evening wear and avant garde approach to things (and let's not forget their fur bras), turned over a new leaf for New York Fashion Week this season. Designers Beckett Fogg and Piotrek Panszczyk went the daywear route, and in contrast to their last collection which featured more dark colors and neutrals, they went for bold and bright colors in honor of spring.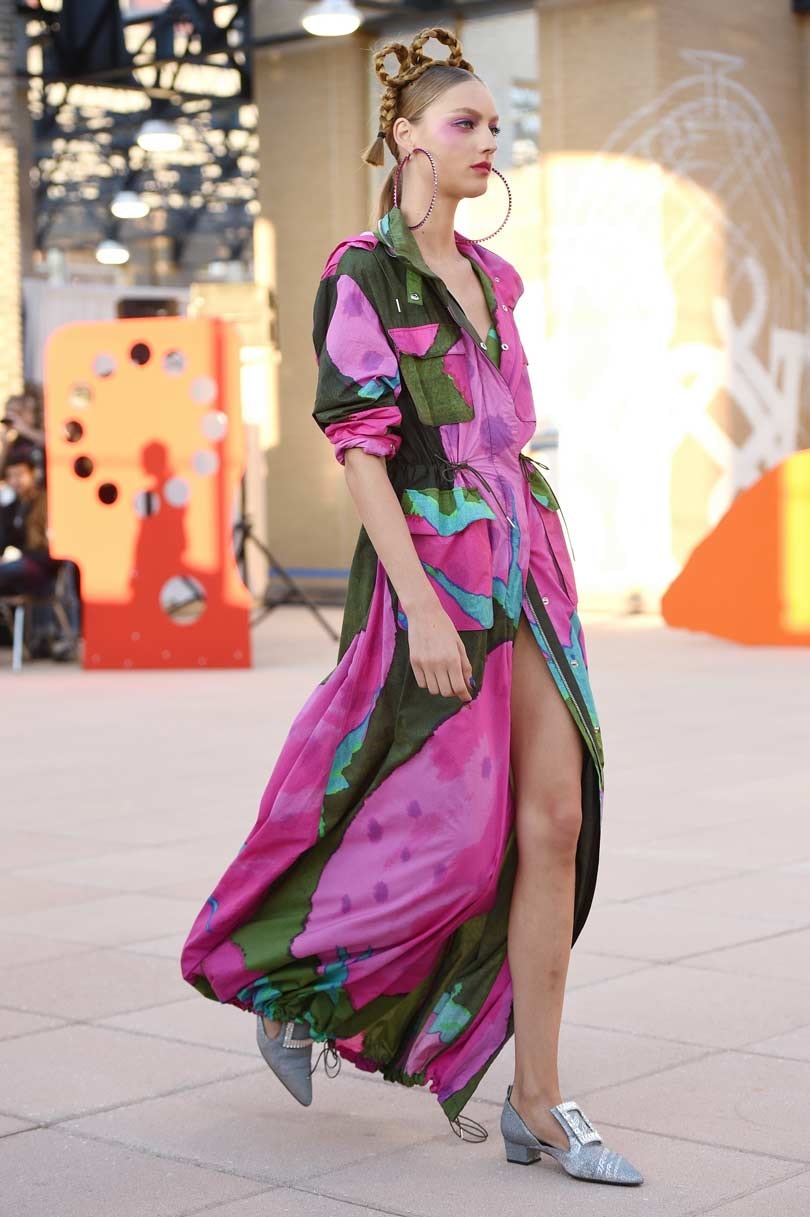 The inspiration for this season was literally color. When the designers were at market week in Paris, they took a trip to the Centre Georges Pompidou where they saw the Pompidou's "Kollestkia", and exhibition of contemporary Russian art. While the exhibit was very dark, the designers found a certain magic in it and decided to take the concept and turn it into something bright and positive.
Confidence, soulful and exotic were the words that Panszczyk used to describe the collection. The designers were fueled to create something optimistic in times of uncertainty. When you don't know what could happen tomorrow, at least live your life in your best outfit.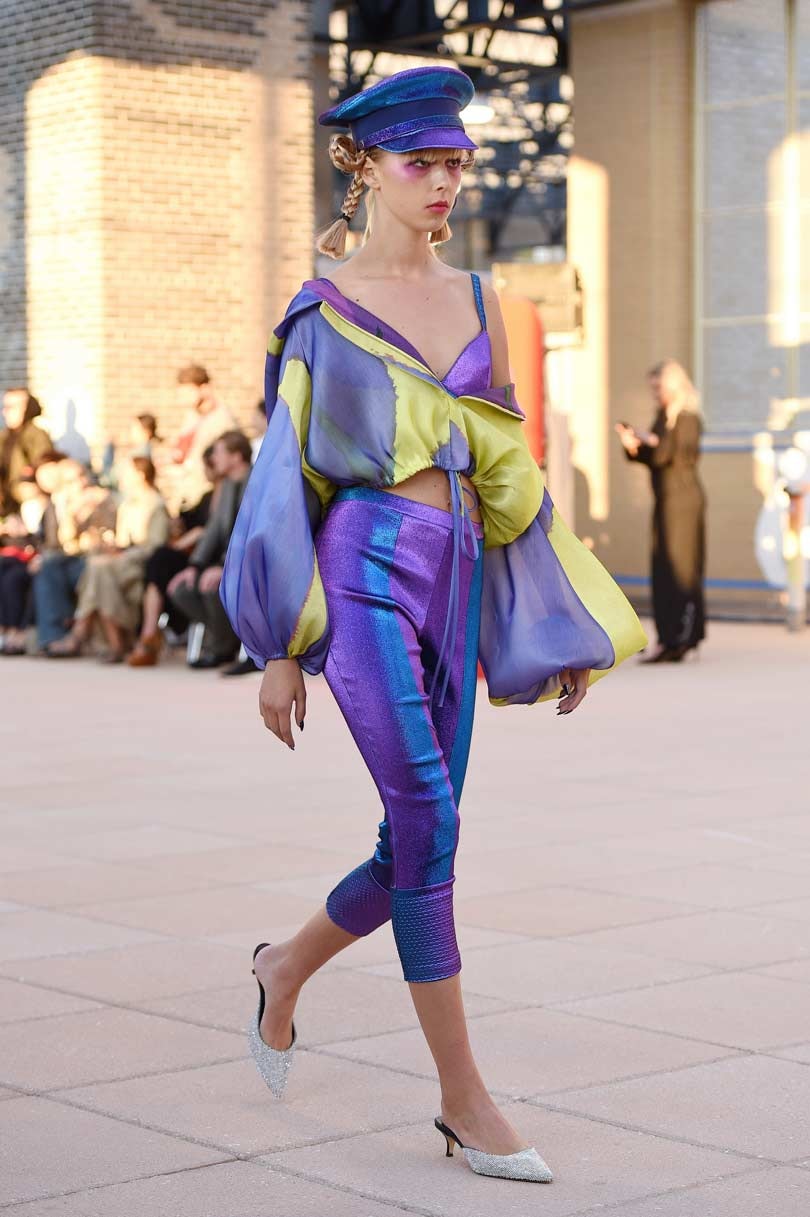 Area went bold and bright for New York Fashion Week
While everything last season was very dark, glossy and red carpet or club ready, this season was all about looking daytime chic. "Sexy got a new face," Panszczyk said. "We started looking at people and just putting different colors on them in our mind, and then everything started to come together and we got this collection that's just so diverse."
The designer's shift towards doing more daywear was driven by one thing above all else: demand. The Area customer was asking for more beyond evening wear, and ask and you shall receive.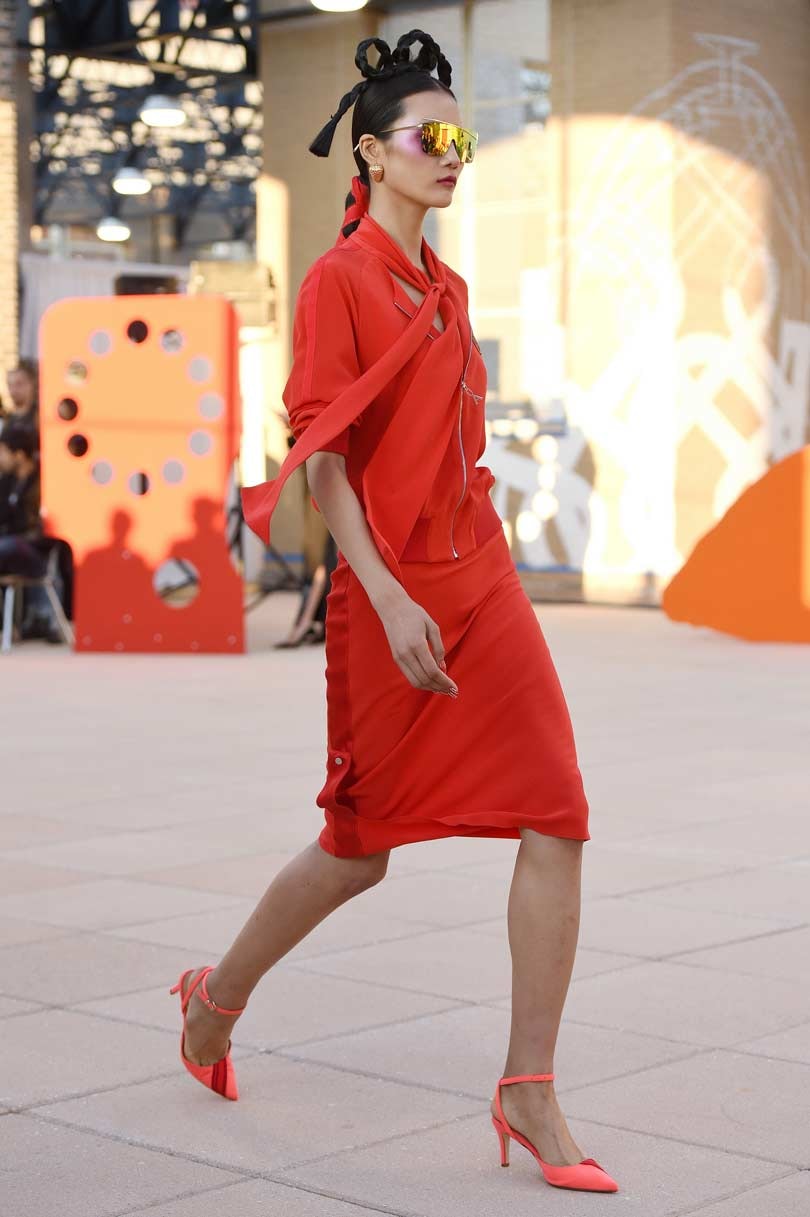 "Our girls have different needs now," Panszczyk said. "Some days she'll want to wear an all black outfit cut along the bias, other days she'll want to wear something in bright strawberry."
"The ideal Area Girl is confident, she's sophisticated and intelligent, and she likes to have fun with what she wears," Fogg said. "Our customer is still the New York girl, but we're starting to get more customers in the Middle East. Knowing who our customer is has helped evolve our design approach."
During their runway show, Area also debuted their collaboration with ill.i Optics debuted a new eyewear style, "The Bassey", combining eyewear and jewelry with additional crystals and earrings hanging from the end of the arm. Models wore custom embellished Teva's backstage and on the runway.

The international Fashion Week season for women's ready-to-wear kicks off in the month of September, with all eyes set on New York, Paris, London and Milan for next seasons latest trends. For all the women's wear catwalk season must reads, click
here
.
Photos: courtesy of Mitchel Sams