As sustainable fashion is a continuous trend in fashion, various local companies maintain strong efforts to maintain sustainably produced clothing. Fashion brand 1x1 recently just launched its newest collection with fabrics sourced from a 145-year-old sustainable ranch in Oregon as a sustainable line. As a company attempting to further the awareness of sustainability in fashion, founder Ashley Denisov told FashionUnited about the label's plans moving forward.
Tell us a little about the mission of 1x1.
1x1 was founded on the principle of slowing production and thinking about why we make the clothing we do. This means selecting some of our favorite wardrobe staples and designing and releasing them — one at a time. Our unique approach lets us focus on what we care about most: taking the time to design and develop the best product possible, hand in hand with local manufacturers. The current price point is between $60-$100 for tops, and between $200-$250 for wool sweaters and bottoms.
What makes the newly launched Soft and Cuddly by 1x1 Collection stand out from other labels?
The Soft & Cuddly Collection was our first release. It's my personal favorite for a few reasons, the main one being that the sweaters are knit from a very high quality wool that is always soft and never itchy or overheating. Plus, it's sustainably harvested from Imperial Stock Ranch in Oregon.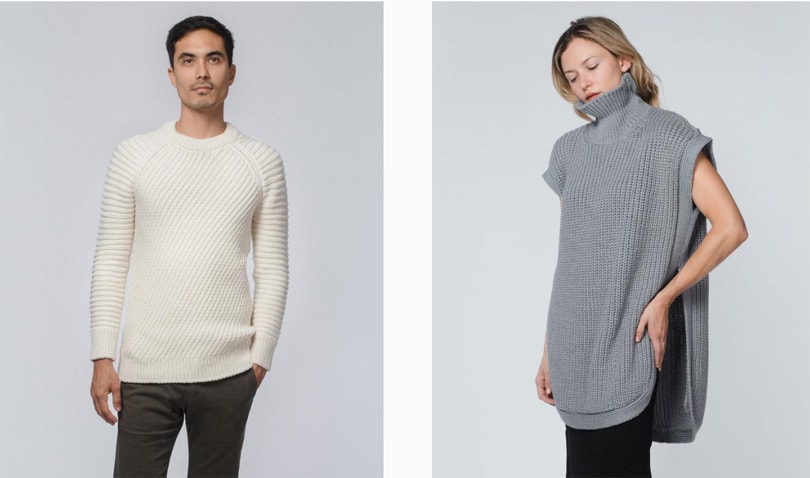 In being sourced sustainably, where is the collection produced and manufactured?
The collection is made from 100% American Merino Wool. It is harvested from sheep at Imperial Stock Ranch in Oregon, and after being processed the wool is shipped to our factory in Commerce, CA. I work personally with the family that runs it, and together we size, fit, and manufacture the sweaters there.
What are some stand out pieces for this particular launch?
The collection offers 2 classic silhouettes: a crewneck and a sleeveless turtleneck sweater. When I designed the crewneck, I wanted to create something more fitted with unique architectural stitching. The sleeveless turtleneck was my answer to wearing a fashionable blanket to work; it's cuddly in the way that only a properly oversized sweater can be.
As being environmentally conscious is a trend in fashion with companies such as Reformation as H&M, what do you think is in store for the future of Los Angeles fashion industry?
While companies are aware that customers are demanding more accountability from brands about what their clothes are made from and the treatment of their workers, there are huge challenges in traditional supply chains that need to be overcome to see bigger strides in sustainability. I believe that the real trick is making sustainability attractive to up-and- coming designers so that there are more brands to choose from. If sustainable fashion is to become the norm in the industry, new designers must insist on it. Otherwise, we won't see the change that must happen to bring in a sustainable future.
What are some ways your label is helping to reduce the overall negative impacts of fashion on the environment?
There are 2 main points we are trying to address to reduce our impacts and make positive change:
1. Manufacture locally: Manufacturing locally helps support the local economy while decreasing our carbon footprint in the shipping of goods worldwide. And all of our collections have been made with either Wool or Tencel, both of which have a first rate reputation in the textile market for their sustainability.
2. Use sustainable materials whenever possible: Tencel is a biodegradable fabric made from Eucalyptus tree pulp. The trees are grown on sustainably run farms certified by the Forest Stewardship Council. Eucalyptus trees grow quickly and require little water—unlike cotton—and no pesticides. As a fiber, wool is a naturally renewable resource, and when sheep are given the space and respect they deserve, it is highly sustainable. Standards for any wool source include: animal welfare, sustainable farming practices, and quality.
Why did you choose Los Angeles to manufacture 1x1?
According to the Bureau of Labor Statistics, Los Angeles is actually the largest manufacturing center in the US. As a California native, Los Angeles seemed the logical choice to reach into my backyard, meet the local manufacturers, and start my company face to face with the experts who have run their factories here for many years.
Do you think Los Angeles is expanding as a fashion hub?
I think that the talent and desire to grow are here, but competition in overseas manufacturing prices continues to be a huge challenge for all US factories. But for small fashion brands, it may be surprising to discover how difficult it is to enter the market of overseas production. High minimum orders, long distance communication and production timing are just a few reasons why this market can be extremely hard to navigate, especially for companies looking to start small and scale. Therefore I think Los Angeles and the community of designers who exist here have great opportunities to start new brands; the ability to visit factories in person can also be invaluable for founders who are learning the ropes and want to be deeply involved in the manufacturing process.
To wrap up, how has 2017 fared well for your brand so far?
2017 has been a year of expansion and brand awareness. We've released new styles, grown in our community and are working towards appearing in colder cities in need of warm cuddly sweaters.
Photo: Ecologique Fashion / 1x1