Spring has sprung a few weeks early, or at least at Chanel, where its SS15 couture season was in full bloom in Paris today.
Showing at the Grand Palais, each season Chanel's creative director Karl Lagerfeld and his set designers transform the space into a work of art of its own. After the Paris massacre on January 7th, the French capital could do with a little lightness and humour, and so the show opened with male gardeners carrying quilted watering cans to "water" the plants.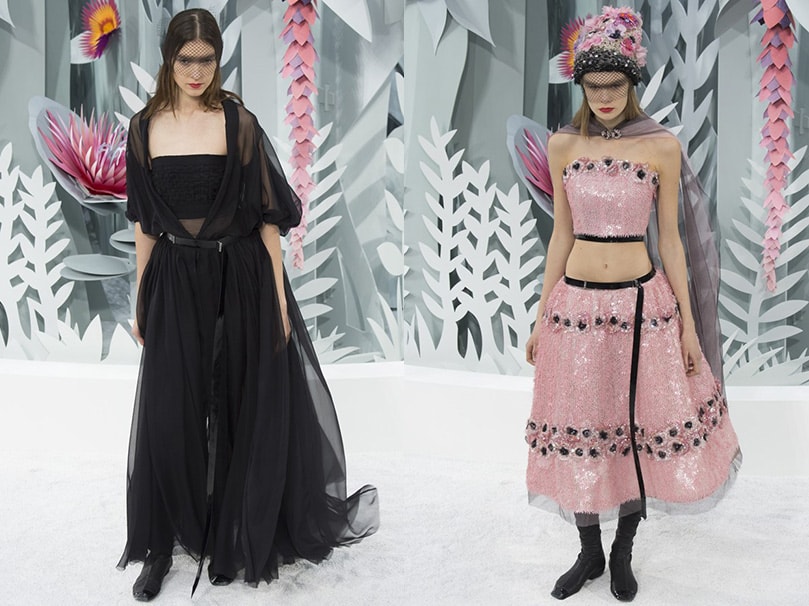 Each look could have been a plant, which then opened up and bloomed into colour in the finale. The Grand Palais was also in bloom, transformed into a giant terrarium with giant white origami tropical flowers, palm trees and banana leaves.
If couture-in-bloom was the theme, there were lady-of-the-manor gardening hats bound with tulle, floral beanie hats, crystal floral encrusted tweed jackets, and suits in the sugary and pastel colours of a tropical bouquet of flowers. But there was a lightness in the clothes, too, with ankle-length chiffon shirts worn open over midi skirts and cropped tops and belted nonchalantly at the waist.
The couture collection is, of course, made by hand, and it is the craftsmanship and painstaking precision and time required to make these garments that make them so valuable and special.
Read more about the show: Midriff 'the new cleavage' in Chanel show