Luxury auctioneer Christie's is selling a large collection of the most desirable, rare, and unusual handbags in the world. On June 11th Christie's London will sell over 240 items at its Handbags & Accessories auction. After the record-breaking sale of a Louis Vuitton Explorer Trunk achieved by Christie's London in December 2018, the auction will also offer a selection of rare trunks from Louis Vuitton and Goyard.
A special tribute to Karl Lagerfeld's Chanel designs will be on auction, as well as a small selection of handbags from luxury labels including Prada, Dior, Gucci, Delvaux, Celine, Saint Laurent, Fendi.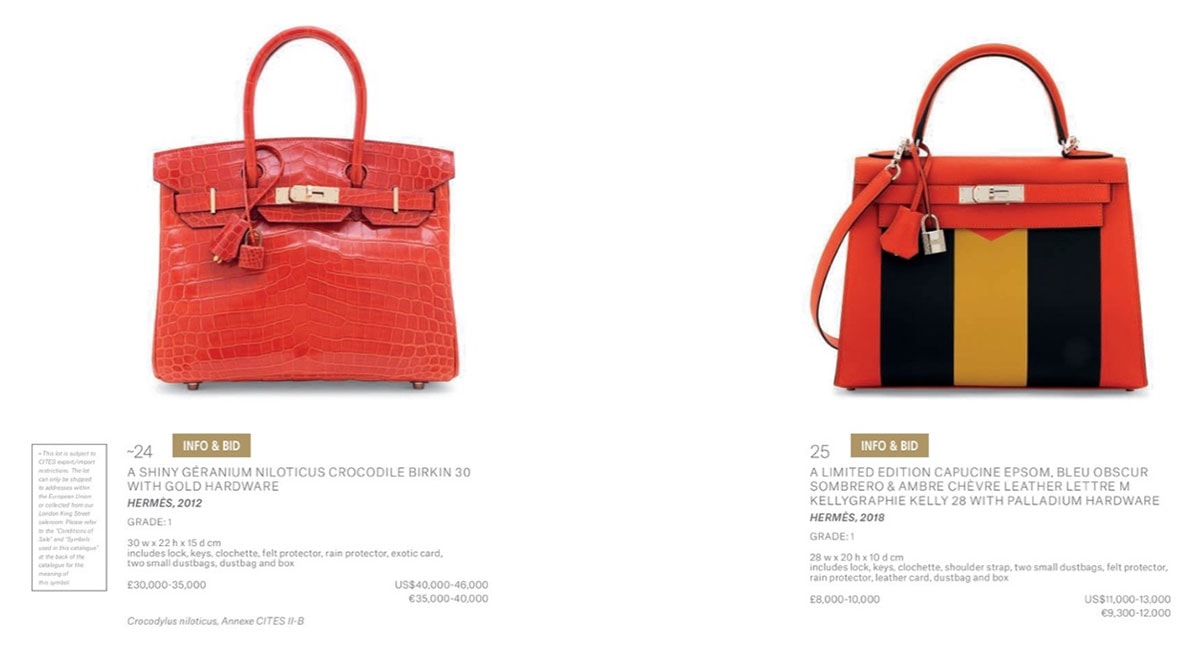 Browsing the catalogue, by far the most interesting selection is that of Hermès. Stand out items include a Kelly bag from 1993 in red alligator, expected to fetch 15,000 pounds, while a crocodile Birkin from 2004 is expected to sell for 20,000 pounds. The most expensive Hermès bag is a 2012 extra large shiny blue marine crocodile Birkin with gold and diamond hardware, valued at 100,000 pounds. The bag has been given a Grade 2 quality listing, meaning the item exhibits no obvious flaws and could be considered nearly new, with only minor condition notes.
One of the cheapest items to be auctioned is a Louis Vuitton classic monogram mini Jelly Bag from 2012 valued between 400 and 600 pounds.
To browse the lots online or place a bid visit www.christies.com.
Photo courtesy of Christie's catalogue.