Los Angeles - For Courtney Allegra, her career isn't slowing down anytime soon. The swimwear designer, who has done fashion shows in both Miami and Los Angeles is branching out into a new venture: retail.
The 19-year-old designer is bringing her eponymous line to a storefront off of Melrose Avenue in Los Angeles. The store, according to WWD, is set to open with a fashion show and opening party on August 25. Her swimwear will be at the new store, emphasizing Allegra's personal style with flirty, fun bikini designs. "I wanted to design swimwear because I couldn't find a line that matched my personality," she said of her Los Angeles line. With an emphasis on cheeky prints, Allegra's pieces range from vibrant, colorful pieces to unique silhouettes and designs. There are stand-out pieces from Allegra's line including halter top bikini pieces that reveal "undercleavage," as well as jurassic and other eclectic print bottoms. Designed with a fun-loving, free-spirited consumer in mind, her designs show off feminine, skimpy silhouettes with an edge and a touch of whimsy.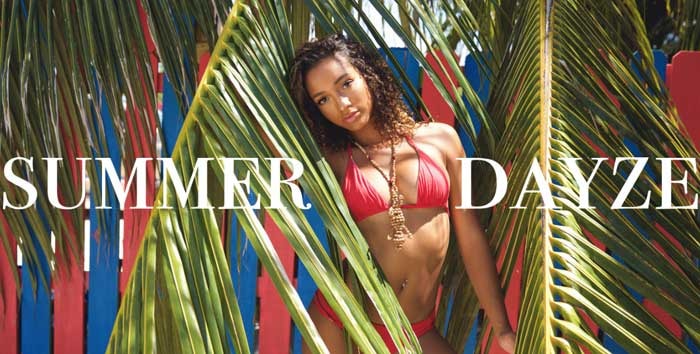 Courtney Allegra moves into retail and opens first flagship
The pieces in her shop will most likely mirror her online shop prices, which currently range from 40 to 120 dollars. The 2,500 square foot store will have an all-white decor, according to WWD. Along with her swimwear line, she will also show off her sportswear designs and retail her merchandise for men and women. In choosing Melrose for her location, it was a personal choice for Allegra, who's grown up in the Southern California area. "I've always wanted my own store and I chose Melrose because it was my favorite spot growing up," she told the publication. As Melrose Avenue is known for its popularity among shoppers and passersby, it makes perfect sense for an up-and-coming designer spot. The new store will officially open its doors to the public later on this month.

As Allegra has continued to design, her line has grown and become notably popular. In recent events, she had amazing success at the Miami Swim Show. Although her most recent show went well, she's no stranger to fashion events and designing. Allegra has been in the fashion game for years, starting with various shows on both coasts. In the past, she has done Miami Swim Week three times and has participated in Los Angeles Fashion week four times. Starting out in sportswear and modern contemporary design, Allegra turned to swimwear design due to her own personal interest and passion. The Los Angeles brick-and-mortar shop, which will sell both, is her first step into retail. For the future, only time will tell what's up next for Courtney Allegra.
Photos: Courtney Allegra