Danielle Wightman-Stone

|
Footwear brand Crocs, known for its rubber clogs, has launched its first global integrated marketing campaign #FindYourFun as it looks to encourage its consumers to post pictures featuring their Crocs.
The campaign will run in the UK, US, Germany, Japan, China and South Korea and features "whimsical and inspiring" of the Crocs clog in some of the world's most recognisable landmarks and destinations, including Piccadilly Circus in London, Times Square in New York, Las Vegas, Shibuya Crossing in Tokyo, as well as Shanghai, Seoul, Hamburg, Berlin and what appears to be a desert island.
The aim of the campaign, which marks Crocs largest marketing investment in the brand's 12-year history, is to evoke feelings of "fun and comfort" for the Crocs brand, and it is hoped that its footwear fans will take to social media to share images of their Crocs while using the #FindYourFun hashtag.
#FindYourFun isn't just a social media campaign, the adverts will also be showcased online, out-of-home, experiential, as well as via a television advert that will launch in May. The campaign is set to run throughout 2015.
Crocs makes largest marketing investment in #FindYourFun campaign
"At its core, the Crocs brand has always been about fun," explains Terence Reilly, vice president of global marketing for Crocs. "Consumers around the world are going to be seeing a lot of us, and this campaign is designed to engage them in ways that celebrate our iconic clog and the unique fun-loving nature of the Crocs brand, while also highlighting our broad portfolio of other colourful and comfortable styles."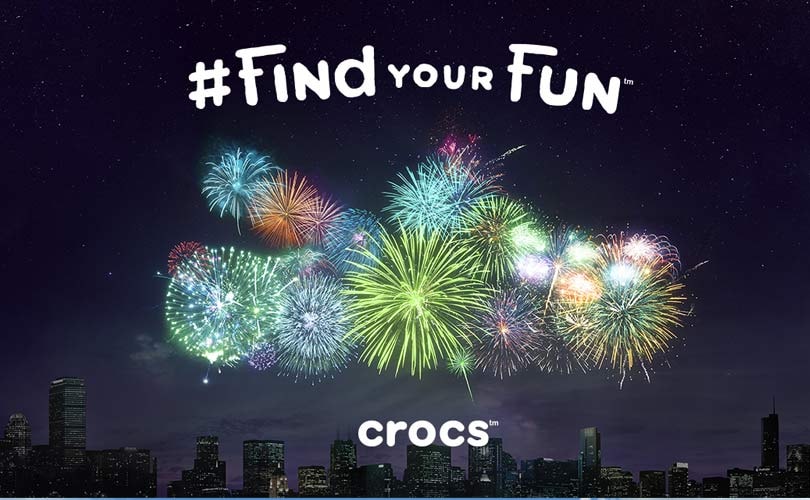 Peter Nicholson, executive creative director of McKinney, which created the campaign, added: "#FindYourFun is more than an ad campaign. It's a crusade to encourage people to find the fun in everything they do."
Since its inception in 2002, Crocs has sold more than 300 million pairs of shoes in more than 90 countries around the world. Last year alone it sold nearly 30 million pairs of its classic clog, which accounted for 45 percent of its 1.2 billion dollar annual sales. But its soft, comfortable, lightweight and colourful shoes still has a polarising effect on consumers – they either love it or hate the style, it is hoped that this campaign will raise its popularity.
Images: Crocs