The Cambridge English dictionary describes the word disruptor as "a person or thing that prevents something, especially a system , process, or event, from continuing as usual or as expected." But last week there appeared to be evidence that our disruptors are being disrupted. A controversial piece quoting unnamed sources––buyers, store managers and other merchants––claiming the Vetements brand was "over" and stores were experiencing decreased sell-through was published on HighSnobiety.com, an established streetwear blog and media agency. The story gathered steam when the brothers Gvasalia came out swinging, railing on Instagram and in WWD against "wannabe journalism based on lies and gossip" and asserting that their brand was stronger than ever. Thou doth protest too much, said the social media peanut gallery. A parade of high profile retailers from Harrods to Saks to MyTheresa then stepped forward to verify that Vetements collections continued to perform well, that the brand mattered to customers and they foresaw no alterations to store buys.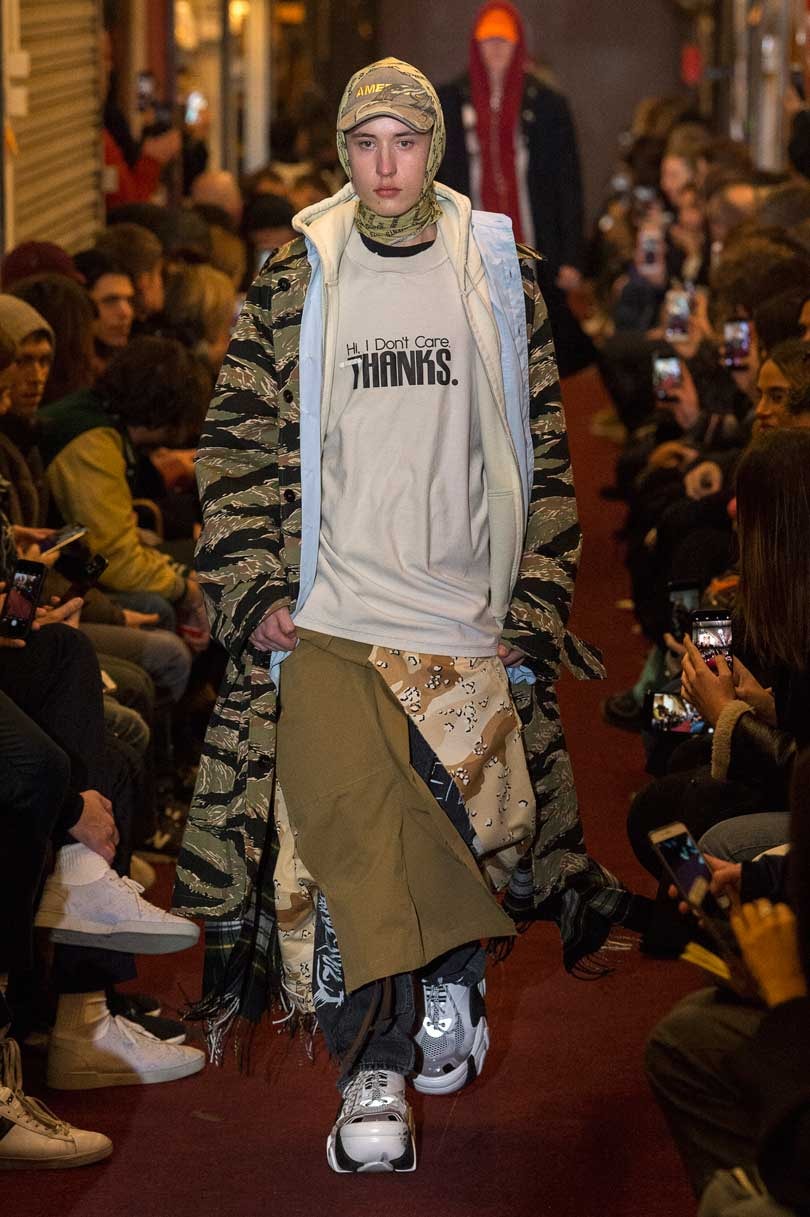 Online mobs and runway copycats
Was it all merely an online media conspiracy to attempt to discredit the highly influential brand or rumblings of grass roots fatigue of arguably the most buzzed-about label of recent times? Was the malaise possibly exacerbated by the announcement the week before that Virgil Abloh of Off-White was to be installed as artistic director of menswear at Louis Vuitton? Accusations of copying and lack of originality have plagued both Gvasalia and Abloh since their emergence (they make no secret of their appreciation for Martin Margiela and Helmut Lang) and both have responded by saying that appropriation and referencing other designers fuels fashion. Abloh's custom of placing all text, whether on hoodies or on his website, inside inverted commas suggests he's not even pretending his message is new.
Familiarity breeds contempt?
Raf Simons, whose own brand also surely features on the inspiration boards of the two aforementioned designers, discussed the overly familiar aspect of their work in a GQ interview over a year ago: "If it comes to somebody like Demna, I think he knows what he is. What I liked about it is almost what everybody hates about it now. That it was going back to something that I like: Martin Margiela and myself. You know, to have the guts to go so direct. Because it's what people like. People like Martin. They love Martin. And people like youth and that rebellion feel. And all these things are what he brought." Simons is nothing if not ahead of the curve, and with grunge, minimalism, and Antwerpian deconstruction still all over international runways, has our last nerve now been stretched too thin to sustain any more knockoff 90s? Simons delivered his opinion on Virgil Abloh in the same interview: "He's a sweet guy. I like him a lot actually. But I'm inspired by people who bring something that I think has not been seen, that is original."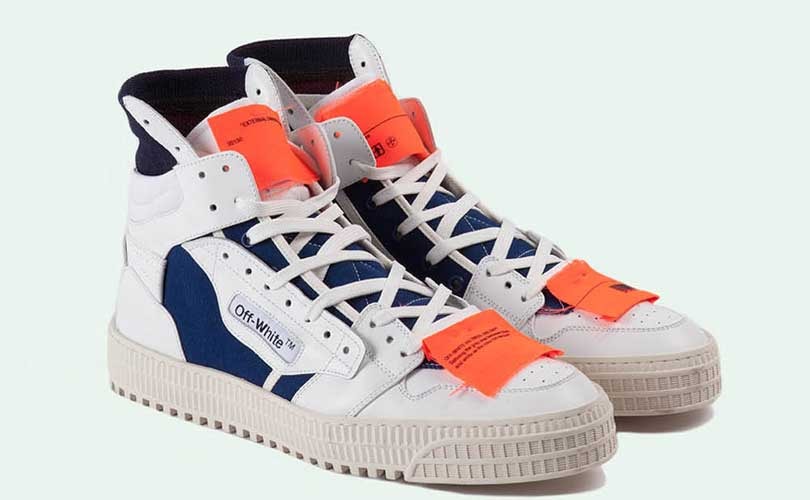 Streetwear's rise
Abloh who is associated with galvanizing the current luxury streetwear trend, has also provoked ire among true streetwear aficionados who take exception to the conceit that it took someone who happened to be best friends with Kanye West to "put streetwear on the map" as it is commonly written. And what about all those Off-White fans who've bought into every collaboration Abloh's been involved with, on products which have consistently leaned towards a more accessible price point than Louis Vuitton's, from Kith to Ikea to the best-selling Nike sneakers? Does the invitation to step inside LVMH's elite fold kill his allure, credibility being one's stock in trade among sneakerheads and hypebeasts?
Demna Gvasalia worked for three years at Maison Margiela upon graduation from Antwerp's Royal Academy of Art, before moving to Louis Vuitton for two years, at the end of which he was inspired to create Vetements. The brand's momentum was immediate, becoming synonymous with raw, tongue-in-cheek provocation and soaring price points. Virgil Abloh is more of a true outsider in that his training is in engineering and architecture, and he has never worked inside a design house before. But this pair of disruptors, sons of immigrants, who stormed the scene less than five years ago in their mid-30s as relatively unknown edgy upstarts at the center of small cliques of sundry stylists, djs, and social media influencers––and Kanye–– drowning in oversized hoodies and dealing in irony and subversion, did indeed prevent Paris and NYC fashion weeks from continuing as usual or as expected.
Disrupting fashion's status quo
"Neither of us subscribes to a certain fauxness that is status quo in the fashion world," Abloh told W in an interview, about himself and Gvasalia. So why the backlash? Other designers have been plucked from relative obscurity, even penury, to be placed in luxury houses without being subjected to online mobs hurling their dissatisfaction. Couldn't Abloh's new gig be compared to Alexander McQueen entering the storied Givenchy? It's hard to dismiss McQueen's tailoring apprenticeship from Savile Row, taken before beginning his fashion degree from Central St Martins. Galliano resorted to sleeping under the cutting room table in order to fund his own line, despite having had his graduate collection bought by top London boutique, Browns, so when he was hired at Givenchy and subsequently Dior, there was perhaps some unspoken rationalization that he had paid his dues. When Alessandro Michele was named creative director of Gucci in 2015, he'd already been working within the company for thirteen years, as well as at Fendi and Les Copains before that, so his ascension into the big job was somewhat organic. And the aforementioned Simons ran his own business for a decade before entering Jil Sander, the first of the many companies he is credited with revitalizing.
Gvasalia and Abloh are in a different category than their predecessors, most especially those for whom they hold so much admiration. Hashtags, Likes and a non-committal cross-genre approach to creativity are the currency of those working in an industry today vastly different from even five years ago. But like a mist on a sped-up dawn, is the hype already lifting? Online it's easy to find arguments that they are but one-trick-ponies, passable mimics that had us smirking along in the era of fake news but who now make us slightly embarrassed that we fell for it? Are we ready to reject unchecked disruption, and request instead a system repair which might usher in a new era of originality? Instead of disruptors whose modus operandi is to deactivate, celebrate glitches, press repeat and design in air quotes, is it time to look for activators, for skilled operators who understand codes but can build on existing systems to make unapologetically resonant statements?
Fashion editor Jackie Mallon is an educator and author of Silk for the Feed Dogs, a novel set in the international fashion industry.
Images from CatwalkPictures.com and Off-White.com