Flamboyant showman Jean Paul Gaultier showed he still knows how to party Wednesday with a fashion collection celebrating one of the French capital's mythic hang outs.
The 63-year-old designer's latest haute collection burst onto the catwalk with models sashaying through a replica of the swinging doors of Le Palace, the long defunct club that once gathered artists, musicians and the intelligentsia.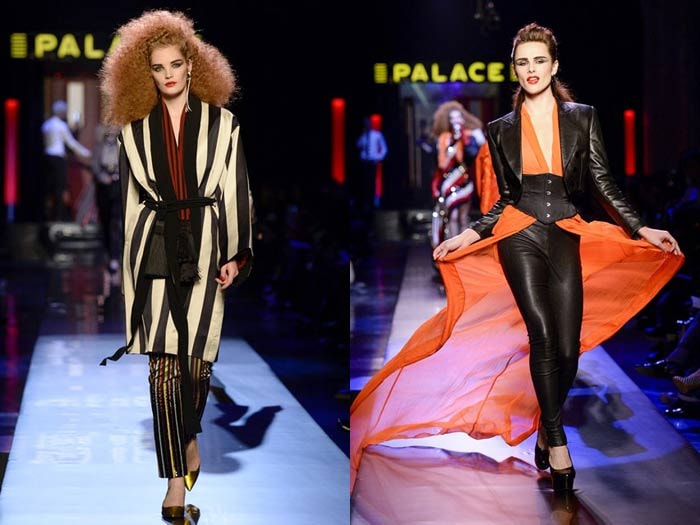 Big hair, skinny ties, swish, glamorous pyjamas and bell hop hats all conjured up the feel of the hotspot's late 1970s to early-1980s lifespan. But the show didn't just wallow in nostalgia for a lost era of hedonism, it was also in memory of one of the club's late doyennes.
"It's an hommage to Edwige Belmore, the queen of the French punks and also Le Palace's bouncer from 1978-79 and 1983-84," Gaultier told reporters after the Paris Fashion Week show.
Belmore died last year aged 58 after a life in which she had been model, muse and friend to the stars from Gaultier and Bianca Jagger to Andy Warhol and Yves Saint Laurent.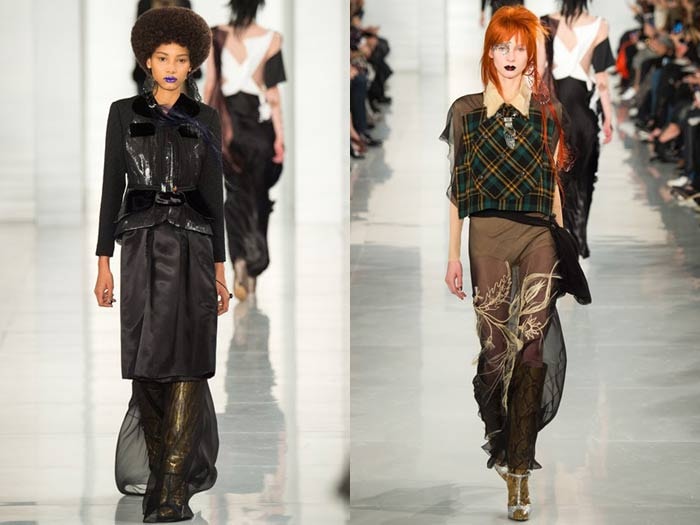 "Edwige was an androgynous woman who could be masculine because of her height and tattoos," the designer said. "But at the same time she was very feminine in black trousers, a Chanel jacket -- it was a fake -- with a bra beneath it," he added.
In the wake of the terror attacks that ravaged Paris in 2015, Gaultier also offered a reminder of the need to go on living. "Paris is still a party," he said. "You have to go out, you must not stay stuck at home. That's the worst thing to do."
Margiela's 'exquisite collage'
Maison Margiela creative force John Galliano gave full rein to his famously over-the-top imagination in a collection that was a tale of two dresses. One was short, white and sober. The other was a blaze of blue striped bankers' shirts that had been shredded, though the odd intact sleeve dangled here and there.
In a collection described by the house as "an exquisite collage", colours sprinted from solid black and brown to orange and red, with printed patterns, plaid, beading and crushed metallic looks.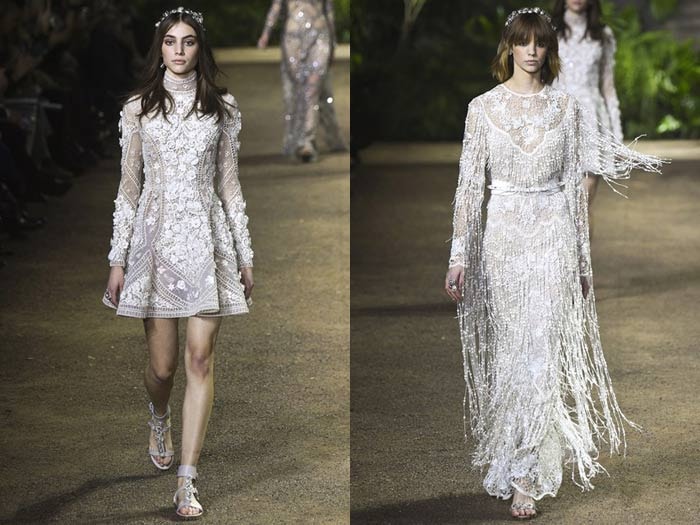 Make-up evoking a lightning-bolt shape and spikey hair paid homage to David Bowie. The British designer, who did not take a bow after the show, made his comeback last year in London more than four years after being fired by Dior for drunken anti-Semitic comments at a Paris bar.
Rumble in the jungle
Over a soundtrack of rumbling drums and a howling beast, models at the Elie Saab show emerged from a patch of Indian jungle, complete with giant waxy leaves dangling from towering foliage.
Saab's collection of sparkly, floor-length dresses looked fit for a princess with the Lebanese designer's flowing looks showing off plenty of flesh. Footwear was not exempt from the flashy theme either, with several models sporting silver thick-soled boots. (Joshua Melvin, AFP)