Stacey Wood always knew that she wanted to launch her own brand. However, rather than searching for inspiration within the world of fashion, Wood chose to turn a more personal source instead, namely her own family history. The stories of her grandmother; Joan Marion King; and her​ ​father; Graham Aubrey Tuckfield, became the cornerstones of her premium denim-drivenbrand: King & Tuckfield. Offering timeless classics with a contemporary twist, the new label has managed to carve out a name for itself within three seasons, thanks in party to its 'Made in the UK' denim and quality driven designs. On the launch of King & Tuckfield's first pop-up store at the Pelican Studio, in Amsterdam, I go to meet with the founder and creative director of the brand.
"I always knew that I wanted to have my own brand. But I wanted to make sure I didn't just go for it after university. I wanted to make sure that I had all the back knowledge I needed to succeed," explains Stacey Wood over coffee. Wearing the brand's high-waisted Briony jeans with a white cross back top, it quickly becomes evident that she has her hand in all aspects of the brand. From the small personal details, such as her signature in the front right pocket all of King & Tuckfield's jeans, to the colour palette for the brand's Autumn/Winter '17 collection and the pop-up store layout, her touch is visible. Of course, her expert eye also comes from years of experience working in the fashion industry.
"I always knew that I wanted to have my own brand"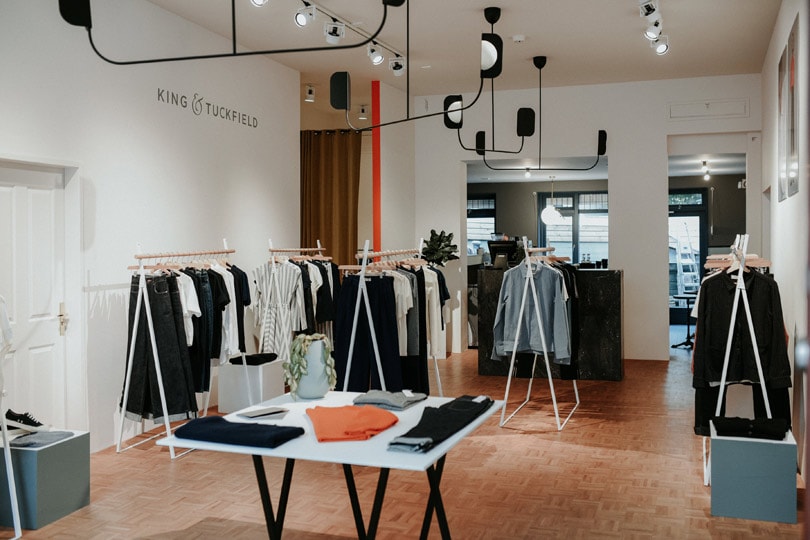 Wood has worked in the industry for over a decade, helping launch numerous brands in the UK including Maison Scotch, Samsoe & Samsoe and Replay Jeans, learning the ins and out of the business. However, after a while, she felt it was time to strike out on her own and create her own brand. "The older I grew the more in touch with my own history I wanted to get," she continues. "My father died when I was really young, so I wanted to learn more about my family. And the more I found out about him, the more I learned about my grandmother - and the more intrigued I became, so I decided to launch a brand about the two of them." Her grandmother was a ballet dancer in 1940s, following the Second World War. Her love of dance was so strong that she ended up passing it onto her daughters and granddaughters, although Wood jokes that she is only one among her sisters who is not into dancing.
"I have no rhythm," she says with a laugh. "I was more of a tomboy and into doing other things, like running, when I growing up than dancing." Nevertheless, the connection Wood's feels to her grandmother is strong, as she is the main influence behind the brand's women's wear line, named King after her. "We have linked a lot of the design elements in the collection to her love of ballet," adds Wood. "We have items like our wrap neck knit top, which is inspired by her ballet outfits, and we use a pink ribbon in our selvedge denim as opposed to red. We have wrap dresses as well, so we reference a lot to what she would have worn, but then add a contemporary twist."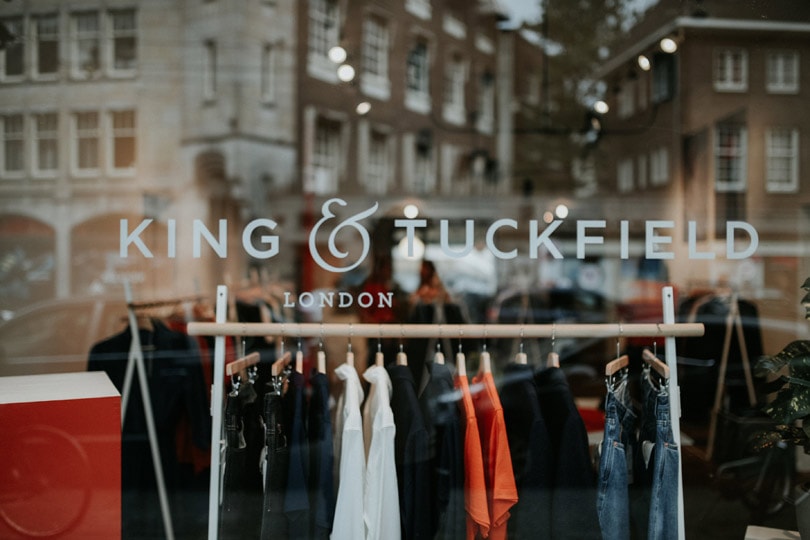 Stacey Wood weaves family history into King & Tuckfield's collections
Her father, who was older than her mother she adds, was also a trained ballet dancer from a young age. After serving in the war, first working in the mines in Yorkshire and then swapping identities with his cousin to become a paratrooper, he met Woods mother when he was working as a tailor and decided to return to dance, explains Woods. Tuckfield is the inspiration behind the menswear collection and the intricate details of his life can be seen in the garments, such Wood's decision to use Merino wool for their t-shirts instead of cotton. "We use selvedge denim in our menswear collection because the men during the war would have needed something rigid and tough to wear when working down in the mines. We also use 100 percent merino wool in all our t-shirts because wool was worn under the army uniforms."
But it's not just her grandmother and father who inspire King & Tuckfield, as Wood's reveals to me as she also looks to her entire family history for inspiration. She pulls out her iPhone to show me two old family photographs on the brand's Instagram account she found, which became the point of reference for the brand's AW17 collection. The colour palette for the collection, bright oranges, deep indigos and pale blues, stems from the images, as well as some of the new fabrics and designs. However, some of the brand's key pieces, such as the high waisted trousers, straight-leg selvedge denim, and merino wool t-shirts, are featured each season. "But then we always try to change things up with new items, like this boxy jacket," counters Wood's, as following the latest trend is not what King & Tuckfield is about.
Wood's old family photos
"It is really important to us to keep that sense of continuity - we don't want to be different season to season, so people can understand what we are about. We try to keep a contemporary twist on the collection, but we do not want to follow trends, we are not trend driven," she explains, adding that this is also helped set King & Tuckfield apart from its competitors. "I have seen so many businesses and worked for so many businesses that have tried to keep up with trends and it causes them to change and divert from who they are as a brand. For me, it is important to stick to our story. I made this brand for a reason and I will not divert from that." Launching her own brand was a lifelong ambition of Wood's and it's clear that her own history is a vital part of it.
Her family's own ties to the UK made it a no-brainer decision for Wood's when it came to choosing where to produce her denim products. King & Tuckfield jeans are made in London, as local production remains key to the creative director. "It's really important to me to make as much as I can in the UK, to help bring manufacturing back to the UK and grow the brand slowly and organically," she says. King & Tuckfield jeans are made in East London at the Black Horse Lane Atelier, which is an important area to Wood's and her family. "Where I live in East London, and where our studio is in East London and my factory is in East London, is where my grandmother grew up as well." But it's not just the brand's designs that are influenced by Wood's family history, King & Tuckfield brand's values are also closely linked to Wood's past.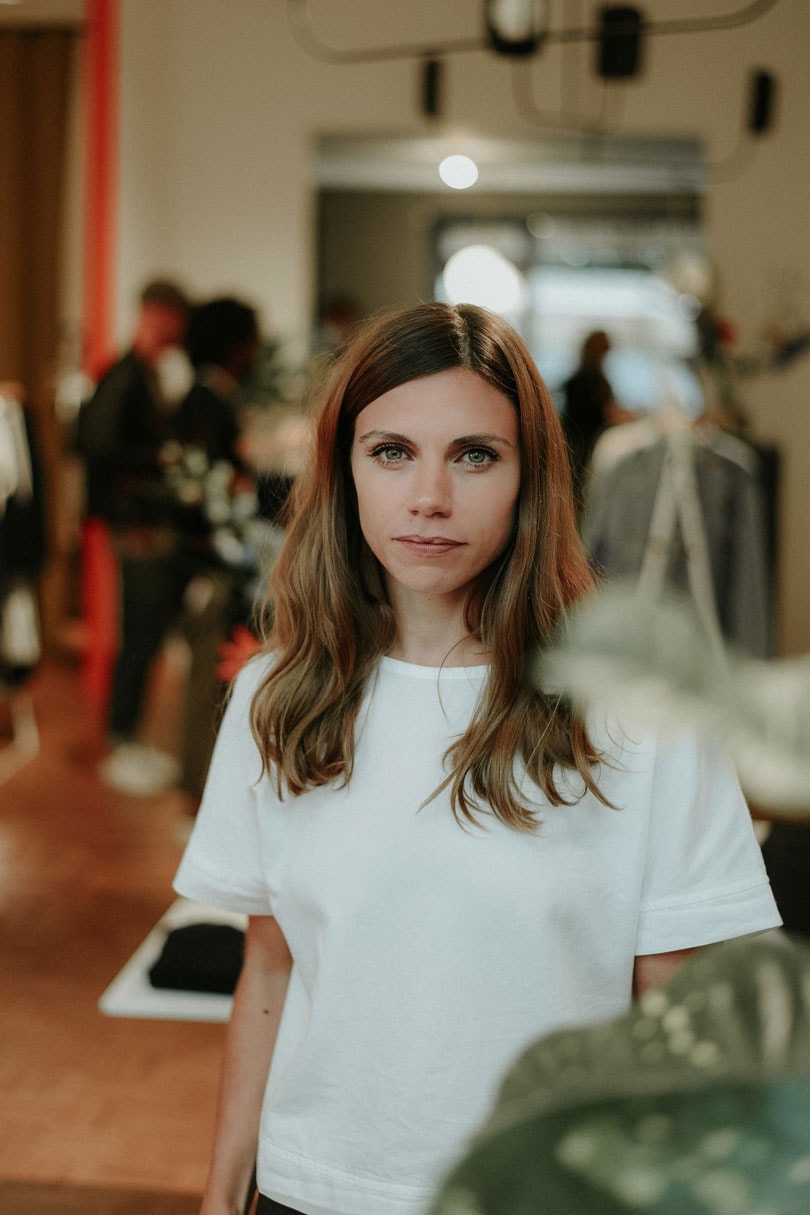 "We want our customers to be able to look at the back of a pair of our jeans and be able to say that is made by King & Tuckfield"
For example, inside of each pair of denim jeans is King's or Tuckfield's signature, in their own handwriting, alongside of Wood's own signature and date as the final quality check. This is for two reasons. One, to link customers back to the history of the brand and two, to encourage them to make the jeans their own explains Wood's. "For our jeans it's really important that people can create their own history with them. Every time you wear a pair of our jeans you create your own identity, your own denim history, and we want is for people to realise this and embrace it," she stresses. "We want people to sign and date the jeans themselves and then give them back to us when they are ready to buy a new pair - that way every pair of jeans will create its own history. Then we can reuse them and in a hundred years time hopefully each pair of jeans will have been dated a few times."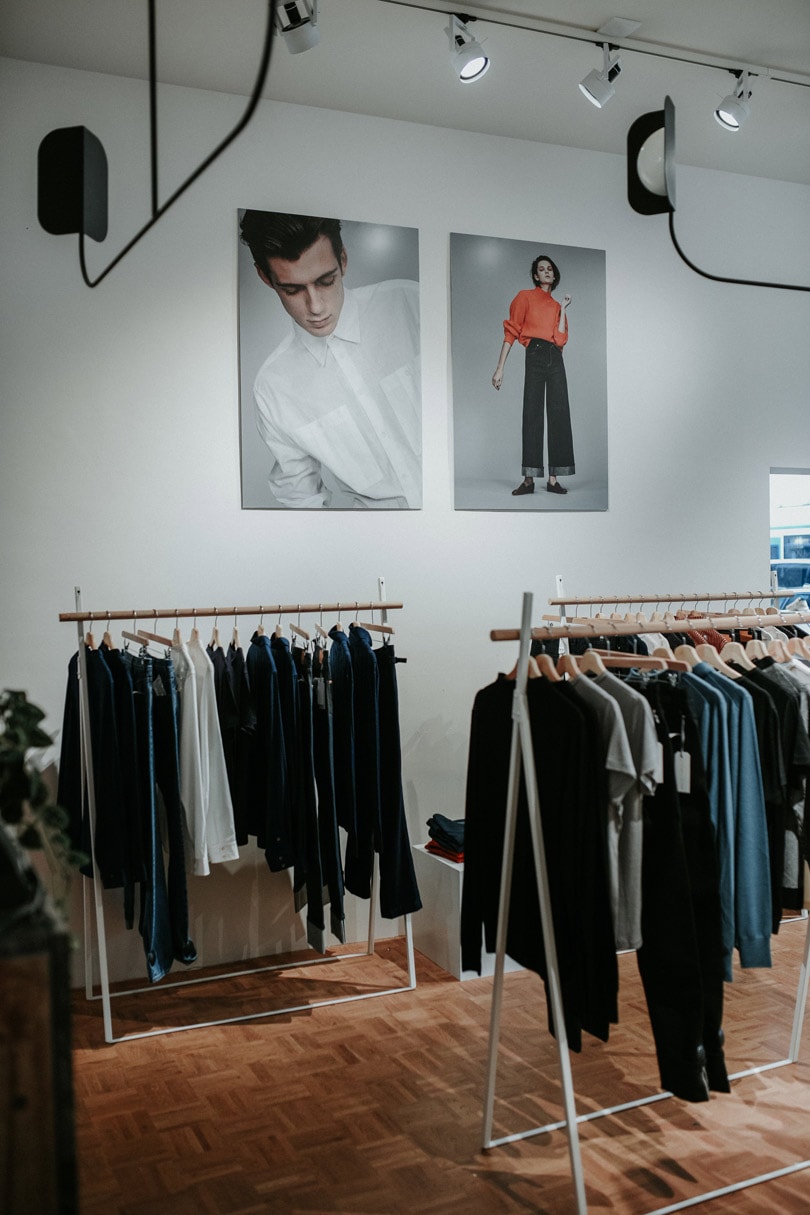 This sense of creating history is reflected in all the small, personal touches featured in King & Tuckfield's products, such as the copy of the postcard, tucked into every back pocket of King's denim jeans, written from Wood's great grandfather to her great grandmother over a 100 years ago to the date that King & Tucked launched its wholesale. Or the white handkerchief bearing the brand's initials placed into the rear pocket of the menswear jeans in honour of Wood's father, who used to always carry his own white hankie. "We want our customers to be able to look at the back of a pair of our jeans and be able to say that is made by King & Tuckfield."
"It is really important that everything we offer is made from the best quality material"
This is also why Wood's prides herself on using the best quality fabrics for her collections as well, to ensure each garment created lasts as long as possible. "It is really important that everything we offer is made from the best quality material possible. We fly in our denim in from Japan, pay high import duty and then make them in the UK." Wood and her design team visit the factories they work with themselves to ensure the denim fabric is made the way they want. She also sources their merino wool from the best farms, following the wool's journey from the farm through to a manufacturing and finished product. "My business partner has been out to the farms we source from to make sure that they are following all the protocols, we think that is so important! Everyone we work with has been visited, everyone has been audited and we know exactly where everything is coming from," Wood exclaims, and her passion for product quality shines through as she lets me feel the softness of their merino wool t-shirts.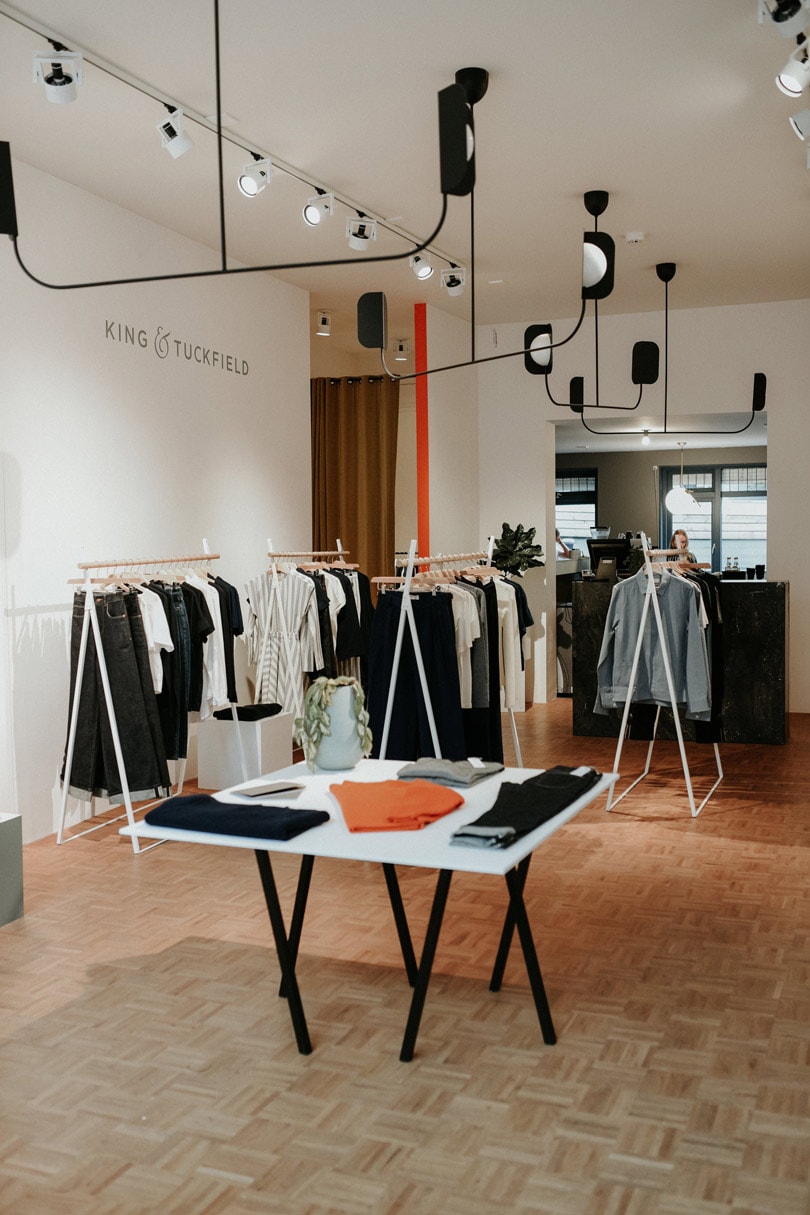 "Most people worry that merino is going to itch or scratch, but our merino is not at all like that. It does not itch at all and is machine washable. We use the finest gauge knitwear that you can buy." Wood attributes part of the brand increasing success to its laser-focus on quality, which has helped King & Tuckfield gain widespread recognition in the UK and abroad. "If you look through our collection you can really see the difference in the makeup of our products. We are really focused on making sure our quality is the best. The bigger a brand gets, the harder it can be to make sure the quality is the top notch, but we work hard to ensure the quality is always the same." Producing their denim in the UK is one way Wood protects the quality of King & Tuckfield's products, although she is aware that this can make production bit more demanding at times.
King & Tuckfield opens first pop-up store in Amsterdam
"Production is always a bit of a challenge for us, because factories are always expecting you to place bigger orders the more seasons you work with them and the more you achieve," she notes, before adding hastily: "Generally building a business is a challenge, but it is always nice to overcome it all and be recognised in the market. Especially in the UK and abroad, as this our first launch out of the UK. We are happy we have become a recognized brand in such a short period of time." She adds that she feels very lucky that the founders of Pelican Studio, Theodoor Kuster, and Jelle Lispet, wanted to share their store space with King & Tuckfield. "It's a great space, a great store, the guys really know what they are talking about, they have a great eye. And for a brand that is just dropping the third season, debuting our first season in Holland here is amazing."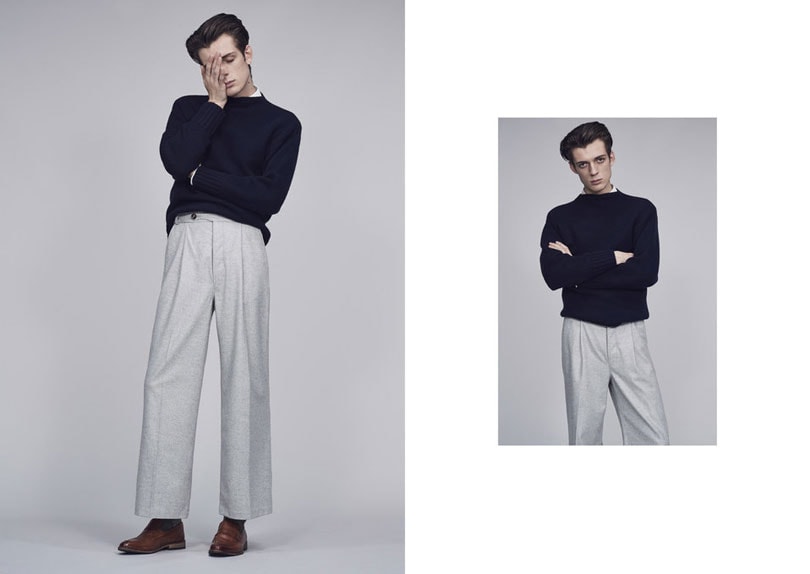 When asked why she decided to open King & Tuckfield first pop-up store outside of London in Amsterdam, rather than Berlin or Paris, Wood's has a simple response. "When I used to launch brands, I liked launching in the areas that are close to home, as opposed to launching in areas far away. So for my own brand, I wanted to launch in my immediate area." Although the brand has a number of loyal followers in Germany, Amsterdam felt like a better fit for the brand due to its strong link to denim. "Amsterdam is really key for any denim brand. The [city's] aesthetic fits the brand really well as well. I think we have similar tastes as well." Since our interview first began and we have been sitting at the back of the Pelican Studio, several shoppers have wandered in and out of the store, with one or two going into the fitting rooms to try on some pieces. Even though the pop-up shop has only been open for a few days - it is set to run from September 6 for five months - I can't help but ask her thoughts on the store and how shoppers have responded to King & Tuckfield and
"I do not want to be in every store, I do not want to be everywhere"
"It's been quite interesting being in the store today and watching people come in. So far the consumer reaction in Amsterdam has been good," replies Wood's casually. "We sold a few pieces of the collection already, including a pair of jeans to a guy who then came back the next day to buy exactly the same pair again in the same size, which is amazing. Because we are a UK based brand and our denim is made in the UK, I think that it really helps set us apart from other brands." Back in the UK, King & Tuckfield store sell-out rates have been very good in their stores they are in, she happily adds. "We are one of the best performing brands, outselling a number of our competitors."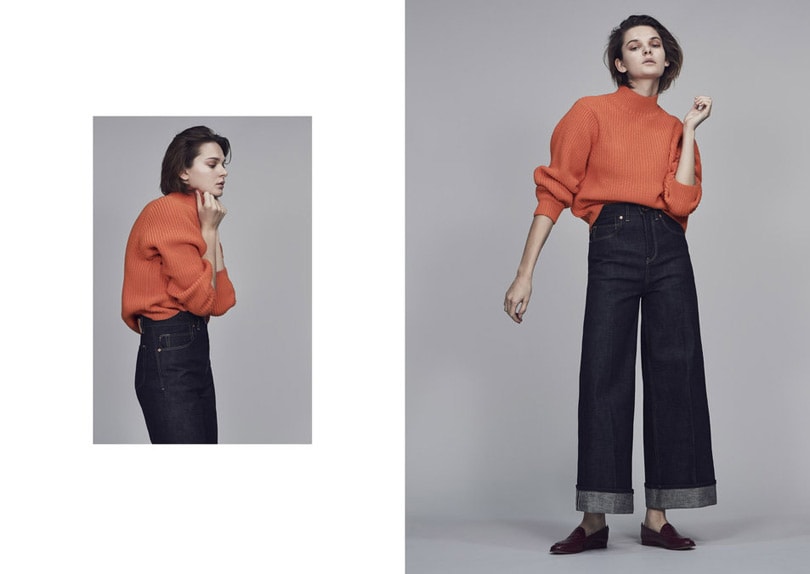 At the moment it is still early days for the young brand, but Wood's is positive about King & Tuckfield's future, although she remains wary about growing too fast. As founder of King & Tuckfield, she aims to focus on striking the right balance between wholesale and e-commerce, aiming to work with one main department store in each country the brand is present in, as well as a number of leading independent retailers. "For me, it's about structuring the business to make sure that the brand is not seen everywhere, but that is seen in the right places. I do not want to be in every store, I do not want to be everywhere. I want it to be a really natural process for everybody. And I'm making sure I am not being pressured to grow too fast, I'm sticking to my guns." Judging by the industry's response, as well as King & Tuckfield's growing number of loyal fans, Wood's is playing her cards right and is right at home here in the Pelican Studio.
Photos: King & Tuckfield, AW 17 lookbook and Amsterdam Pop-up