Kisuii and Nannacay took it all the way South to Miami Beach for Swim Week to debut their new capsule collection for resort 2019. Founded in 2016, Kisuii is a luxury swim and resort wear brand specializing in pieces infused with ready-to-wear elements for jet setting customers. For resort 2019 Leora Elituv, founder of Kisuii, teamed up with Nannacay founder and designer, Marcia Kemp for a capsule collection.
Both Elituv and Kemp are known for practically being nomads always traveling around the globe. The collaboration was perfect for the two of them, since they share the same brand ethos of using fashion to empower women.
The inspiration for the collaboration was the art of the escape, and the pure bliss of sun and the sand. Both designers sought to create an ode to the female voyager; strong, independent yet playful and feminine. Kisuii's custom prints were a nod to vintage sixties Hawaiian motifs, reimagined for the modern woman using the brand's signature smocking details. The other details of the collection were also very sixties with cotton silks mixed with lace, embroidered eyelet, kaftans and a light, carefree flowing fit to the dresses.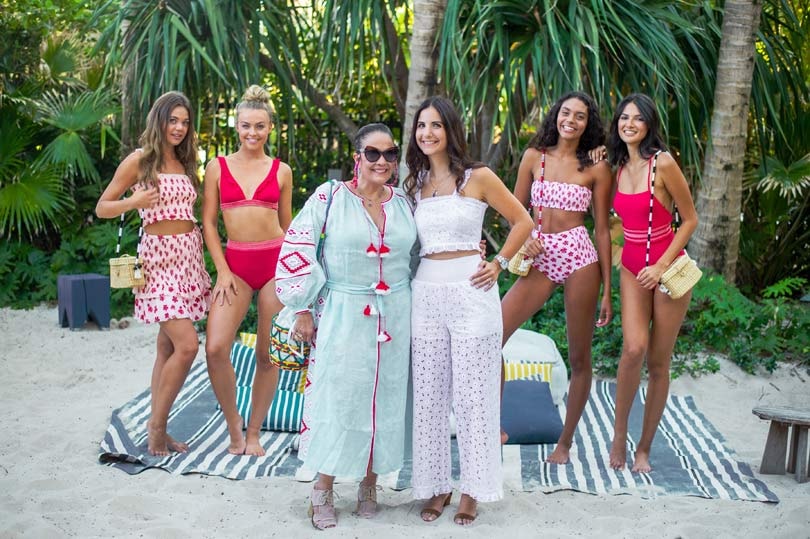 Handwoven bags in collaboration with Nannacay are a signature part of the collection. The capsule contains 8 swim styles that emulate the same wrap and stitch details of the Nannacay x Kisuii Rogue bag straps. There are 2 bags within the collection – one that coincides with the color palette of the swim capsule and another in black and white.

"Collaborating with Nannacay was a no-brainer to me. We overlap so much aesthetically and we're both women brands that are passionate about female empowerment, fashion and travel," Elituv said in a statement.

"We're so happy to have found in Kisuii a partner that shares the same ethos as us and to be able to collaborate on a capsule that combines both our passions so effortlessly is truly special to me," added Kemp.

The collection will roll out at retail October 2019. Price points have yet to be determined.

photos: Madison McGaw/BFA