Danielle Wightman-Stone

|
London Fashion Week is renowned for presenting great emerging talent and this season Irish-born, London-educated Katie Ann McGuigan became the hottest new talent to watch following her impressive debut as Fashion Scout's Merit Award winner.
A graduate from the University of Westminster, Katie Ann McGuigan gained experience interning at McQ, Jonathan Saunders, and Giles Deacon in London as well as at Marc Jacobs in New York, where she honed her attention to detail and technical knowledge, which comes across in her bold silhouettes and print heavy designs.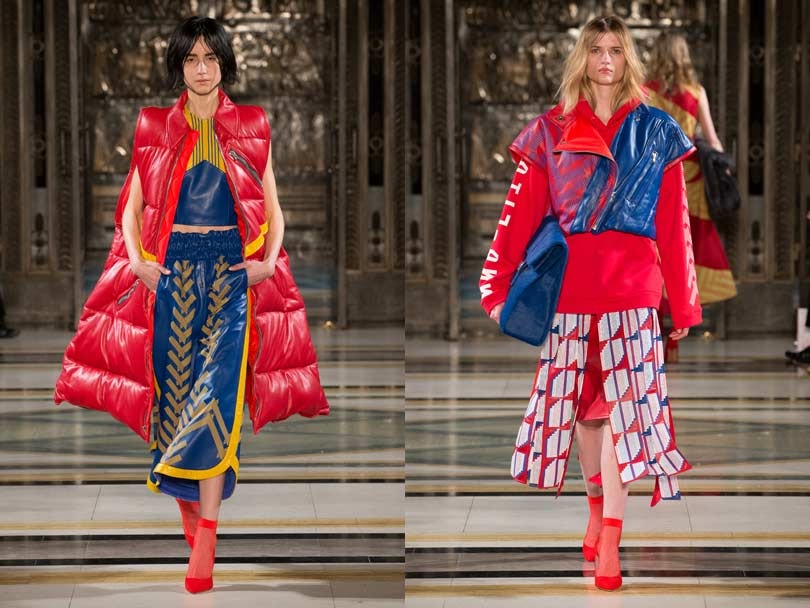 Her debut collection, continues the same aesthetic seen in her graduate collection and draws on her fascination of youth groups in Russian and Ukrainian prisons inspired from a photo series by Michal Chelbin, which comes across in her oversized outerwear decorated with intricate prints.
"The inspiration for my AW17 collection was a continuation of my graduate collection," said McGuigan. "I love primary colours and how they work together, as well as prints and work wear. But my primary mood and inspiration was from a Michal Chelbin's photography of people and life in the Ukraine."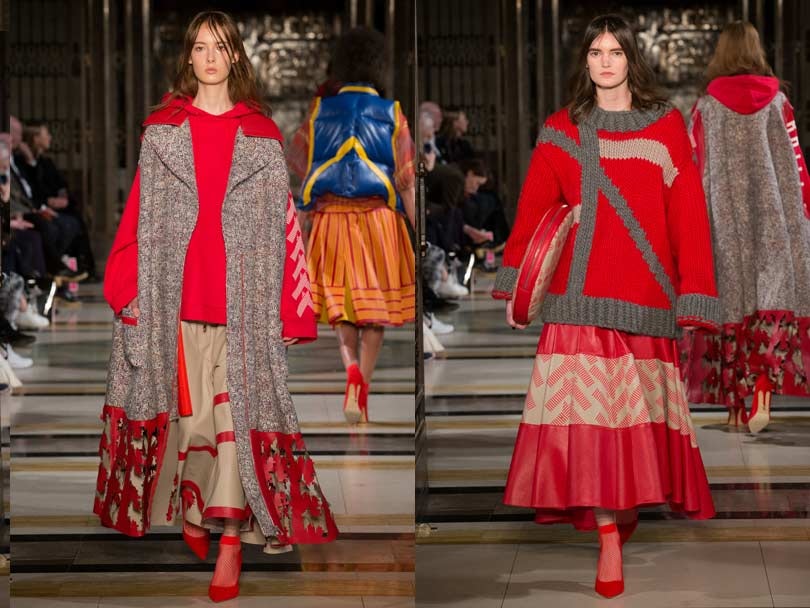 McGuigan added: "His work Sailboats and Swans, a photo series of Russian and Ukraine youth prisons is so powerful and captivating and gave me inspiration for my prints."
Katie Ann McGuigan makes London Fashion Week debut
Her intricate prints are a highlight of the collection with vinyl prints layered onto leather and laser cut geometric panels, as well as a combination of digital and screen printed textiles used to create what the designer describes as a "complex by aesthetically pleasing silhouette".
While McGuigan's silhouettes tend to be oversized and modern, she has this ability to still keep them feminine and flattering, using prints, patterns and vibrant colours to great effect. Her outerwear were some of the standout pieces, from padded leather gilets and cropped leather and shearling jackets, to a variety of full-length coats including puffer styles, capes, and woollen designs embellished with laser-cut leather details. All of which came in vibrant red, blue and yellow hues.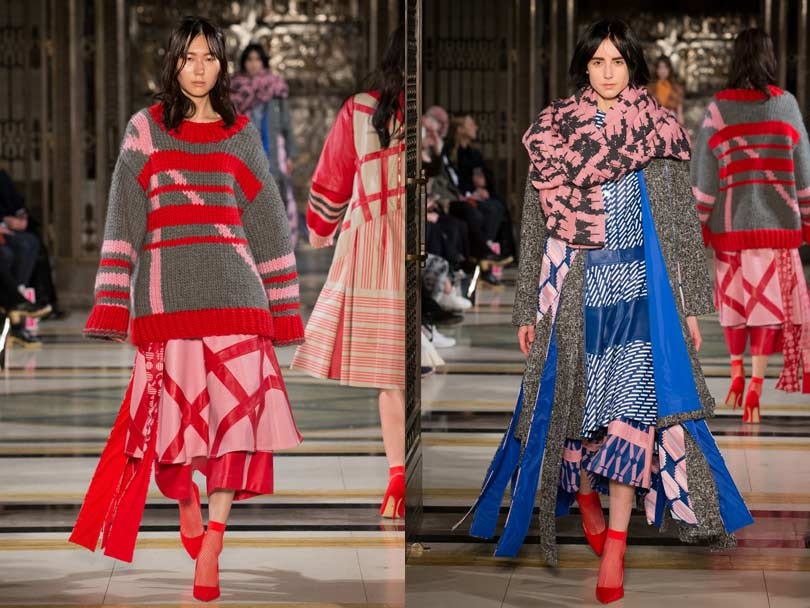 These a-line coats were styled over circle dresses, soft fluid skirts, heavy-weight knits and sporty hoodies. It is her use of textures featured heavily throughout with padded jackets seen over femininely cut dresses, while soft lambs leather contrasted with chunky knitted sweaters that makes her collection standout.
For her first full collection, McGuigan made this easy with a cohesive, confident display that truly showed off her technical abilities as well as offering designs with commercial merits. It isn't surprising that many guests leaving her show were declaring her one of London Fashion Week's hottest new talent and one of the best Merit Awards in recent years.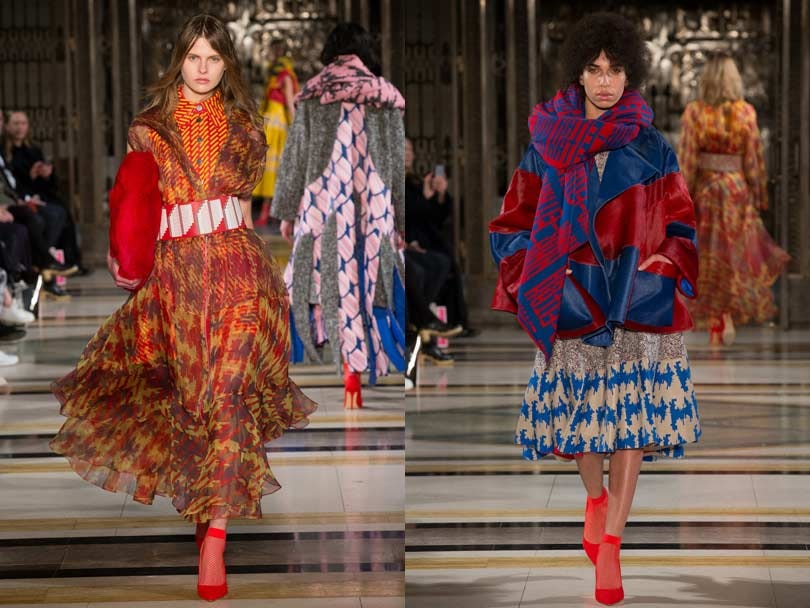 Commenting on McGuigan's debut, Fashion Scout's founder and creative director Martyn Roberts said: "Katie's collection is a skilful demonstration of craftsmanship. Her work stood out at the selection panel as a clear winner of this season's Merit Award. I am delighted that we are able to support talented young graduates achieve their dreams through our initiative."
McGuigan follows in the footsteps of other successful past Merit Award winners including Eudon Choi, David Koma, and Phoebe English, all of which are hot tickets during London Fashion Week.
"Fashion Scout has allowed me to be ambitious with my own work, following on from my graduate collection," states McGuigan. "I am extremely grateful to Fashion Scout for giving me this opportunity to create another collection and launch my own brand as well as simultaneously providing me with a wonderful platform to make my mark as an upcoming young designer, has fulfilled one of my many aspirations."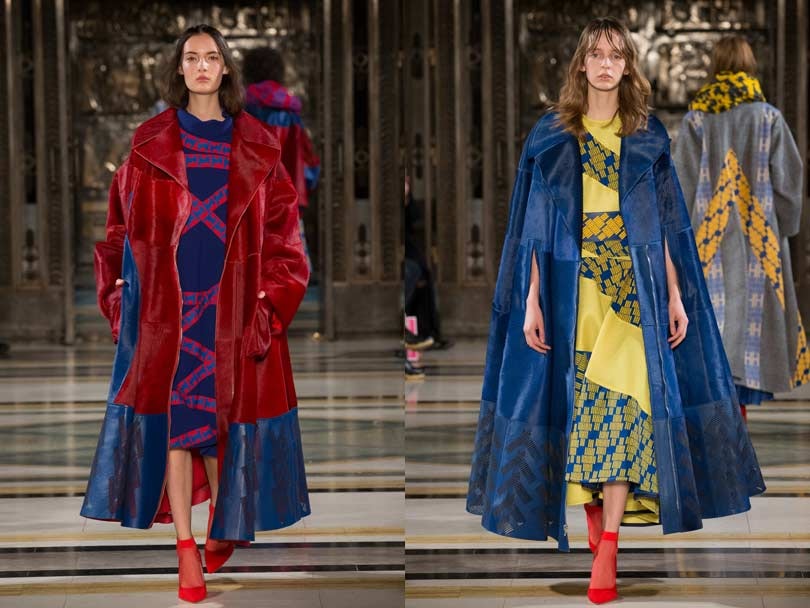 Moments after seeing her collection hit the catwalk McGuigan said: "It was extremely overwhelming and exciting. It has taken a lot of hard work, long days, long nights and a lot of effort from my team and seamstresses.
"It's an incredible moment when all the clothes go down the catwalk, it looks like my own personal little army. I am very happy and beyond grateful for the opportunity."
Images: courtesy of Fashion Scout