On day two of London Collections Men, the year's most important event in British menswear, the calendar was full of promises and propositions for next season. Below are some of the highlights of the day for Spring/Summer 2017:
Agi & Sam
This season design duo Agi & Sam explored what it means to be masculine in 2016, with traditional male and female roles taking center stage. The Marigold washing gloves and flowers taped to models' faces were stark giveaways for femininity, as were pussy bows, opera-sleeve blazes and fluidity of fabrics. This was counter-balanced with menswear which saw upholstered jacquards in full looks, complemented with silhouettes of slim trousers and fitted zip-up jackets allowing for wearability. This is men's fashion week after all, and this label knows the importance of being commercial. The model's shoes united the sexes, and came in the form of brothel creepers, almost as if to say both man and woman can get the same job done.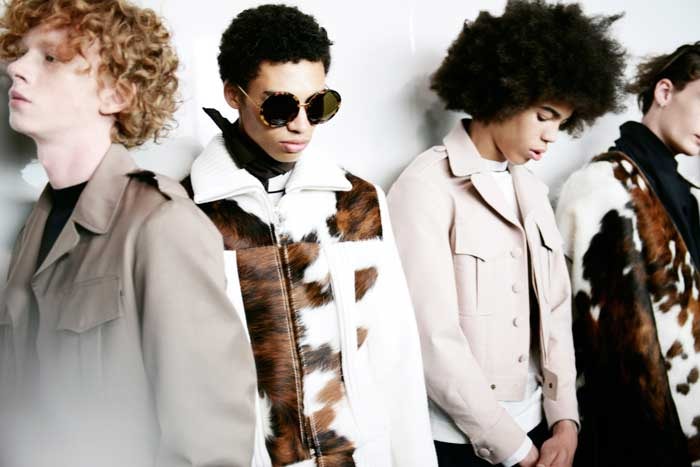 Hardy Amies
Luxe sportswear was the order of the day at Hardy Amies which saw denim as a key fabric choice for SS17, a unique approach for a Savile Row brand. There were denim jackets with silver branded buttons teamed with bleached, knee-torn jeans. Perhaps creative director Darren Barrowcliff was inspired by the 40th anniversary of punk, which has been a key fashion influencer for many designers this season. Of course there was plenty of tailoring, but even the tuxedo jackets felt new and contemporary with less structure in its fitting.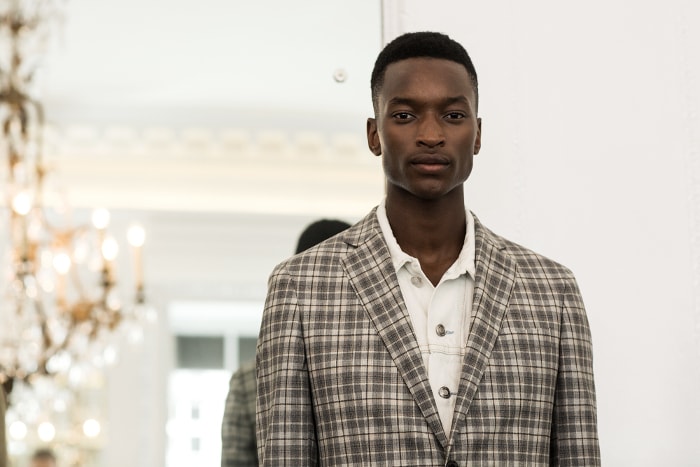 Fashion East
Over at Fashion East, there was a mixed reaction to the MAN presentations, however designer dumbo Rottingdean Bazaar stood out as the most interesting. Founded by Central Saint Martins graduates James Theseus Buck and Luke Brooks, the brand's name comes from the seaside village from their hometown. Their ingenious sweatshirts saw prints such as embossed hotel slippers and pressed flower petals. The effect was like the most vivid digital print, except these roses were real. They also pressed socks, tights, knickers, a crafty exhibition of British uniqueness that will surely garner them as a label to watch.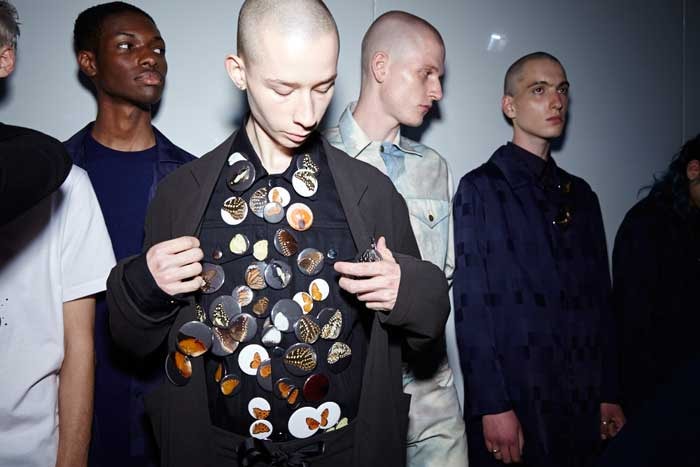 Matthew Miller
Matthew Miller chose to show both men's and women's wear at his SS17 presentation. The phrase 'Negasonic Teenage Warhead' made its way onto t-shirts and sweats for both sexes, inspiration from a song title from a 90s California band. As for the clothes, there was bleached denim and a skinhead aesthetic, which Miller saw as a 'kind of absolute freedom.' A bomber jacket with pin badges styled over a blazer and loosely cut trouser showed this designer can do modern tailoring and real clothes, even with a little artifice thrown in for good measure. The pins were a recurring theme alongside the tailoring, but they were superfluous as the clothes were interesting enough to speak for themselves.
FashionUnited will focus on the menswear catwalk season during the month of June, by featuring exclusive and in-depth coverage on Men's Fashion Weeks, including (
London Collections: Men
), Milan (Milano Moda Uomo), Paris (Mode Masculine Paris) and New York (New York Men's Fashion Week) and more. For more articles on menswear, click
here
.
Photos: London Collections: Men, courtesy of the British Fashion Council