Trendstop's catwalk team bring you the latest bag, footwear concepts that will be impacting the men's market into Spring/Summer 2018 and beyond. Our footwear experts reveal the key styles from the most directional designers and influential collections as seen on the London, Milan, Paris and New York runways, as well as identifying and analysing three themes certain to be essential to your next men's collection. Our comprehensive footwear coverage and seasonal reports evaluate each trend's commercial value and longevity, giving you the best possible basis for your decision making.
This week, FashionUnited readers get an exclusive look at three footwear directions that will be informing the SS18 season. Sports hybrids continue to be an important influence as The Pumped Up Sole introduces a heavy-duty take on the sneaker inspired sole, into boot categories. In the formals category, details and trims bring new levels of adornment to men's footwear, elevating classic staples with contemporary components. Sandals also get a sporty rework as technical outdoor styles become a spring fashion essential in the Trekker Tape Update.
The Pumped Up Sole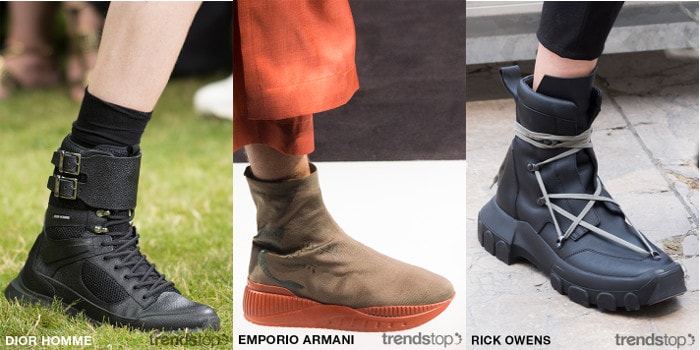 Amplified proportions and extreme sole silhouettes are emerging strongly for Spring/Summer 2018 with the trend expected to grow exponentially into Fall/Winter 2018-19. Heavy duty moulding, flared profiles and super chunky sports inspired units elevate casual and athleisure uppers for a conceptual, ultra-modern look.
Special Detail Formal Shoe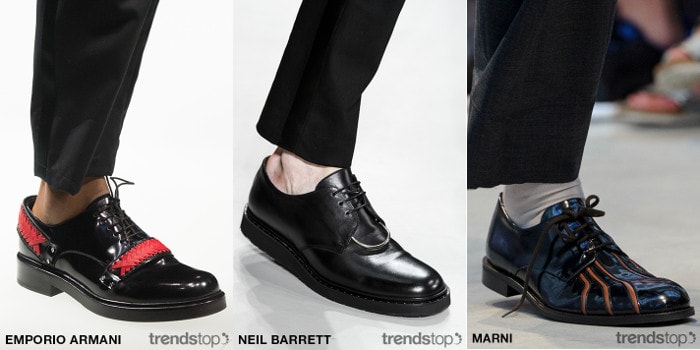 Formal footwear gets an upgrade with a host of exciting detailing developments. Classic Derby uppers in premium polished leathers are elevated by subtly conceptual components and trims including contrast woven panels, unexpected hardware placements and contrast inset panelling.
Trekker Tape Update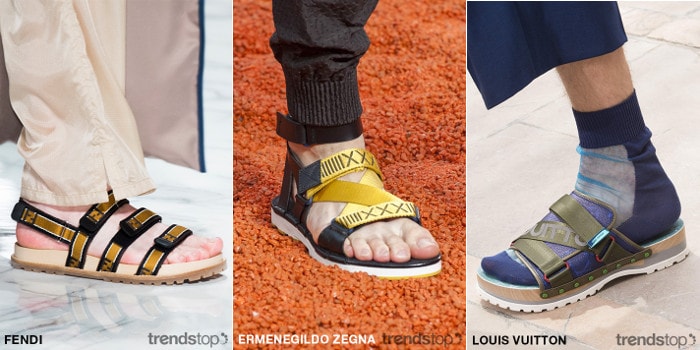 High performance footwear moves into the mainstream as technical trekkers become a key sandal style. Sturdy footbed soles that cushion the foot, wide straps made from durable nylon webbing and sporty Velcro fastenings are ready for any terrain with athletic colour-ways and specialist hardware enhancing the outdoor active appeal.
Exclusive Offer
FashionUnited readers can get free access to Trendstop's Spring Summer 2017 Footwear Directions report, an essential guide to the season's emerging footwear looks and design innovations. Simply click here to receive your complimentary report.

Trendstop.com is one of the world's leading trend forecasting agencies for fashion and creative professionals, renowned for its insightful trend analysis and forecasts. Clients include H&M, Primark, Forever 21, Zalando, Geox, Evisu, Hugo Boss, L'Oreal and MTV.
Images courtesy of Trendstop, left to right: all Dior Homme, Emporio Armani, Rick Owens, Neil Barrett, Marni,Fendi, Ermenegildo Zegna, Louis Vuitton, all Spring Summer 2018.