Russian menswear designer Gosha Rubchinskiy is known for redefining global cultural ideas. He hails from the outskirts, and over the years has used his background to create a new subculture, carving out a well-deserved place for himself among streetwear-greats like Supreme and Palace. He now works together with big names like Stephen Jones, Adidas and Burberry.
"His show was gorgeous; in an amazing building, at midnight, with a very small audience, amazing people and tons of energy – skate boarders, musicians. But an odd kind of tension," Burberry CEO Christopher Baily said about Gosha Rubchinskiy's show last week. Rubchinskiy presented his latest collaborative collection with the British fashion house through a runway presentation in St. Petersburg, with Bailey in the front row.
Gosha Rubchinskiy creates collection for Burberry
Thirty-three year old Rubchinskiy created a collection of eight menswear pieces aimed at street style, not in line with the luxurious character that Burberry is known for. The line includes a new interpretation of the famous Burberry trench coat, which is oversized and is supplemented with shirts, a pair of shorts and football-inspired hats. The collection will be available in stores from January 2018.
"Gosha got in touch and asked if I wanted to work with him. And because I love what he does, I said yes. It was incredibly non-strategic and unplanned," Bailey reveals about the collaboration. "But it was quite effortless."
Gosha Rubchinskiy: creator of subcultures
Rubchinskiy began his career nine years ago with the very first catwalk show in a sports stadium in Moscow. The show, entitled 'Evil Empire', featured sportswear presented against a backdrop of rave music from the nineties. The models – young boys – wore facemasks with spikes and sweatshirts featuring slogans inspired by hardcore and death metal. Certain details in the show referenced the Cold War, and according to High Snobiety, the political statements made provided a defining moment for Russian youth culture. It is this culture that Rubchinskiy has managed to expand through the years, with youngsters in cities ranging from New York, Tokyo and Paris now wanting to appear Russian.
Even then, Rubchinskiy had a knack for creating complex and artistis political statements, Pavel Milyakov – who at the time created the visuals for Evil Empire – told High Snobiety. All aspects of the collection mattered: from the location to the soundtrack and the images. "For me the entire event was special because it was new, fresh and serious. And after all these years it still is. Not just in the context of Moscow, but globally, and that is his great strength," Milvakov concluded.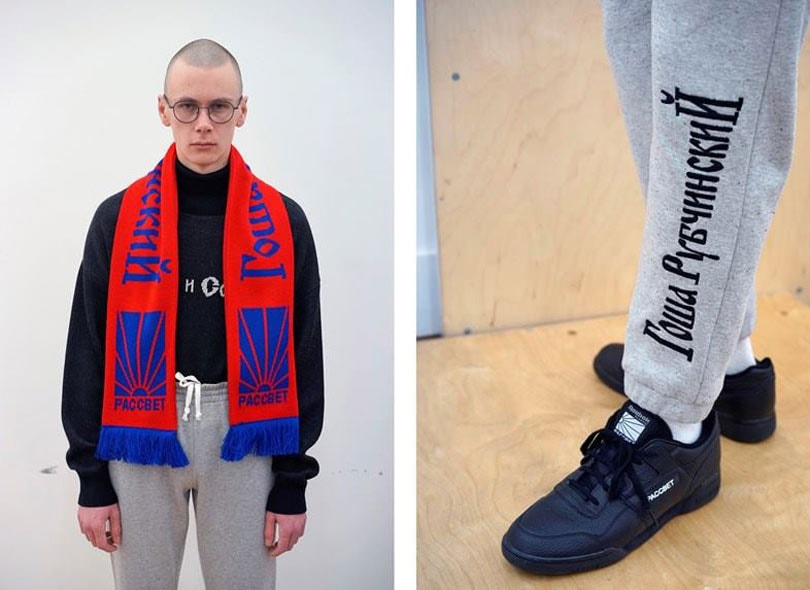 It was obvious to everyone who worked with Rubchinskiy at the time that the collection formed part of an ongoing cultural shift among the emerging generation in Russia, High Snobiety writes. "I met Gosha in 2007 or 2008 during a street party," says Kirill Savchenkov, who helped the designer organize his show. "We talked about the crisis of culture and identity. That this was being expressed through clothing was unique, and we worked with young people who themselves were part of this shift."
Adidas collaborates with Gosha Rubchinskiy
Many brands seem to like the fact that Rubchinskiy, who grew up in Soviet society, gets his inspiration from the fall of the Iron Curtain and Russian street culture. This has led to a number of collaborations, from Comme des Garcons, Palace and Supreme, to Burberry at present. Last year he was also a guest designer at the 90th edition of Pitti Uomo, where he presented a collection in an abandoned tobacco factory. Brands like Fila, Superga and Kappa contributed to the collection.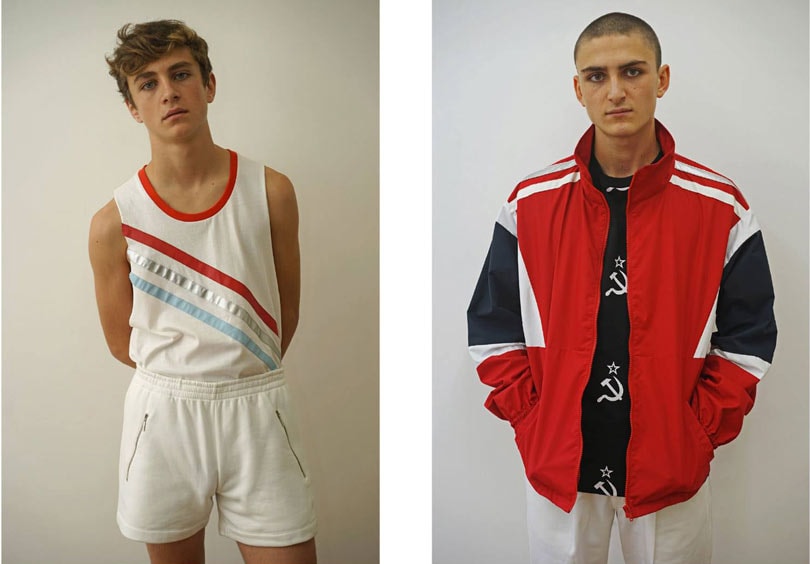 Furthermore, this week it was revealed that Rubchinskiy will once again collaborate with Adidas. The news follows on from the first Adidas collaboration, which was launched earlier this year during Rubchinskiy's runway show in Kaliningrad, Russia. The new collaborative collection, entitled 'Adidas Football x Gosha Rubchinskiy', is inspired by Russian youth culture in the eighties and nineties, met particular focus on the rave scene.
"Working with Adidas allows me to celebrate Russian youth. By combining fashion design that expresses my vision with the best sportswear brand in the world," Rubchinskiy says about the new collaboration.
The collection includes, among others, an oversized tracksuit jacket, woven tracksuit pants and sleeveless tops. A few items feature the text 'football' in Cyrillic. The line also includes shoes and accessories like sports bags and water bottles.
Besides his collaborations, Rubchinskiy also has a eponymous menswear brand. It is sold globally through various retailers. The collections are also available online.
During the month of June FashionUnited will focus on the menswear catwalk season. For all reads, click
here
.
Photo: Burberry, Gosha Rubchinskiy Facebook