Menswear designer Virgil Abloh does not mince words. The invitation to the debut show of his streetwear label Off-White arrived in the form of an orange t-shirt featuring a life jacket's user instructions on the front. The back featured the quotation 'I will never forgive the ocean' by the Iranian poet Omid Shams. Abloh's background in various subcultures often serves as the inspiration for his collections, but he prefers to use fashion to make bold political statements.
'I will never forgive death' and 'The bomb speaks louder'; these are some of the poetic texts that featured in the background during Off-White's SS18 show. The fashion label made its debut during the 92nd edition of Pitti Uomo in Florence, Italy, last week. Founder and creative director Virgil Abloh wanted to raise issues regarding the current political climate and, to this end, collaborated with Jenny Holzer, a conceptual artist from the United States. For the décor, Holzer selected, among others, poetry by Anna Swirszcynska about the uprising in Warsaw in 1944.
Virgil Abloh made his debut with Off-White at Pitti Uomo
35 year old Abloh, who hails from Chicago, developed a menswear collection inspired by the refugee crisis in Syria, immigration, the economic crisis and the journey his father, a migrant from Ghana, was forced to make years ago to reach the United States. His background in his hometown also served as inspiration for Off-White's spring 2018 collection. "I was born in the eighties and grew up in the nineties. At the time, I was a part of different subcultures, from skate to hip-hop. I am greatly inspired by this period," the designer recently said in an interview with WWD.
It is what led to a collection consisting of thirty different looks, including jackets in soft materials, oversized trousers and shoes made in collaboration with Vans and Timberland.
As a designer, Abloh feels a certain obligation to speak up for refugees, which is clear in his latest collection. "I have a voice in the current climate, particularly in light of the recent elections. I respond through my work," he told Vogue, adding: "I am a millennial brand. Young people will look up the messages we place on Instagram. But are we talking about fashion or the world in general?"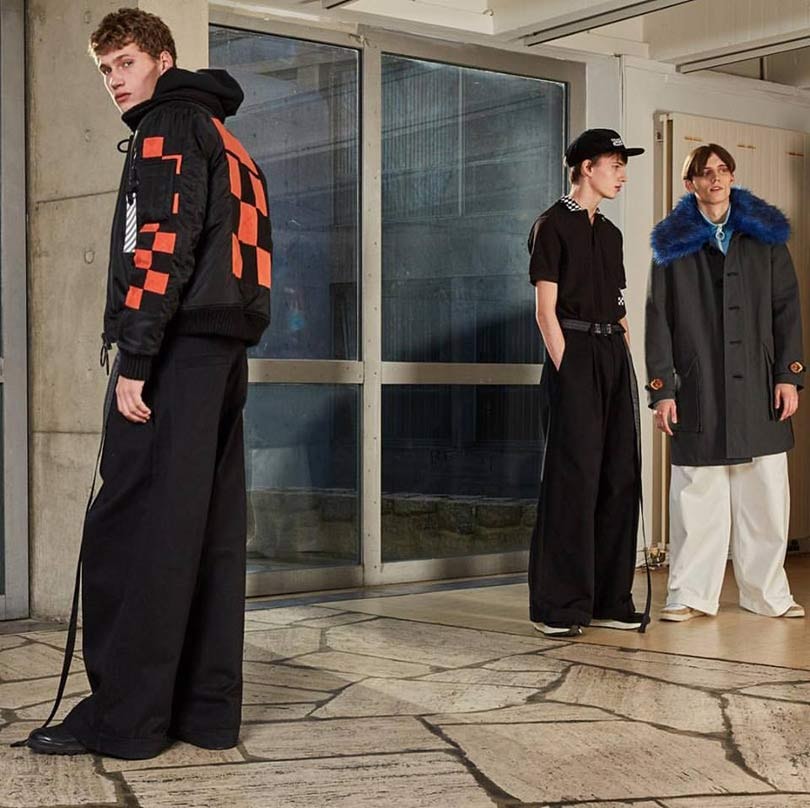 Virgil Abloh: From architect to fashion designer
Although Abloh now feels completely at home in the fashion world, he hasn't been working in fashion for that long. Having graduated from the Illinois Institute of Technology with a degree in architecture, he began his career at an architectural firm and founded RSVP Gallery, an art gallery in Chicago. In 2009, he landed a job as artistic director at Donda, the agency that represents Kanye West, where he became responsible for shows and merchandise.
It wasn't until 2012 that Abloh entered the world of fashion. It was in that same year that he launched fashion label Pyrex Vision, a company that printed logos on t-shirts for brands like Ralph Lauren. At the same time, he worked together with designer Matthew Williams and Heron Preston in the collective called 'Been Trill'. A year later, Abloh closed down Pyrex Vision and founded his brand Off-White.
Off-White, a high fashion streetwear brand, primarily offers oversized items with graphic elements and special details. Abloh designs collections for men and women; big names like Jay-Z, Rihanna and Beyoncé have worn his pieces. Abloh describes Off-White's target group as "the girl who wears Céline, and the guy who wears Supreme, but they're together. They share their wardrobes, and their high-low combination reflects Off-White's vision of the world," he recently revealed in an interview with GQ. The label made it to the final round for the LVMH Prize two years ago, although it was Marta Marques & Paulo Almeida who took home the prize.
Abloh hopes that his label will encourage young people to wear more informal streetwear. " My mission is for today's youth to wear streetwear that is more refined, but that still includes the meaningful details contained by the original streetwear," he told Vogue two years ago.
Abloh collaborates with Ikea on new Frakta bag
Besides his work for Off-White, Abloh recently designed a new version of Ikea's iconic blue Frakta bag. The bag recently made the news when Balenciaga created its own version of it. Because Ikea wanted to tap into the current DIY culture, the Swedish chain turned to Abloh. He developed a canvas-coloured bag which, in contrast to the original Frakta bag, does not crease and features the text 'Sculpture' .
Abloh belongs to the same generation of fashion designers that includes Balenciaga's Demna Gvasalia and Gucci's Alessandro Michele. Like them, Abloh is "the product of an era in which the lines between designer and consumer and fashion and streetwear are blurring", GQ writes. This movement makes a comeback in his own designs for Off-White, among others through the use of subtle graphic prints and logos that distinguish the brand from cheaper labels. "The graphic t-shirts of three years ago were hard. Now I make a shoe that subtly incorporates the Off-White label," Abloh explains.
Off-White has a number of own stores, including in Seoul, Hong Kong, Shanghai and Toronto. The collections are also sold through various multi-brand retailers, including Selfridges in London, and through its own online store.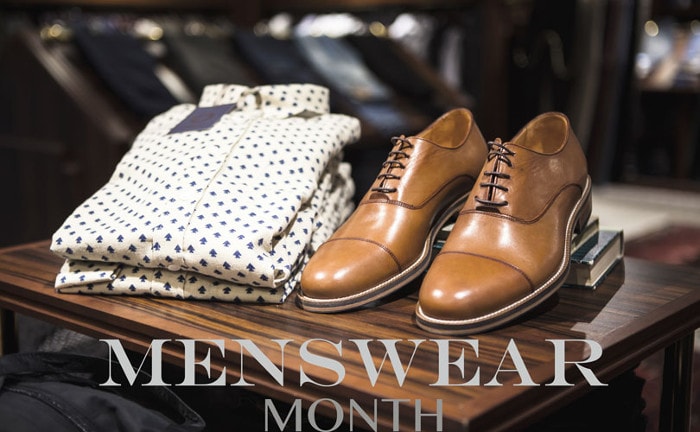 During the month of June FashionUnited will focus on the menswear catwalk season. For all reads, click
here
.
Images: Catwalkpictures.com, Off-White Facebook