The spirit of the street emanates through Nordstrom's Concept 005: Union & Company launch not least of all because it took place in the street. This is the latest in a diverse range of menswear concepts from Nordstrom starting back in January that has included a Dior project with artist KAWS, a deep dive into the archives of Raf Simons and Helmut Lang, and a sustainability-focused collaboration with outdoor specialists Patagonia. But there was something rather different about the launch of Concept 005: Union & Company which features over 170 exclusive pieces across clothing, accessories and shoes from a roster of 13 brands including Union, Awake NY, BornxRaised, Cactus Plant Flea Market, Jordan Brand, Marni, Neighborhood x Converse, No Vacancy Inn, Reigning Champ and Rhude.
While the previous four have taken place inside the brand's glossy midtown Manhattan menswear flagship where guests were invited to browse the range, Concept:005 involved a block party in the Hester Street Market area of Manhattan's Lower East Side. There were DJs, a jerk chicken shack, beer tent, pizza by the slice––but no clothes in sight. Sam Lobban, Nordstrom's VP Menswear, explains to FashionUnited the point of a party to precede the pop-up.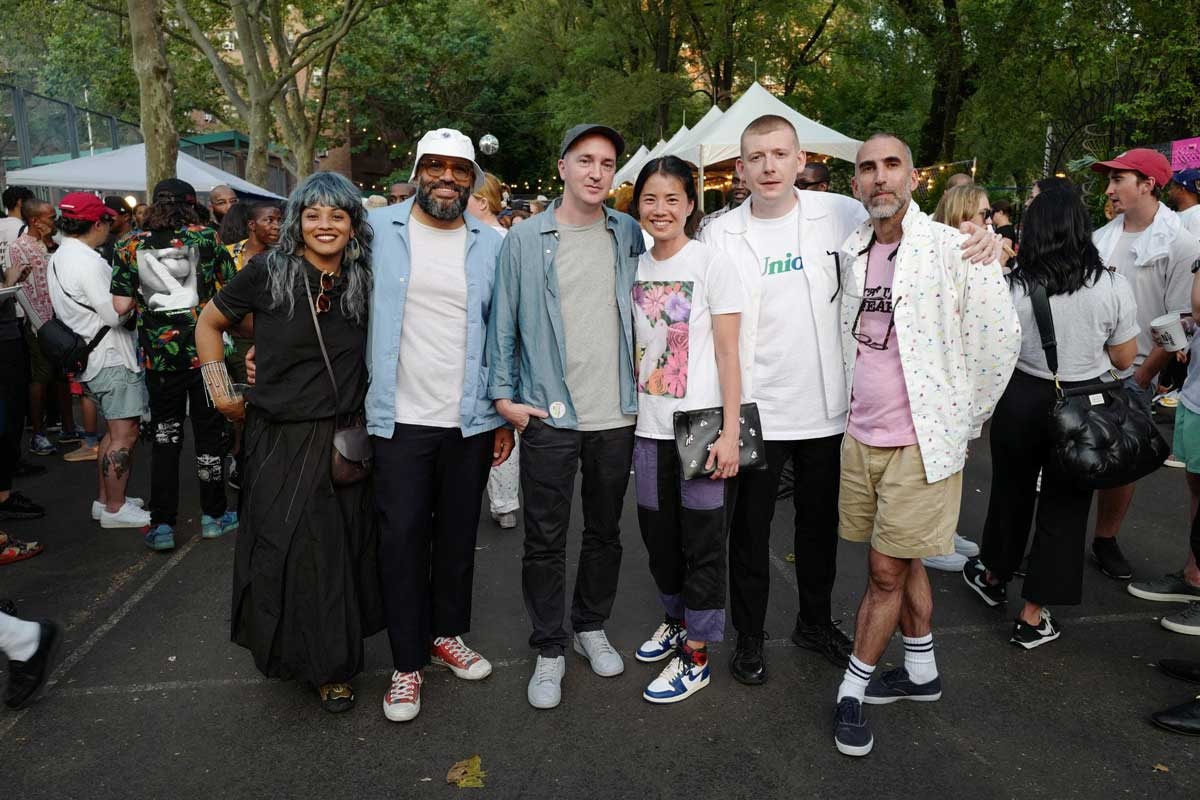 "We wanted to throw a party that was unexpected and one that we would actually want to go to. We heard positive feedback from so many people afterwards that the event felt like a reunion and they saw people they hadn't seen in ages."
It was an animated but relaxed downtown vibe as the sun lowered behind the skyline and guests in graphic Ts and collectable sneakers milled among recognizable figures on the streetwear beat such as Brendan Babenzien, creator of environmentally conscious brand Noah, Jeff Carvalho of streetwear bible HighSnobiety, artist Brian Donnelly a.k.a. KAWS, and stylist, Alastair McKimm.
A launch without clothes might be a subversive way to ramp up buzz around the range but Lobban explains that his motivations were much more straightforward than that: "The point of the block party wasn't to sell merchandise, it was to bring people together. We wanted to create an overall vibe and setting that was authentic and true to the spirit of New Yorkers. The party was an extension of what the Union & Company concept is all about and our way of celebrating what we're trying to do. That being said, we did incorporate the collection into the event through campaign imagery."
Now LA-based, Union closed its original NYC store where it had developed a cult-like devotion a decade ago, but it is its legendary reputation that appealed to Lobban: "Everyone's talking about streetwear's influence on men's fashion, but Union is the ultimate authority on that."
The exclusive collection is available at select Nordstrom stores and online until September 1.
Fashion editor Jackie Mallon is also an educator and author of Silk for the Feed Dogs, a novel set in the international fashion industry.
Photos David X Prutting/BFA.com