PVC, foam pyramids and paisley prints were laid side by side in Mary Katrantzou's new collection shown at London Fashion Week on Sunday, on brightly coloured, richly textured dresses, trousers and coats.
The Greek designer took as her inspiration the concept of horror vacui -- the fear of empty spaces, the idea in visual art of packing in as much detail as possible.
Many outfits had as a base a simple, seamless charcoal grey fabric which was then sewn onto panels of different colours and textures, from yellow, pink and blue to crystals, embroidery and plastics.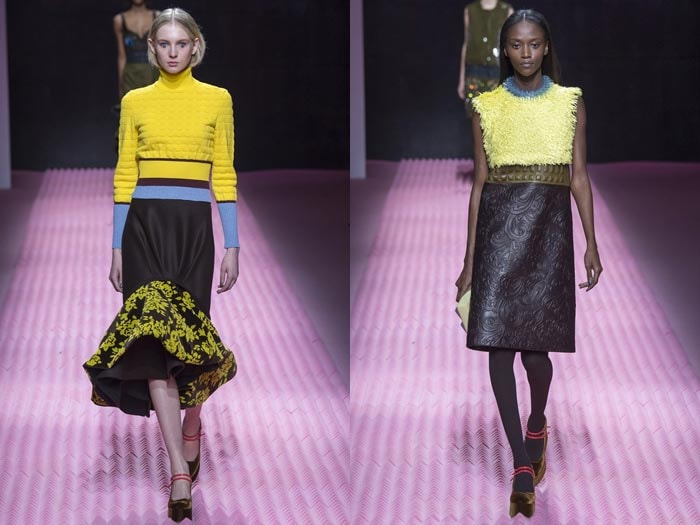 Traditional paisley, damask and rose prints were overlaid with transparent PVC on coat hoods and pockets, or matched with skirts made of small plastic pyramids.
Speaking to reporters backstage after the show, Katrantzou said she was playing with ideas of how people in the past turned to ostentatious clothes to show their wealth and status.
"In Victorian times you used to show your excess through everything you surrounded yourself with and what you were wearing," she said. "Now it's the opposite, you have to show restraint and limits to show your refinement."
After founding her label in 2008, Katrantzou pioneered the use of digital prints in fashion and continues to search out advances in engineering. The basic silhouettes of the dresses were made by a company that manufactures car roofs, the fabric moulded to the female form to keep its structure without corsetry or even seams.
She then embellished them with different materials and shapes, including flared skirts that resembled an inverse Victorian bustle, and masculine duffel and parka coats. "It was about playing with different materials and proportions," Katrantzou said. (AFP)