Now that the menswear fashion show season is almost over, FashionUnited gathers its top eleven articles around that topic - in case you missed them .
1. Kurtis Paul discusses menswear, expansion and retail's shift towards e-commerce
Kurtis Paul, born out of the back streets of Manchester in the summer of 2015, is aiming to bring a sophisticated vibe to menswear and lifestyle fashion. The brand, coming from a love of travel, recently has come out with a Canvas Collection aimed towards the modern menswear market. FashionUnited talked with the brand's founders, Kurtis and Lloyd Rayner, about the Kurtis Paul brand and the ever-changing retail climate of menswear.
Read more: FashionUnited / Sara Ehlers
2. London Fashion Week Men's opens amidst political uncertainty
London Fashion Week Men's (LFWM) put on a brave face as it opened in the capital city following the UK snap election which resulted in a hung parliament and terror attacks on the London Bridge at the beginning of last month. However, the 5th anniversary of the men's fashion week, which ran from June 9 to 12 and signaled the start of the global men's fashion weeks, drew visitors from around the world as the fashion industry stands together through times of political and social uncertainty.
Read more: FashionUnited / Vivian Hendriksz
3. ​Timeline: London Fashion Week Men's turns 5
In honour of London Fashion Week Men's five year anniversary, FashionUnited shares its timeline of the dedicated men's fashion week evolution, from its first menswear showcase in St James' Palace in June, 2012.
Read more: FashionUnited / Vivian Hendriksz
4. LFWM: Millennial Men drive the UK menswear market
Even though the future of London Fashion Week Men's remains unknown, one thing is clear - the menswear market in the UK is only growing. New research from Mintel shows that men across the UK are only becoming more and more conscious of what they buy, and are giving their female counterparts a serious run for their money.
Read more: FashionUnited / Vivian Hendriksz
5. ​Menswear designer to watch out for: Virgil Abloh from Off-White
Menswear designer Virgil Abloh does not mince words. His background in various subcultures often serves as the inspiration for his collections, but he prefers to use fashion to make bold political statements. Find out more about the career of the emerging designer.
Read more: FashionUnited / Tessa Guntlisbergen
6. Menswear designer to watch out for: Gosha Rubchinskiy
Russian menswear designer Gosha Rubchinskiy is known for redefining global cultural ideas. He hails from the outskirts, and over the years has used his background to create a new subculture, carving out a well-deserved place for himself among streetwear-greats like Supreme and Palace. He now works together with big names like Stephen Jones, Adidas and Burberry.
Read more: FashionUnited / Tessa Guntlisbergen
7. Menswear designer to watch out for: Paul Helbers
For years, Paul Helbers was among the top menswear designers, working for brands like Louis Vuitton and Martin Margiela. Last year he took a step back and launched his own menswear line 'Helbers'. His first two collections have been well-received by major fashion retailers in France, the United Kingdom and the United States. Read about his journey from consultant to designer for major fashion houses and his eponymous label debut.
Read more: FashionUnited / Esmee Blaazer
8. ​Men's pre collections: why catwalk fashion is losing its relevance
The buying season will continue until designers and brands close their books for production, order fabrics and begin their manufacturing processes. But despite the glamour of catwalk collections, mainline fashion is becoming less and less important as retailers shift to early deliveries.
Read more: FashionUnited / Don-Alvin Adegeest
9. ​A day in the life of a buyer at Milan Fashion Week
The air traffic control strike in Florence threw a spanner in the works for many fashion folks who were leaving to go home on the last day of Pitti, but luckily I was getting a train to Milan for fashion week without any major delays...
Read more: FashionUnited / Don-Alvin Adegeest
10. ​Eleventy: 'We are interested in the whole world'
Italian luxury fashion brand Eleventy is winning over the world markets. The company aims at dominating the industry in three major cities – Paris, London and Munich and also plans to launch its first monobrand boutique in Moscow. In an exclusive interview with FashionUnited, the designers and founders of the brand ,Marco Baldassari and Paolo Zuntini ,who came to present their collection in Moscow TSUM share more on their view for the brand and its future expansion.
Read more: FashionUnited / Galina Utesheva
11. ​The rise of the man bag
While women have long got to enjoy the luxury and glamour of handbags, men were restricted to briefcases and messenger bags. There came a turning point in the last several years when luxury fashion companies decided to expand on their leather good offerings, and thus the man bag had its true birth...
Read more: FashionUnited / Kristopher Fraser
Homepage foto: Richard James showroom @ Pitti Uomo '92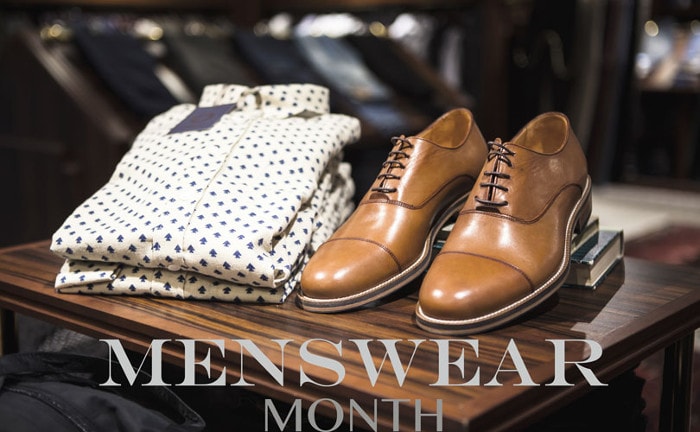 During the month of June FashionUnited will focus on the menswear catwalk season. For all reads, click
here
.