In Paris, the shows must go on, despite the topic of Brexit on every editor's lips. On day two of men's fashion week the buzz of the Balenciaga show from the previous day had worn off and it was a day of heavyweights on the Parisian catwalks, including Dries van Noten and Rick Owens, who set the tone for the season. Below our round-up of the day:
Louis Vuitton
The essence of the Louis Vuitton label is travel, and men's Design Director Kim Jones knows how to inject luxury into the modern-day traveler. It started with exotic skins in crocodile and ostrich, of which the very first trench coat and matching travel bag were adorned. Striking mohair sweaters with checked trousers offered the Vuitton customer casual weekend options. Coats came with a two-button closure, draped loosely around open shirts and trousers cut for comfort. There was a safari aspect too ​, a signature inspiration in Jones' handwriting, which saw a sleeveless trench in khaki and belted jacket in the same fabric, but with skewed pocket detailing. It wouldn't be Louis Vuitton without a heap of accessories, which for spring summer saw the return of the backpack, a 70s-style duffer bag and of course the much-loved Valise trunks.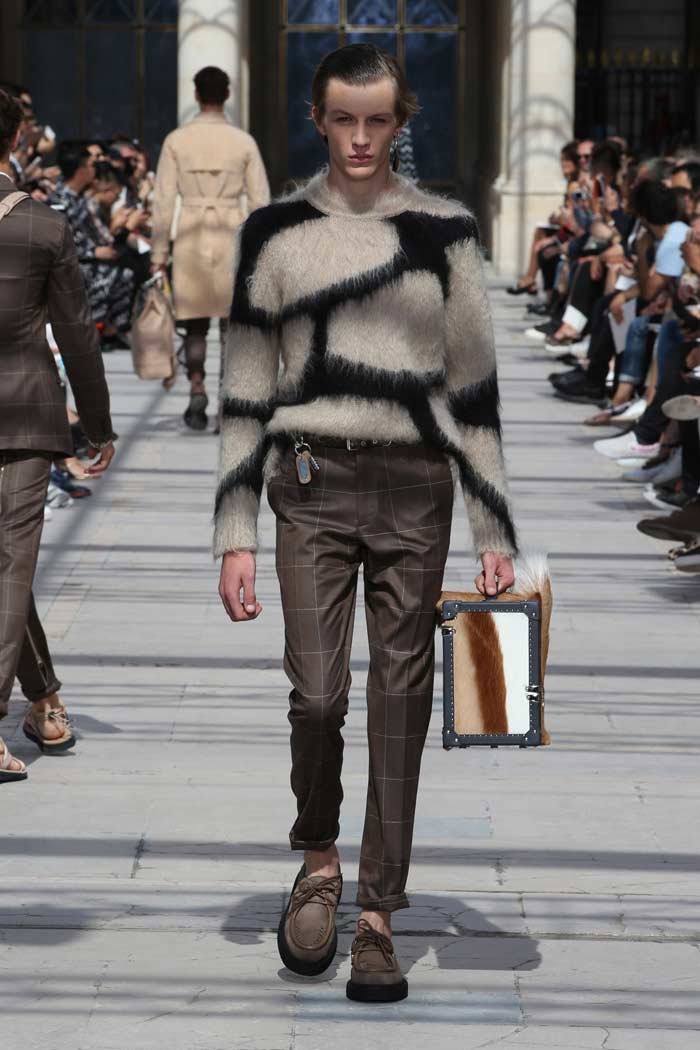 Rick Owens
Some designers have the power to change with each season, like a seismic shift in fashion. Rick Owens is one of these designers, who not only challenges convention, but also remains pure to his brand and his instincts. Commercial viability is neither a goal nor a necessity. The draped robes with unfinished hems are undoubtedly not a focus for retail but they depict a telling story. If there was a silhouette that came to the fore, it was of wide-legged trousers, seen in satin, silk and other structured lightweight fabrics. They were complex in cut, teamed with neatly fitted bomber jackets or Harringtons, or else worn with swathes of fabric expertly draped over the model's chest. There was an unfinished quality to show, but not the quality of the clothes themselves. These are always impeccable.
Dries van Noten
At Dries van Noten there is always an artisan quality to his choices of fabric and colour, crafted rich with embroidery and embellishment, this season it summoned images of summering in faraway places like India, or at least far enough away from the EU doom and gloom this week.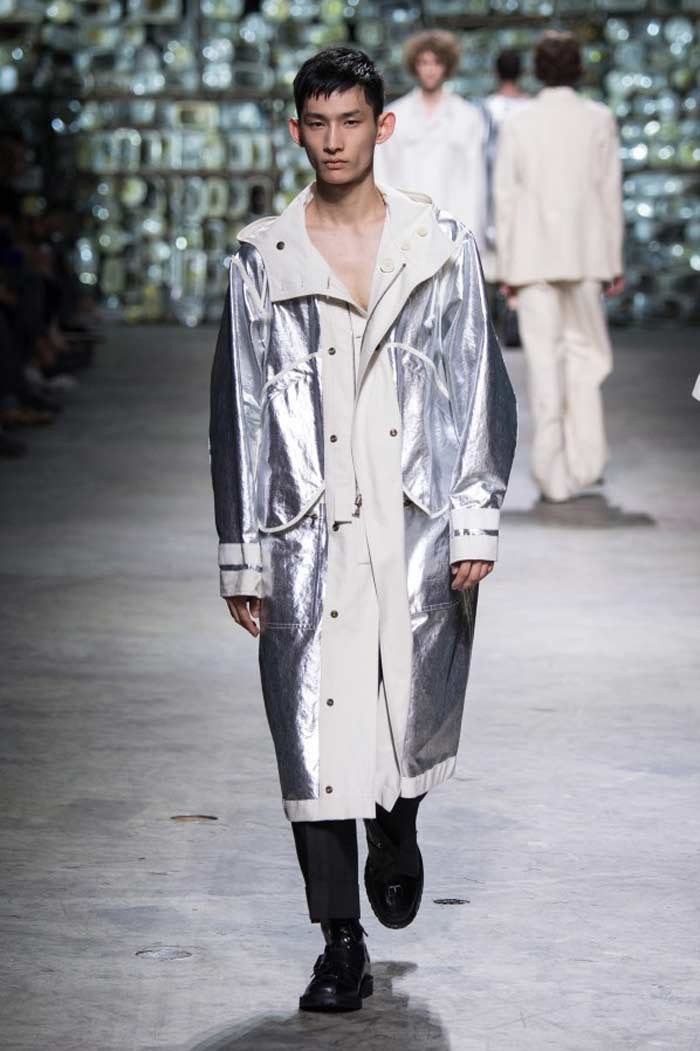 The striking bleached coat in the first exit laid a foundation for a poetic collection of clothes for a global wanderer, both whimsical and wearable. Deconstructed camouflage, interspersed with contrast fabric felt modern. Already camouflage has seen a return at Valentino, and will be a big story for SS17. There was a distinct seventies vibe in the knitwear, where brown tones dominated the palette. The last 10 looks featured mostly navy garments, from lightweight, full length outerwear to a beautiful patchwork luxe bomber.
FashionUnited will focus on the menswear catwalk season during the month of June, by featuring exclusive and in-depth coverage on Men's Fashion Weeks. For all reads, click
here
.
Images: Louis Vuitton, Rick Owens, Dries van Noten, catwalkpictures.com