Following on from the Athleisure mega-trend, which PREMIUM established as a new segment back in summer 2015, fashion for Fall/Winter 2017/18 will take on a sportier dynamic. Performance and function are on the agenda of numerous brands with roots in outdoor sports. The new highlight collections will be on show in January at PREMIUM, SEEK and BRIGHT.
As a holistic lifestyle concept, 'healthy living' intuitively requires the inclusion of outdoor activities. Sports such as hiking, skiing, sailing, golf and cycling – as well as camping, canoeing, hunting and fishing – are being rediscovered and reinterpreted in robust, functional clothing. Outdoor fashion is currently an expression of a new, urban lifestyle. Hiking boots, high-performance parkas and multi-functional backpacks have long been part of street fashion, which integrates functional pieces into an overall look and combines them with easy-to-wear items.
While the main spotlight remains on the functional aspects, this season will see the Outdoor segment being heavily refined: end customers are looking for products that are simultaneously functional and fashionable; that work equally well in the depths of nature as in an urban street setting. The product aims to combine the latest smart textiles and high-tech materials with cutting-edge, contemporary shaping and high aesthetic aspirations. Functional outdoor fashion is increasingly paving the way from the mountain top to the city streets and fashion stores – thereby serving as a critical source of inspiration for fashion-conscious retail ranges.
Along with top quality materials and exacting demands on the functional aspects of these materials, origin, story, design and style represent the criteria used to differentiate and profile the brands across the various different platforms. In the premium segment styles are interpreted in a more refined, figure-accentuating way. Individual details, applications, new textures and fashionable silhouettes lend the outfits an almost couture character. The SEEK brands, on the other hand, translate the Outdoor style into the clean, Scandi look that is typical to SEEK: linear and unpretentious, they go beyond this to reference the original workwear brands that, through adapting functional work clothing to reflect the latest style trends, create new lifestyle-oriented products and ranges. The brands at BRIGHT, whose roots lie in adventure and board sports, focus in particular on the original function of the materials, while state-of-the-art design outdoor gadgets and equipment from hardware suppliers round off the portfolio.
Functional outerwear always played a key role in the winter season especially, yet the new outdoor trend is currently experiencing a boom that has revealed brand new potential and which manufacturers and retailers alike are profiting from.
"As a result of the latest developments in the smart textiles and high-tech materials sector, as well as the growing demand from end consumers for holistic and sustainable lifestyle concepts, the topic is being completely redefined as we speak. We identify and gather influences and trends from all over the globe and bring them together to present them as a key trend on our platforms in the form of a tangible concept." Anita Tillmann, Managing Partner of the PREMIUM GROUP.
PREMIUM
At PREMIUM, specialists like Bogner, Peuterey, G-Lab, Sportalm, Dolomiti and Luis Trenker reference skiing and hiking themes in their collections; young brands, too, are increasingly focussing on functional outdoor fashion that meets the highest expectations. Exhibitors such as Live Out There from Canada, Moose Knuckles from the USA and the New York label Orobos fuse outdoor gear and streetwear within their collections. The traditional Woods brand, which has been manufacturing jackets suitable for Arctic temperatures since 1885, makes reference to heritage and craftsmanship. In the footwear and accessories area labels like Moon Boot and Inuikii benefit from the trend.
SEEK
High-quality rainwear is a fast-growing segment in its own right due to rising mobility in cities. With their fascinating landscapes and extreme weather climates, Scandinavia and Canada are not just the inspiration but also the home countries of a number of specialised brands that are revolutionising the market with lightweight and high-performance products, while also emphasising clear lines and minimalist design, which is characteristic of the prevailing Scandi-style look that dominates at SEEK. Top labels are exhibiting in the Outdoor style segment at SEEK, including the Danish label Rains, Norwegian Rain from Oslo, Elka, which has its origins in deep-sea fishing, as well as Krakatau from Russia. Caterpillar and Iron&Resin display fashion collections that have their roots in workwear. US label Deus ex machina and Belgian brand Eat Dust originated from motorbike sports.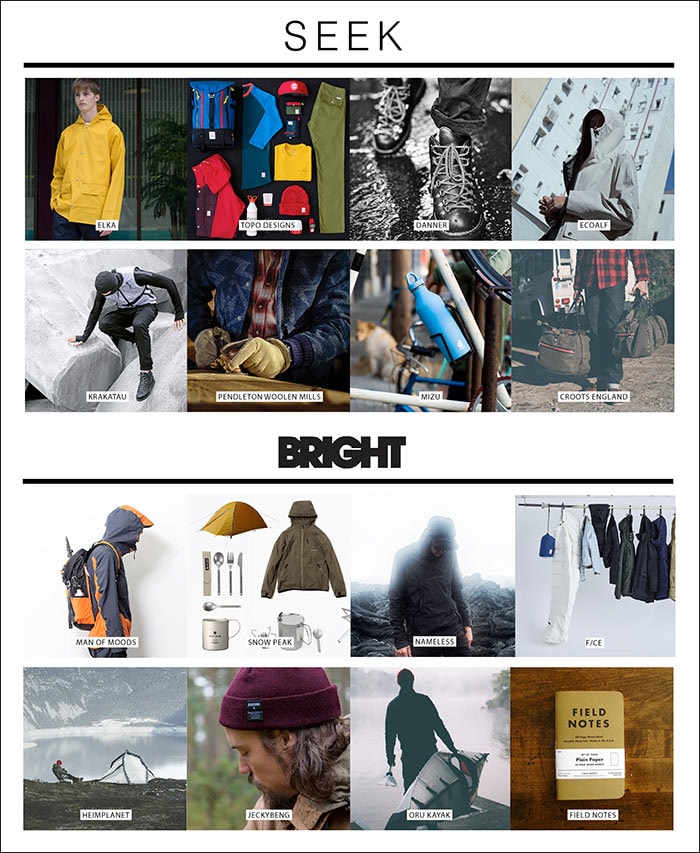 BRIGHT
Boardsports like skating, snowboarding or surfing are BRIGHT's original native habitat, so the Outdoor theme has been adopted wholeheartedly here. Here, the Outdoor trend encompasses not just functional fashion but also gadgets and equipment, e.g. tents, multi-functional penknives, field notes, carabiners and camping kit. Hamburg-based Heimplanet produces inflatable tents as well as shirts and hats. The waterproof equipment from Oru Kayak derives from its origins in kayaking. Not least, newcomers Snow Peak, Man of Moods and F/CE show that Japan is a superb country of origin for premium outdoor gear.
PREMIUM, SEEK and BRIGHT, along with SHOW&ORDER, the #FASHIONTECH Berlin conference on the future of fashion and the PREMIUM ORDER MUNICH regional distribution platform, all form part of the PREMIUM Group, the leading European organiser of fashion events.