Rochambeau and Gabriela Hearst have been announced as the winners of the International Woolmark Prize USA regional final at an awards event in New York City. The judging panel for men was comprised of Vogue editor Andre Leon Talley, Public School designers Dao-Yi Chow and Maxwell Osborne, Julie Gilhart, Malcolm Carfrae, Michelle A. Lee, and W editor-in-chief Stefano Tonchi. The judging panel for women was comprised of Talley, Tonchi, Carfrae, Gilhart, and Lee, as well as designer Jason Wu, Laura Brown, Elle editor-in-chief Robbie Myers, CFDA president Steven Kolb, and Harper's Bazaar editor-in-chief Glenda Bailey.
Rochambeau designers Laurence Chandler and Joshua Cooper took the inspiration for their collection from post 9/11 New York and the artists that defined the city afterwards.
"All of the judges just really connected with the ease and authenticity and they also really appreciated that the Rochambeau boys pushed outside of their comfort zone," said Dao-Yi Chow. "From an innovation standpoint, working with wool, the fibre, and the silhouettes, it felt like they really took the challenge heads up and tried to do something new."
Winners of the International Woolmark Prize USA region announced
The Rochambeau design duo commented, "From the moment we received the nomination, it has just been a tremendous honour for us to work with The Woolmark Company, aside from the competition and then us being pushed creatively, it has opened up different business avenues. For us, we have new vendors that we are working with, our Fall/Winter 17 collection features wool that we discovered during the competition so it is a tremendous honour to win this award. It is our first award and we are so thankful for the Woolmark team for all their support and know that it is just an ongoing conversation."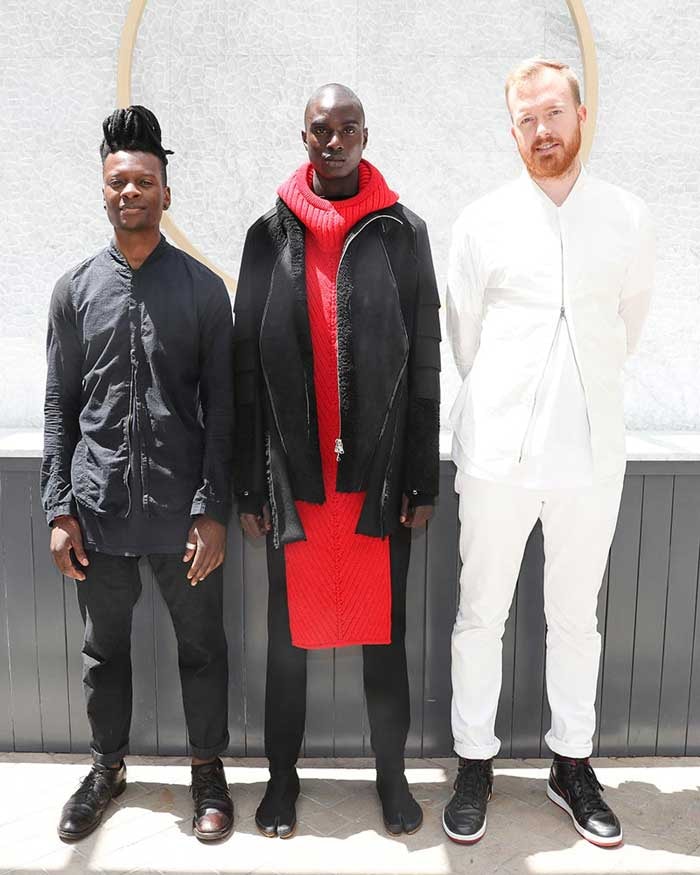 In addition to receiving the International Woolmark Prize, Rochambeau also recently staged their runway show at New York Fashion Week: Men's, which was met with positive reviews from editors.
Hearst's winning design was made of a Carriagi yarn of 14-micron ultra fine Merino wool and featured a herringbone stitching on the sleeve.
Design Jason Wu said of her design that "I thought it was really great that Gabriela won. It just shows that she is really talented with a great point of view and is equally business savvy."
For Hearst, this win was very close to her heart, as she is a sixth-generation Merino wool producer.
"My grandfather, father and mother and their children, we love wool so much and so it is like part of my being. Wool has been a part of my family for a long time and now with design, it is like two worlds wrapping together," she said.
The International Woolmark Prize for the USA region awards one men's wear designer and one women's wear designer 50,000 Australian dollars, and the opportunity to represent the USA in the prestigious global finals. Each designer also receives mentoring from a panel of global experts and will be granted a Woolmark license.
For the next six months, each designer will develop a capsule collection in Merino wool, that will then be showcased at one of the two extraordinary events that will highlight the six men's wear finalists and six women's wear finalists across the globe. The men's wear final will be held during London Collections Men and the women's will be held in Paris, both in January 2017.
The winners of both global finals will receive 100,000 Australian dollars to assist with fabric sourcing and marketing of their collection, as well as mentoring from industry experts. Both international winners will also have their collections distributed through the prize's international retail work, which includes stores such as Harvey Nichols, David Jones, Boutique 1, Verso, LECLAIREUR, Boon the Shop, Papilion, Mytheresa.com, and Matchesfashion.com.
photo via Woolmark Prize website