Saint Laurent showed its new men's collection in Los Angeles on Wednesday in front of a host of stars amid persistent rumors over the future of its artistic director Hedi Slimane.
The French fashion house showcased its autumn-winter collection, and part of its women's range, to a backdrop of raucous punk rock at the Hollywood Palladium, five days ahead of the music industry's prestigious Grammy Awards.
"I'm quite chilled right now because it's a few weeks away but it's going to be fun," said British musician Sam Smith, who is due to sing at the Academy Award ceremony on February 28.
He said he was trying not to think about the possibility of messing up in front of the worldwide Oscars audience because "everyone will know and my career is over."
"I can't wait, I'm going to wear an amazing dress, it's all going to go well," he joked. Smith laughed and bantered throughout the pre-show drinks reception with comedian and TV personality Ellen DeGeneres and her wife Portia de Rossi.
'Strong music scene'
"I can't see anything... All I know is Sam is to my right and Portia is to my left because it's so dark and there's bright lights everywhere," DeGeneres said. "There's a lot of people here, it's pretty amazing."
Fashion journal Women's Wear Daily (WWD) has reported that 47-year-old Slimane, who has headed the company founded by Yves Saint Laurent since 2012 and lives in Los Angeles, has "so far failed to reach an agreement on the renewal of his contract" and may be on his way.
Profits have skyrocketed in the three years the Frenchman has been in charge, with revenue doubling as he gave the haute couture brand a street style edge.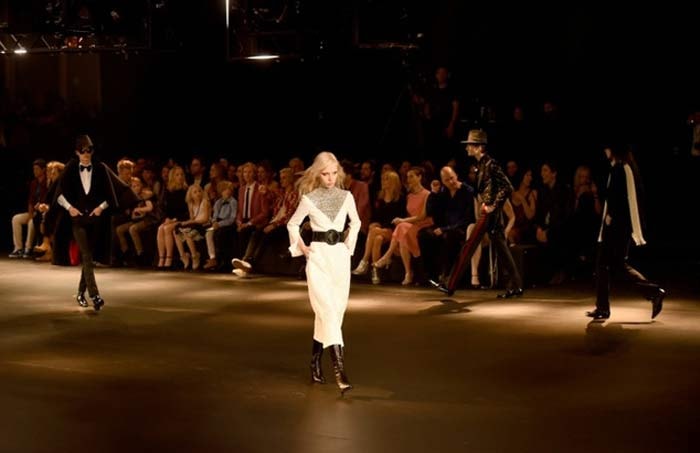 Saint Laurent and its parent group Kering have said they will "not comment on rumors" over Slimane's future. The autumn-winter collection was initially to have been shown as usual during men's fashion week in Paris at the end of January, although the second part of the women's collection will be unveiled there during Fashion Week in March.
Saint Laurent said in a statement that shifting the shows to Los Angeles was meant as a "tribute to the strong music scene in Los Angeles." Long derided for flashiness or faded grunge, Los Angeles is increasingly being described as an upcoming center of global fashion.
Designers who have held shows in the city include Burberry and Tom Ford in 2015 and Louis Vuitton with its 2016 cruise collection. Experts say the fashion boom in Los Angeles stems as much from the city's concentration of celebrities, whose social media influence is important to brands, as its cluster of garment manufacturers and wealth of creative talent. (Frankie Taggart, AFP)
Photos: AFP