Trendstop's materials team bring FashionUnited readers the latest fabric directions that will be inspiring apparel collections in SS18. First identified by our experts at the global fabric trade shows and now emerging on the international runways, these essential fabrications will be impacting across the women's, men's and childrenswear sectors into SS18 and beyond. Our seasonal material forecasts are carefully curated to evaluate each trends commercial value, directionality and longevity to inform your decision making.
This week Trendstop reveal three inspirational materials themes that will be informing Spring/Summer 2018 apparel direction. Soft Comforts taps into the transseasonal trend and the growth of loungewear with cosy comforting textures reworked for summer. Primary Games introduces sportswear hybrids with an emphasis on performance and innovation, and Forest Blooms looks to the natural world as organic textures are refined and refreshed with spring motifs.
Soft Comforts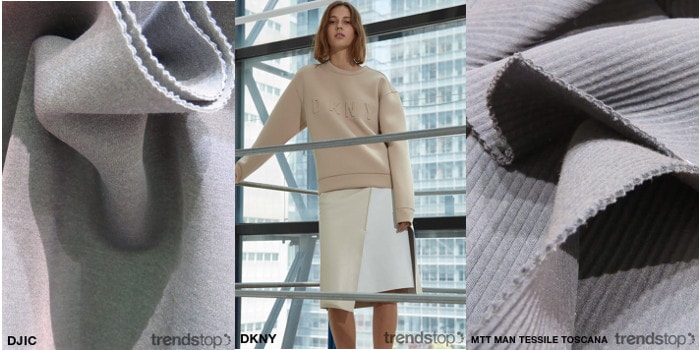 Soft to the touch fabrications lend a comforting aspect to the summer wardrobe enhanced by inflated volumes and cosy handles. Double-knit textures and smooth yarns create clean scuba-like finishes with extra body while rustic textures are softened with towelling and piling techniques and padded surfaces mimic corduroy ribbing to create added surface interest.
Primary Games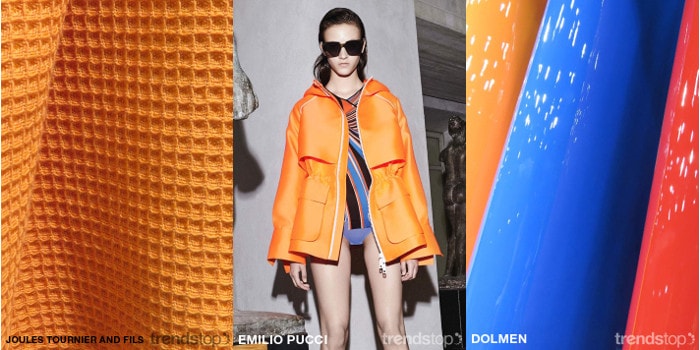 Fabrics take inspiration from the sportswear market with a focus on high performance aspects, technical features and hybrid innovations. Bold primary brights gain depth and dimension from high-shine and liquid gloss coatings while waffle and pique lend a retro appeal to textural sports fabrics. High-tech aspects come through in the lightweight and breathable qualities of hybridised bonded mesh.
The Placement Patch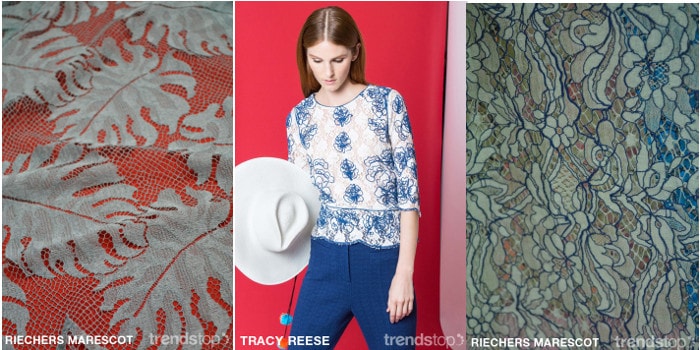 SS18 materials get closer to nature with a concept that embraces tangled organic textures and earthy undergrowth qualities in leafy greens and faded mint tones to refresh the palette. Taking inspiration from forest foliage, sheer embroideries and lace utilise greenery motifs and densely tangled formations that mix heavy and delicate feels.
Exclusive Offer
FashionUnited readers can get free access to Trendstop's Spring Summer 2018 Material Forecast Preview, summarising the key materials stories of the season and packed with vital sourcing information. Simply click the banner to watch now.

Trendstop.com is one of the world's leading trend forecasting agencies for fashion and creative professionals, renowned for its insightful trend analysis and forecasts. Clients include H&M, Primark, Forever 21, Zalando, Geox, Evisu, Hugo Boss, L'Oreal and MTV.
Images courtesy of Trendstop, left to right: Kadet, Christian Dada, Les Benjamins, Rajesh Pratap Singh, Alex Mullins, Schnayderman's, Mooyul Vlades, Liam Hodges, Angelos Frentzos, all Fall Winter 2017-18.