Trendstop brings FashionUnited readers an insider's guide to the Spring Summer 2019 edition of Amsterdam's leading trade show, Modefabriek.
The Trendstop trade show team give FashionUnited readers an exclusive insight into this season's Modefabriek event. A creative showcase for top womenswear and menswear labels, key exhibitors included Birkenstock, Colmar, Guess and Melissa. Stands were complemented by a host of brand presentations, workshops, curated stores and inspiring exhibition installations, highlighting fresh graduate talent from Dutch art schools and fashion academies. For the retail sector, interactive area Screenshop, demonstrated the latest technology designed to enhance the customer experience. Our comprehensive trade show coverage and accompanying galleries evaluate each trend's commercial value and longevity, giving you the best possible basis for your decision making.
This week Trendstop present the highlights from Modefabriek SS19. The Future of Fashion introduces the next generation of names-to-watch while Sunlit Yellow and A Rock 'n Roll Statement illustrate how the season's hottest colour and graphics trends were translated at the show.
The Future of Fashion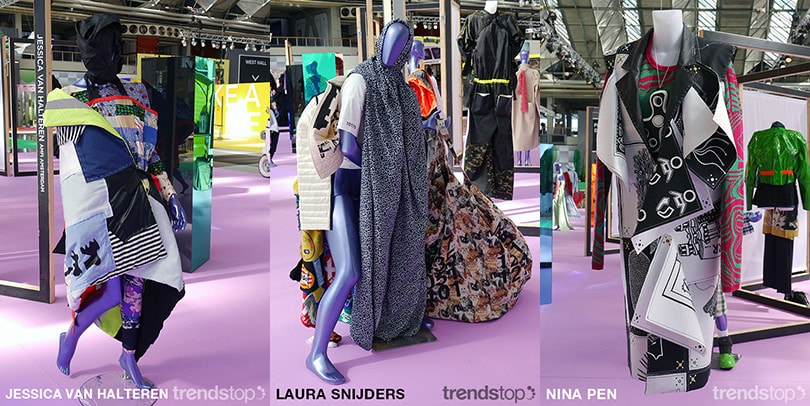 Emerging new talent came to the fore in an exciting display of graduate work from institutions including AMFI Amsterdam, ArtEz Arnhem and KABK Den Haag. Selected by Modefabriek and talent scout Carlo Wijnands, designers Laura Snijders, Nina Pen, Jessica Van Halteren were among those showcasing innovative proportional play and fabric manipulation.
Sunlit Yellow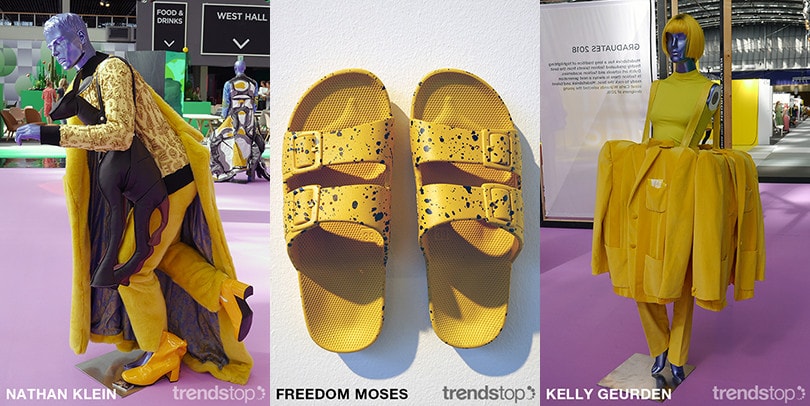 Injecting a dose of sunshine into the palette, Sunlit Yellow is a key colour for SS19. At Modefabriek, the bold silhouettes of Kelly Geurden and Nathan Klein were amplified in head-to-toe yellow while footwear brand, Freedom Moses show how vibrant shades create impactful accessory accents.
A Rock 'n Roll Statement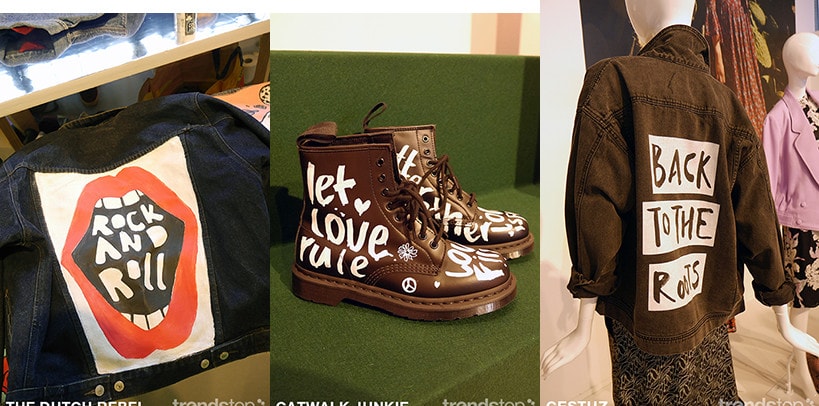 A strong graphic influence has been a feature of many of the season's trade shows and at Modefabriek, summer's rock festival scene provided the inspiration. The customization trend inspired hand painted slogans scrawled over chunky 'bovver' boots and block-printed onto black denim for a playful yet rebellious vibe.
Exclusive Offer
FashionUnited readers can get free access to Trendstop's Fall Winter 2018-19 Copenhagen Trade Show Overview, featuring all the key apparel, footwear and accessories trends. Simply click here to receive your free report.

Trendstop.com is one of the world's leading trend forecasting agencies for fashion and creative professionals, renowned for its insightful trend analysis and forecasts. Clients include H&M, Primark, Forever 21, Zalando, Geox, Evisu, Hugo Boss, L'Oreal and MTV.
Photos courtesy of Trendstop: Jessica Van Halteren, Laura Snijders, Nina Pen, all Spring Summer 2019 | Nathan Klein, Freedom Moses, Kelly Geurden, all Spring Summer 2019 | The Dutch Rebel, Catwalk Junkie, Gestuz, all Spring Summer 2019