Fans of Subway Surfers, the 6th most downloaded mobile game on iOS in 2017, can now buy a pair of sneakers featuring artwork inspired by the game. Sybo Games, the Danish developer behind Subway Surfers, has partnered up with The Ave LA, the online and wholesale business that sells custom made Converse All Stars and Vans models. Their collaboration resulted in a limited-edition collection called SubSurf, which includes 12 customizable slip-on and high top Vans sneakers.
"We are so excited to bring such an authentic collaboration to our fans all over the world", said Naz Amarchi-Cuevas, head of licensing at Sybo games, in a statement. "We know they're going to love this experience".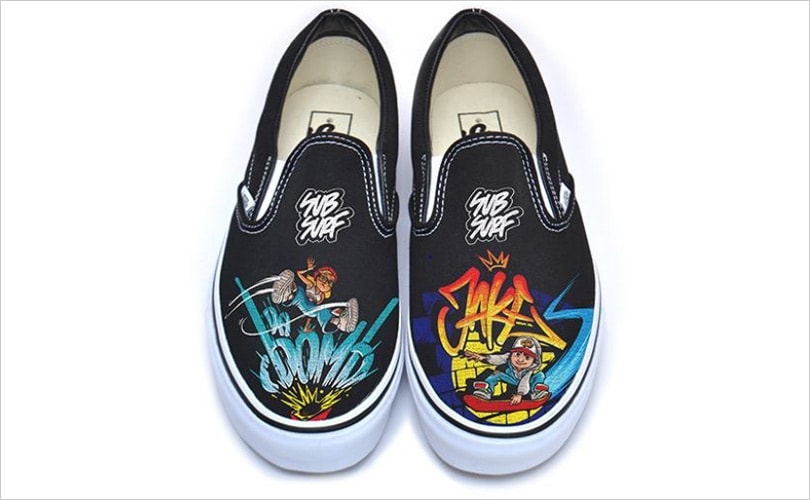 The game features characters Key, Trick and Fresh, who have to escape from an inspector and his dog after applying graffiti to metro stations. Released in May 2012, the game surpassed the mark of 1 billion downloads on the Google Play store earlier this year, which makes it the most downloaded mobile game of all time.
Part of the game's success lies in the fact that it is set in a different city or country each month. Key, Trick and Fresh have appeared in more than 43 destinations so far. The collaboration with The Ave LA marks the characters' arrival in Venice Beach on June 1st. Sybo is also launching an animated series on YouTube on the same date.
Each pair of sneakers is made to order and retails for 99 US dollars. Shipping is available worldwide. The characters are featured on the sneakers thanks to a shoe printing technology patented by The Ave LA in 2014 and licensed in Europe and Canada.
photo: courtesy of the brand