Montreal, Quebec, July 20, 2017 – With the highly anticipated 17th annual Fashion & Design Festival (FDF) only weeks away, the excitement continues to build. The internationally recognized platform showcases and promotes talent form here and abroad, while celebrating the next generation of trendsetters.
This great celebration of creativity was founded and organized by Groupe Sensation Mode, the leading fashion and design company in North America. Taking place in downtown Montreal, the unique event features a program that includes fashion shows, multidisciplinary performances, live creative sessions, concerts and real-time design.
The Festival is an inspiring hub for fashion, design, music and shopping trends, and is the perfect opportunity to highlight creativity, culture, modernity, diversity and cosmopolitanism.
For the second consecutive year, the Fashion & Design Festival is pleased to welcome Vanessa Pilon as the spokesperson for the 2017 edition. "For a second year in a row, I'm both proud and humbled to act has spokesperson for the Fashion & Design Festival – an event that you just cannot miss. Once again, the festivities allow us to honor fashion and design in the effervescent setting of the Quartier des spectacles. I can't wait to be amongst the crowd and to meet you throughout the week's amazing events!"
For six days, all eyes will be on Montreal, as the city moves to the rhythm of its innovative spirit, in what can only be called a real-life, design laboratory. The FDF site, in the heart of the Quartier des Spectacles, will open at 11:30 a.m. every day.
FROM AUGUST 21 TO 24: FMD TALKS
The festivities will open with the highly anticipated FMD Talks, which provide a unique opportunity to discover the inspiring journeys of the most influential, creative minds on the world stage, and understand how their experience has shaped them.
Organized by the FDF and hosted by Stéphane Le Duc, this event will allow festival-goers to meet speakers from all over the world, including Jean- Paul Goude, the ultimate fashion trendsetter who continues to leave his mark on the field; John Londoño, photographer, and director; Anat Safran, curator and artistic director of Jerusalem Design Week, and Zaldy Goco, New York-based designer (Lady Gaga, Cirque du Soleil), to name just a few. These four days will provide an intense level of creative immersion.
For more information on the program for the 12 FMD Talks, visit festivalmodedesign.com
FROM AUGUST 23 TO 26: PRESENTATIONS AND FASHION SHOWS
The first day of the outdoor festivities will be full of vibrant and refreshing activities culminating in a grand fashion show celebrating the city's 375th anniversary.
WEDNESDAY, AUGUST 23rd, PASSERELLE CASINO DE MONTRÉAL
5:00 - 5:30 P.M. YouTubers In Real Life - [Talk]
Today, YouTubers are influencers capable of enthusiastically engaging increasingly large communities and initiating real change.
Who are the new big names in the field?
This discussion on " Youtubeurs In Real Life" sheds light on this world. Florence-Élyse Ouellette, Noémie Lacerte, Mila Taillefer, Frede Rioux and Jessica L'Espérance will talk about their relationship to fashion in the era of YouTube and social media.
5:30 - 6:00 P.M. SIGNÉ LOCAL FASHION SHOW – [Fashion Show]
The Signé Local fashion show celebrates fashion design from Quebec.
Celebrating local talent from the "Belle Province," the show brings together several designers who contribute to the richness of the Quebec fashion scene.
To complete the experience, all of the designs featured in the show will be available on Signé Local's online boutique after the end of the show.
6:00 - 6:30 P.M. KANTINE CLUB– [Fashion Show]
Are you familiar with the link between urban culture, fashion and food?
If the answer is no, you need to discover the world of Kantine, which combines the three in a playful and visually appealing way.
6:30- 7:15 P.M. Reluxe - Le Chaînon – [Fashion Show]
For the second year in a row, Reluxe is organizing a fashion show that brings together public figures and well- known business executive to perform and quite the show. After a resounding success in 2016, the 2017 edition will take the concept of «restoring meaning ton one's style» even further.
All the pieces shown at the event will go on sale in the Reluxe pop-up shop, with all the proceeds donated to Le Chaînon.
7:30 - 8:15 P.M. CCMQ - SHOWTIME – [Fashion Show] *7:30 pm at Place des Festivals
As prelude to the fashion show performance in honour of Montreal's 375th anniversary, the Conseil des Créateurs de Mode du Québec (CCMQ) is putting together a fashion show not to be missed! It will feature designs by great Quebec designers: Denis Gagnon, Marie Saint Pierre and Philippe Dubuc.
8:15 – 8:45 P.M. Robert Atelier - [Fashion Show]
The exploration of movement is at the heart of Robert Atelier's designs. His work masterfully plays within the grey zone between rigidity and f luidity. Each piece celebrates the art that we wear in everyday life. His work is an ambitious reflection on feminine sensitivity and how it moulds modernity to a classic timelessness.
8:45 – 9:30 P.M. Dossier : Paradigmes - [Fashion Show]
An ode to paradigms. Dossier is an independent print magazine devoted to the local fashion industry in Quebec. For this show, the magazine's editorial team will present several emerging designers who are making their mark through their unique, non-traditional designs.
9:30 – 10:30 P.M. Montreal Identity/Identities – [Fashion Show for Montreal's 375th anniversary]
This show highlights Montreal's history through the theme «Montreal Identity/Identities.» The event honours the city through the unique colours of its seasons, which have been shaping life in Montreal for 375 years.
This innovative angle will allow the public to glance over the history of fashion in the city discovering and rediscovering the work of manufacturers, boutique offerings, designer creations, famous costumes and future visions of the city's style, as seen through the eyes of tomorrow's talents.
About one hundred looks will be featured, and several celebrity guests will walk on the Passerelle. The colourful performance will be accompanied by musical interpretations of the designs as well as chromatic and rhythmic atmospheres.
THURSDAY, AUGUST 24th: PASSERELLE CASINO DE MONTRÉAL
5:00 - 5:45 P.M. Fashion and Business: How to develop your brand - [Talk]
This collaboration between HEC Montréal's Comité Mode et Affaires, Love & Beyond Lingerie, and Bonvilain shows how businesses can grow as a result of brand development. Judith Bourgeois, founder of Love & Beyond Lingerie, and Charles-Éric Beaulieu, co-founder of Bonvilain, will share their fruitful journeys and talk about the commitment that is necessary when starting a business.
5:45 - 6:30 P.M. Mode Expo67 presented by the McCord Museum - [Fashion Show]
Presented in collaboration with the exhibition Mode Expo 67 at the McCord Museum, on display until October 1, 2017. Fashion played a central role at the renowned Expo 67. Hosted by Les Galipeau's (Chantal Lamarre and Sylvie Dumontier), the show Fashion at Expo 67 celebrates the colourful and diversified outfits inspired by those worn at the Universal Exhibition in Montreal.
6:30 - 7:00 P.M. Boutique Ethik - [Fashion Show]
This show provides the opportunity to discover a selection of ethical fashion, designed and created differently. The looks are inspired by styles from here and abroad, infused with tribal and urban influences for a fresh and contemporary look that's ideal fashionistas, creators and change makers.
7:00 - 7:30 P.M. Rémi Van Bochove "Les Fleurs d'Opium" - [Fashion Show]
An experience inspired by the theme LES FLEURS D'OPIUM A/ W 2017-18. Today, we do not mourn the dead like before. The grieving process has accelerated to catch up to the pace of our society. Opium for escape, poppies for remembrance – a show with an innovative theme.
7:30 - 8:00 P.M. "The Garden of Earthly Delights" by Lucas Stowe - [Fashion Show]
LUCAS STOWE introduces a collection of sophisticated unisex clothes that are also elegantly playful and easy to wear. His evening wear is inspired by the comfort of sportswear and the luxury of sleepwear.
8:00 - 8:30 P.M. In.cohérences - [Fashion Show]
In a world where the material takes precedence over what is essential to one's being, Gabriela Hébert's fresh look makes a difference. An avant-garde show by seasoned and emerging designers.
8:30 - 9:15 P.M. Dynamite - [Fashion Show]
Get ready for Fall fashion! Whether you're looking for that sharp 9-5 look or a seductive outfit for drinks with the girls, we're making a statement with sexy details and power pieces. Join us on August 24th at 8h30p.m. at Montreal's Fashion & Design Festival for a peek at our fall collection. WARNING! You might want to buy the entire collection! #dynamitestyle
9:15 - 10:00 P.M. La Vie en Rose - [Fashion Show]
La Vie en Rose is the fashion destination for elegant lingerie, sleepwear, loungewear, and a vast selection of swimwear. Don't miss this fashion show filled with the colours of Fall, and inspired by female beauty, comfort, and well-being. Also, for the very first time, La Vie en Rose will showcase its most trend worthy swimwear on Passerelle Casino de Montréal.
FRIDAY, AUGUST 25th: PASSERELLE CASINO DE MONTRÉAL
5:00 - 5:45 P.M What is Afro fashion? by Miss Kabi - Fashion Show – [Talk]
What is Afro fashion? Discover this world during an evening with the company Miss Kabi, where the industry, trends, inspirations and international market prospects will be discussed.
5:45 - 6:15 P.M. RELÈVE MODE : A project by Fusion Jeunesse - [Fashion Show]
RELÈVE MODE: a student retention project by Fusion Jeunesse. These designers are talented, young and… in high school! The designs that will be showcased, whether as sketches or on the runway, are the result of the work completed by students from five high schools in Montreal: La Voie (CSDM), Lakeside Academy (LBPSB), Jacques-Rousseau (CSMV), Saint-Henri (CSDM), Cavelier-De LaSalle (CSMB) and Louis-Joseph- Papineau (CSDM).
6:15 - 6:45 P.M. Fashion Preview - [Fashion Show]
Fashion Preview showcases designers from the Quebec fashion world and brings together local talent for a colourful show.
6:45 - 7:30 P.M. Complexe Desjardins - [Fashion Show]
The shopping destination in the heart of the Quartier des spectacles, Complexe Desjardins, puts on an inspiring fashion show to highlight its stores and key brands.
7:30 - 8:00 P.M. Beige by Michèle Adrienne – [Fashion Show]
Beige is a concept that has to be experienced, that cannot be explained. Neither black nor white: it 's beige. Its purpose: to reclaim fashion and beauty standards of the black community.
8:00 - 8 :30 PM. INTRODUCTION by Of Sharks & Men – [Fashion Show] Of Sharks & Men is not just a reference to a classic novel or to a music group. It 's also a clothing brand that believes in the full potential of humanity: a combination of the best ideas, conditions and qualities.
8:30 - 9:00 P.M. Frédériqueleg – [Fashion Show]
Presenting an alternative view of femininity.
9:00 - 9:30 P.M. Gabriel Drolet-Maguire SØRRY MØM – [Fashion Show]
Earth, Water, a mysterious concept: SØRRY MØM
Ø This world is mine: Water destroys
Ø These stains are mine: Water purifies
Ø This emptiness: Water fills it
9:30 - 10:30 P.M. EXPO_ NOW presented by the Collège LaSalle – [Fashion Show]
The EXPO_ NOW fashion show promises to be one of the highlights of the 2017 edition. A half century ago, Quebec was rising up with a new voice in the modern world. With EXPO_ NOW, Collège LaSalle draws inspira- tion from the truly creative and visionary spirit of Expo 67 to imagine what the exhibition would be like today, with its themes and focus on the future.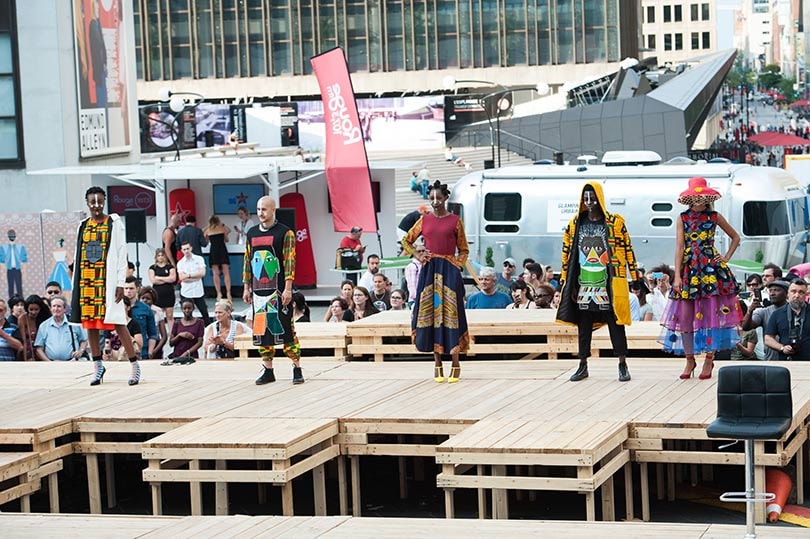 SATURDAY AUGUST 26th: PASSERELLE CASINO DE MONTRÉAL
5:00 - 5:30 P.M Style has no age…a talk with Lolitta Dandoy - [Talk]
Through her blog FashionisEverywhere.com, Lolitta Dandoy has always wanted to prove that fashion is for all, regardless of size, budget or age. In this special presentation, she discusses fashion, self-confidence and the perception of others with two inspiring women, who are the living proof that style has no age: New Yorker Lyn Slater (@iconaccidental) and Montrealer Grece Ghanem (@greceghanem). A talk not to be missed by all fashion lovers! #StyleHasNoAge #AgeIsNotAVariable
5:30 - 6:00 P.M. Luna Show - [Fashion Show]
The LUNA show is a large-scale fashion show that happens every year in Québec City whose primary purpose is to donate its proceeds to the Opération Enfant Soleil organization. As part of the Fashion & Design Festival, Luna allows the audience to discover five designers from Québec City.
6:00 - 6:30 P.M. Featherstone Vintage - [Fashion Show]
Featherstone Vintage is high-end fashion that takes just as much inspiration from the turn of the last century as from the 90s. The collection is meticulously organized, with special attention given to fabric, cut and overall quality of clothing. 6:30 - 7:15 P.M. Mode375 - Cégep Marie-Victorin School of Fashion - [Fashion Show]
Under the theme, Mode375, the fashion show by Cégep Marie-Victorin's Fashion School presents a creative look at five landmark moments of Montreal's urban development. Each tableau is introduced by a video clip developed by Graphic Arts students in collaboration with the Department of Visual Arts, and set to music by a student.
7:15 - 7:45 P.M. Martel - 17 - [Fashion Show]
Founded in early 2016, MARTEL offers modern ready-to-wear clothing with a handmade touch. Designed and created by Charles Martel, the MARTEL collection consists of a clothing and accessories line for women that is simple and easy to wear, with special attention given to detail and finish.
7:45 - 8:30 P.M. Alton Gray - [Fashion Show]
The concept of the Alton Gray brand, just like its show, is to combine the personal spirit and atmosphere of small, neighbourhood, luxury boutiques with the wide selection offered by luxury department stores. 8:30 - 9:00 P.M. SCULPTING UNIQUENESS - SS18 - [Fashion Show]
SCULPTING UNIQUENESS – SS18 by Jessy Colucci. An ode to diversity that contrasts with the desire for unity. This inaugural collection celebrates individuality in all its forms, with all its flaws, because beauty is found in authenticity that transcends perfection.
9:00 - 9:30 P.M. Exposed - [lX Daily] - [Fashion Show]
What if we shed light on the process of getting dressed in the morning and created a truly authentic show? IX Daily brings The Arbiter back to the stage this year. This time, not only will emerging international brands be presented, but the lives of those who choose to wear them will also be exposed.
9:30 - 10:30 P.M. Made In: Canada 150 – [Closing Show]
As part of Canada 150, the Fashion & Design Festival presents a fashion show performance showcasing Canadian fashion. The closing event promises to be brilliant, powerful and full of discoveries.
FMD EXPERIENCE – THE CREATOR AT THE HEART OF THE ACTIVITIES
Cirque du Soleil
Cirque du Soleil artisans will be on site to demonstrate their expertise and the evolution of the art of costume design at the Cirque in their various productions and throughout the years.
The collective project
The collective project is a witty combination of the use of traditional techniques and new technologies. It represents the evolution over time of artisanal trades, whose core is still driven by three key emotions: passion, involvement and achievement.
SOIR
Soir is a non-profit organization that aims to showcase emerging artists while fostering the creation of a multidisciplinary network thanks to its various activities. Through its live art programming, which ranges from contemporary dance to live painting, Soir will showcase different artists as they walk around the site and take people by surprise.
EXPO_NOW: The Collège LaSalle EXPO
In tandem with its EXPO_NOW fashion show, Collège LaSalle invites people to discover the work of its graduating class by strolling through a creative exhibition.
DOLLARWEARS - COLIN MEREDITH
Colin Meredith is recognized for his unexpected choice of materials. Known for his collection inspired by Ikea bags and his clothes made from construction materials, this year, the designer has drawn inspiration from Dollarama for Dollarwears. His irreverent exhibition combining expertise and mass consumption will be presented for the four days of the Festival to be admired by festival-goers.
The High Heels Race
Wednesday, August 23 at 12:30 p.m., put on your high heels and run for a worthy cause: Le Chaînon's Foundation. In teams of two, wear unusual clothing and celebrate the kick-off of the Fashion & Design Festival! Men are also welcome to participate. Sign up online on the Festival's website.
Yoga Hyba at Complexe Desjardins
Saturday, August 26 at 1pm, the FDF, in collaboration with the Complexe Desjardins, presents with Hyba a massive yoga event! Bring your yoga mat and join the collective stretch! Namaste! Even if the year 2017 appears to be in part a celebration of the past and everything that made our fashion and city what they are today, the focus is nevertheless on tomorrow. It has become crucial to look to the future by supporting established creators, but also by investing in all that the next generation has to offer, which is full of promise.
THE FDF THANKS ITS PARTNERS
The Fashion & Design Festival, recognizes the generous contributions of its many important partners such as the Loews Hôtel Vogue, official hotel of the Festival. Furthermore, it would like to thank the Government of Québec (Secrétariat à la région métropolitaine, ministère du Tourisme, ministère de l'Économie, de la Science et de l'Innovation), the City of Montreal, Society for the Celebrations of Montréal's 375th Anniversary, the Government of Canada (Canadian Heritage, Canada 150), and Tourisme Montreal for their financial support.
About the Fashion & Design Festival
The Fashion & Design Festival is an annual celebration of creativity held in downtown Montreal. Founded, designed, and produced by Groupe Sensation Mode, this unique event offers a variety of activities including parades, multidisciplinary shows, live creation, musical performances and real-time design. For four days and four nights, nearly 50 shows featuring renowned designers and leading national and international fashion brands will be presented. Make-up artists, hairdressers, models, stylists, and musicians contribute to the ambiance. A true platform for fashion, design, music, and shopping trends, this event is the biggest happening of its kind in North America. Visit festivalmodedesign.com for more information.
About Groupe Sensation Mode (GSM)
For 18 years, Groupe Sensation Mode (GSM) brings together fashion, designers, consumers, retailers and spirit of the streets to create entertaining, intelligent, and innovative lifestyle experiences. Driven by creative passion GSM is renowned for have conceived, created, and produced the largest fashion events in Canada, such as the Festival Mode & Design (FMD). Its evolution has allowed the group to develop its mission, its expertise, its services, and its network, making it an industry leader. The innovative events produced by GSM are a local and international showcase for designers' creativity and talent. GSM has thus built an enviable reputation. At the heart of its work, four pillars of activity work in synergy: fashion, culture, tourism, and business. With this in mind, a Board of Directors was established for the FMD, presided by Mr. Jean-Pierre Desrosiers, as well as a circle of inspiring ambassadors, supported by Mr. Raymond Bachand. With their undivided support, GSM and the Festival Mode & Design
are paving the way for creators and designers to shine amongst a vast audience here and abroad.