Trendstop brings FashionUnited readers a first look at some of the highlights from the Pre-Fall 2019 season so far.
Trendstop's catwalk experts bring you the inspirational shows and latest news direct from the Pre-Fall 2019 season. Following a host of 'destination' Resort shows, Pre-Fall is seeing a boom in brands showcasing their latest collections via big production events in some of the world's largest, and fastest growing, luxury markets. Tokyo, Shanghai and New York are the among the destinations for fashion's most famous names with many houses opting for runway shows instead of the classic Pre-Fall presentation format. Another key development is the rise of coed and menswear-specific Pre-Fall shows with Dior Homme, Coach 1942 and Valentino all expanding their offerings for the season. Our comprehensive, global catwalk coverage and accompanying trend galleries evaluate each trend's commercial value and longevity, giving you the best possible basis for your decision making.
This week, FashionUnited readers get an exclusive look at three Pre-Fall collections making an impact on the season. At Valentino, an homage to Japan saw men's and womenswear showed side by side. At Burberry a symphony of tonal colours and a coed collection reinforced the house's focus on promoting its inter-generational appeal. At Jil Sander, themes of cosiness and comfort, rich and raw, elevated the brand's original minimalist codes to new heights.
Valentino
Valentino brought their first ever coed show to Tokyo, Japan, reflecting the city's growing status as a fashion leader. Inspired by their host country, designer Pierpaolo Piccioli celebrated Japanese culture through an all-red line-up of tulle dresses, floral print silks, suiting and asymmetric silhouettes channeling the concept of wabi-sabi. A beautiful finale saw the models take their bow while being showered in red rose petals.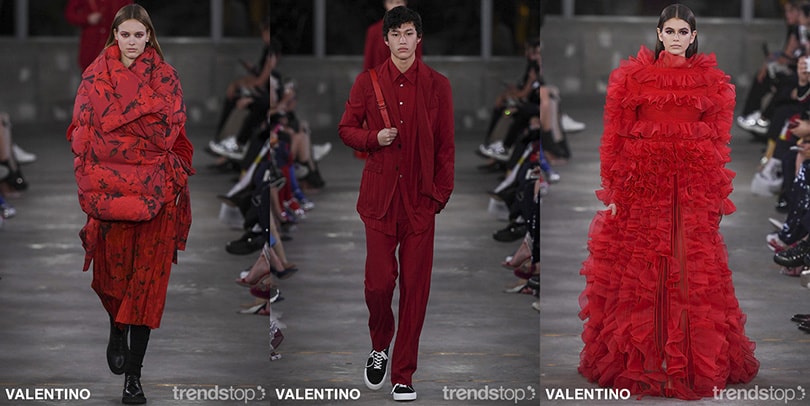 Images courtesy of Trendstop, left to right: all Valentino Pre-Fall 2019
Burberry
Riccardo Tisci's first Pre-Fall collection was no less epic in its variety of looks than his SS19 debut. A vast selection of outerwear for men and women came in multiple colour-ways and fabrications. A tonal palette also covered the spectrum of Burberry's archive with shades of camel, taupe, beige and honey all working together. An array of footwear and accessories completed the line-up with additional, as yet unseen pieces, expected to be added to the range in May.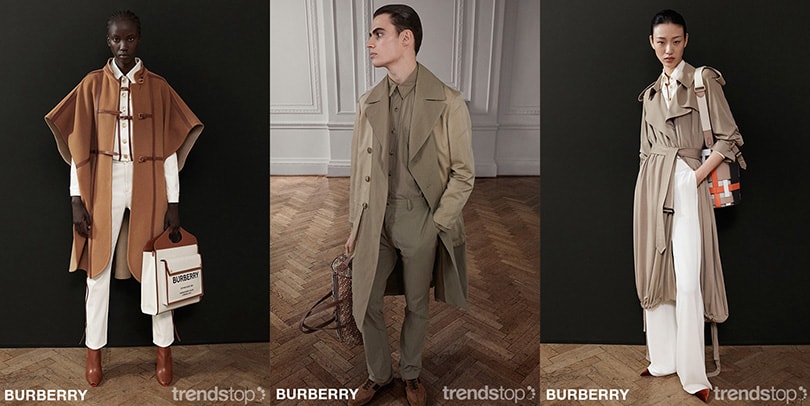 Images courtesy of Trendstop, left to right: all Burberry Pre-Fall 2019
Jil Sander
Building on the style codes explored for Spring, Luke and Lucie Meier's latest outing for Jil Sander took pure and simple forms and transformed them through fabric mixes, textural elements and unexpected detailing. Cut-and-sew wool blankets and raw canvas teamed with broderie anglaise summed up the humble vs. luxury feel of the collection while padded duvet introduced a sporty functionality to a soft and comforting aesthetic.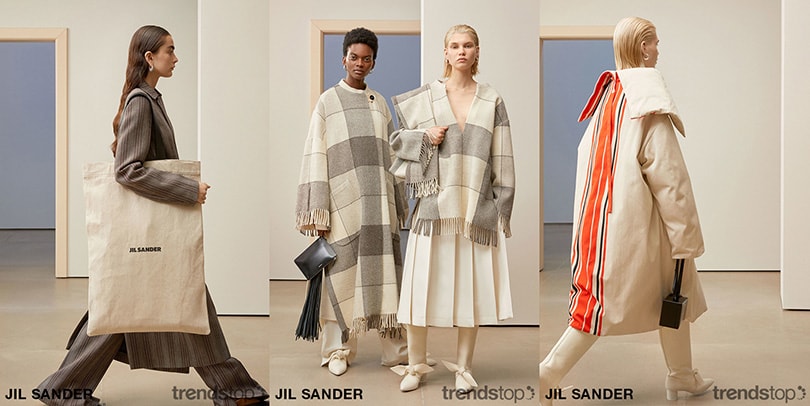 Images courtesy of Trendstop, left to right: all Jil Sander Pre-Fall 2019
Exclusive Offer
FashionUnited readers can get free access to Trendstop's Resort 2019 Key Theme Directions, a curated overview of the most essential themes from the 2019 Resort season. Simply click here to receive your free report.

Trendstop.com is one of the world's leading trend forecasting agencies for fashion and creative professionals, renowned for its insightful trend analysis and forecasts. Clients include H&M, Primark, Forever 21, Zalando, Geox, Evisu, Hugo Boss, L'Oreal and MTV.