UK Trade & Investment (UKTI) and the China-Britain Business Council (CBBC) have signed a joint memorandum of understanding (MoU) with ShangPin to support British retailers launching in China through Shangpin.com.
The announcement comes two months after Arcadia's Topshop joined forces with ShangPin for it's official launch into the Chinese market. "The UK has a strong heritage for producing high-quality goods and services, creating huge demand for British brands across the globe," said Dominic Jermey, CEO of UKTI.
"We are therefore delighted to be partnering with ShangPin on this MoU and, in so doing, respond to the increasing demands of the discerning Chinese for British brands and, at the same time, supporting UK brands trade successfully on ShangPin's e-marketplace."
UKTI, CBBC and Shangpin to support cross-border trade between UK and China
The agreement will support the cross-border trade between the UK and China and offer ShangPin's support and expertise, one the leading online B2C fashion and lifestyle platforms, with "preferential perks." Shangpin will also introduce dedicated British-themes marketing initiatives across its platforms for its consumers to become more acquainted with the retailers.
"Our hugely successful online launch of iconic British brand Topshop through ShangPin.com was a milestone in Chinese retail history," said David Zhao, Chief Executive Officer at ShangPin. "Topshop is one of many leading international brands now looking to enter China via online platforms instead of opting for a traditional bricks-and-mortar presence."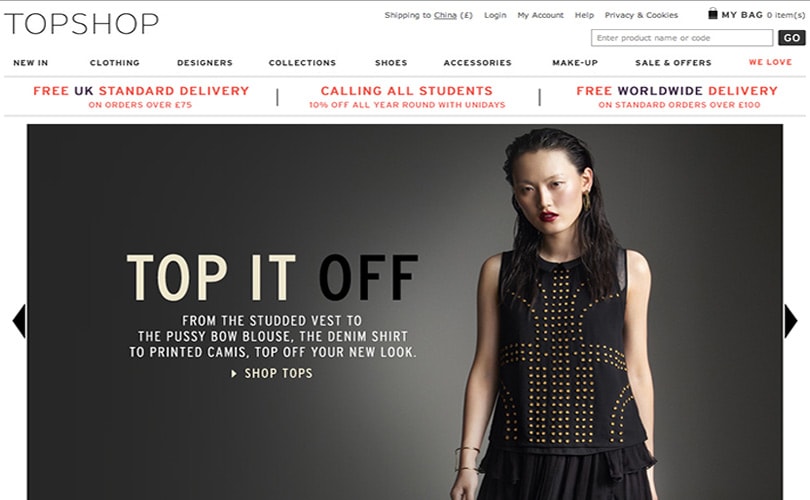 "Chinese e-commerce and social media marketing is hard for foreign brands to crack, so a local partner is essential. With this MoU, we hope to bring even more British brands into China. Our unique offer that provides everything a brand needs to enter a new market: our online retail platform, social media marketing, and partnerships with Chinese celebrity brand ambassadors is a one-stop shop of local support, ready-built customer bases, and on-the-ground marketing."
ShangPin is the first full-priced online retailer and B2C platform which focuses on international fashion and lifestyle brands in China. Unlike many other online retailers, the platform also actively works with outstanding individuals such opinion leaders, fashion bloggers and celebrities to increase local awareness of its overseas brand partners in China's growing online consumer market.
M. Claire Chung, Vice President of International Business Development for ShangPin, added: "We are thrilled to be working with UKTI and the CBBC to introduce Britannia's finest to Chinese fashion-lovers. ShangPin is vastly different from the other B2C platforms in China, which sell everything from dog food to clothing on the same crowded site. A foreign brand entering China will have low brand awareness and would get buried on most Chinese B2C trading platforms, where they compete against better-known Asian and local brands."
"ShangPin focuses on a more refined proposition – concentrating on current season fashions, offering our customers only the best brands from around the world. From street fashion to fast fashion to premium designer looks, our goal is to provide a wide range of styles as our customers grow with us, not only in increased spending power but also in their fashion tastes. We leverage our celebrity connections and fashion influence network to support our brand partners as they enter unknown territory."
Stephen Phillips, Chief Executive of the China-Britain Business Council, concluded: "The UK's reputation for excellence, innovation and design is well recognised in China, where a rapidly growing group of sophisticated consumers are drawn to our globally renowned brands and companies. We are delighted to be cooperating with ShangPin on this MoU, to make it even easier for UK companies to access one of China's most highly-regarded e-commerce platforms."