London - Last night saw Swedish fast-fashion giant H&M host its debut co-ed and 'See Now, Buy Now' show for its Studio S/S 2017 collection during Paris Fashion Week. H&M transformed the Tennis Club de Paris into a "warm inviting space" for its show, which saw the likes of Alexa Chung, Nicki Minaj and Lucky Blue Smith grace its front row. It-models of the moment Gigi and Bella Hadid, Amber Valletta and Adwoa Aboah presented the collection, which was live-streamed online and in selected stores where the range was launched immediately afterwards. But as fashion retailer that launches new apparel collections in store weekly, what does embracing the 'See Now, Buy Now' format really offer them? And what do they gain from it?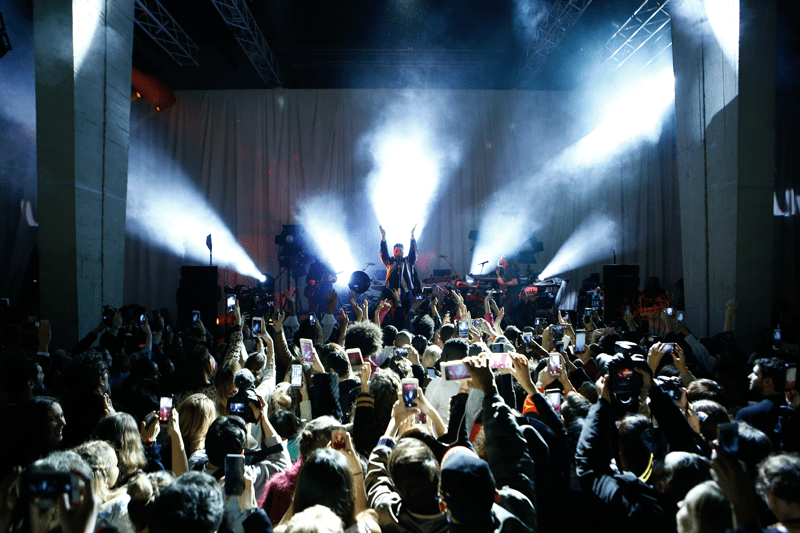 According to H&M's Head of Design and Creative Director, Pernilla Wohlfahrt, 'See Now, Buy Now' signals the start of a new era for the fashion industry where brands are able to connect with their consumers like never before. "Bringing fashion immediately from catwalk to checkout marks a new era for the fashion industry and we value the direct communication we can have with customers through a 'see now, buy now' collection," said Wohlfahrt. "Anything that brings us closer to our customers and makes fashion even more accessible is very positive." In order to enhance consumers experience, H&M also offered a 360 degree live viewing experience of the show via its YouTube channel, and closed its show with a performance from breakthrough singer The Weeknd. After the show, H&M opened its interactive pop-up shop in Paris, and launched the collection online at hm.com before launching the collection in 180 selected stores around the global on Thursday.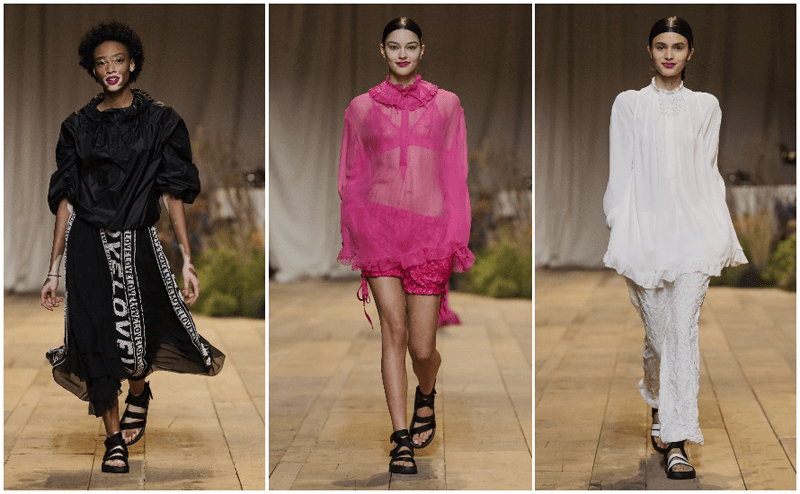 What will H&M gain from its Studio S/S 2017 'See Now, Buy Now' collection?
Most of the shoppers present at one of H&M's in-store launches were very positive about the retailers catwalk show and immediate collection reveal. "I previously spotted items I wanted at the other shows, but then forgot all about them because you have to wait half a year for them to launch in store. I find this format much more convenient. It's really a godsend," said Roos van de Aa to FashionUnited Dutch correspondent at H&M's Studio S/S 2017 collection launch in Amsterdam. If H&M was hoping the collection would sell out within 24 hours, then they partially achieved their: at the time of publication 18 items from the mens and womens wear Studio S/S 2017 collections are currently sold out on hm.com UK website, including key pieces such as a hot pink ruffle blouse, with a number of items only available in limited sizes.
H&M is not the first fast-fashion retailer to launch a 'See Now, Buy Now' catwalk show. The Swedish retailer follows in the footsteps of British high street rival Topshop, who oversaw its debut event last season for its high-end Unique range during London Fashion Week. At the time the brand launched 60 percent of the collection presented online and in-store immediately for sale following its show. The remaining 40 percent of was launched in November. In order to fully capitalize on the hype surrounding its show, Topshop dressed selected celebrities in the front row in both pieces from the new collection drop and pieces from the upcoming February drop. The day after the show, customers were offered the chance to 'Shop the Front Row' in an email which linked to a dedicated page. But which items turned out to be the most in demand?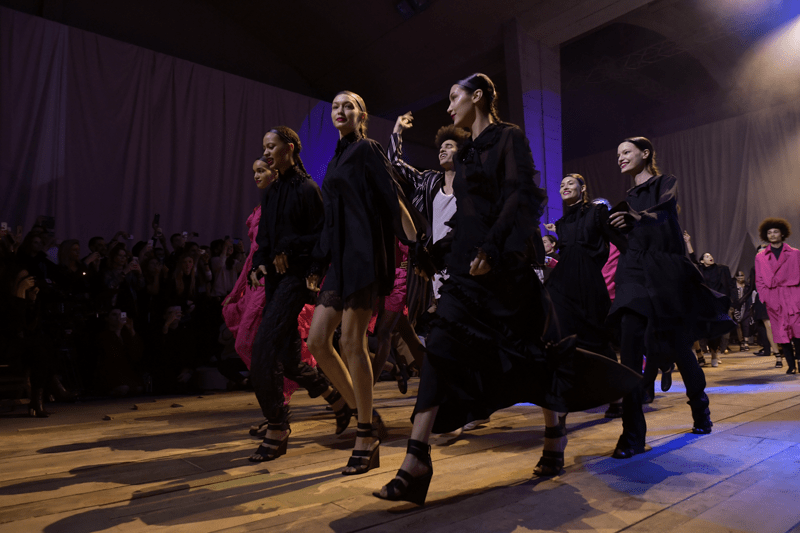 Is 'See Now, Buy Now' beneficial for fast-fashion retailers?
Data from Edited shows that customers were more eager to get their hands on pieces which sat in line with the autumn/winter season they were about to enter. For example, the darker-toned version of the Crawford Blouse sold much better than its lighter-colours counterpart as consumers searched for items they could wear immediately. This season's 'See Now, Buy Now' runway show from Topshop Unique saw the entire collection shown launch immediately in stores and online for sale following the event, with the first look presented selling out online within hours. In addition, if direct interaction with consumers is fast-fashion retailer's main goal in launching a 'See Now, Buy Now' collection, then recent figures suggest they may be onto something. Topshop's Unique SS17 show saw the high street retailer brand being crowned as the winner of London Fashion Week's social media interactions, according to figures from Launchmetrics. Topshop's engagement on 1258 posts with the #topshopunique reached over 924,200 interactions, the most interactions recorded during the five day event, beating Burberry, J.W Anderson and other leading designers showing.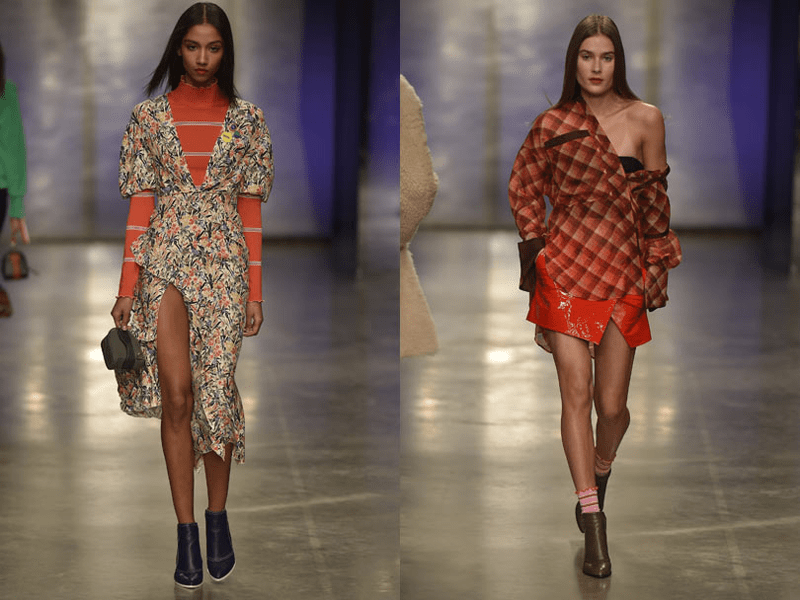 As more and more luxury fashion houses, such as Burberry, Tom Ford and Rebecca Minkoff, continue to follow a 'See Now, Buy Now' business model, fast-fashion retailers following in their steps are likely to benefit from the additional addition surrounding the hype. In particular, the leading consumer group today - Millennials - demand immediacy when it comes to embracing the latest trends. Hosting a 'See Now, Buy Now' event helps brands such as H&M and Topshop stand out from their peers by offering consumers something new and exclusive within a shortened time frame, while cutting down on marketing costs, essentially killing two birds with one stone.
However catering to millennials demands for immediacy could potentially make things more difficult for fast-fashion retailers like H&M and Topshop, who tend to base their collections on the leading catwalk trends. If more luxury fashion houses shift to a 'See Now, Buy Now' model, it will make it increasingly difficult for fast-fashion retailers to incorporate trends set by their collections into their own designs. This means fast-fashion retailers will be forced to develop a business model which is even more agile, or look further than the catwalks for inspiration for their collections.
H&M Photos: H&M Studio SS17 Show, Courtesy of the H&M Group
Topshop Photos: Topshop Unique SS17 Show, Courtesy of Topshop