Japanese footwear maker Asics has opened two new brand stores - one on 579 Fifth Avenue in New York City, which is the brand's first flagship store in the US - and one on Mariahilfer Strasse in Vienna, Austria, the city's longest and most lively shopping street, which is the first Austrian brand store.
Both stores were designed to represent Asics' heritage and mantra of "Sound Mind, Sound Body", which is reflected in the brand's name, which is an acronym for the Latin phrase 'anima sana in corpore sano', meaning "a sound mind in a sound body", thus encouraging the pursuit of mental and physical health and well-being.
In addition, the new flagship stores serve as platforms for the brand to reach a wider variety of consumers. Also, for the first time in a brand-owned location in the US, Asics features two distinct brands, namely its atheletics brand Asics and lifestyle brand Asics Tiger.
"Asics is proud of its unique approach to the retail experience and our product development that focuses on maintaining a healthy lifestyle as a whole. By combining two of our uniquely different brands, we are offering consumers a wide range of quality performance and lifestyle shoes and apparel for an array of needs – directly addressing the shift in the way people are working out and moving today," commented Gene McCarthy, president and CEO of the Asics America Corporation. "We are truly excited to see how consumers respond when we bring the essence of our brand and our heritage to the streets of New York City for our biggest presentation of the brand yet."
First Asics flagship stores in New York and Vienna
The 2,035 square foot Fifth Avenue store, located in New York's shopping mecca, balances the highly technical aspects of the brand's products - a sound body - with natural, warm finishes, features and materials - a sound mind - resulting in an "environment that immerses customers in a world where both the mind and body are stimulated".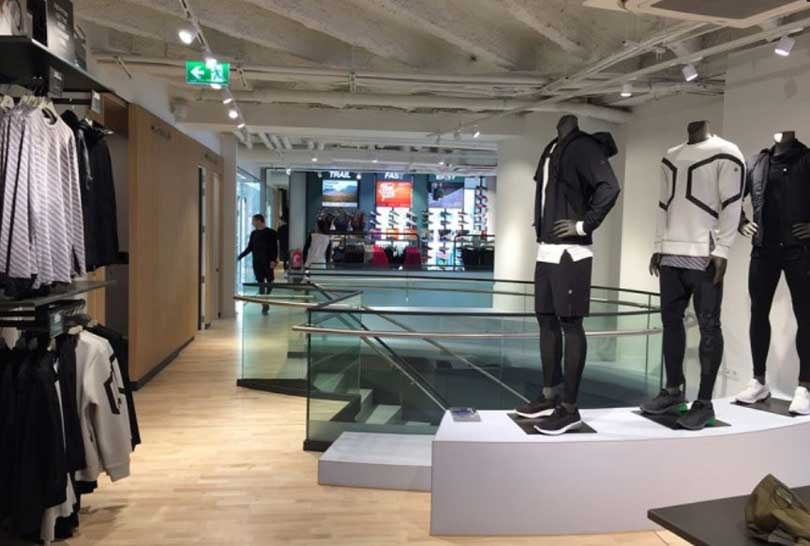 The new global retail concept that combines performance and lifestyle products, represents the pinnacle of a new global concept created by design agency Brinkworth and is reflected across point of sale areas globally. "Every design and material detail has been elevated and considered against Asics' heritage and local context, bringing a distinct New York attitude to the space," said Sam Derrick, director at Brinkworth.
The same is true for the Vienna store, where a motion ID running service point and a community space are among the highlights. The former provides individualised recommendations for the best running shoe for each customer and the latter offers free classes that range from yoga to HIIT training.
Among other store highlights are digital touchpoints that inform customers about products, weekly running analyses, mannequins made out of recycling materials and hangers made of 50 percent grass and 50 percent recycled materials.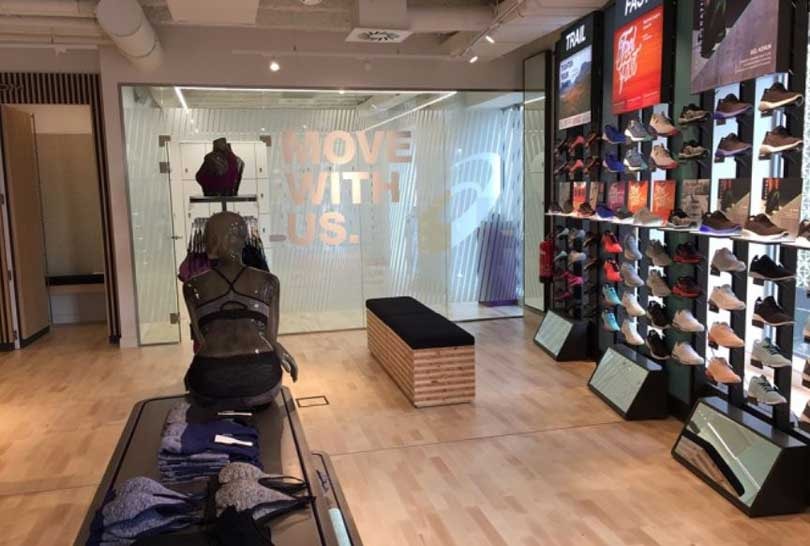 Asics' new global campaign 'I MOVE ME' is brought to life via a sensory experience exhibited by sight, sound and motion. In-store elements include an infinity mirror, LED light columns and 'I MOVE ME' visuals that are strategically placed throughout the space and prominently displayed in the large floor-to-ceiling windows for maximum exposure both on the interior and exterior.
Photos: Asics flagship in NY (1); Asics flaship in Vienna (2-4), all courtesy of Asics