Los Angeles - Glendale Galleria is known in Los Angeles as a locals' haven for shopping. Adding to its collection of high-end, medium, and low-end shopping destinations; the galleria has confirmed that the Aussie-based company Cotton On will open a flagship this summer.
The confirmed news comes from the storefront itself. Located on the second floor of the galleria, there is a bright painted red wall. On the wall, the text reads, "Cotton On" in big white letters spanned across the storefront. Additionally, the text states that the store is "opening this summer," although there is no official opening date for the flagship. The store is located near the Target side of the Galleria also neighboring by JCPenney.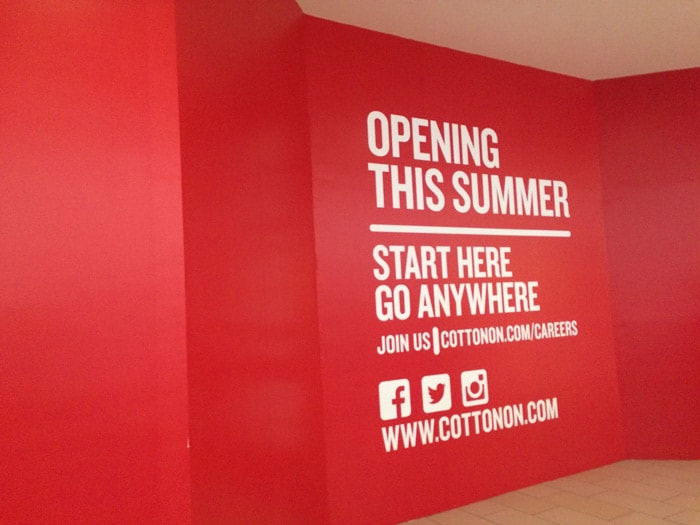 Cotton On opens new location on the West Coast
Earlier this year, the LA Times reported that Cotton On was expanding in retail for this year. The company was founded in 1991 by Nigel Austin and has since been pretty successful. As reported by the publication, the brand's' annual sales for 2016 are expected to be 1.5 billion dollars. As the U.S. is a large market for international retailers, it makes sense that international businesses would plan to expand their retail reach here. Currently, the apparel company has over 1,400 stores spanning throughout 17 countries. Recently however, the U.S. has been more of a focus.
In the past six years, Cotton On has launched 121 U.S. stores according to Business Insider. The company also has a corporate hub that's based on the West Coast. Although Cotton On has other fast-fashion retailers to compete against (such as retail giants Forever 21 and H&M), their expansion has evolved a steady and consistent rate. The new Glendale store will ultimately help to build the brand's presence in the U.S., especially due to its high profile location.